Summer is starting to wind down, which means it's time to figure out where you're headed this fall. These cities have some great placements, and we think they're some of the best places to go in the fall. Get your autumn on with these awesome (and beautiful) locations.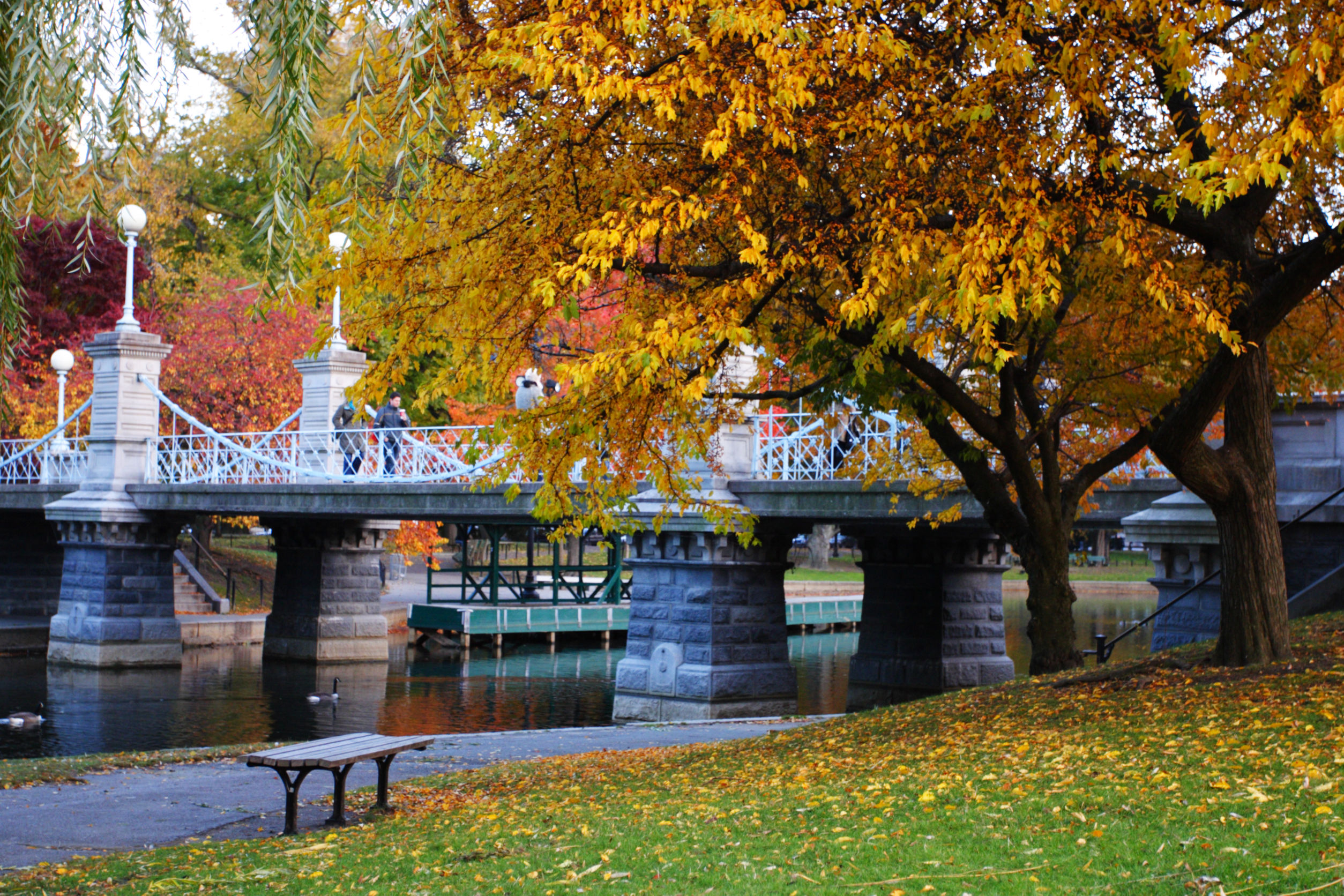 Boston, MA
If Boston is known for anything, it's their brownstones, fall foliage, and general historic charm. This city is full of old world history, and therefore, has a lot to explore and taste. Boston is wicked great!
Things to do:
Tour the many amazing colleges and universities. We hear MIT and Cambridge are very impressive.
Go on a New England road trip and see the fall foliage up in New Hampshire. It's like nowhere else on the planet.
Cruise a ferry down to Provincetown on Cape Cod or take a duck boat tour. It's a Boston thing, apparently.
Eat & Drink: Area Four, Anchovies, B&G Oysters, Eastern Standard, Grill 23 & Bar, Mr. Bartley's Burger Cottage, The Publick House, Shojo, Waypoint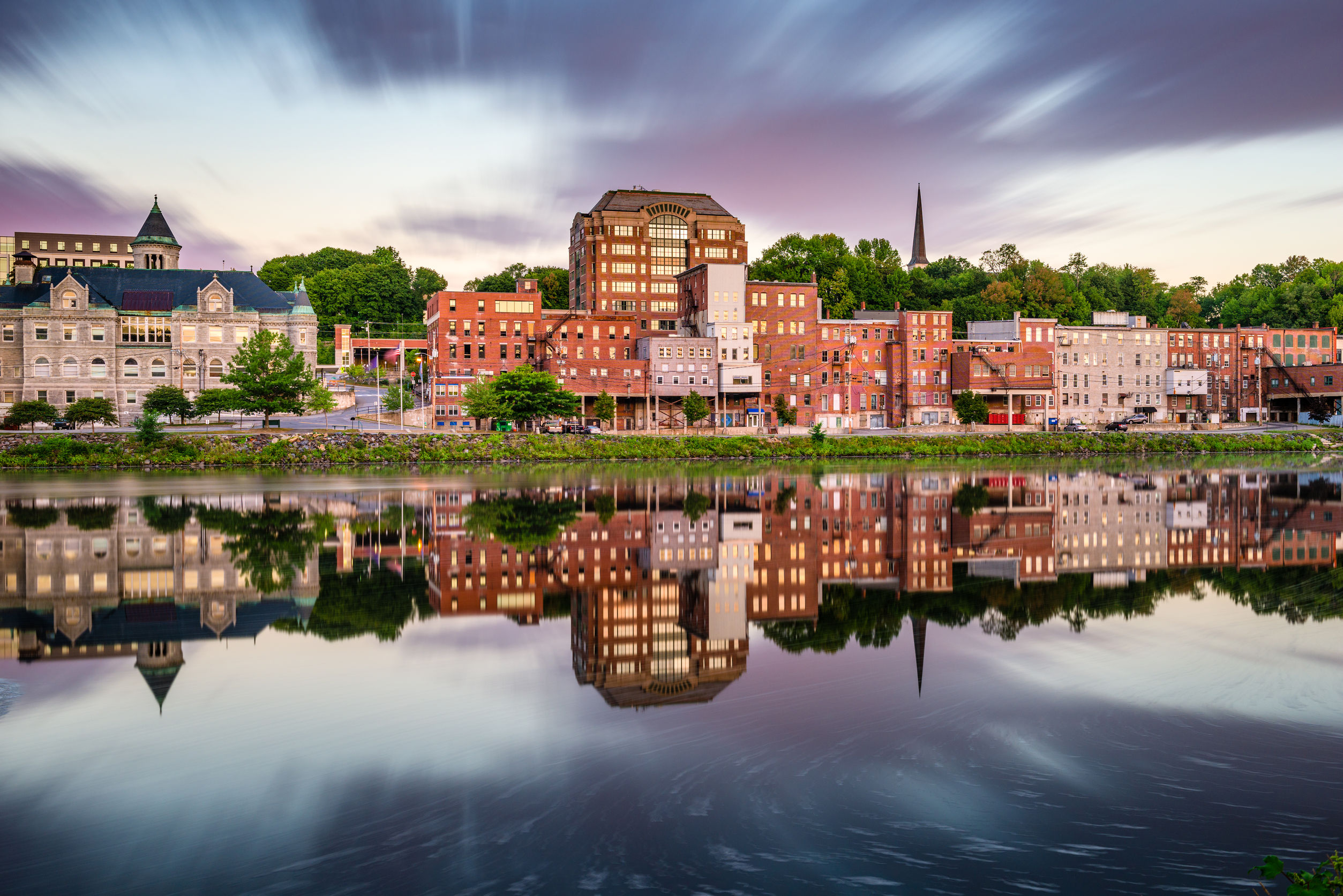 Augusta, ME
This Maine capital is another New England town full of history and charm. Kennebec Valley envelops Augusta, so it's another great place for pretty fall scenery. Plus, it's centrally located to the best that Maine has to offer. Head northeast and make this city your "Maine" hang!
Things to do:
Trees, trees, and.. oh! Trees! Visit the Viles Arboretum and go on a fall foliage hike.
Get a tour of the State House, State Capitol, Maine State Museum, The Blaine House, or Old Fort Western to brush up on your Augusta history.
Head down to Portland for the bustling city nightlife and top-notch restaurants and bars.
Go north to Messalonskee Lake, commonly known as Snow Pond.
Eat & Drink: Easy Street Lounge, The Gin Mill, The Liberal Cup,The Maine House, Red Barn Drive-In, Sweet Chili Thai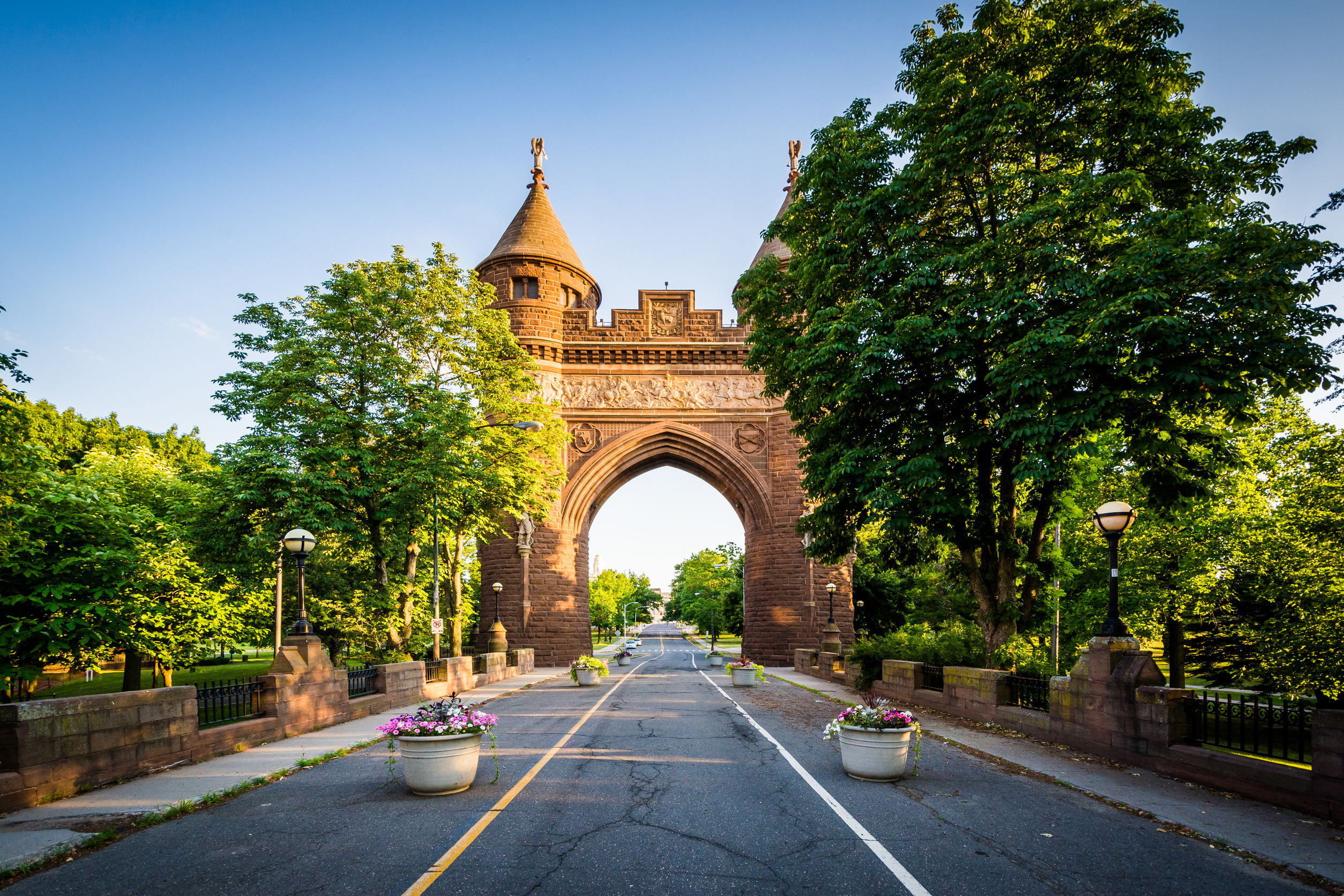 Hartford, CT
A city of rich history, academia, and gorgeous autumns awaits you in Hartford. This city is known as the hometown of Mark Twain (like we said, history!) and is full of discovery—from art and education to markets and festivals. Affluent suburbs give this city a high quality of life. And while we don't know why Connecticut is known as the Nutmeg State, we think it adds something cute to the area.
Things to do:
Visit the iconic Mark Twain House & Museum to see where some of his most famous works were written.
Trek the Travelers Tower up 34 stories to check out the observation deck. From here you can see some of the best city views of Hartford!
Get your science on at the Connecticut Science Center. Innovative exhibits are always in rotation, and there's always something new to learn.
Experience some history and hit up one of Hartford's several museums—Wadsworth Atheneum Museum of Art, Museum of Connecticut History, Connecticut Historical Society, Harriet Beecher Stowe Center, and CRRA Trash Museum… just to name a few.
Eat & Drink: The Capital Grille, Max Downtown, Mill Street Bar & Table, On20, Union League Café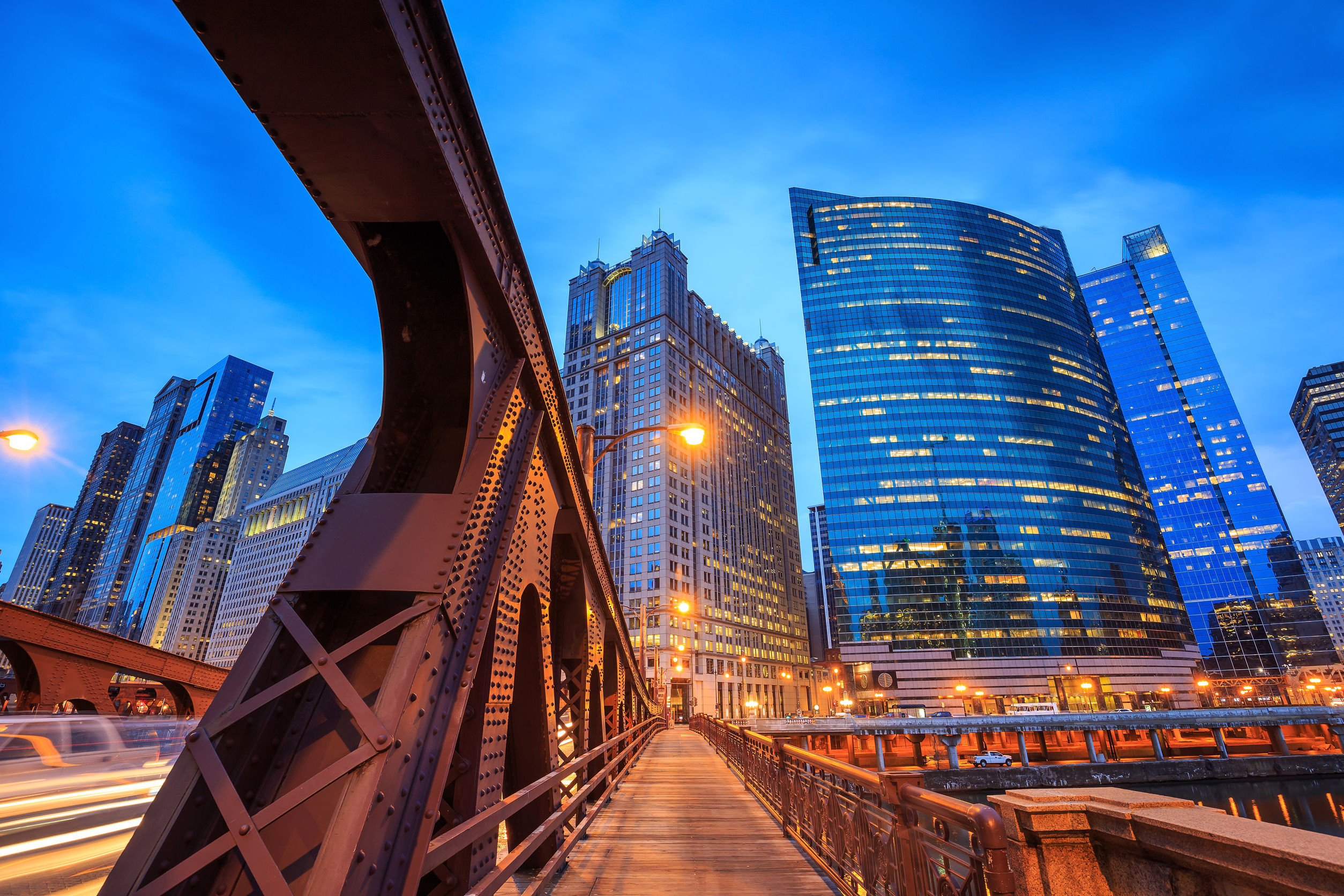 Chicago, IL
Welcome to the Windy City! Chicago is one of the largest cities in the country, with iconic skyscrapers like the John Hancock Center and the Willis Tower. It's known for its architecture, museums and for being a large city with a Midwest mindset.
Things to do:
Be a tourist at Navy Pier. Shop, eat, relax, or ride the Ferris wheel.
Go on a boat tour. Some of the best ways to learn about this city are floating along the water and hearing about the architecture.
Stroll through Millennium Park. It's 24.5 acres with an outdoor theater, artwork, and seasonal ice rink. This park is connected to Maggie Daley Park, Butler Field, Grant Park and many more, and is next to the Art Institute of Chicago for another fun activity. Speaking of…
Take in some art at the Art Institute of Chicago. Or visit another one of the city's many art museums: Museum of Contemporary Art Chicago, DePaul Art Museum, Ukrainian Institute of Modern Art, Oriental Institute Museum, or the National Museum of Mexican Art.
Visit a sculpture named Cloud Gate, more commonly known as "the Bean." Its reflective surface is perfect for a selfie!
Grab a drink and see the skyline at the Willis Tower Skydeck or 360 Chicago at the John Hancock building. Honestly, why choose? Just do both!
Dive into some oceanography at the Shedd Aquarium.
See a show at The Chicago Theatre, called "the Wonder Theatre of the World." Don't forget to snap a picture of the iconic marquee.
Cheer on a Cubs game at Wrigley Field, or see the White Sox at Guaranteed Rate Field.
Eat & Drink: Au Cheval, Bavette's Bar & Boeuf, Delilah's, Kuma's Corner, Gilt Bar, Girl & The Goat, Innertown Pub, The Publican, The Purple Pig, The Violet Hour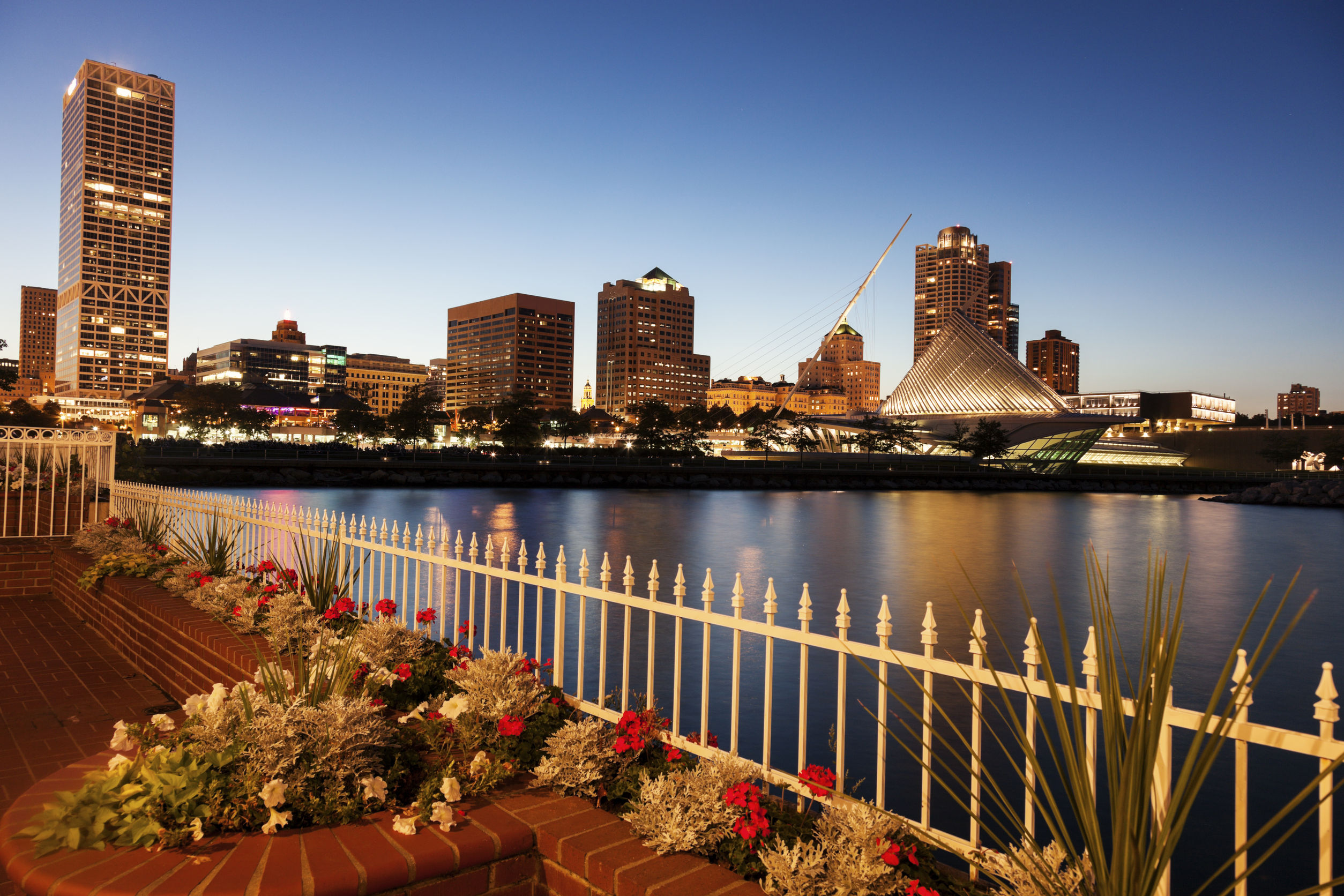 Milwaukee, WI
A Lake Michigan city full of brews and chews, this is the place for awesome restauranting (Restauranting? This is a word, right?)—Anyway, this cool Midwestern town is known as the Beer Capital of the World, but there's a lot more to explore here too. Come see why Milwaukee is the "hoppiest place on Earth."
Things to do:
Obviously, get yourself to the breweries! Just a few: Pabst Brewery, Good City Brewing, Lakefront Brewery, Milwaukee Ale House, Sprecher Brewing Company, Milwaukee Brewing Company, Brenner Brewing Company, Black Husky Brewing, and MobCraft. Beer, beer, beer! Oh my!
Rev your engine for the Harley Davidson Museum. This city is the birthplace of the famous motorcycle brand.
Take a stroll along the Milwaukee Riverwalk. There are many places to shop, eat, and explore along the way.
Learn a little city history at the Historic Third Ward warehouse district. It's home to Milwaukee's trendy Arts and Fashion District: Milwaukee Institute of Art and Design, Milwaukee Public Market, and the Broadway Theatre Center.
Eat & Drink: Blue's Egg, Goodkind, Lake Park Bistro,La Merenda, Odd Duck, The Vanguard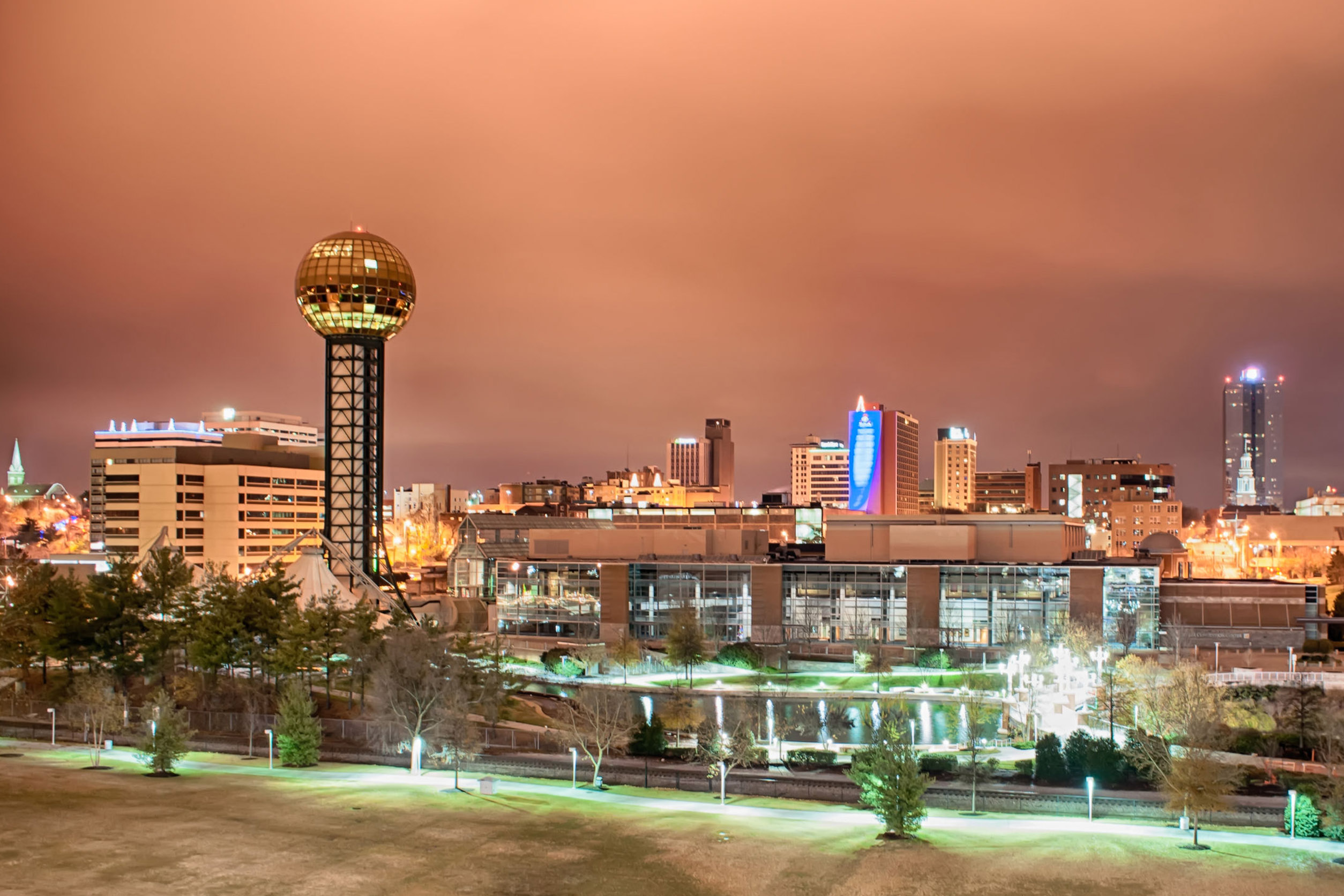 Knoxville, TN
This unassuming town in Tennessee is the starting point of the Tennessee River. The people are friendly, the cost of living is affordable, and the scenery is beautiful. Plus, it's only about a half hour away from the Great Smoky Mountains, so you can get your mountain fix, if that's your thing.
Things to do:
Hang out on the observation deck of the Sunsphere, the home of the 1982 World's Fair.
Visit the quirky Bicycle Arch Bridge along the Tennessee River.
Take in a little Knoxville history in Old City and stay for the nightlife, live music, and clubs.
People watch in Market Square. Located downtown, this area hosts a water play fountain, farmer's market, festivals throughout the year, and a seasonal ice rink.
Eat & Drink: Buttermilk Sky Pie Shop, Chandler's Deli, Copper Cellar, Pete's Coffee Shop, Sapphire, The Tomato Head, Preservation Pub, The Public House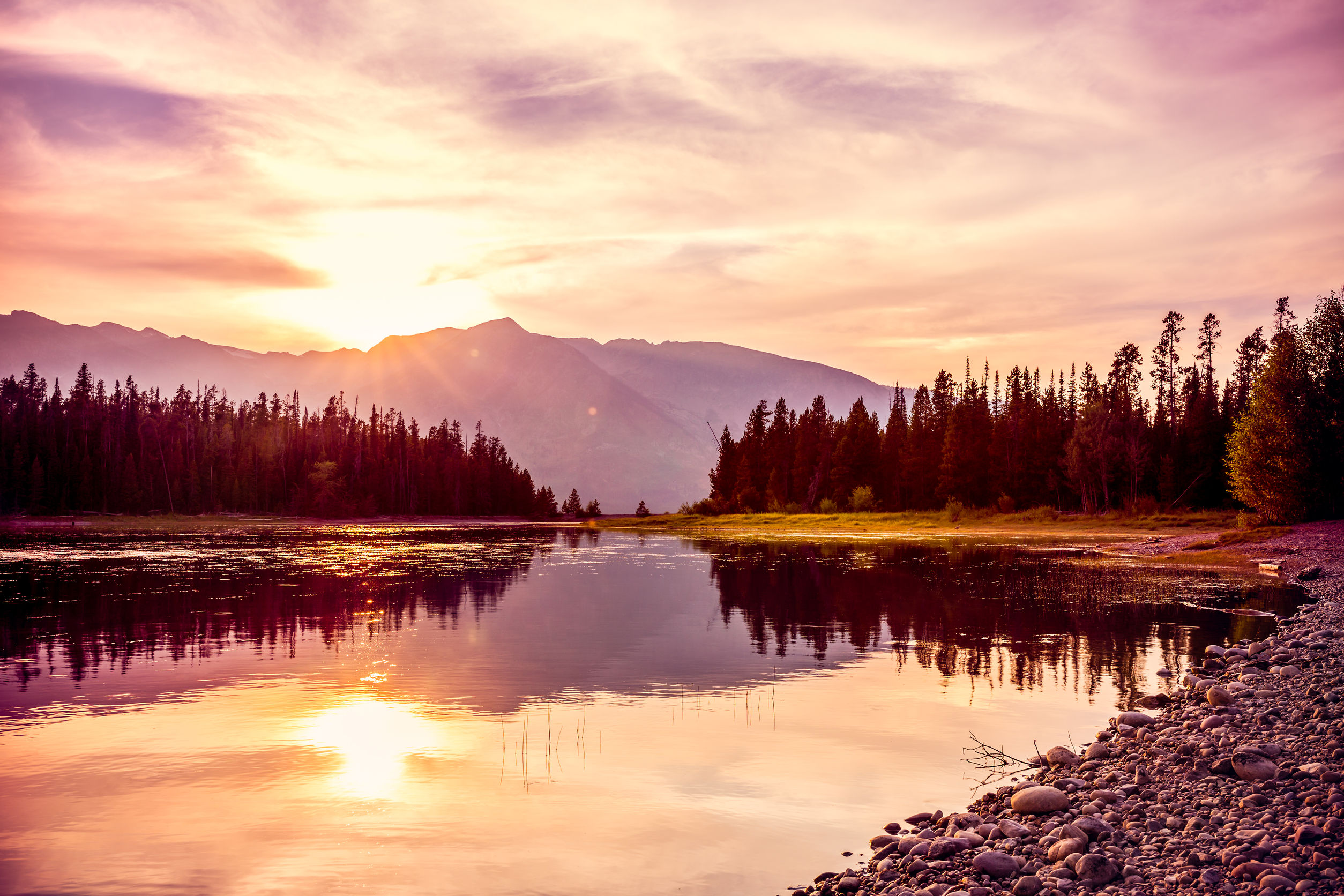 Billings, MT
Though Montana may seem out of the ordinary on a must-see list, it's home to a lot of history and a lot of natural beauty. Billings sits directly northeast from Yellowstone National Park, and it hosted the first railroad company, Northern Pacific Railway. The perfect balance of history and nature, this city is a gem all its own.
Things to do:
Hike to Pictograph Cave State Park to see the prehistoric rock paintings. Take a guided tour or check them out on your own.
Walk along the Yellowstone River. In the summer, you can rent a tube and float, but for the sake of the chilly fall weather, maybe stick to hiking and fly fishing for now.
Get some social media points and take a selfie at Pompey's Pillar. This historical monument is over 200 years old, dating back to when Lewis and Clark traveled through Yellowstone Valley.
Sip on some local wine with tastings at Yellowstone Cellars & Winery. You can also enjoy live music and events on some nights.
Eat & Drink: Bistecca at the Granary, CJ's, Commons 1882, Lilac, Powderhorn Lounge, Pub Station, Rainbow Bar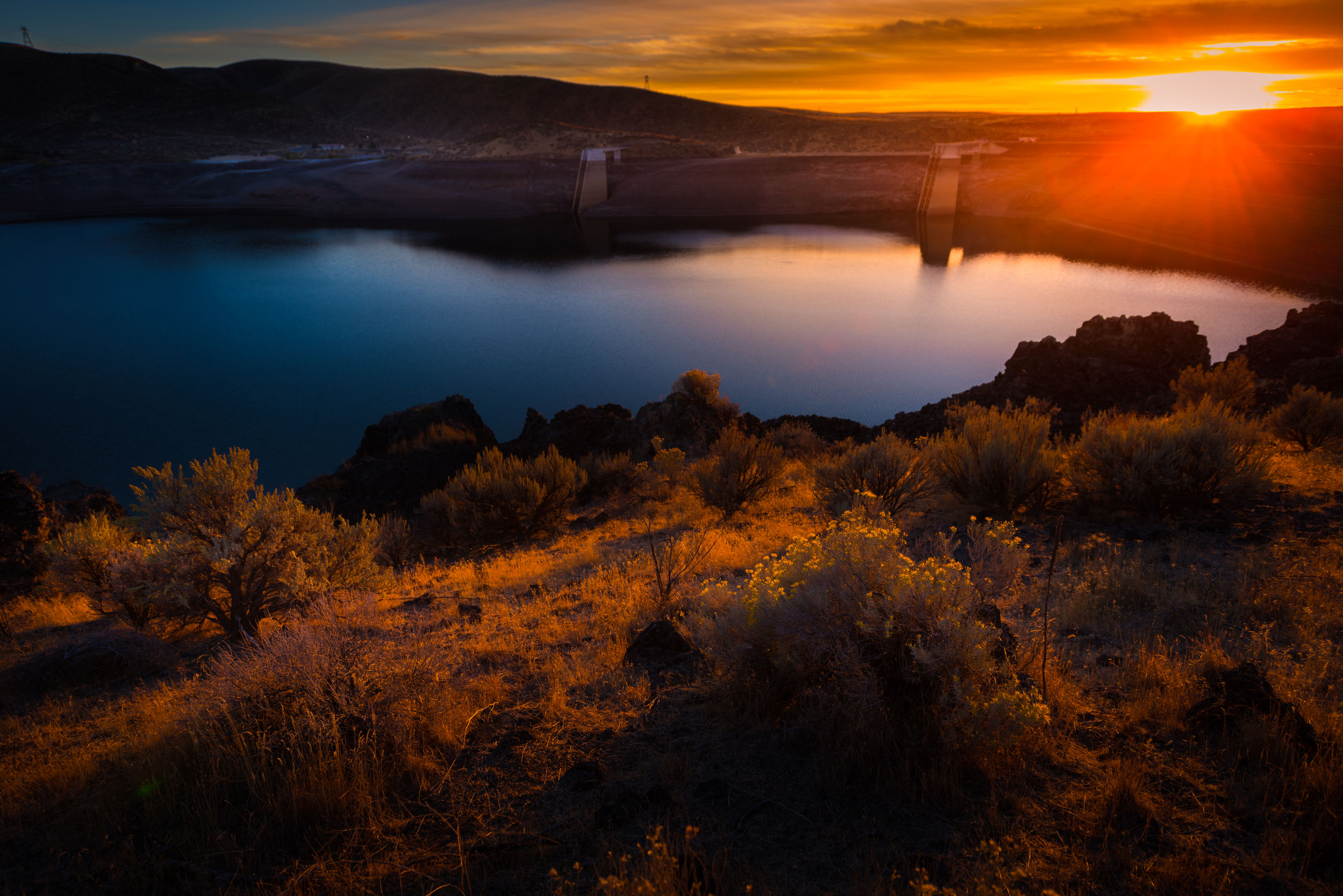 Boise, ID
Boise is a beautiful, growing city in Idaho. Great neighborhoods, great craft beer, and a lot of outdoor activities to do year-round—it's a city that's winning awards, literally. Not too long ago, the American Planning Association rated Boise's North End as one of the top 10 Great Neighborhoods in the country.
Things to do:
Bike or hike the beautiful Boise River Greenbelt—25 miles of scenic pathway along the Boise River.
Take in all that nature can offer at Kathryn Albertson Park. This is a tranquil, serene place to relax with 41 acres of wildlife, gazebos, and ponds.
Visit the World Center for Birds of Prey to learn about how they work to conserve endangered raptors all over the world.
Learn about the large Basque community in Boise at the Basque Museum & Cultural Center, or just stroll down Grove St, to the area known as Basque Block.
Eat & Drink: Boise Brewing, Juniper, Le Coq d'Or, Luciano's Italian Restaurant, Spacebar Arcade, Wild Root Cafe and Market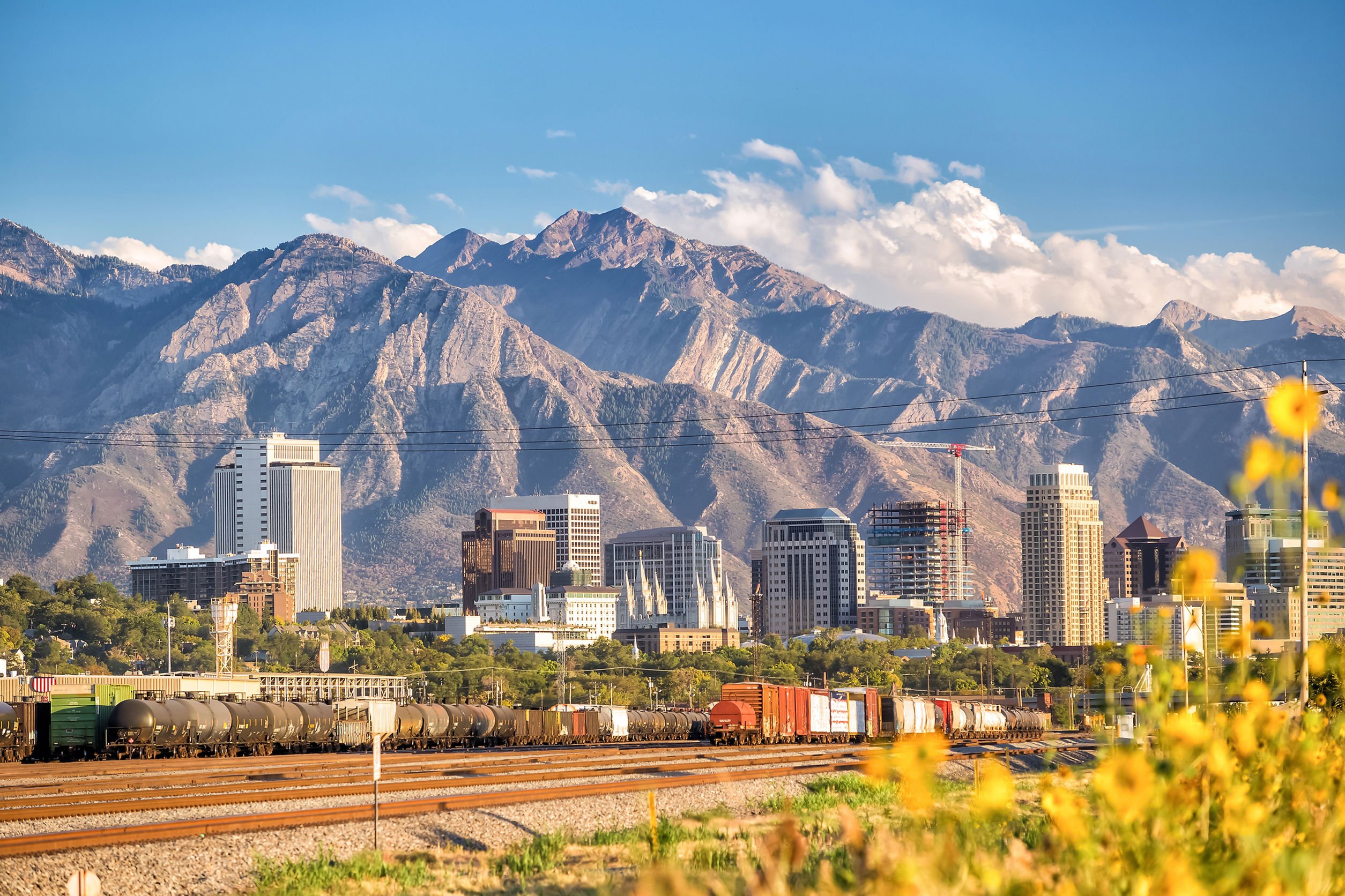 Salt Lake City, UT
Bordered by the beauty of the Great Salt Lake and the snow peaks of the Wasatch Range, Salt Lake City is a magical city. You get great weather and the best of both worlds—lake and mountain. It's also home and headquarters to the Mormon Church, so historically there's a lot to learn and see in the beautiful temples, sculptures, and buildings, especially in Temple Square. You won't be bored in this Utah town.
Things to do:
Go see the Bonneville Salt Flats. They're, well, flat and salty, but worth a check off your bucket list.
Head to Utah's Hogle Zoo at the base of the Wasatch Mountain Range and check out the diverse animal exhibits.
Get your cheer and beer on at a University of Utah football game. Go Utes!
Geek out at the famous Salt Lake Comic Con in September.
Celebrate Oktoberfest on the weekends at the Snowbird Ski Resort.
Eat & Drink: Beerhive Pub, Copper Common, From Scratch, Lucky 13, The Red Door, The State Room, Whiskey Street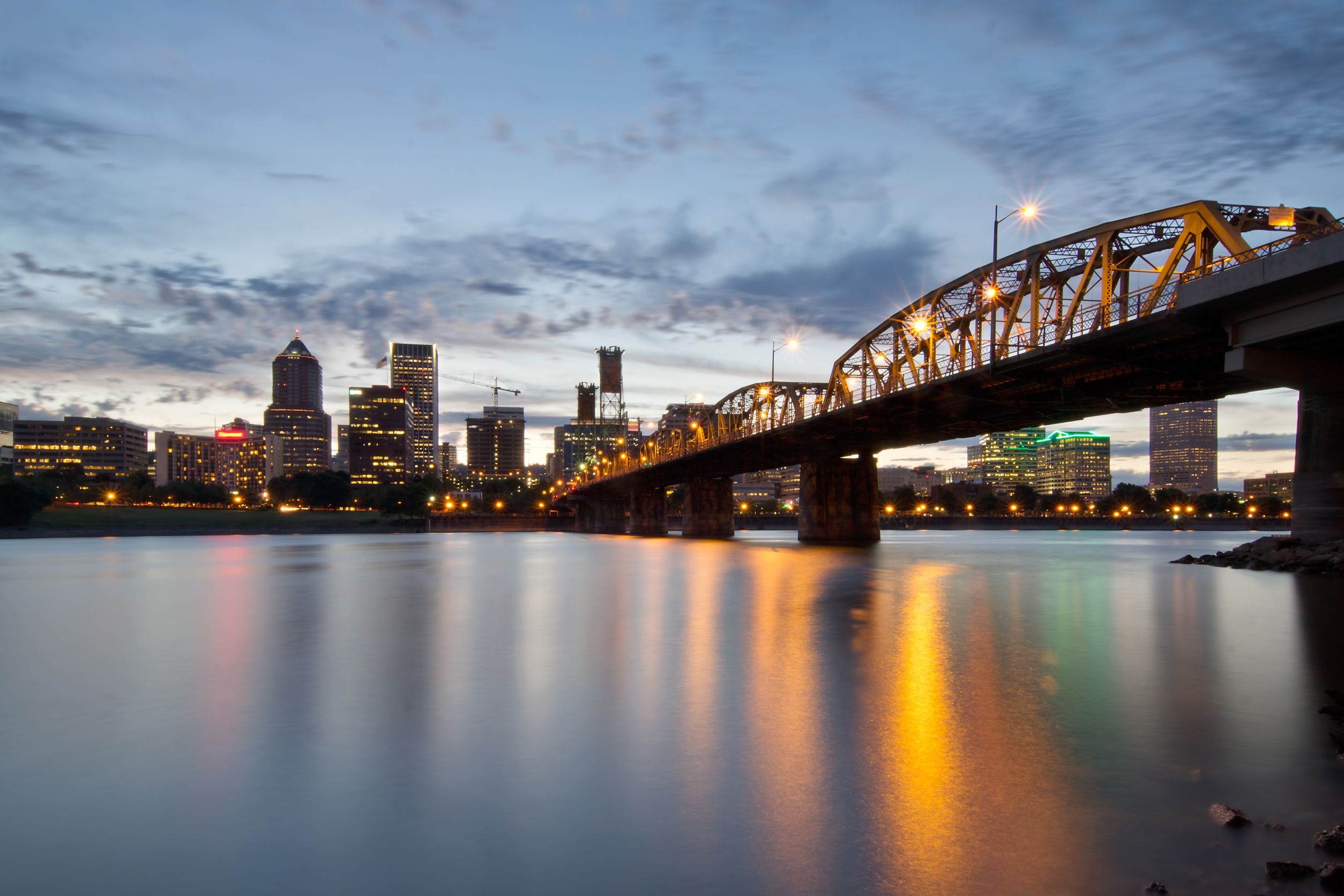 Portland, OR
There's just something about Portland. Maybe it's the hip culture. Maybe it's the food trucks and urban gardening. This place is teeming with innovation—coffee roasters, artists, distilleries, and breweries. The thing about Portland is that there's always something new and up-and-coming to discover. It's the place to be, and you could be part of it (if you're cool enough).
Things to do:
Catch some live music at Mississippi Studios and head next door for a drink at Barr Bar.
Be a bookworm at Powell's City of Books—the largest new and used bookstore in the world.
Stop and smell the roses at the Portland Japanese Garden. It's 2nd in the nation for most authentic Japanese garden outside of Japan.
Hike or hang in one of Portland's amazing parks. Mt Tabor and Forest Park are the most popular.
Take in some education and culture at one of Portland's museums. The Portland Art Museum is the seventh oldest museum in the United States, and the Oregon Museum of Science and Industry has a planetarium for you to count your lucky stars.
Get creeped out in Portland's Shanghai Tunnels, the Witch's Castle, or the Freakybuttrue Peculiarium—an emporium for weird and freaky oddities.
Eat & Drink: Ambonnay Champagne Bar, Bible Club PDX,Biwa, DIY Bar, Hale Pele, Le Pigeon, Payley's Place, Pizza Jerk, Por Que No, Salt & Straw, Sumptown Coffee, Tasty N Sons, Voodoo Doughnut, Whiskey Soda Lounge
Whether you choose one of the cities on our list, or a city of your very own, make sure you get out there and experience everything your location has to offer.
Want to talk to a recruiter about your next fall placement? We got you.