Everywhere you look, people are talking about superfoods. How to get more superfoods in your diet, lists of top superfoods, and the best superfoods for your health. But, what exactly is a superfood?
Superfoods are mainly defined as a food that is nutrient-dense and good for your health. They are usually plant-based, but can also include some fish and dairy.
More commonly known superfoods include kale, beets, blueberries, quinoa, greek yogurt, green tea, salmon, spinach, almonds, and sweet potatoes. According to the American Heart Association, there is no set criteria to determine what is or isn't a superfood, but adding these nutritionally beneficial foods to your daily diet can't hurt right? Check out these healthy superfood recipes.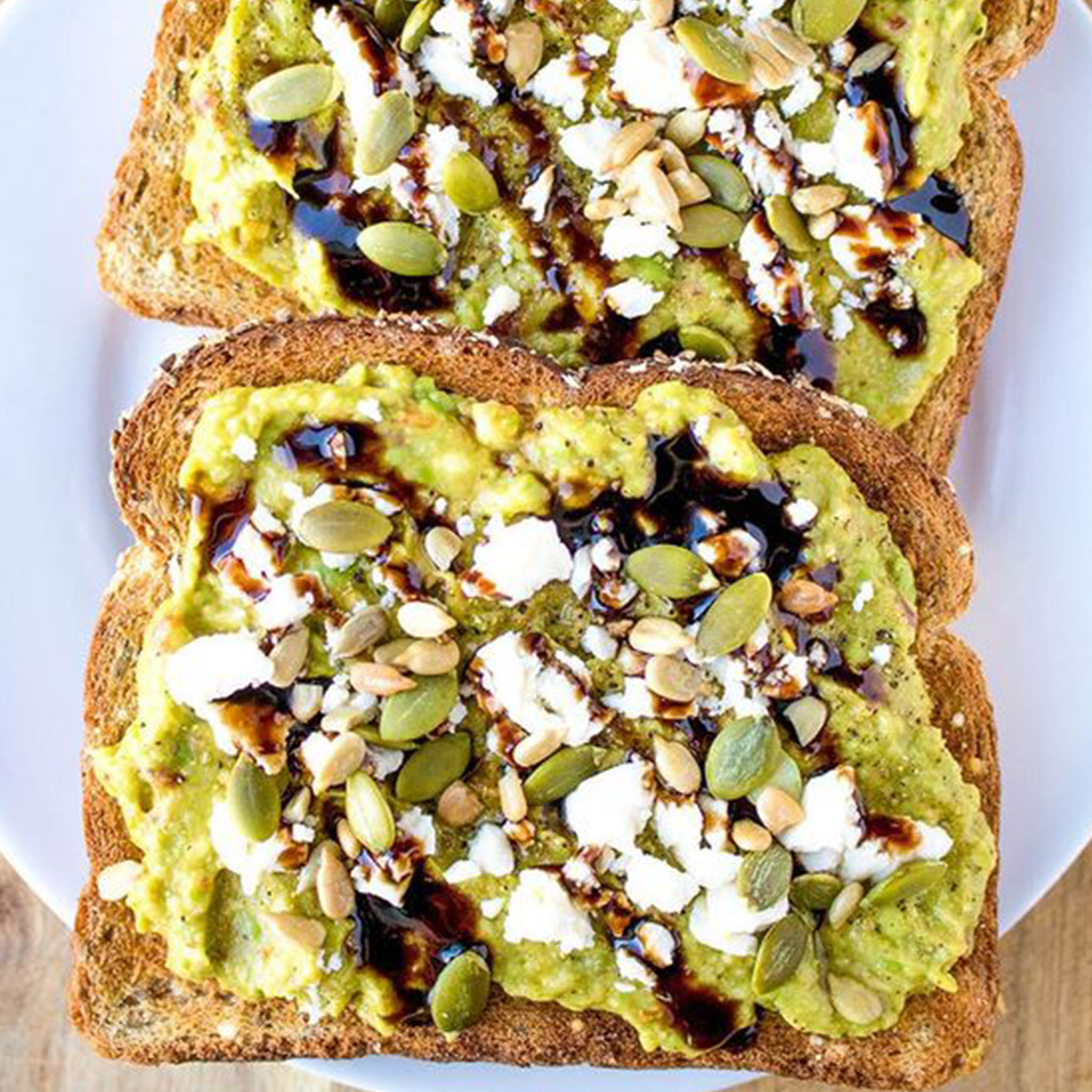 Avocado Toast with Feta Cheese and Balsamic Glaze
Avocado toast is both hip and healthy. And it's all the rage these days. Which is great, because avocadoes are a wonderful superfood. There are a ton of avocado toast combinations out there (seriously, just Google "avocado toast recipe" and watch your mind explode) but we like this recipe that includes savory feta and balsamic.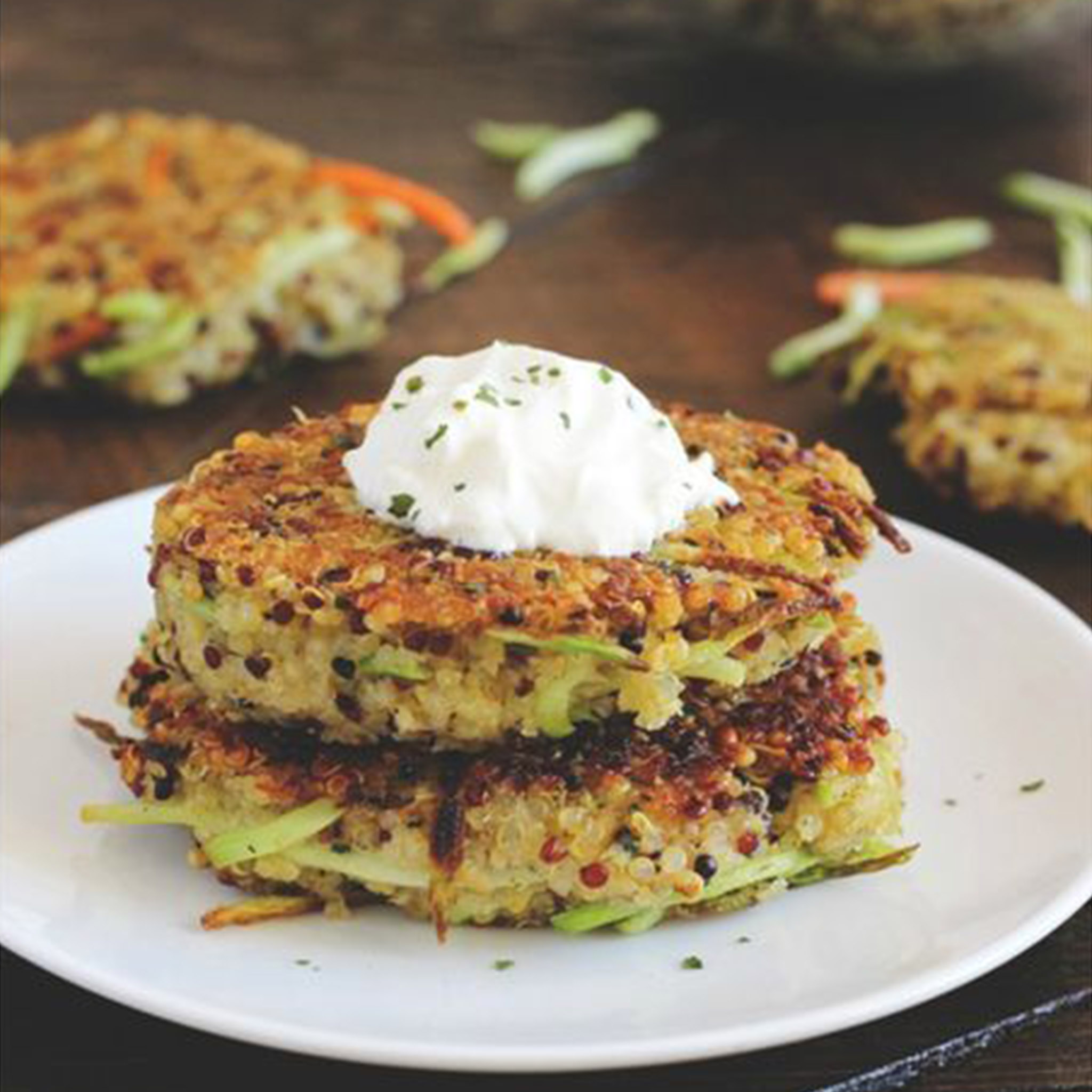 Broccoli and Quinoa Breakfast Patties
Kind of like a veggie burger... or a breakfast patty? Nobody really knows. But these healthy breakfast morsels have quinoa (definitely a superfood!) and all sorts of healthy veggies like broccoli and carrots. Plus, it's versatile. Premake them and grab one for a quick breakfast option on your way out the door. Or, add a fried egg for a more savory brunch idea. Or, you really don't need to eat these for breakfast—throw one on a sandwich for dinner!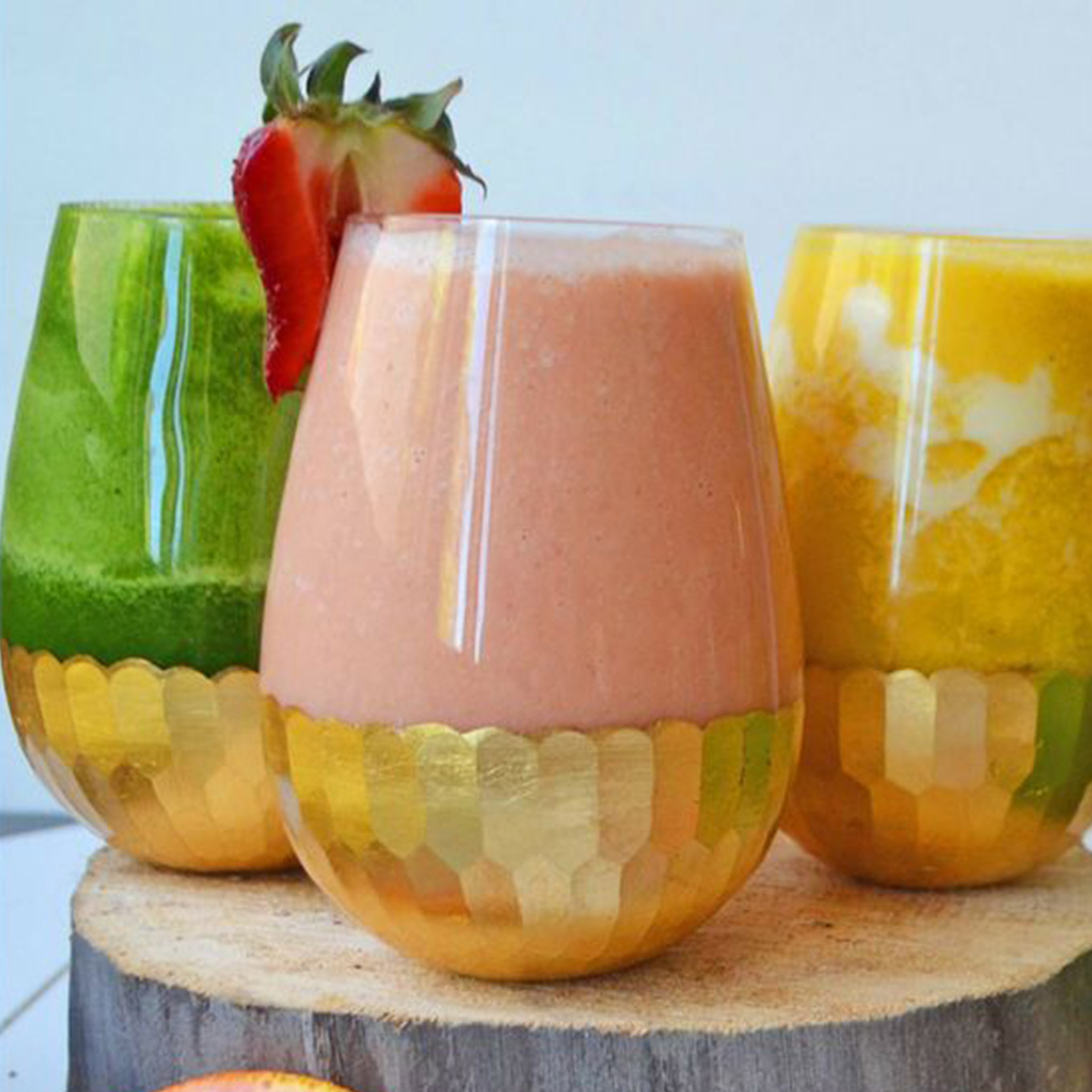 Superfood Smoothies
When in doubt, smoothies! You can put anything in a smoothie, so it's a perfect recipe to add in those little tidbits of superfoods that are just hanging out in your fridge, like kale, blueberries, spinach, greek yogurt, chia seeds, etc. Here are 6 different smoothie recipes to get your fix. You can almost make a different one for every day of the week!
Mayan Mocha Superfood Coffee
I would like to personally vouch for this recipe. If you're a coffee fanatic, like me, you must try this recipe out. For those of us (ahem, me!) who are literally addicted to coffee, this superfood boost includes cashew milk, coconut oil, and raw cacao—all healthy fats to get your day started, guilt-free.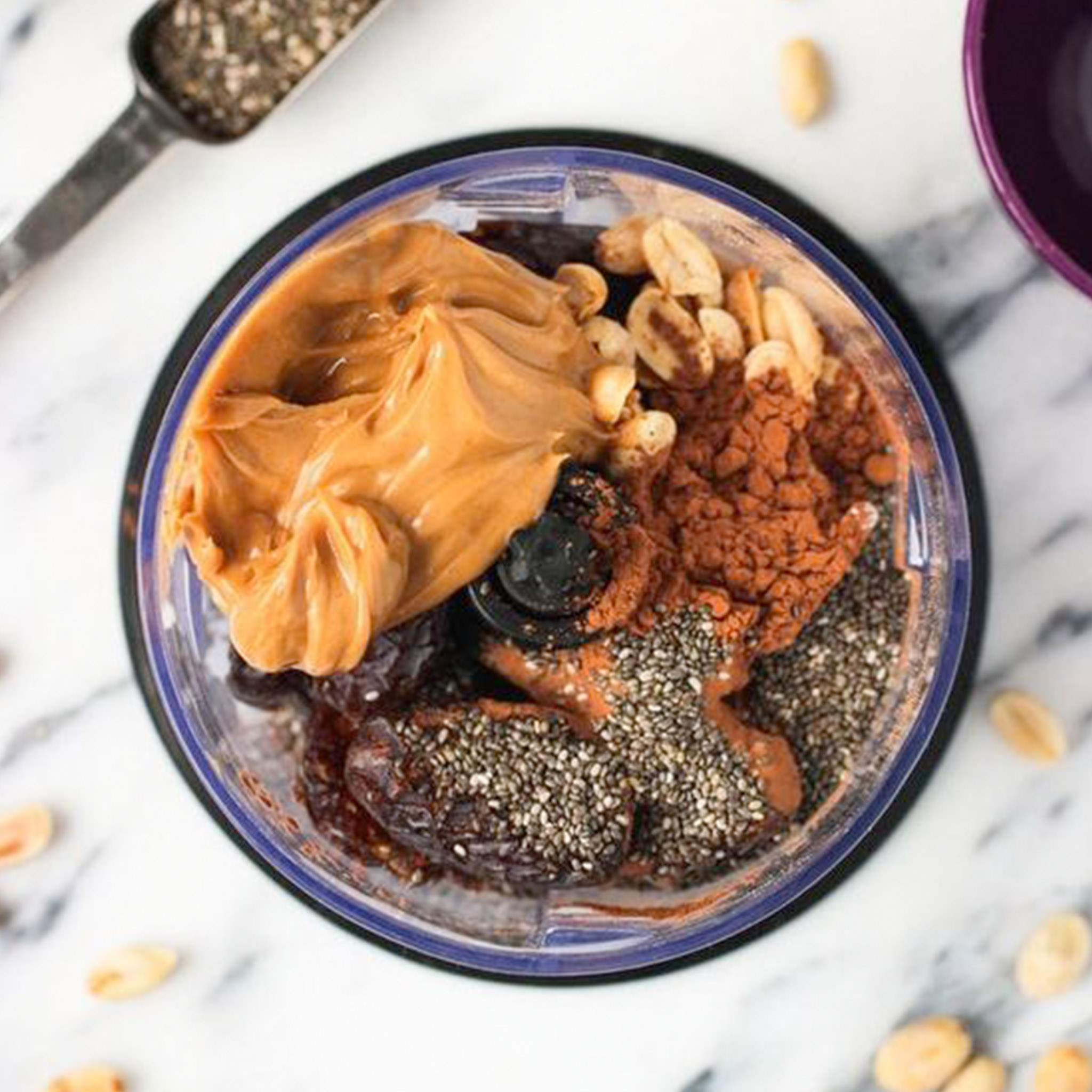 Chocolate Peanut Butter Chia Bars
Do you wake up and say, "Hey, I could really go for a peanut butter cup." Need to curb your sweet tooth in the a.m.? These chia bars are a great breakfast grab-and-go, or just an all-around great dessert when you're feeling that craving. They're super easy to make too, with only 5 ingredients—and they're a lot healthier than a candy bar.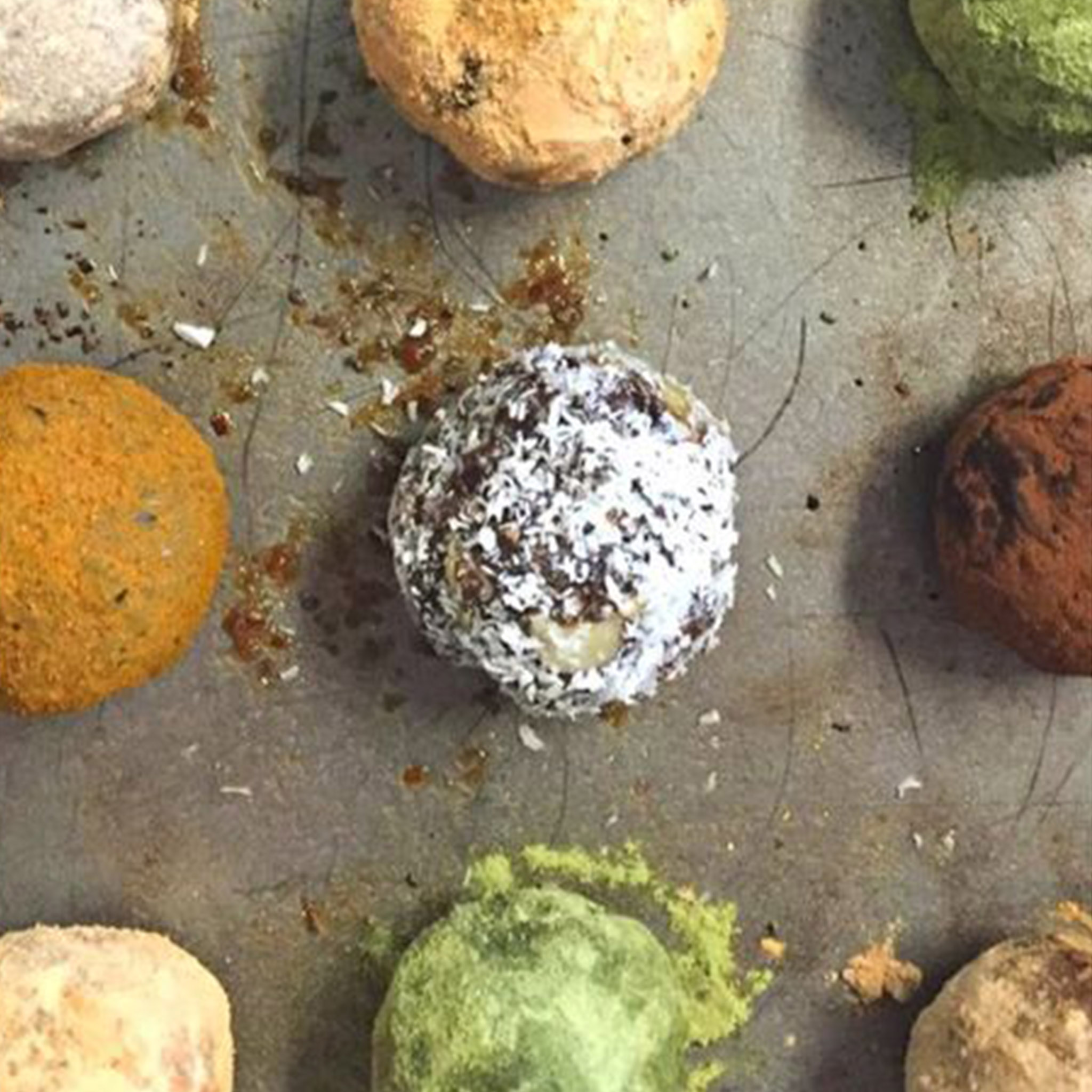 Superfood Energy Balls
Another versatile recipe! Seriously, you can put anything in these, but this recipe suggests a pretty great superfood combo: dates, almonds, chia seeds, and pumpkin seeds. They may look fancy and difficult to make, but these energy balls are easy and perfect for a snack or on-the-go breakfast.
Baked Sweet Potatoes with Crispy Kale and Feta
Moving along to the savory superfoods… sweet potatoes! This meal doesn't look like anything special, but it's easy, healthy, and delicious. This is basically built out of superfoods. Add some feta cheese (doesn't cheese always make everything better?) and you're set. This is a perfect and filling lunch. Just pop it into the microwave and it's ready to go!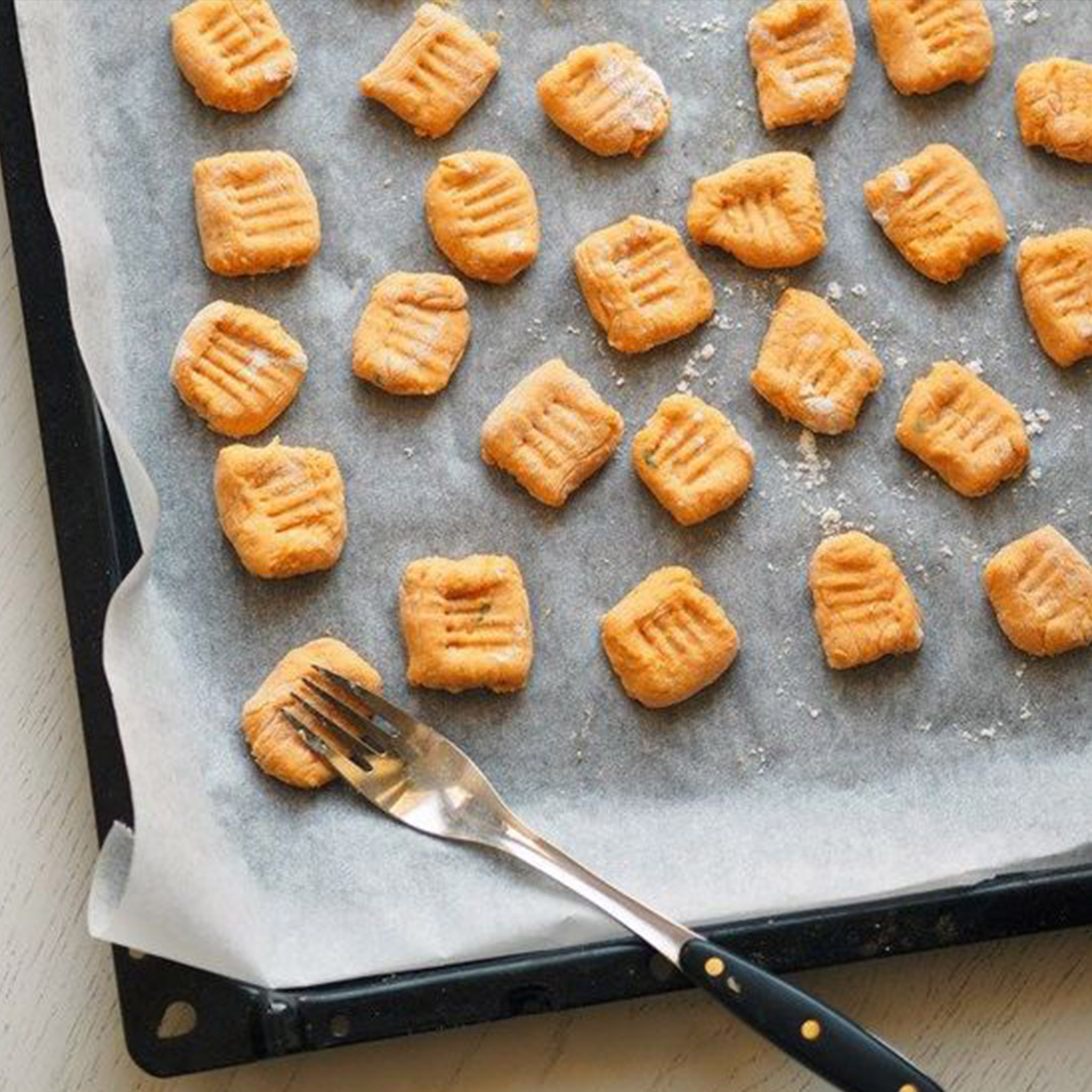 Sweet Potato Gnocchi
Another great sweet potato recipe to add to your list is this awesome gnocchi. It's not the quickest thing on the menu, but it makes quite an impression. If you're the type of person who enjoys a little taste of the homemade, this healthier sweet potato gnocchi is your golden ticket.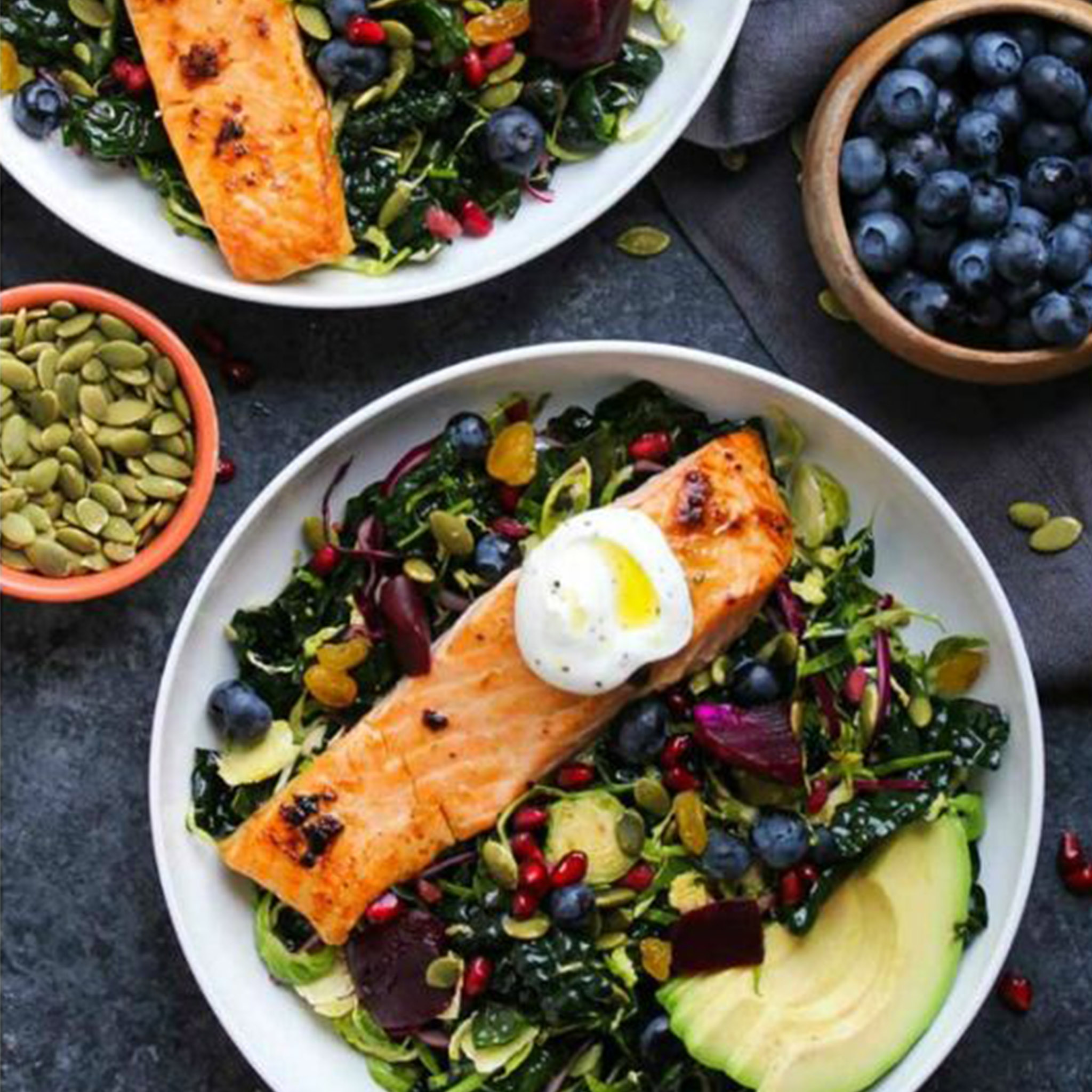 Salmon Superfood Salad
This is the ULTIMATE superfood salad. Seriously. It has ten superfoods in it. TEN. That's like... ALL of the ingredients: salmon, miso, kale, greek yogurt, brussels sprouts, blueberries, pomegranate, pumpkin seeds, beets, and avocado. I feel like if you eat this salad, you could immediately become a superhero. You know that part in the Popeye cartoons where he eats spinach? Yeah, that's you and this salad.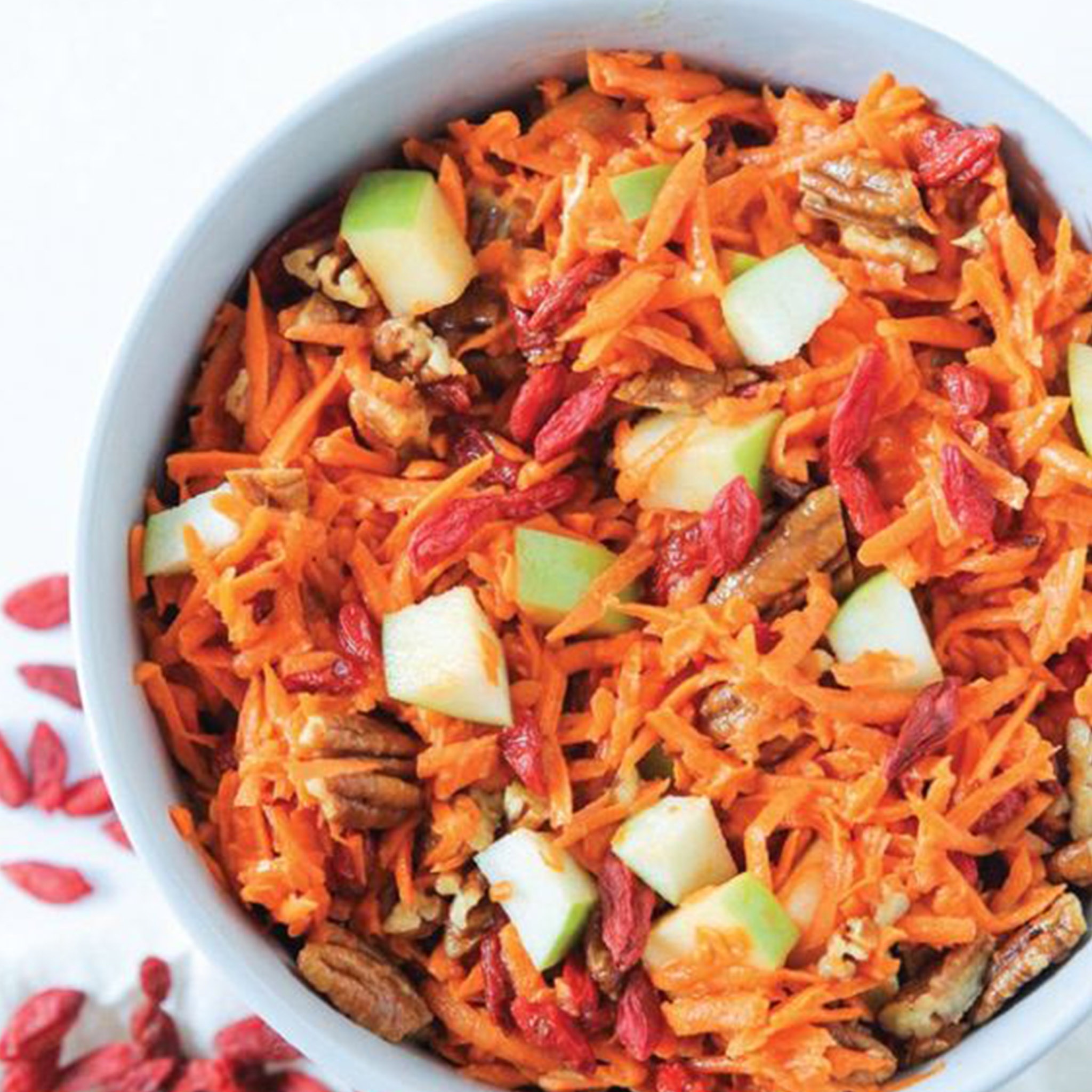 Raw Superfood Carrot Salad
Crunchy carrots, nutty pecans, tart apples and goji berries. This salad is perfect for getting your healthy eating back on track. And it's sweetened with maple syrup, which may sound weird, but it's actually a natural sweetener, so it's full of antioxidants and can have the same benefits as honey.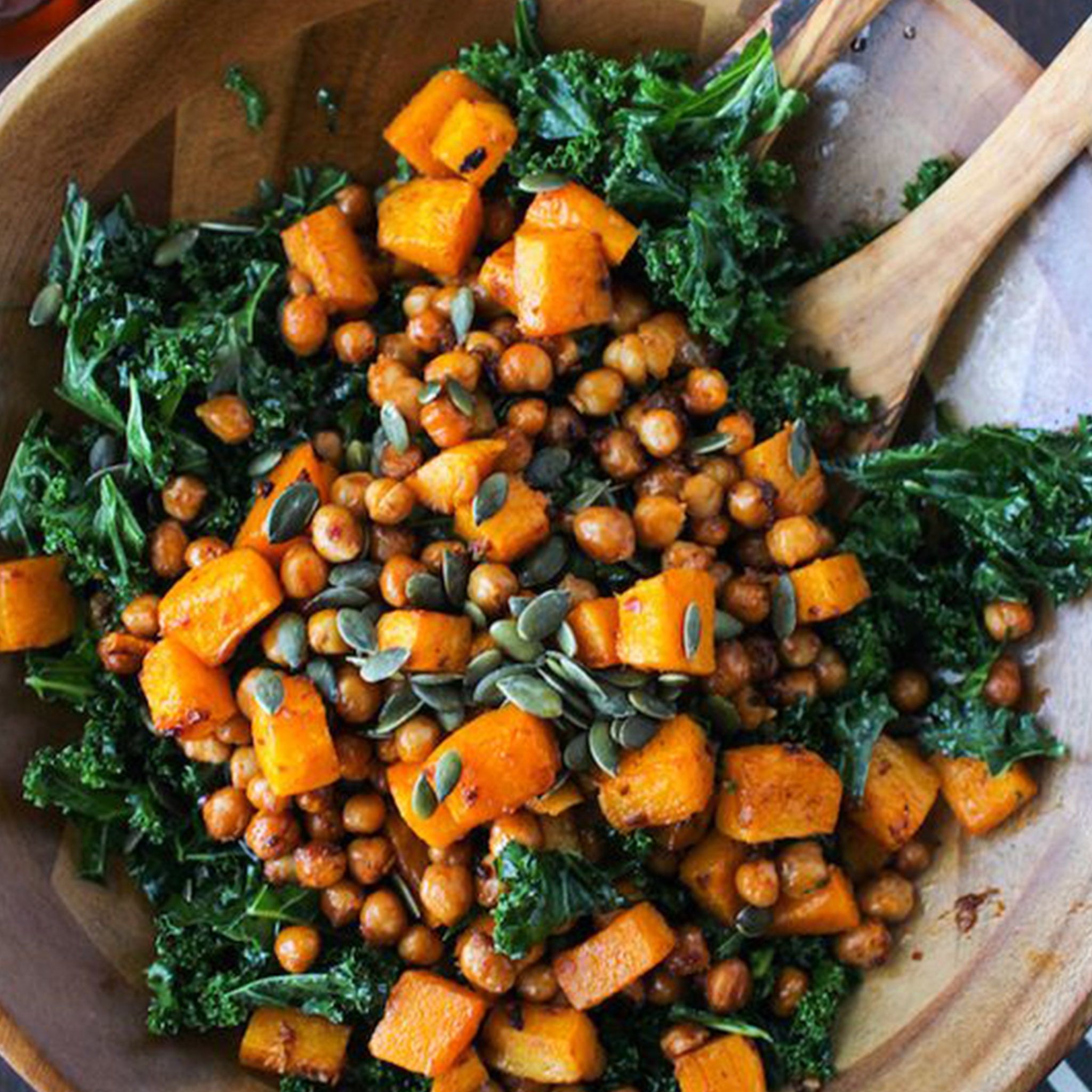 Spicy Kale, Chipotle Chickpea and Roasted Butternut Squash Salad
I bet you're like, "Oh look. ANOTHER salad. (Eye roll. Yawn.)" I know, I know. It's our third salad here. But it's so tasty! We may not be into the fall season yet, but butternut squash time is right around the corner, and you're going to be thanking me when you're looking for something to go with your afternoon pumpkin spice latte. You're welcome.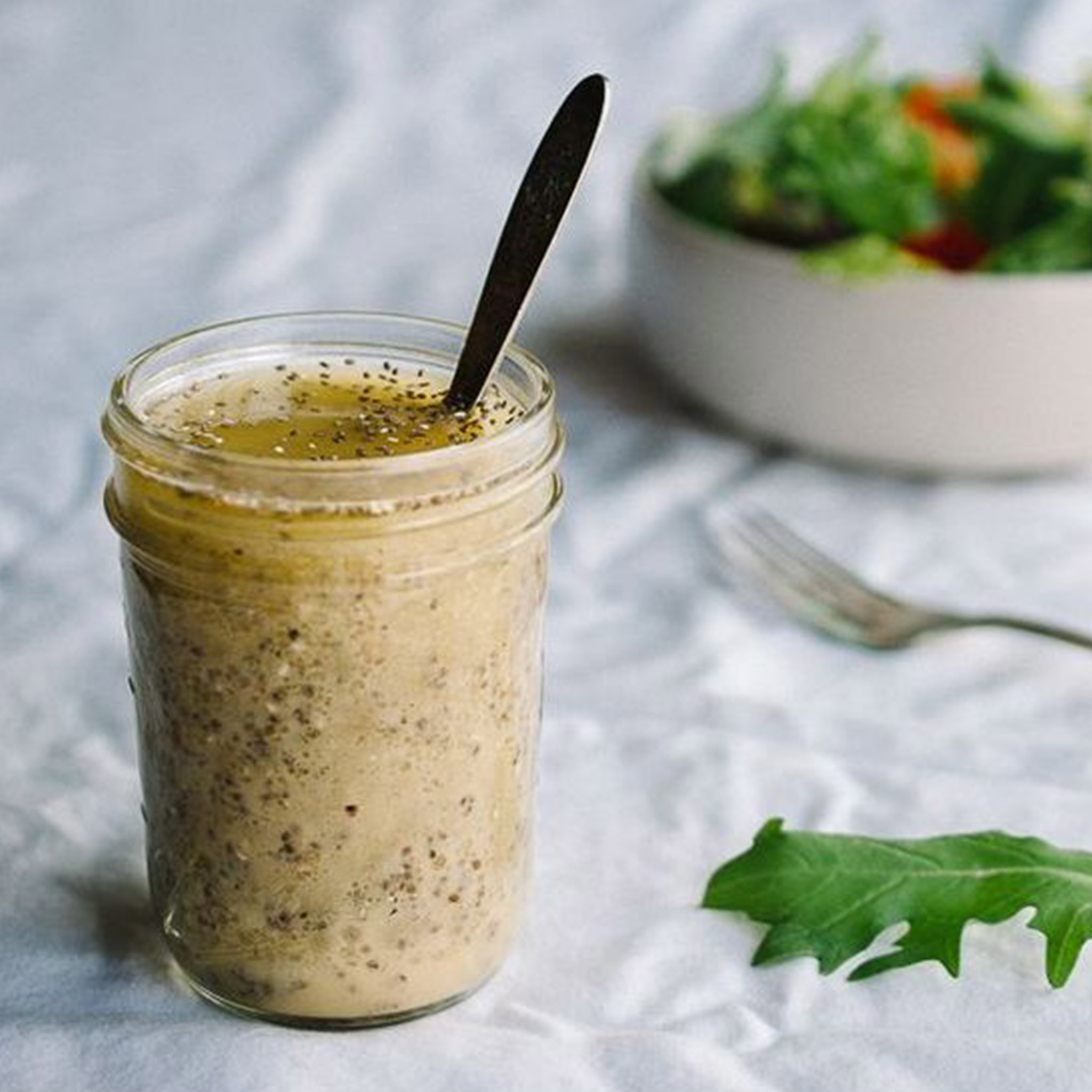 Superfood Vinaigrette
With all of this salad talk, I'm sure you're thinking that you can make your own delicious superfood salad—and you're right! Do it! Get your salad on. Try out this vinaigrette while you're at it. It goes great with any salad you can whip up.
Vegan Superfood Cookies
Healthy cookies? How can that be? By replacing chocolate chips with cacao nibs and adding superfoods like hemp seeds and dried cherries, you can indulge in these (yes, healthy) cookies. Eat your heart out!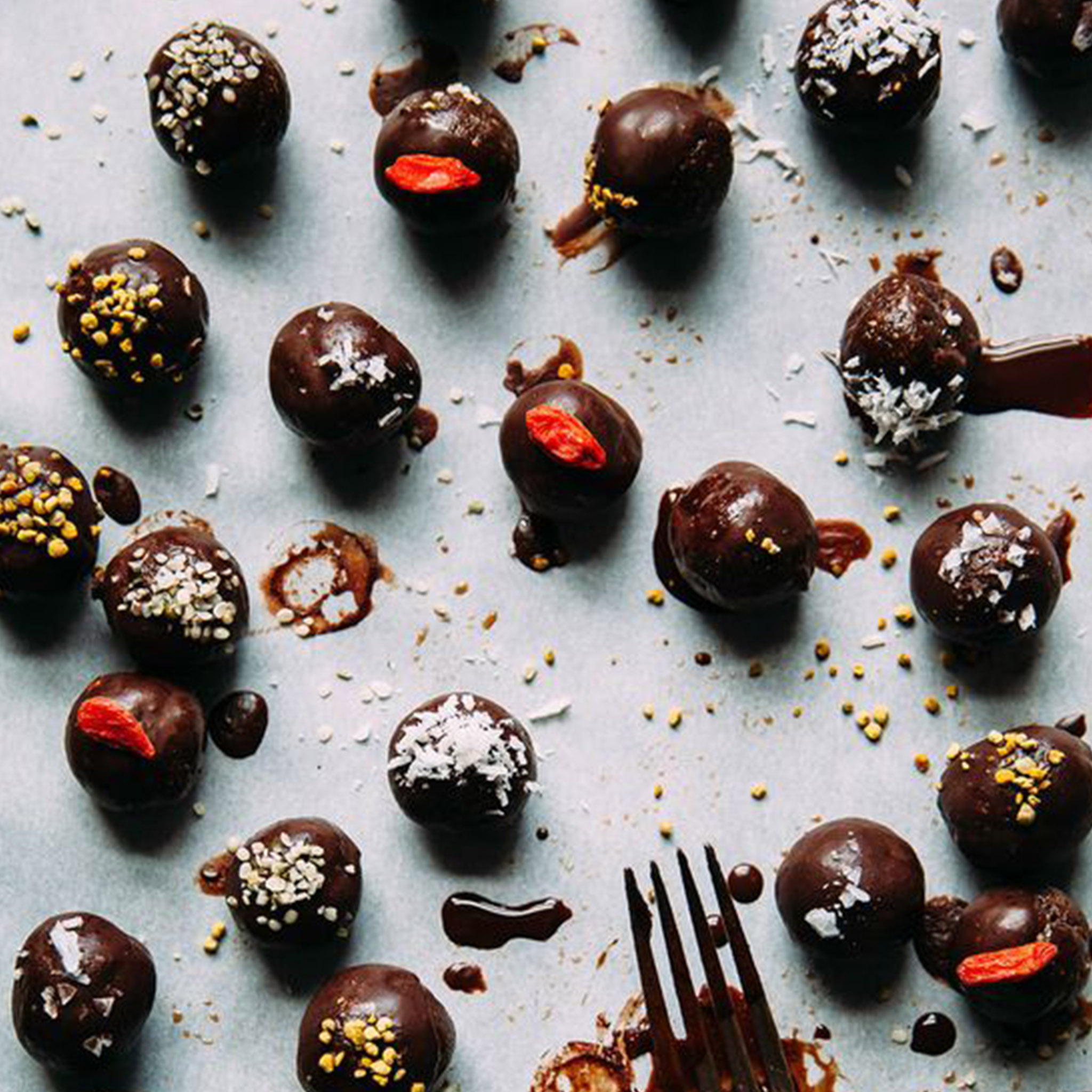 Superfood Brownie Bites
Calling all chocolate lovers! You can have your brownie and eat it too. These chewy, chocolatey superfood bites are a great dessert, craving-kicker and all around snack. Ever have brownies for breakfast? Now you can. Just pop these bad boys into a baggie and *BOOM!* ... instant brownie breakfast.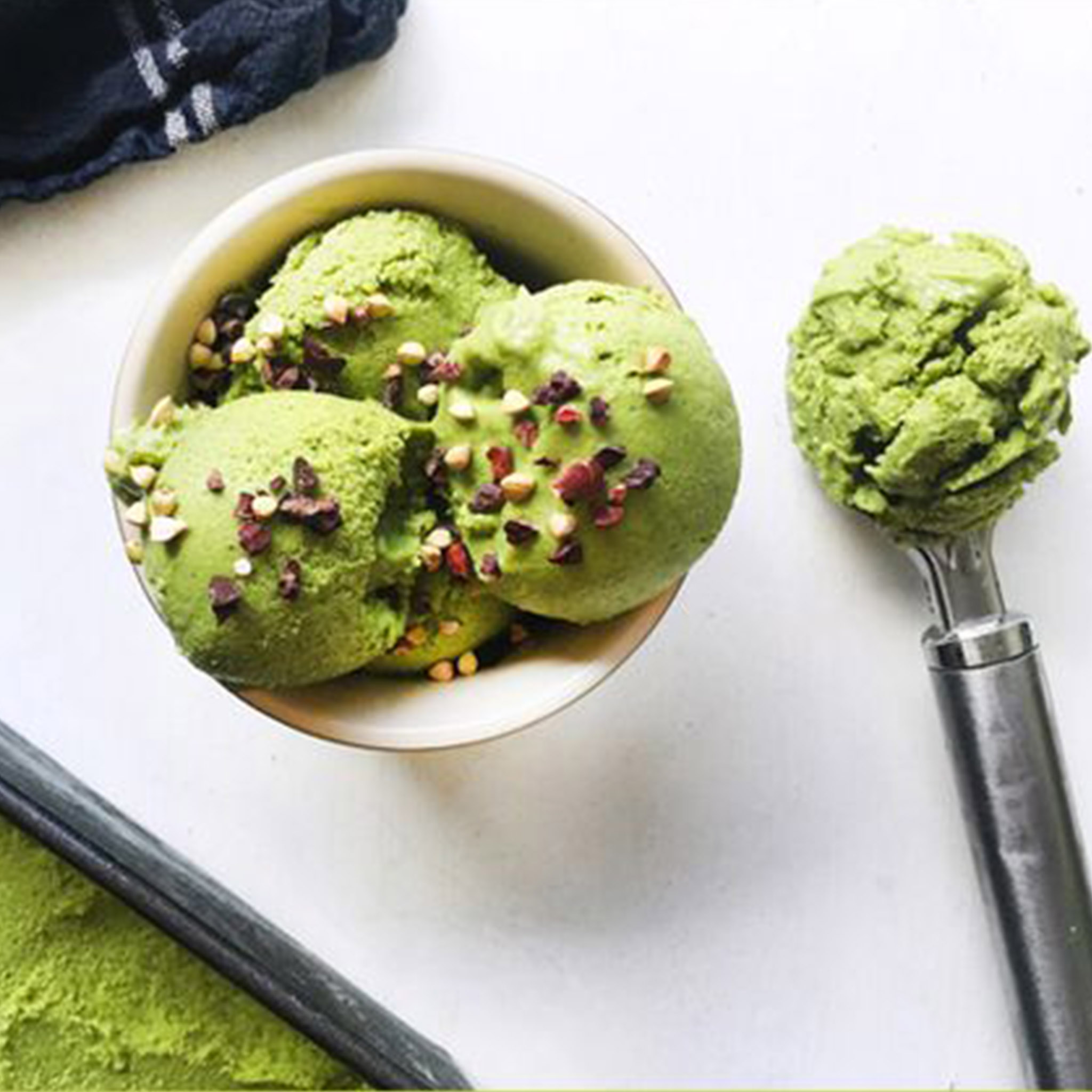 Supergreens Avocado Ice Cream
When life gives you avocadoes... make ice cream! This recipe includes raw honey, coconut, avocadoes (obviously) and supergreens to give you an extra healthy cool treat on these hot summer days.
Looking for more about meal prepping when on contract? We have a blog for that, too.