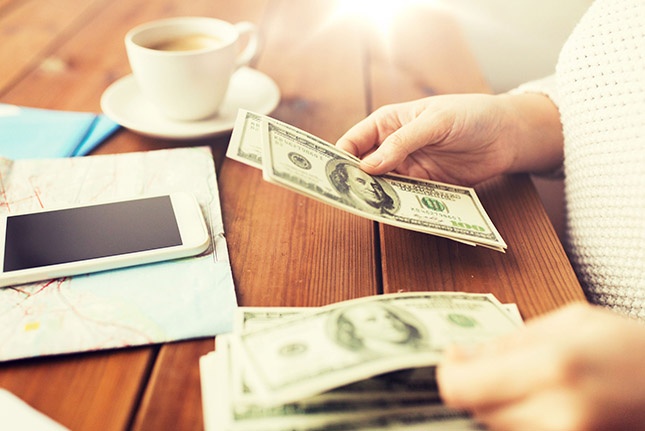 The holidays are over, which means we probably all spent a little too much cash this season, am I right? If you're like me, it can be nice to know there's ways to save a quick buck. Prepare for your next travel assignment, stay stress-free, and save more money with these financial tips for travelers.
Plan ahead.
You already have a lot on your plate when it comes to traveling. The more you can plan financially, the less chances there are for surprises along the way. Itemize what you'll be spending, like the cost of living expenses, your travel expenses, and anything else you can plan for. Having a better grasp on your cash will put you in better control of what may come up along the way.
Don't forget about deposits.
In addition to your monthly rent, there's usually a deposit to put down for your next apartment. Yep. You gotta think about your housing ahead of time. Ohhh, how quickly that monthly amount doubles when you factor deposits in… But, here's a tip—don't just plunk down a deposit and figure you'll deal with the monthly rent later. It can be much more efficient to have your first month's rent ready to go during deposit time. It may seem like a lot of money to drop, but think of it this way: you won't have to worry about it later.
And hey! If you need some advice on how to look for quality short-term housing, we have a post for you to read here.
Bring a credit card.
We all hear that overusing a credit card can be dangerous for your bank account. But credit cards aren't all slippery slopes to Debt-ville. Actually, it's pretty smart to keep one handy in case you need quick payment during travel or in an emergency. Choose a travel-friendly credit card (like one from this list) that won't be out-of-network, or ping alerts when used in multiple cities. And speaking of emergencies…
Pack on the ICE.
ICE, ICE, baby. No, it's not for you to cool down with, but it is a good way to chill out when you have some unexpected expenses. It's your in case of emergency fund (ICE)! This is just a smart thing to have for your life in general, but having a special ICE fund for your travel assignments can help with your planning too. Set aside some money for this kind of thing each month, and you'll be feeling a lot less stressed if the unexpected does come up. Check out this article for more steps on how to build your emergency fund.
The important thing is to assess your current financial situation, plan ahead as much as possible, and give yourself some breathing room in case of unexpected expenses.
Read more money saving tips that can help you out when you're on an assignment.
Now that we have that little money chat out of the way, why not check out where you're headed next with our current job listings: