It's Fat Tuesday, folks! So we are taking you down south to the Creole State. It doesn't matter what you enjoy doing when you're on assignment, Louisiana has something great to offer.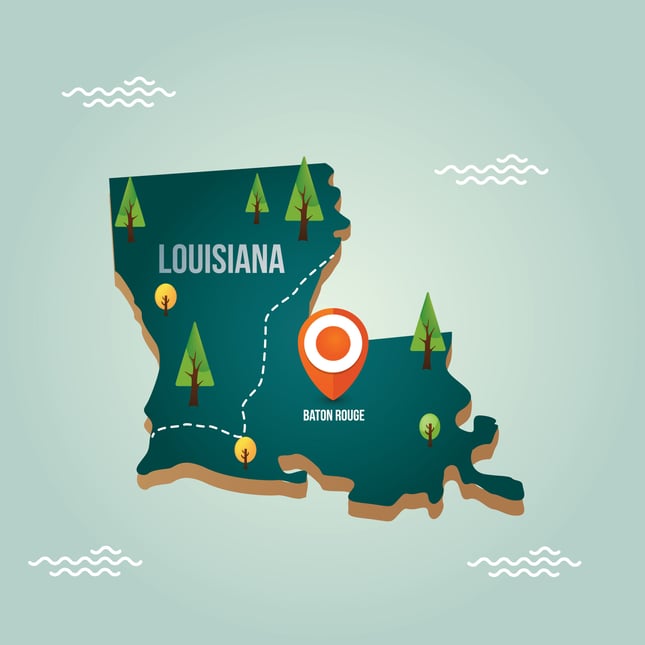 The food: This could be our one and only point, and it would still be enough to check out this state. Where do we start? The beignets, jambalaya, gumbo, red beans and rice? Seriously, it doesn't get any better than this. Then you have creole anything, andouille sausage, and the Mardis Gras essential, King Cake. Basically, we love food and we love the food of Louisiana.
The language: Half of the fun is trying to pronounce the words and names you see around the state. Along with that is the heavy Cajun/Creole accent you will hear from the locals.
New Orleans (aka Big Easy): Endless history, amazing music, and again, the food. NOLA is a great way to catch everything the state as to offer in one location. We suggest you check out the French Quarter for your first stop (the oldest neighborhood in the city!) Also, after a long day of checking out Jackson Square and Bourbon Street, a visit to Cafe Du Monde is a must!
The Music: When you think of Louisiana, you immediately think JAZZ MUSIC! Which is just one of the many types you will find in the state. Blues, Creole music, Zydeco, and Swamp pop are some of the other types. You can find music on every corner. Often times free, and always great.
The history: You could spend years here and still never experience all of the history they have to offer. From the old school architecture and plantations, to landmarks regarding the Louisiana Purchase.
Sports: WHO DAT? Louisiana takes their sports seriously. From college football to the New Orleans Saints, and everything in between, team pride is the common theme.
The Swamps and Bayous: We recommend checking out a swamp tour if you are on assignment here, especially an airboat! You can kayak or canoe through all of the beautiful swamps and waterways, all while admiring the various wildlife forms.
Are you ready after ready this list? We are! Contact us today to learn about travel opportunities throughout the state, or check out our job listings!
Thinking about traveling with Fusion? This read is for YOU!