Deposits are a sticky subject that are annoying and can be time consuming.
Here are 8 Tips to Help Get Your Housing Deposit Back: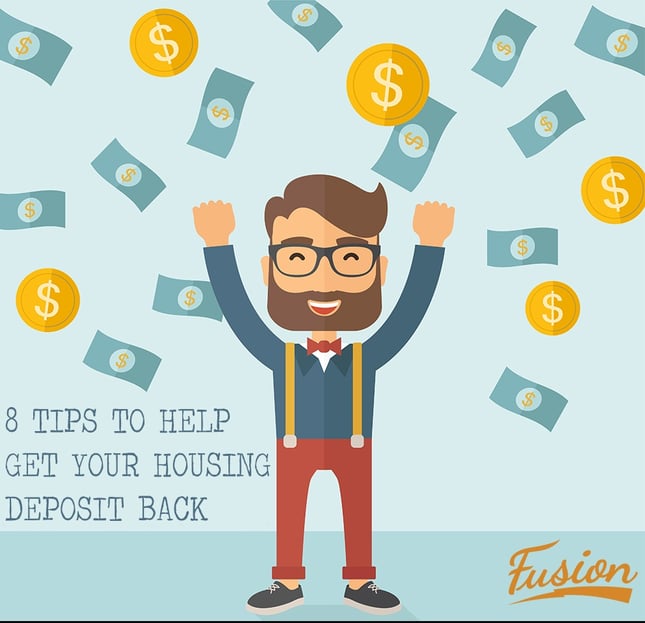 1. Read your lease! Your lease is outlines how soon you need to give notice, you can ask the landlord to give you an exact date at the time of move in, just to be sure there is no discrepancy. This will make sure that you don't "break your lease" by giving improper notice.
Some leases will have a page of itemized cost list to replace items or make repairs. This list could include items like light bulb replacements, replacement batteries for smoke detectors, drip pans for the stove, stain removal, general hourly cleaning, steam carpet cleaning etc. You can get a copy of this and use it as a checklist your last week in the unit. And yes, they can and will charge an absurd $5 to change a .99 cent lightbulb!
2. Fill out the move in inspection checklist! Fill out the move in checklist your lease should provide and try to turn it in within a day or two of your move in. If you turn in the checklist later than the date specified on the form or by the office it may be null and void. We recommend doing this first thing, before you move in a single item, it's easier to identify issues without any clutter. Take note of any stains or marks on the floor, ceiling or walls.
Report any issues that need addressed and schedule a time with maintenance to resolve. If there are items that are not addressed after you have reported them, make sure to take pictures of the damage. This helps you to ensure that the landlord can't claim you caused the damage and stick you with the cost! Make a copy of the checklist and photos to keep for yourself.
3. Report any issues that arise during your stay! Make sure you stay up-to-date on any issues that occur while you are occupying the property. You can call, email or stop by the office to report any issues that need maintenance during your stay to keep the issue from escalating. Anything from leaking faucets, backed up drains, exterminator, etc.
4. Organize, clean and repair the property! Spend a little time putting the property back into its move in condition. Patch any holes in walls, request a little paint from the office (most of the time for free) to touch up any scuff marks, etc. Repair any other damages to the property, clean out the fridge/oven/microwave as well as wipe down all surfaces and sweep/vacuum and take out the trash. If your property is furnished, make sure that you do the dishes and put them away.
5. Request a final walkthrough! Ask the landlord to schedule a walkthrough of the unit, after you have done your repairs but at least a day or two before you move out. If the landlord is unable to meet one on one, request a list of any damages or charges so that you have the opportunity to fix them and leave the property looking marvelous!
6. Take photos of the property the day of your move out! Document the superb condition that you left the property. After you have removed all of your personal belongings, take photos of each room and email them to the manager the same day you move out, so you have the date of correspondence and proof of the condition of the property. This way you aren't hit with the bill for the crazy party your neighbor hosts the day after you move out!
7. Complete your move out! Once you're out of the apartment and ready to hit the road on your way to your next assignment, stop by the leasing office to drop your keys off and leave a forwarding address where you would like to have the deposit mailed. Be sure to get the person's name that you leave your keys with. Do not leave the keys in the property unless instructed to do so by the landlord. Leaving the keys in the apartment could result in the leasing office taking additional rent out of your deposit because they landlord does not have a way to know that you are gone.
8. Wait for your deposit refund or statement of deposit! If you did all of these steps, the landlord has anywhere between 14-60 days (depending on the state) to mail out your deposit. Private owners can sometimes take less time and sometimes twice as long as they aren't used to state policies, just have a chat with them on when you can expect your deposit back as your heading out the door.
If it's been over 60 days and you still haven't gotten your deposit or the statement of deposit, call the office, ask for a manager and have them send you a statement of deposit and the date you can expect the deposit back, then follow up with an email (outline the facts: how much the landlord owes you, photos you took on your way out, also cite the states security deposit law, this way you can track your correspondence until they get you the information you require.
If you get your deposit back but there are deductions that in your opinion are unjustified, it is your right to ask for pictures and invoices or receipts for the repairs. If they do any major repairs such as replacing the flooring, check to make sure that they depreciate the cost of the replacement.
Hey, it's your money and you need it now! Happy collecting!
Looking for more tips on housing as a traveler? Read the Traveler's Tips to Creating Your Home for 13 Weeks. Thinking of living RV style? Here are some of the Pros & Cons!
Have you been catfished by temporary housing? Read more on what you can do to get yourself out of a fishy situation.