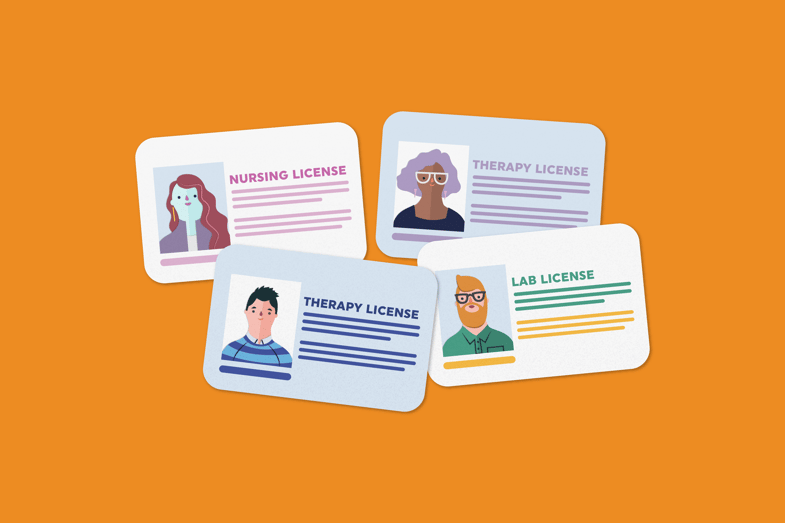 Whether you're a travel nurse or allied health expert, you'll need a state license before you can start working your medical magic. To help you get to where you're going next, we created this quick guide to state licensing. Check out the state licensing requirements for:
State Licenses for Medical Travelers Quick Guide
How to get your travel nursing license
You became a travel nurse for a reason. Whether that's to improve the lives of those you touch, to hike through every national park in the country, or to eat your way through the states, there's a reason you chose the travel nurse life. But the question remains: where will your next travel nurse adventure take you?
The answer may depend on your nursing license. To start your career as a travel nurse, you'll need a current nursing license issued from a state board of nursing. You may also need to complete additional certifications, depending on the state you plan to work in.
The good news is, many states offer a compact nursing license, also known as the Nurse Licensure Compact (NLC) or enhanced nurse licensure compact, which allows you to practice nursing in multiple states with one multi-state license. In addition to states that offer a compact nursing license, there are also walkthrough states where the process of obtaining temporary licensure is streamlined. What's the difference between a compact nursing license and a walkthrough travel nursing license? Let's take a look and find out which may be the best fit for you.
NLC vs walkthrough nursing license
Can you imagine having to get a new state nursing license for each location you wanted to work in? Neither could the U.S. government. That's why they created the nursing licensure compact.
The compact license is a multi-state license that allows registered nurses (RNs) to practice their skills in all participating states. So, instead of applying for a license in every state you wish to work in, might we suggest opting for a compact nursing license?
To qualify for your nurse licensure compact, you must have proof of residence in a compact state, plus a current and active RN license in said state. If you don't happen to have a permanent home in a compact state, you can apply for a license in a compact state by endorsement, but that will only allow you to practice nursing in that single state. Depending on the state nursing licensure you're applying for, there's also a chance you'll need to take and pass the Jurisprudence (JP) Exam, which tests your nursing knowledge and skills.
Then, there's a walkthrough nursing license. Walkthrough states give travel nurses the option to get a temporary license so you can practice nursing while you wait for a permanent state license or compact nursing license. Typically, walkthrough licenses are valid for one to six months, depending on the state.
If the state you want to work in doesn't participate in the NLC and isn't a walkthrough state, then the odds are that the state operates independently from these license options. That means to get licensed in one of these states, you'll need to apply for a single-state nursing license.
Nursing licenses by state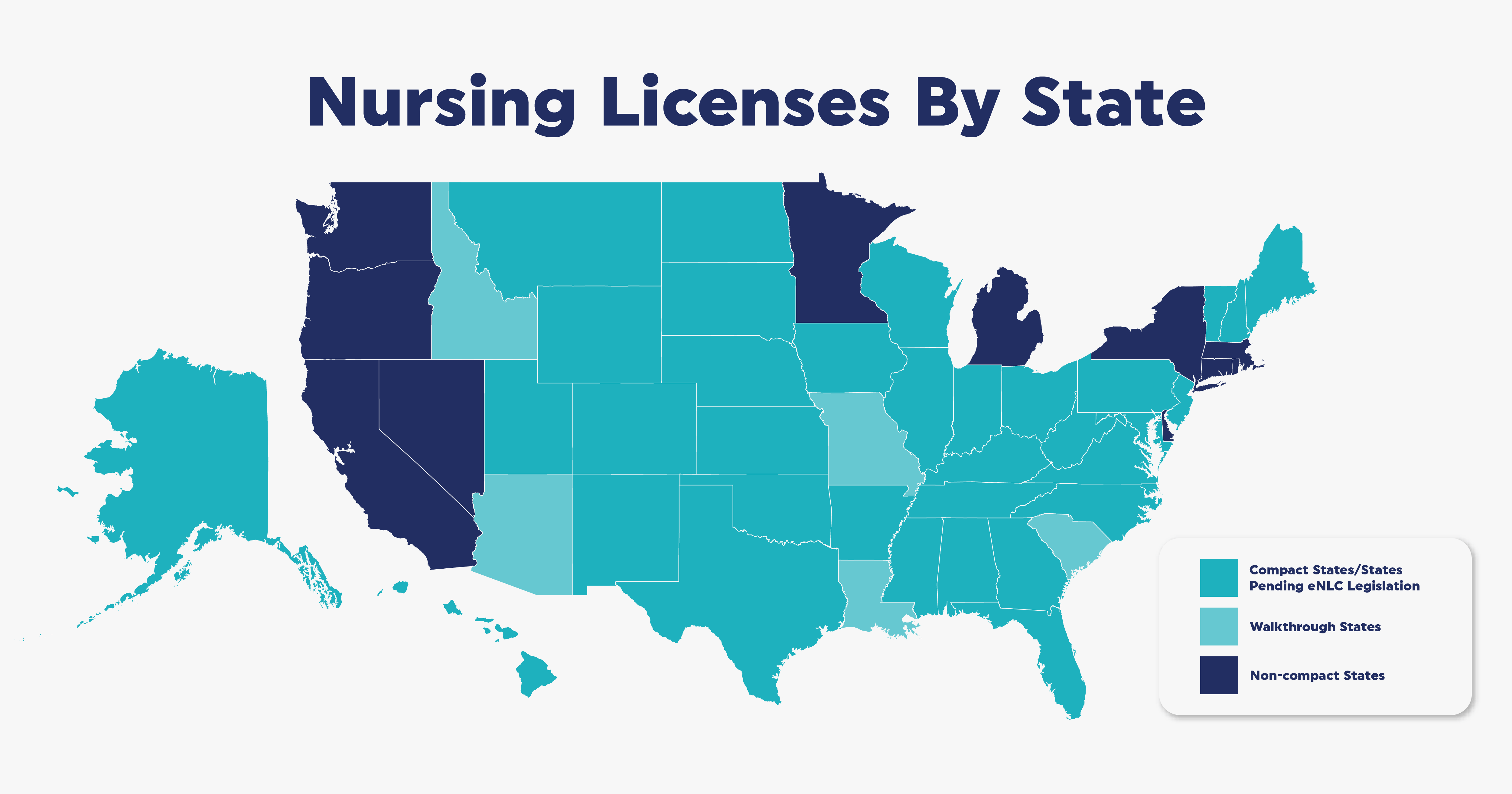 How to get your travel therapy license
Like nurses, travel therapy professionals such as physical therapists (PTs), occupational therapists (OTs), and speech-language pathologists (SLPs) need to be licensed by the state before they can begin treating patients. Regardless of your therapy specialty, you'll need to pass a national exam, complete clinical or fieldwork, and maybe submit additional coursework or continuing education requirements in order to get licensed.
Compact license vs non-compact therapy licenses
Nursing isn't the only medical division that gets a compact license – so does therapy! You can apply for a compact license in therapy to help you do what you do best in any participating U.S. state.
Related: Advance Your Travel Physical Therapy Career with a PT Compact License
To qualify for any of the therapy compact licenses, you must hold a current and valid therapy license in your home state, plus a valid driver's license proving your home state. In addition, you may be required to pass the JP Exam, depending on the state. These are the different types of compact therapy licenses:
Although most U.S. states participate in some kind of therapy compact licensure, there are a handful of states that don't. And those would be non-compact states. To work in a non-compact state, you'll need to apply for a single-state license. Since the length of time to get licensed varies by state, we recommend you start the process early so you're ready to hit the road for your next travel therapy assignment.
Therapy licenses by state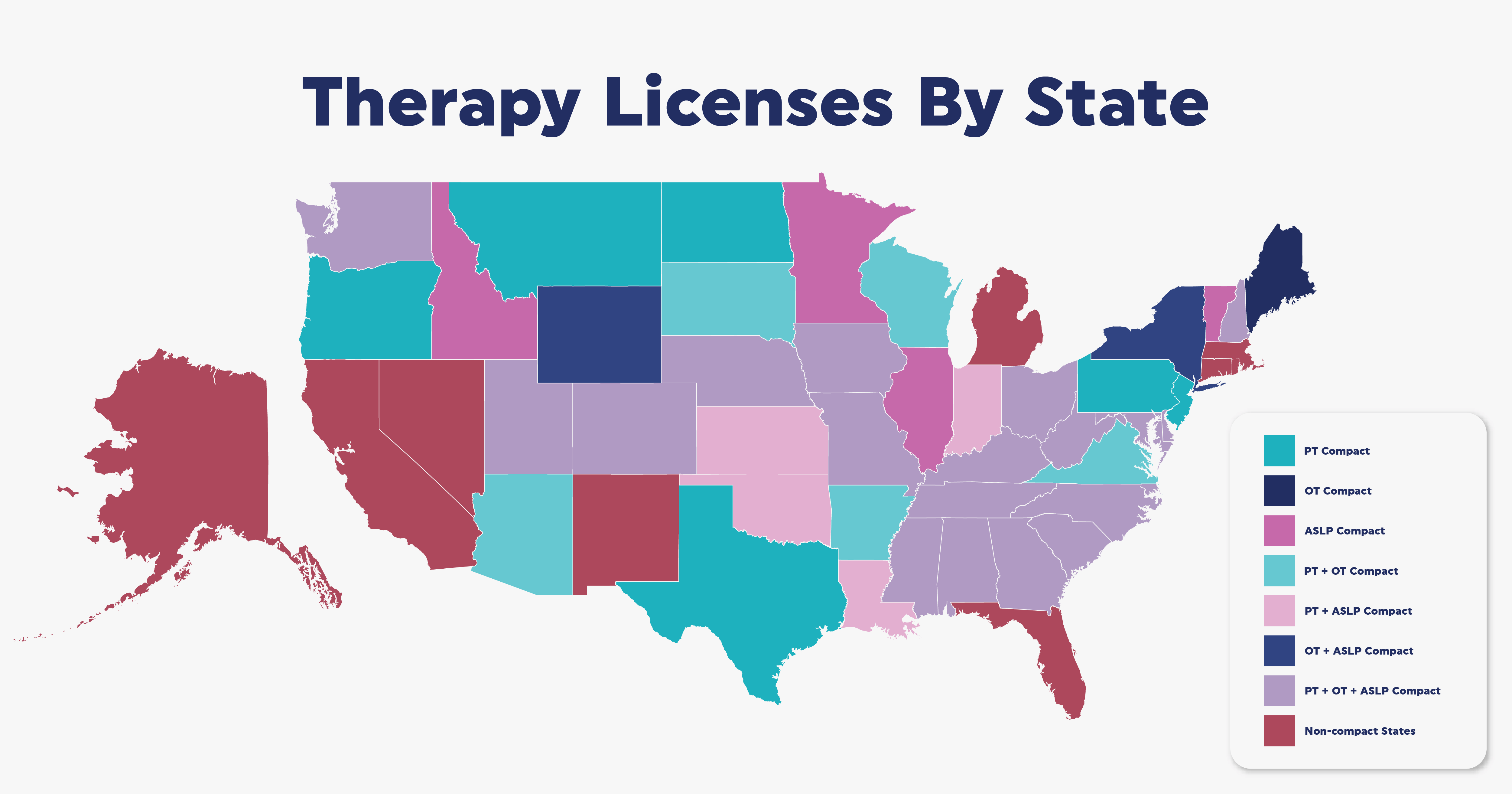 How to get your clinical lab license
Life as a travel lab professional can take you to scenic destinations across the U.S. But where you work your next job could depend on the state's lab licensing requirements.
Getting a clinical lab license can be a complex and time-consuming process. Depending on the state or jurisdiction, the licensure process can include multiple steps that involve things like an application, a licensing fee, the completion of an approved training program, and the passing of appropriate licensing exams.
Most clinical laboratories require personnel to have a license in order to work in the lab and handle patient specimens. The most common clinical lab license is a personnel license, which allows an individual to conduct tests and interpret results. Here's how to get your personnel license.
Personnel licensure
Whether you're a medical lab scientist (MLS), histotechnologist, or another type of lab professional, you may need a personnel state license to practice your skills. A personnel lab license is a legal permit that gives you permission to provide medical care and currently, only 10 states have enacted licensure for clinical lab professionals like MLSs, medical lab technicians, cytotechnologists, and more.
To obtain licensure in one of these states, most require fingerprint scans and documentation of certification, education, training, and competency. Plus, some states require documentation of a specific set of contact hours before you're able to get licensed. Before you embark on your travel journey, check out the state's specific requirements to ensure you meet them.
But what if you want to work in a state that doesn't require licensure? Good news, you can! It might even be a smidge easier to work in a state that doesn't require lab licensing because there are no extra hoops to jump through, just your casual compliance, and then you're off to the races. And lucky for you, Fusion Medical Staffing's kick-ass compliance team is here to help you navigate the complex world of compliance on all days that end in "y."
Clinical lab licenses by state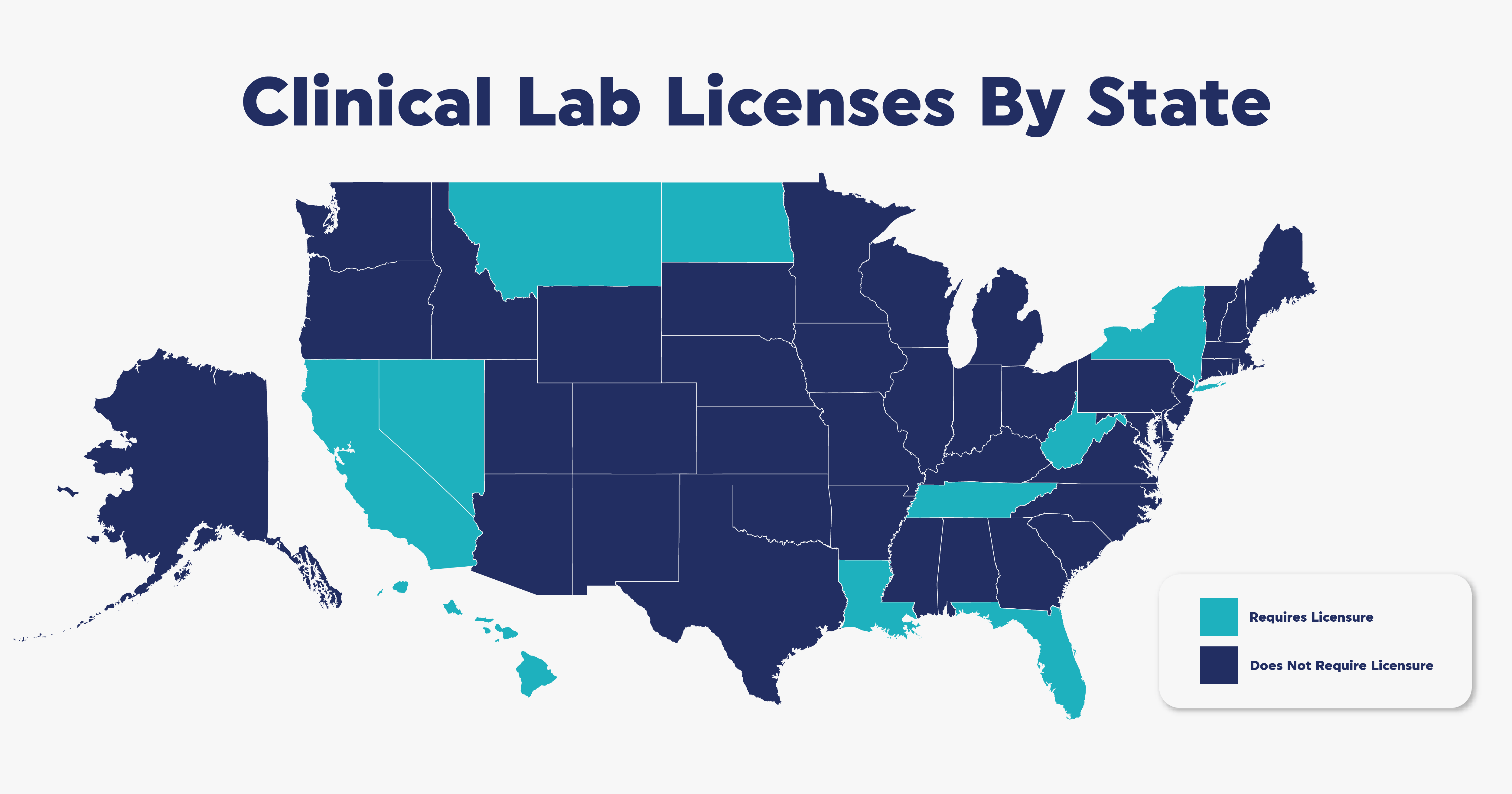 How to get your radiology license
You don't need us to tell you that you're rad – you already know that. But what we can tell you is how radiology and radiography licensing works across the U.S.
To get licensed in radiology or radiography, you'll need to complete an accredited program, pass a certification exam, submit an application to the state, and pay licensing fees. All state require applicants to pass the national certification exam through the American Registry of Radiologic Technologists (ARRT) or another approved organization. Here's what you need to know about ARRT licensure and state licensure.
ARRT vs state licensing
Should you get licensed through the ARRT or through the specific state you want to work in? Before you decide, there's a catch: some states require either ARRT or state licensing, some states require both, and some states require neither. Spoiler alert: a lot of states require both ARRT and state-specific licensure, so it may be a good idea to move forward with ARRT licensing either way.
To get licensed through the ARRT, you must meet the three requirements of education, ethics, and examination. The first step towards ARRT credentialing is education where you'll complete an ARRT-approved educational program in magnetic resonance imaging, nuclear medicine technology, radiation therapy, radiography, or sonography.
Once step one is complete, you'll learn about the ARRT Standards of Ethics. Here, you'll receive the governing documents and learn the dos and don'ts of working in radiology. Lastly, there's the ARRT exam. The ARRT exam evaluates your radiology and patient knowledge, so all you have to do is ace that, pass go, and collect your radiology ARRT license.
Like other modalities including nursing, therapy, and lab, radiology state licenses differ depending on the state you want to work in. Before you embark on your travel journey, investigate the state's requirements to ensure you're set up for success on your assignment. For a quick view of state licensing requirements for radiology, check out the chart below!
Radiology licenses by state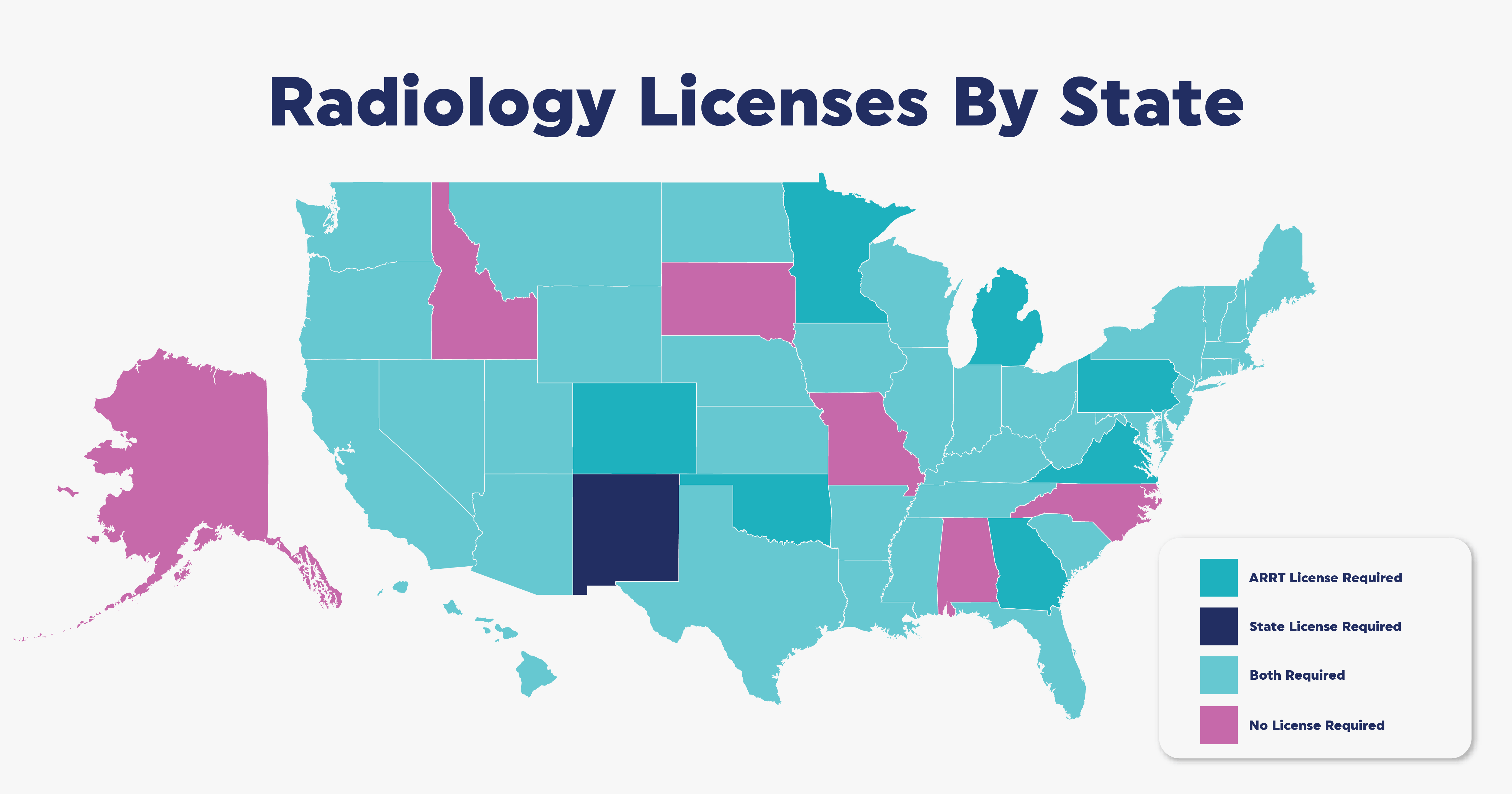 Licensing hacks
If thinking about professional licensure feels like a headache, you're not the only one. The plus side is now that we know the licensing requirements for travel nurses, travel therapists, lab experts, and radiology professionals, the hardest part is over — it's all uphill from here. These are licensing hacks that will help you get to the top of the hill and credentialed as quickly as possible.
Plan in advance
It can take a hot second to get officially licensed, depending on your division and specialty, plus the type of license you're going for. Do yourself a favor and plan accordingly for your next travel assignment! Here are some suggestions on how you can plan ahead of time:
Talk to your recruiter and traveler friends to find out the states that have good opportunities for your discipline and then get licensed in those states
Keep a bucket list of travel destinations so you can easily decide where to go for your next travel adventure
Maintain two or three active state licenses at a time for more job options in multiple states
Travel with Fusion Medical Staffing and allow us to do the hard (and expensive) work of applying for licensure for you
Obtaining licensure doesn't have to be a headache. When you plan in advance for your next assignment, you'll know ahead of time where you're going and what's required of you to work there. Planning in advance helps you avoid scrambling at the last minute and keeps you prepared for your next travel assignment, wherever that may be.
Stay organized
As we've learned, getting licensed may require a casual leap through a hoop or two. When it comes to leaping, make sure you're ready for the jump. One way to do that is by staying organized.
Depending on the license, application requirements can include a slew of paperwork and documentation. To help streamline the process, get all required documents together in advance. This criterion will differ based on division, state, and type of license, so make sure you've researched in advance what's required from you. Once you know what's needed from you, get it all in the same place so it's easy and fast to upload to the licensure application form. Commonly required documents include personal identification, medical records, fingerprint cards, professional credentials, and licensing verification.
To keep all files together, create digital copies of the documentation, so it's fast and easy to find and submit them when needed. Another idea would be to create a Fusion Marketplace account to keep all your information organized in one safe, online location. With a Marketplace profile, you can house and easily access all your important documentation to stay organized.
Be prepared
You're off to a good start with planning in advance and staying organized, but being prepared takes the cake. Regardless of if you're going for a compact license or a single-state license, there's a chance that an exam is in your future. And if that's the case, then you need to be prepared for what that test is going to throw at you. Of course, the best way to be prepared for an exam is to, yes, you guessed it, study. Check out our study tips to help you get started.
In addition to the potential exam in your future, it's also possible that the facility you'll be working in has its own licensing requirements, as well. Of course, this isn't always the case, and when it is, your recruiter will communicate with you to make sure you're prepared for your first day in your new healthcare setting.
Lastly, when it comes to licensing, it's up to you to be prepared for renewal requirements. Many times, renewal requirements include a certain number of continuing education hours and a fee, but it depends on the state where you're obtaining licensure. When it comes to renewing your licenses, you get to decide which licenses you wish to renew versus the ones that you let lapse. For example, maybe you renew a license in a state where you want to work again but let another license lapse in a state you don't think you'll work in again for some time.
We'll admit it — it's not always a walk in the park to get licensed where you want to work. But that's part of why you have us! At Fusion Medical Staffing, you have a personalized team working hard to ensure you're prepped and ready to go for your next assignment, and that's true even when it comes to licensing. The next time you're in the market for a state license, use this licensing quick guide as a reference to help you plan in advance for what you need to do to be successful in your travel jobs.