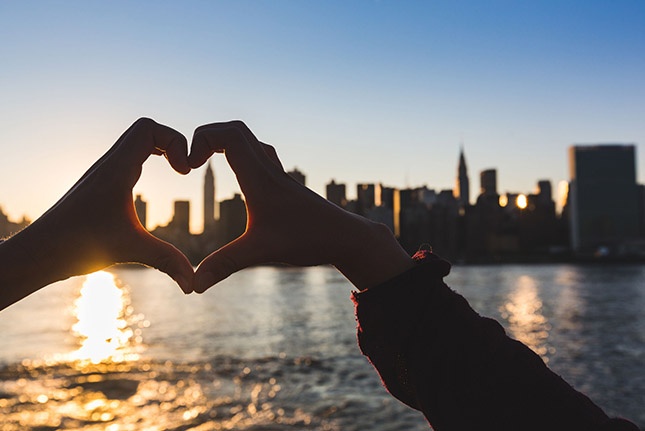 Love. There are countless songs about it; we seem to always be in search of it, and like Apple says: There's an app for that. Sometimes it seems that once we've found love, we have to do all of this stuff to maintain it and nurture these relationships. So, how do we find love, and keep it close? We have three Fusion love stories to share from our travelers, on how they met their partners, and the ways they continue support each other.
Laura + Brian
It all started with a dog park...
Laura is from Virginia, and her first travel assignment was in Omaha, NE. She met Brian at a dog park on the very first week of her first contract. Together, they had the complete Omaha experience: They went to the Henry Doorly Zoo and to the College World Series. They biked on the Taco Ride. They visited art exhibits in downtown Omaha, and cheered at Husker football games. And though they met in Omaha, their love for adventure led them to bigger pastures.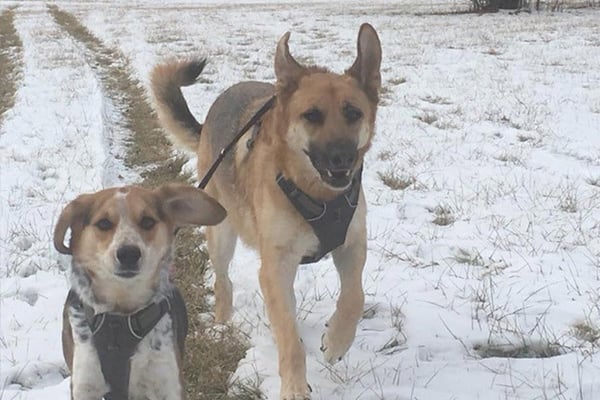 In the year and a half they've been together, they have road tripped, hiked, vacationed, and even bought motorcycles together. Their relationship has led them to Chicago, Sioux Falls, Minnesota, and Puerto Vallarta. One time, they traveled to the Black Hills and to the badlands of South Dakota and hiked the mountains. When the rain started pouring, they huddled together in a small cave, showing that even the unexpected adventure can be weathered together.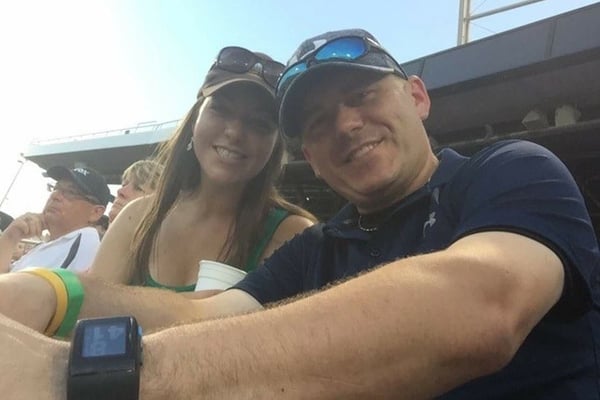 Laura takes every other contract in Omaha, and on away contracts, like Phoenix or Winchester, Laura and Brian fly to visit each other. Laura says that as in any relationship, communication is key. Brian is completely supportive of her desire to travel and explore. Although it can be tough at times to be away from each other, so far, everything is working out great.
<3 <3 <3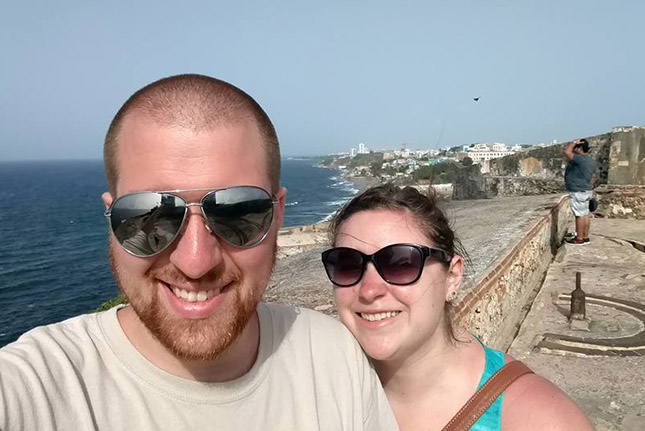 Danielle + Sean
Moving mountains together...
Sean and Danielle met while she was on assignment in Charlotte, NC. After a great first few dates, they decided to start a relationship, even though Danielle was planning on moving to California in a couple of months. Exactly one month into their relationship, Danielle lost a fight against a mountain... She took a nasty fall, breaking one of her ankles in three places and severely spraining the other. Luckily, she was in good hands with Sean, a med/surg nurse. Danielle ended up moving in with him and his parents. After several months of recovery, she decided to take a permanent job at her assignment and stay in the area while Sean finished his BSN.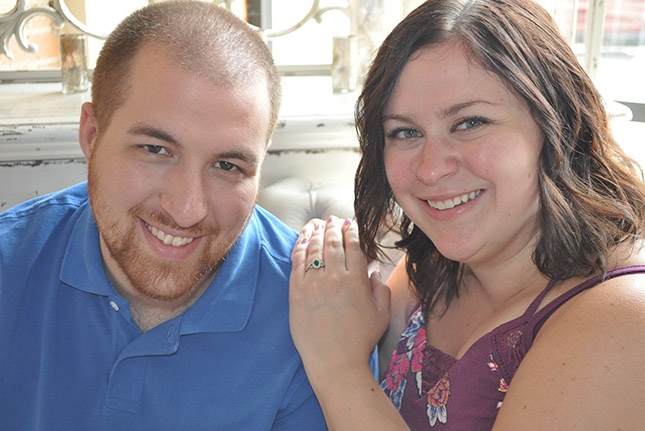 Nine months later, Sean and Danielle were engaged at a nearby mountain. (No, not the same one she fell from.) They've enjoyed traveling to Puerto Rico, and road trips from North Carolina to Minnesota to California. They make their relationship work while traveling by dividing tasks up based on each person's strengths and looking for new places to explore. If they can stand that many hours in a car together, they figure they can make it through anything!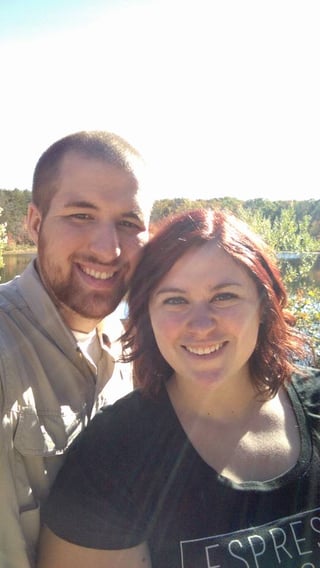 Sean and Danielle hit the road, finally moving to California, and currently reside in Los Angeles on assignment. They're planning a wedding for this September. They think it's important to remember that no matter how many stressful things happen in this crazy line of work, they're in it together.
<3 <3 <3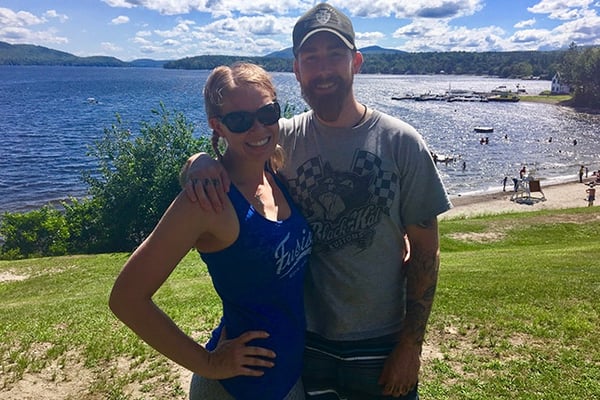 Katherine + Bill
Love with roots that run deep...
Katherine and Bill met early in life... when she was five and he was ten! Their mothers went to college together and Katherine had sleepovers with his sister all the time. Bill always had a sketch pad handy and would quietly draw up a storm or play video games with Katherine's brother. As they grew up, Katherine lost touch with Bill and his family. However, their mothers stayed close and kept in touch with regular updates on the families.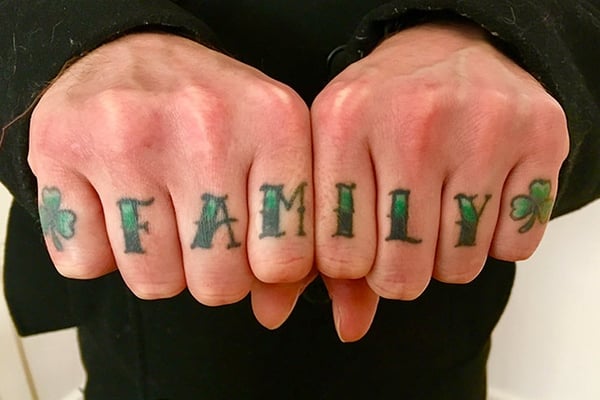 Sadly after a long, courageous fight with leukemia, Bill's mom passed away in 2009. Through social media, Katherine was able to reconnect with Bill's family. It seemed that all of Bill's time spent drawing paid off; he had become a successful tattoo artist, specializing in Celtic knots and freehand designs.
On a night out with friends, Katherine ran into Bill and gave him the biggest hug ever! It had been almost 10 years since she had seen her childhood friend. She always meant to make a tattoo appointment with him, but the traveling life hadn't given her the opportunity for some ink in her hometown. It was definitely the right place at the right time, so she started her biggest piece yet, with long, repeat appointments.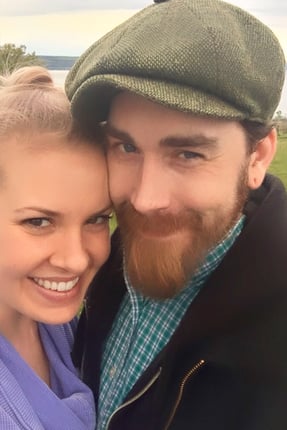 All of those appointments made Katherine realize how much she liked Bill, so she invited him out for margaritas. They spent the whole night talking and connecting. It felt like something had changed between them. Bold from her margaritas, Katherine admitted her crush, and stunned, he met her with the most romantic kiss. He still sweeps her off her feet today.
The most important things about Katherine and Bill are respect and connection. They support each other unconditionally and feel genuinely grateful for each other on a very deep level. They think it's incredible how their paths crossed again, as adults, at the perfect moment. Recently, Katherine has been fortunate to work two hours from their apartment and snag a night shift 7 on, 7 off rotation. She gets to be home every other week, and they savor the time together. They make time every night for a phone call and it really helps during the weeks away. Bill also has two beautiful children, Rowynn and Daxx, whom really bring a kind of joy, love, and perspective to their lives.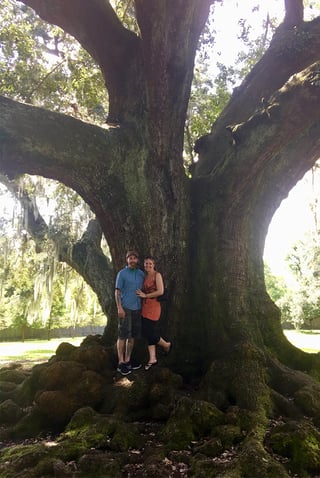 On a trip to New Orleans, they visited the "Tree of Life" in Audubon Park. They both have immense pride for their Irish and Scottish heritages and the stories their family trees have passed down to them. The tattoo Bill had started before their relationship is a free-hand tree with DNA roots. Katherine stood in awe over this gargantuan oak having literally weathered so much in the city, still standing tall, suddenly meaning so much to her and Bill. Everything had fallen into place for them to share this moment together. They recognized all the things they had weathered. Bill told Katherine, "We have both been through a lot and learned a lot. Now it's just time to be incredibly happy."
<3 <3 <3
We hope these amazing love stories from fellow travelers are inspirational and helpful to your own lives, and a nice reminder that love can be found in unexpected places.
Relationships aren't just about romantic love. Want to read more about how to maintain your friendships as a traveler? We have a blog for that.