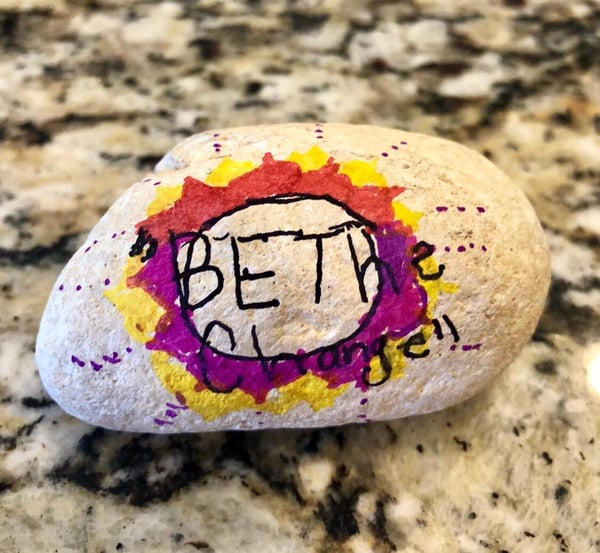 Welcome 2019! There is something so exciting about the start of a new year! It's full of potential, new goals, and memories. It also gives us the chance to kick our feet up and take a look at the year of the incredible things that happened, as Fusion worked hard to Be The Change that we wish to see in the world.
Fusion Medical Staffing believes social responsibility and community engagement are important and necessary as a part of our company and culture. Our Be The Change program allowed employees to spend time helping organizations that have been close to our heart since the company started, as well as starting new ways and traditions of helping others.
Let's take a walk down our 2018 memory lane…..
The Stephen Center
Every month, you'll find us shopping, prepping, and serving a meal for The Stephen Center, a local homeless shelter in Omaha. This volunteer activity has been a part of Fusion since the very beginning and the amount of memories we have made there are too many to count!
Learn more about the Stephen Center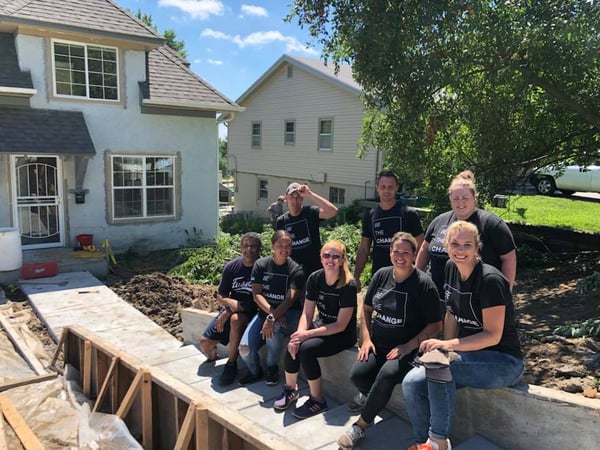 Habitat for Humanity
Rain, snow and heat... regardless of what Mother Nature threw at us, we were participating in Habitat for Humanity build days throughout the year. Twenty of them, to be exact!
Learn more about Habitat for Humanity
Quality Living Inc (QLI)
Oh, how we love QLI! Our bond with them began a few years ago, and it continues to grow each year. QLI treats individuals with brain and spinal injuries and the method in which they do that is remarkable. We are lucky to get to spend time serving breakfast to the residents the first Friday of every month, as well as being Secret Santa to 20 of the residents for their Christmas party!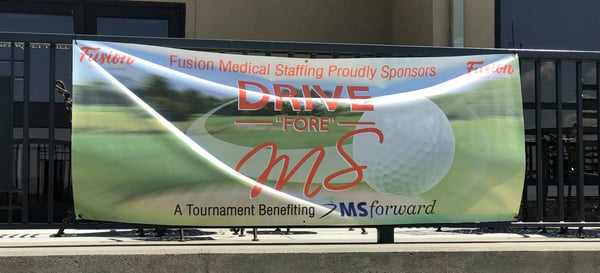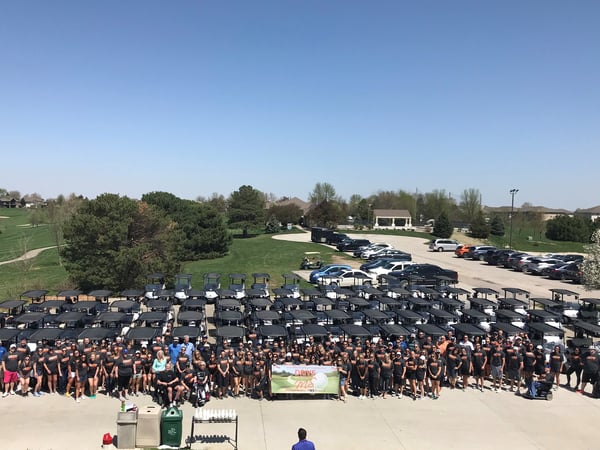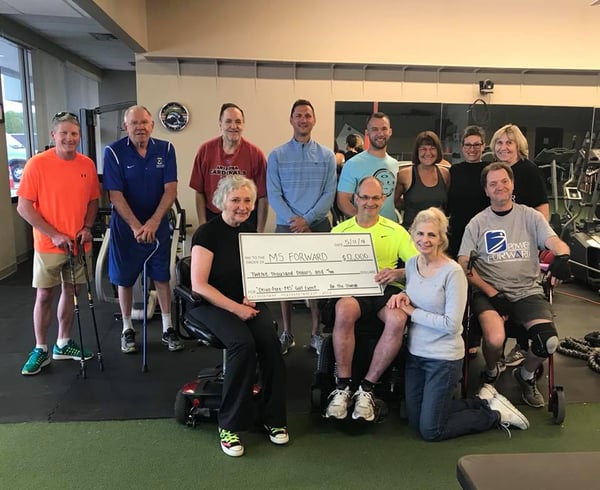 Golf Fore MS
Fusion has been passionate about Multiple Sclerosis since the company hired two division managers 7 years ago who both have mothers with MS. As a company, we participated in numerous MS walks, but 2018 brought about a whole new exciting way for us to help! Much like our October bowling event, our golf event raises money by having employees donate to participate in the fundraising golf tournament. Our first tournament raised $12,000 for MSforward, a gym that specializes in refined and supervised fitness programs for individuals with Multiple Sclerosis. Daryl Kucera, owner of the gym, started the gym in 2001 with the original focus being on athletic coaching and training for high school students. Shortly after starting the gym, Daryl was diagnosed with MS. The diagnosis did not change his desire and drive to help coach, however, he did change the focus of the gym to help individuals diagnosed with Multiple Sclerosis.
"Everyone with MS is different," says Kucera. "One thing I have found is that MS can affect the mind, with the ability to remember some dates and times. For others it can be the physical, with the ability to run, jog or even stand. The one thing I have found in the 13 years of having this disease is that it can't affect the heart."
We can't wait to see how Golf Fore MS tournament grows in 2019!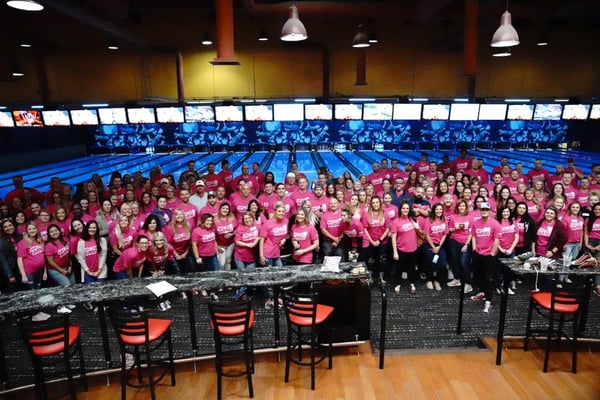 Bowling for Boobs
If it's October, you can find the Fusion Family bowling and wearing LOTS of pink!
One of our favorite traditions is our annual Bowling for Boobs event in October. This year marked the 4th time we split into teams, wore the pinkest shirts we could find, and spent the afternoon throwing strikes, spares, gutter balls, and most of all, laughing. We laugh a lot. The friendship, camaraderie and memories last us for years to come. More than anything, the difference we get to make is what we value the most.
Employees pay $35 each to receive a t-shirt, snacks, and an afternoon off to bowl with their coworkers. Every dollar our employees pay goes directly to the Kamie K. Preston Hereditary Cancer Foundation. The foundation provides genetic testing for individuals who are not able to have it covered through insurance but have a history of cancer in their family.
Learn more about the Kamie K. Preston Hereditary Cancer Foundation
Fusion Elementary Book Drive
A few employees at Fusion spent their Thursday mornings volunteering to read with kindergarten and first graders at a local elementary school. Spending time with these children every week made us aware of a large need for books for these children. Knowing that we have a strong team of givers, it didn't take much to get our Fusion Family motivated to create a book drive for the school... and, boy, did we rally! Fusion employees managed to donate 12,000 books to the school, which gave every child there 6-10 books to take home and keep!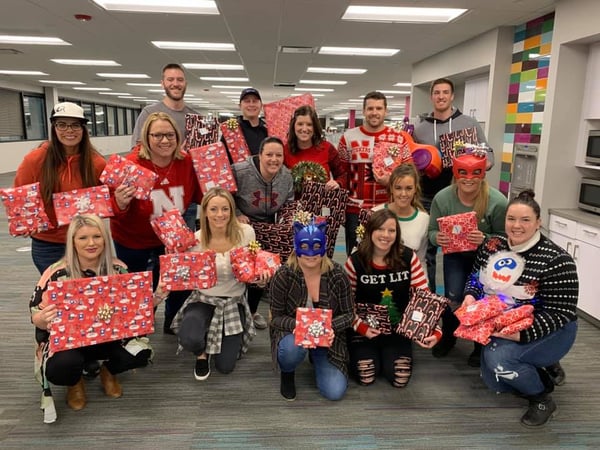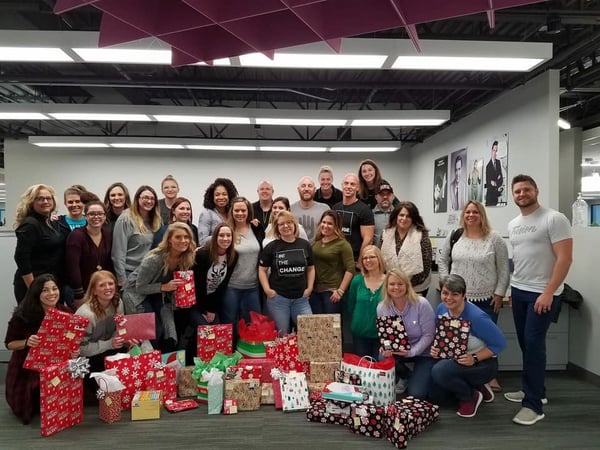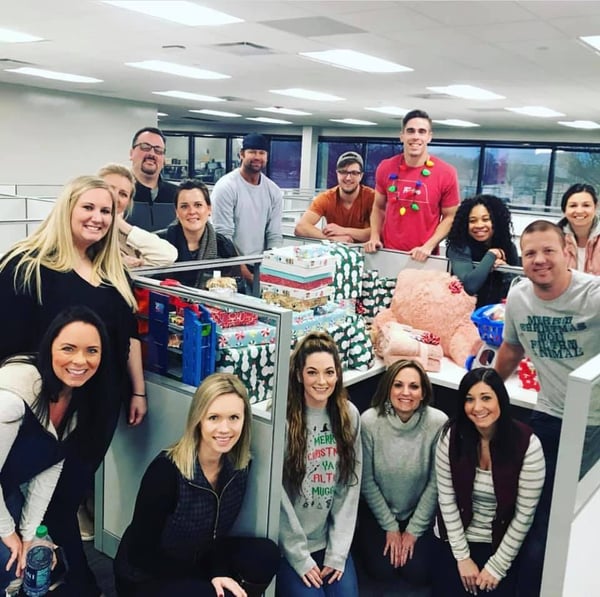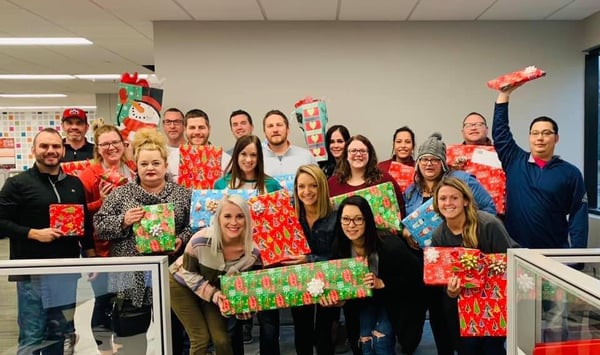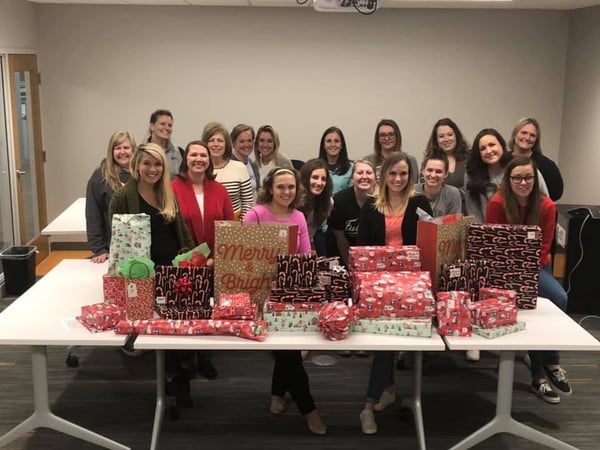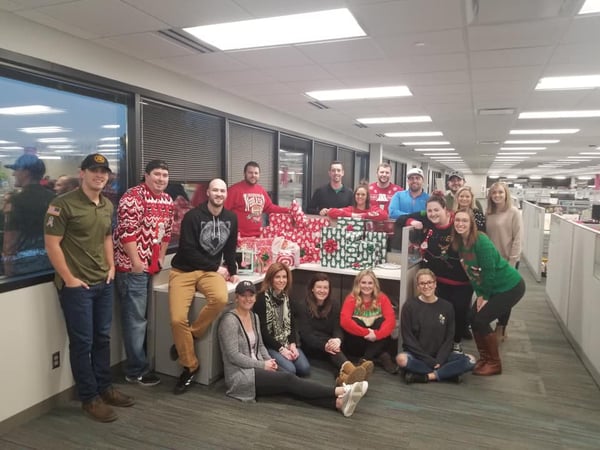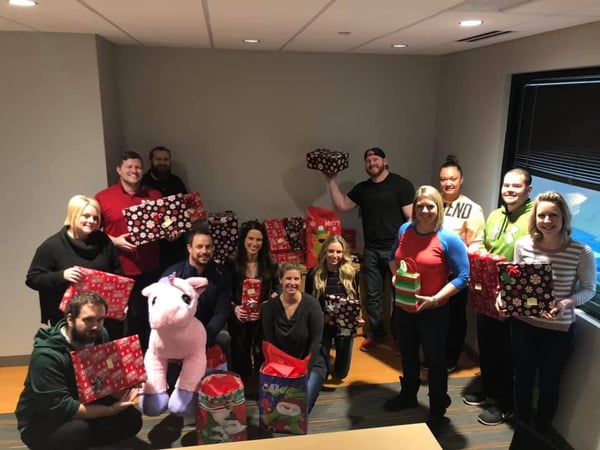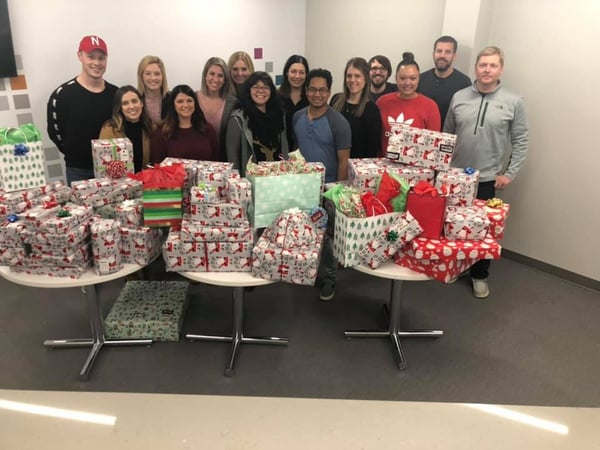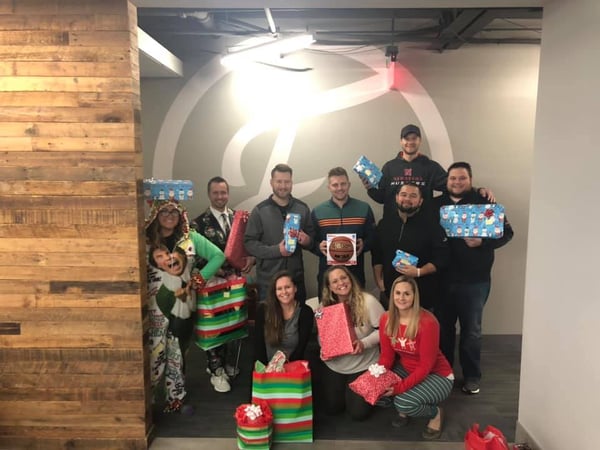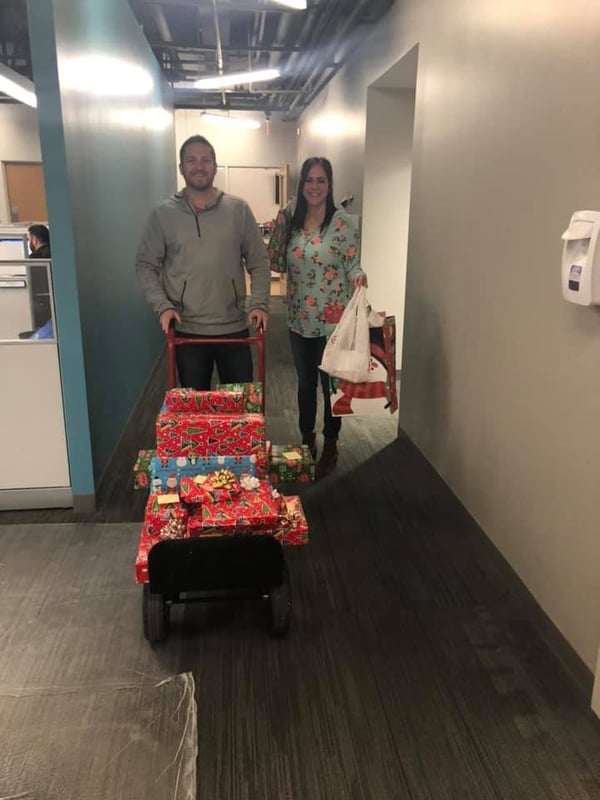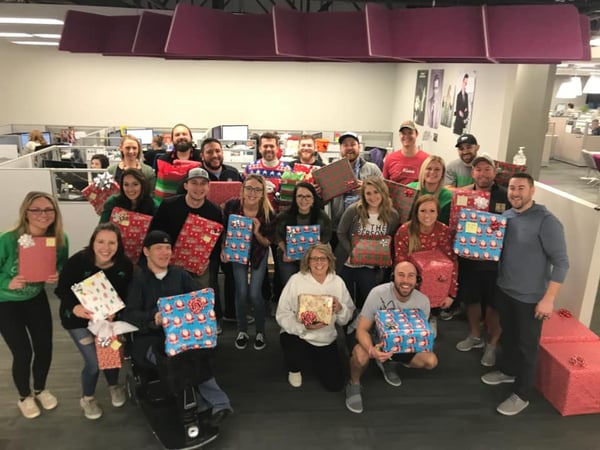 Christmas Adopt-A-Family – 'Bows for Those We Don't Know'
Wrapping up our year of Be The Change events would not be complete without the event that has us using rolls and rolls of wrapping paper, bags of bows, tons of ribbon, and tissue paper. This was our 5th Christmas helping children and families in the community with our annual Christmas Adopt-A-Family event. We are thrilled to have been able to help over 30 families and children receive Christmas presents this year! As you can see from the pictures, we have a habit of going "all out" here at Fusion.
We hope your 2018 was as meaningful as ours, and that your 2019 is filled with a year of being the change in your own community.