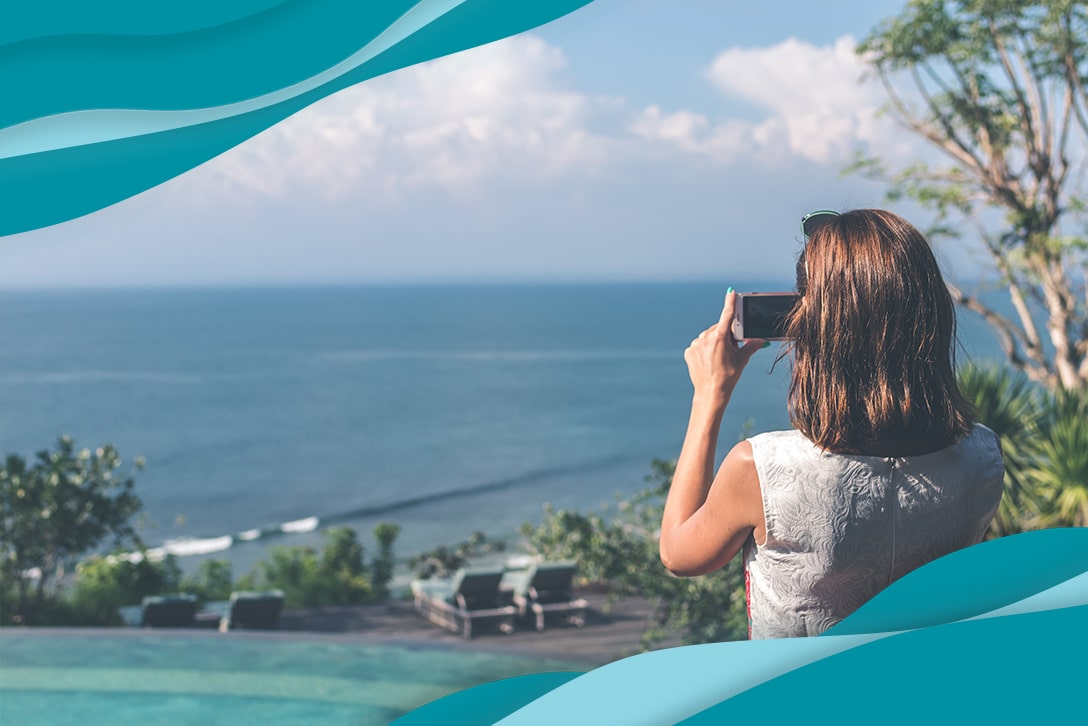 You already know that life as a professional medical traveler comes with countless benefits like the chance to explore the country and experience one-of-a-kind adventures. But what if we told you that you could also fulfill your lifelong dream of becoming a celebrity while you're on the road doing what you love?
With social media stealing consumer attention across the globe, more and more industries have adopted influencer marketing, including the medical travel industry. Rachel White, PT, talks all about the perks of being a Fusion Medical Staffing influencer in this special interview session!
Side Gig as a Medical Travel Influencer with Fusion Medical Staffing
The ins and outs of influencer marketing
Since its inception, social media has altered the way we interact with people and products—it affects what we buy, how we behave, and even the way we live each day. In fact, a 2019 study shows that roughly 80 percent of smartphone users check their phones within 15 minutes of waking up—raise your hand if you're guilty of this. (I know I am.)
Social media influencers are individuals who have clout. Their credibility online lends an ear to a specific industry or niche. As a professional medical traveler, that's you! You have expertise in a few niche areas, plus access to a large and diverse audience. Influencer marketing utilizes endorsements and mentions from well-known industry professionals, like you, to spread your brand's message across multiple social platforms.
"It's so great that more travel companies are reaching out and using their travelers to help promote what they have to offer," Rachel said. "It can be so overwhelming when first getting into travel with all of the different companies out there, but seeing a staffing company's travelers, hearing their input, and seeing their adventures can help bring things into focus."
Not only do audiences prefer content from real people, 51 percent of marketers believe they engage better customers from influencer marketing. The genuine relationship that exists between influencers and their followers enhances trust, generates business leads, and increases brand awareness.
Perks of being a Fusion Med Staffing influencer
If you love photographing stunning scenery, social media attention, and getting free stuff, we have a job for you!
"Being an influencer with Fusion Medical Staffing is easy and a win-win-win," said Fusion's Social Media Strategist, Bri Olson. "You're already traveling and taking incredible photos of your adventures, so why not partner with us to get some swag while you're at it?! We love nothing more than seeing and sharing our travelers' photos on our social media channels."
As an exclusive Fusion Medical Staffing influencer, you receive special swag that no one has access to, plus get social media mentions, likes, and shares from Fusion's Facebook, Twitter, Instagram, and LinkedIn accounts. The more you tag, like, and interact with us online, the higher your chances are to win one-of-a-kind Fusion gifts and prizes!
Q&A with travel influencer, Rachel White, PT
Megan Bebout: Can you tell me about your experience working with Fusion?

Rachel White: I am super thankful for my experience with Fusion. I started traveling with Fusion right out of graduating physical therapy (PT) school in 2019 and I really appreciate how everyone at Fusion really knows what you are looking for and works to find you the job that matches your needs. Especially since I jumped right into travel as a new grad, I am so thankful that my recruiter made sure to find a job that would meet my needs as a new grad and that would be most appropriate for someone just getting into their career newly minted out of school. My favorite part of Fusion would be that I can tell they truly care about you as a person. You aren't just "some traveler." Instead, they really want to get to know you, what your hopes are for travel, and they work hard to make those dreams a reality.
MB: How has Fusion helped you find your travel assignments?
RW: Fusion has been a huge part of my travel career. I know my recruiter is always working hard to place me in the settings and locations I am looking for. Each time I'm looking for a new contract, I rest easy knowing my recruiter already knows what my priorities are in a new contract and is working hard to make it happen. I often recommend Fusion to friends and colleagues considering travel because they are a company I know I can trust to do right by the traveler. They work hard to be upfront and honest about pay, which jobs they have available, and don't waste your time on jobs they know aren't appropriate for what you want or need.
MB: Why should medical travelers side-gig as an influencer for a staffing company?
RW: I've done a few different social media events with Fusion and it is fun and rewarding to help people navigate this travel life, answer their questions about a company I believe in, and help them feel more at ease in making decisions about how to get into travel and how to choose a company. And as someone who is still learning to navigate travel life myself, working for Fusion and talking about my experiences has helped me self-reflect and grow too!
MB: Can you share how you've made travel friends through social media?
RW: Social media has been a surprising way that I have made many connections through since traveling. I have a handful of friends who I first began talking to over Instagram and now have met in person, gone on hikes with, or who I keep up with regularly over social media and hope to meet one day in person. It's been fun seeing how the travel community can come together and connect so easily since we are all living this crazy travel life. I've noticed that travel healthcare peeps like to keep it real and have a good time! Being a traveler may be the initial reason for connecting, but I've found it ends up leading to lasting relationships because we tend to have that easy-going adventurous spirit that allows for honest connections and fun adventures. Sometimes traveling alone can be difficult but having that travel community, even if at times virtually, helps you feel like you're not alone in living in this world a little different than just the typical 9 A.M. to 5 P.M. job.
MB: What has been your greatest experience as a medical traveler? What is a challenging experience you've overcome as a medical traveler?
RW: I think my greatest experience as a travel PT would be my first job I signed through Fusion right after I graduated PT school. I honestly got so lucky to be at a job where I was surrounded by multiple other Fusion travelers and made lasting friendships with some really amazing people. As a new grad traveler, I just didn't know what to expect, but I got so lucky to be at a job with people who helped me grow so much as a person. I also had so many great patient experiences at that job, many that helped me find confidence as a new grad, and patient cases that helped me grow into the therapist I am today.
A challenging experience would be working at a clinic that did not run in a way I felt was conducive to the kind of patient experience I was used to being able to provide for my patients. It was difficult, especially within the first few weeks, as I navigated how to make things work in the best way I could, both for myself as a therapist and for my patients. This is definitely a hard part of travel, since you don't always know what you're walking into when you take a new travel contract. But I did end up finding a way to make it work so that I could make the experience for my caseload better, and it helped solidify what is important to me as a therapist and in how I want to practice moving forward. Each clinic or hospital teaches you both the good and bad sides of healthcare, and helps you see what is most important to patients and what can best impact their outcomes.
MB: What advice would you offer to new medical travelers?
RW: No matter where you take a job, find people or a community, who help you grow. Traveling can be daunting at times, but it also can lead to so much growth, both professionally and personally. Find mentors and courses in your field that help you continue to advance as a professional and make this a priority so you can continue to give the best care to your patients. As a traveler you have to actively seek that out and be intentional in it. Allow yourself to step out of that comfort zone and find people who help you reach another level of empathy, understanding, and strength. And be willing to get out of your comfort zone to meet new people! Travel life is so much more fun with new friends you find along the way. I have often made friends at contract jobs just by being willing to step outside of my comfort zone and reach out. The lasting connections you make are well worth the small moments of discomfort it takes to get you there.
If you have a passion for social media, traveling, and a career as a medical professional, an influencer role is definitely for you. Email Bre Miller at Bre.Miller@FusionMedStaff.com to secure your spot as the next Fusion influencer!