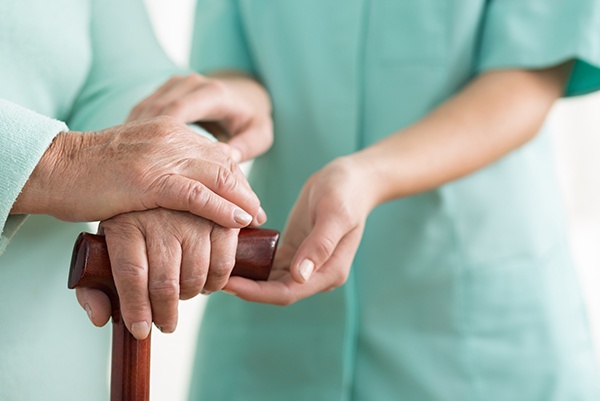 Working as a nurse in assisted living can be much different than a hospital or clinical setting. We interviewed our Fusion traveler, Wendi McGarity, to get some insight on what it's like to work in assisted living.

How did you get started in assisted living?
With home health, being a nurse in the local area, I put in an application. I was burned out on nursing homes, and I wasn't really interested in a hospital setting or doctors' offices. I worked in medical residential homes, where I was working with a lot of people that specifically were declared mentally retarded before the age of 18. I did that for almost 7 years.
How is working in assisted living different than working in a hospital or clinical setting?
The ability to be able to connect with residents. They're not just a client that comes and goes; you get to know them and their specific needs. You get to see them in the hallway, and to get to go behind the scenes every day and help them in other ways.
Describe a stressful situation in your job and how you overcame it.
The reality is most of the stress that comes from the job has to do with interpersonal relations. Most of the time dealing with younger nurses, youth who gossip and the drama of it. My internal response is always "suck it up buttercup." And to not get drawn into it. My attention goes to the patients. Most of the facilities are actually pretty nice. I have met some wonderful people along the way and made friends with people I'm still in contact with. And, overall, travel nursing has been a positive experience. I enjoy it.
Describe a happy outcome in your job and how you celebrated it.
Just two weeks ago, I had a resident that we kept sending to the hospital, because there was something wrong. He would come back with the facility saying there's nothing wrong. But we pushed the issue, because we knew that something wasn't right with him. Finally, he came back after testing with lithium toxicity.
Making yourself an advocate for someone is rewarding. Now he is going to be ok, because we advocated for him. We did the happy dance in the hallway when we found out.
Describe the importance of being able to work in a team environment.
It's very important to work as a team. Right now, I'm training people to do that. So much of what you're doing in a nursing or home health is lifting a patient, or moving them around, because they can't move themselves. If you work as a team, you have less chance to drop them or hurt them, as well as yourself while you're moving them. Sure, there's times when it's ok to work by yourself. You don't always need a group to pass out pills or set up an IV, but for the most part, teamwork keeps people from getting physically hurt.
Teamwork is good when you're brainstorming ideas with other nurses and putting ideas together to come up with a good solution. With thought processes, teamwork is better. Maybe it's a meshing of a few different ones to have the best solutions. You can compile them.
What do you do if a family member is unsatisfied with a patient's care?
I tell them to give me a chance to fix it; give me some time to see how I can resolve the situation. I let them know I don't know the answer to everything, but I am smart enough to find the answer.
Sometimes, it's miscommunication or misconception to the care we provide and what we do in assisted living. And sometimes, people look at the family members as bossy or overbearing.
I had the opportunity to sit down with a patient's daughter and talk to her. The family thought she was being selfish, and the truth is, she had no control over her mom's behavior. It's more than just dementia sometimes. It's everyone's behavior and the guilt some family can have.
Some people feel guilty for putting a loved one in a facility. It's a lot of work to take care of someone like that. I took time off traveling to take care of my mother before she passed, and I couldn't have done it without the help of my daughter. It's a lot of work, and it's hard to separate the personal from the professional.
So, being there for the family and understanding what they're going through can be a good start. Having someone point out to this patient's daughter that her guilt is not realistic. What do you have to be guilty about? Nothing. I was a sounding board, and we build a bridge from it.
How does dealing with a person with dementia differ from the care you give someone with a physical ailment?
It's where my compassion goes. Someone with dementia, I can go in and have all the compassion in the world to help them take their medicine. That behavior they're having is not just because of the dementia—they're acting out, so to speak, because they're in pain. Their mind has become so child-like they don't have the wherewithal to express it. I want to ensure they're not hurting.
What is the most challenging thing about your job in assisted living?
Learning everybody's name in the facility and being able to call them by name at the drop of a hat. Both staff and residents. As a general rule, within a week I have all the patient's names memorized. Knowing their names adds a personal touch to their care. Everyone likes to know that someone remembers who they are, especially when you have someone who can't remember their own name half the time. To have someone call them by name—they know they are important to you. It shows care, that you bother to take the time to know their name. It's a small thing that makes a huge impact. Also, not being afraid to give kisses on the forehead or a hug. Sometimes you just need a hug to see that somebody cares about you.
What is the most rewarding thing about your job in assisted living?
Smiles. When you can make someone smile, it shows that they are happy. It's an indication of joy, even when life isn't going the way you want it to. Some patients are dealing with depression, and to realize that this is the end of the road, that can spark that.
When you get the grouch to smile, that's the big deal. It shows that you made an impact on them and made their day better.
Describe how your patients make an impact on you.
That's a hard one. When you learn their histories and who they were before dementia setting in, that's impactful. This one lady in her 90's, she was a pilot. She flew airplanes, and yet here she is in the lockdown unit. There's another lady in her 70's, the coolest hippie you've ever seen. She backpacked across America; she rode horses. Another patient at a different facility, he was a cardiac surgeon. His moments of clarity were astounding. He couldn't remember to clean himself, but his roommate had a heart attack, and he sat up and bed and told us exactly what to do. It amazes me.
Realizing these people aren't just Room #7 or Room #4—these are people who have had rich and full lives before we found each other. The reality that most of the time what sends people into facilities is some form of dementia. It affects all of us. Someone needs to know their stories.