The demand for RN's is at an all-time high. The continued need and increase for RN's nationwide is nothing new to the industry. Projections show the increase beyond 2022. If you are currently a RN, that means this is a dream market for you. Jobs are plenty and you have your choice of where you want to be. While we do see travel jobs and a need for CNA's (and always will need CNA's), this high demand can prove motivating to continue your education and take advantage of the booming need for RN's.
Yes, going back to school is more than just a minor commitment, but also an investment time and money. So what do you have to gain? Here is a breakdown comparing RN/CNA positions and where you can be professionally.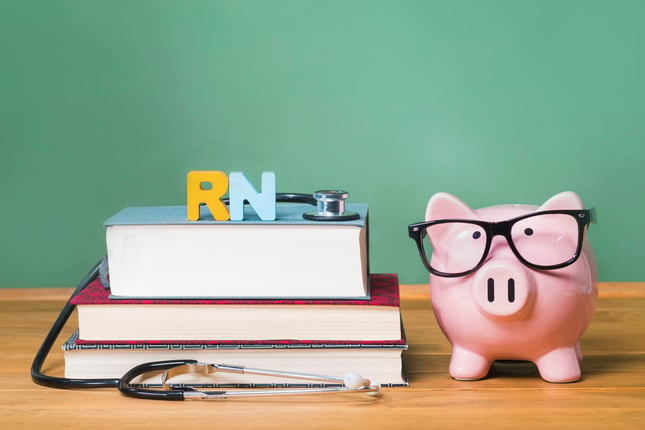 Pay Increase: A RN's annual salary is more than double what a CNA's annual salary is each year. The average Certified Nursing Assistant salary ranges between $20,000-$30,000 per year, while the average Registered Nurse salary ranges between $40,000-$100,000 per year (depending on specialty).
Another option that increases that salary even more is to become a travel nurse or nursing assistant. Travel CNA's make $30,000-$50,000 per year, while travel RN's bring in between $60,000-$150,000 per year (depending on specialty).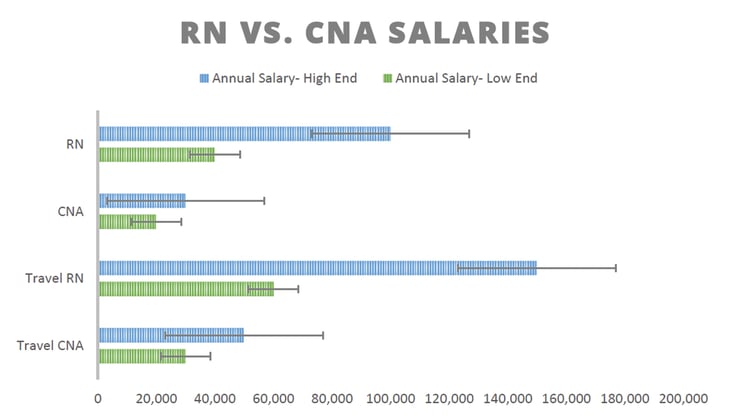 Career Flexibility: Nursing is adaptable so your work schedule can work with your lifestyle. There is the option of working either days, evenings, weekends, or middle shift positions. The demand for nursing exists nationwide, which means you could find a nursing job all over the country and even travel while doing so!
The difference between CNA's and RN's in career flexibility is that there are a lot of various specialties and growth opportunities for Registered Nurses to explore without having to change their degree to do so. They can continue to work in different specialties and challenge themselves in different specialties while still having job security.

Diverse Career Opportunities: Many nurses explore new career opportunities because there are so many different specialties available to choose from. It's also very easy to switch to another field during your nursing career or earn a more advanced degree and work your way up the ladder.
Certified Nursing Assistants do have different specialty areas available to them, but there are very strict limitations on what they are able to do. So if you're looking for more in your nursing career, becoming an RN is the only way to open more doors!

CNA – RN Bridge Programs: There are programs specifically designed to help CNA's to obtain their RN license. CNA's have the opportunity to earn some credits during their training that are transferred to the RN program. This shortens the time it takes to complete the program and after the course is completed they will have earned an Associate's Degree in Nursing and be eligible to take the RN exam in order to earn their license. The main benefit of enrolling in a program like this is the ability to pursue the course online while continuing your job in a shorter amount of time.

This is a great website to find CNA-RN Bridge programs in your area or even online courses to start the process of furthering your career! https://www.thinkcnaonline.com/cna-to-rn-online/


Want to learn more about Fusion's role in healthcare? Read The United States of Fusion.
For more information on working with Fusion or to learn more about current opportunities, reach out today: