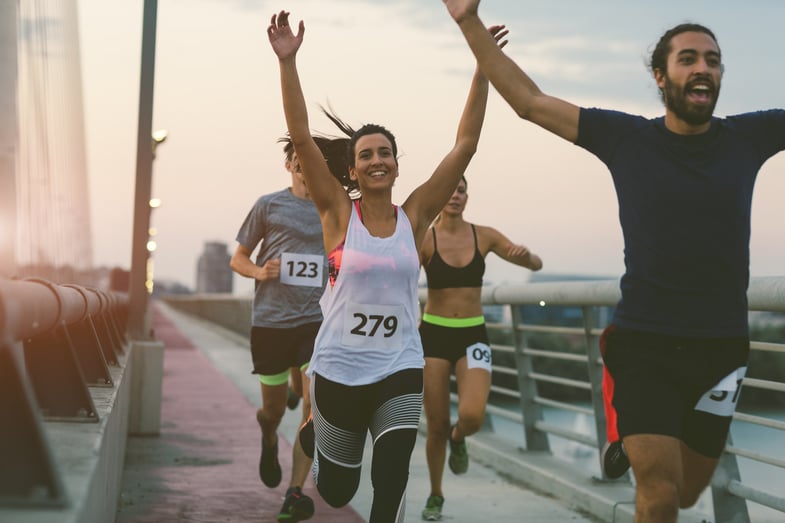 For some, there's nothing quite like the euphoric feeling you get from a good run. Not only does running release a flood of endorphins, aka the happy hormone, but this kind of physical activity strengthens your heart, reduces your blood pressure, improves your immune system, and decreases stress. If you're an avid runner looking for a race near your travel nurse assignment or allied health travel job, consider signing up for one (or more) of the best summer marathons of 2023. Here they are.
Best 2023 Summer Marathons in the U.S. for Medical Travelers
Flying Pig Marathon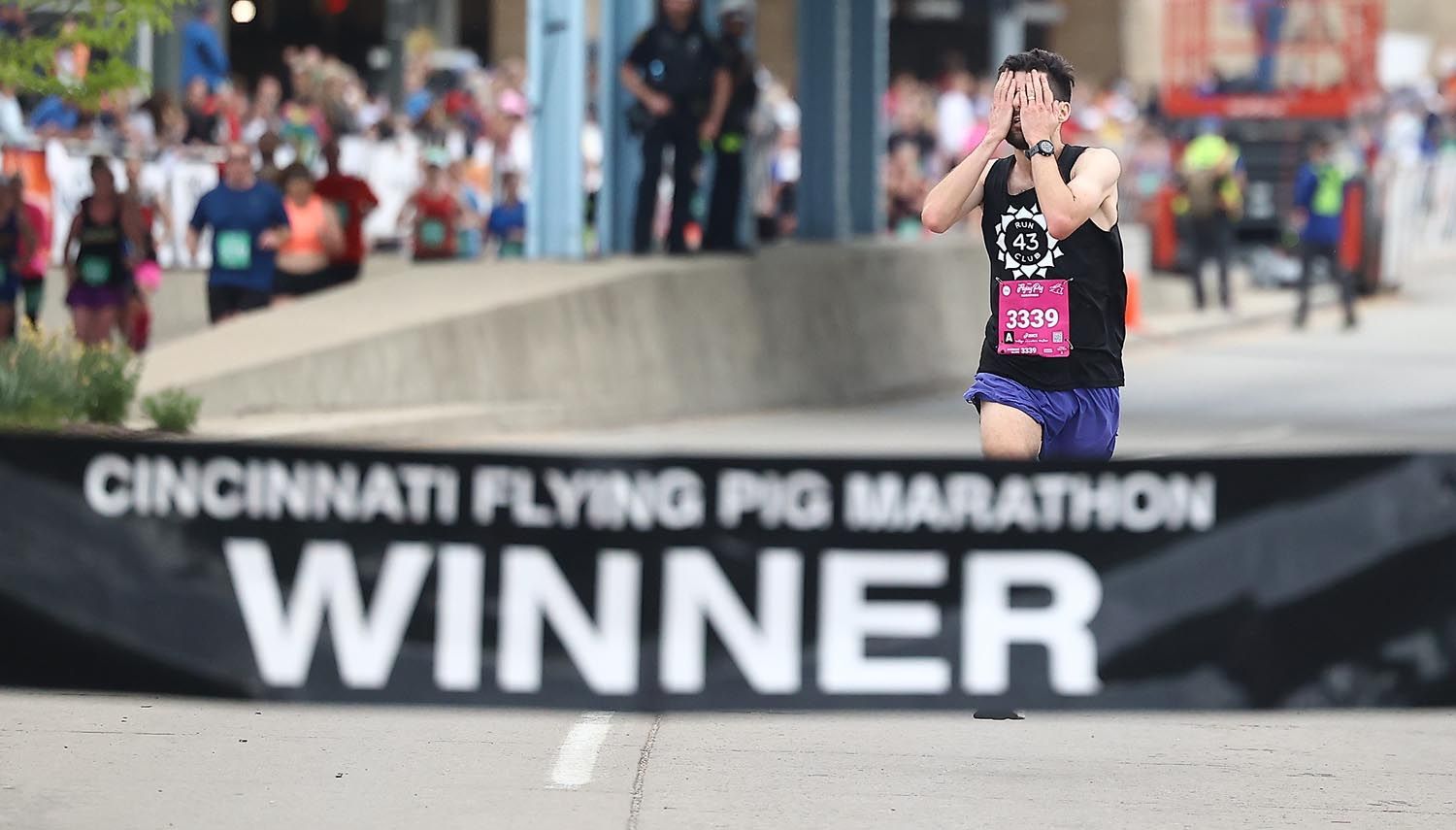 Are you working a travel job near Cincinnati and looking for a summer marathon to challenge you? Then look no further than the 2023 Flying Pig Marathon. Held every year in May, this marathon takes place in downtown Cincinnati, and just so happens to be one of the most popular marathons in Ohio!
During this summer marathon, runners get to take the scenic route of the city and pass through the streets of Cincinnati, Covington, Newport, Mariemont, Fairfax, and Columbia Township. With flat terrain, mild temperatures, and plenty of refreshment stations along the way, this marathon race has it all.
But wait, the fun doesn't stop there. After the race, you can wind down and celebrate your achievements at the Victory Party. Taking place at Smale Riverfront Park, the Victory Party will feature food, beverages, and live music all day long. The best part is all race participants get a complimentary beer, thanks to Michelob Ultra.
Not yet ready for a full marathon? We relate. Luckily, the Flying Pig Marathon has options for a half marathon, 10K, 5K, mile run, and more (including a race made specifically for you and your pup, called the Flying Pig Flying Fur). No matter where you are on your running journey, the Flying Pig Marathon has something for you!
Buffalo Marathon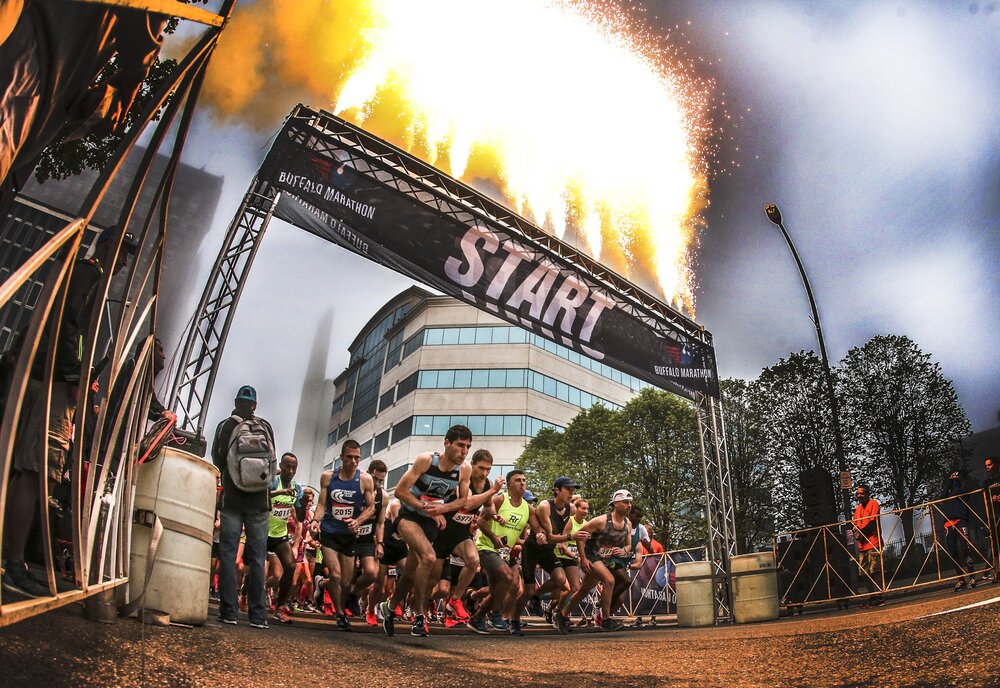 If you consider yourself an avid runner and want to check out the second-largest city in New York, think about signing up for the Buffalo Marathon. As Buffalo's premier running event, this race attracts more than 5,000 runners from more than 10 countries and 43 states. And you could be one of them!
The Buffalo Marathon is a great opportunity for travel nurses and allied health travelers like you to soak up iconic sites of the city. A few tourist attractions you can expect to see on your run include views of Lake Erie, First Niagara Center Home of the Buffalo Sabres, and parks designed by Frederick Law Olmsted (better known as the designer of Central Park). As the course winds through the challenging Buffalo terrain, runners can also enjoy live music along the way.
Don't sweat if a full marathon isn't right for you! You can also sign up for the Buffalo Half Marathon, 5K run, or 5K walk. Whether you're running your first marathon or looking to push your physical limits, the Buffalo Marathon is sure to provide an unforgettable experience.
Rock 'N' Roll Marathon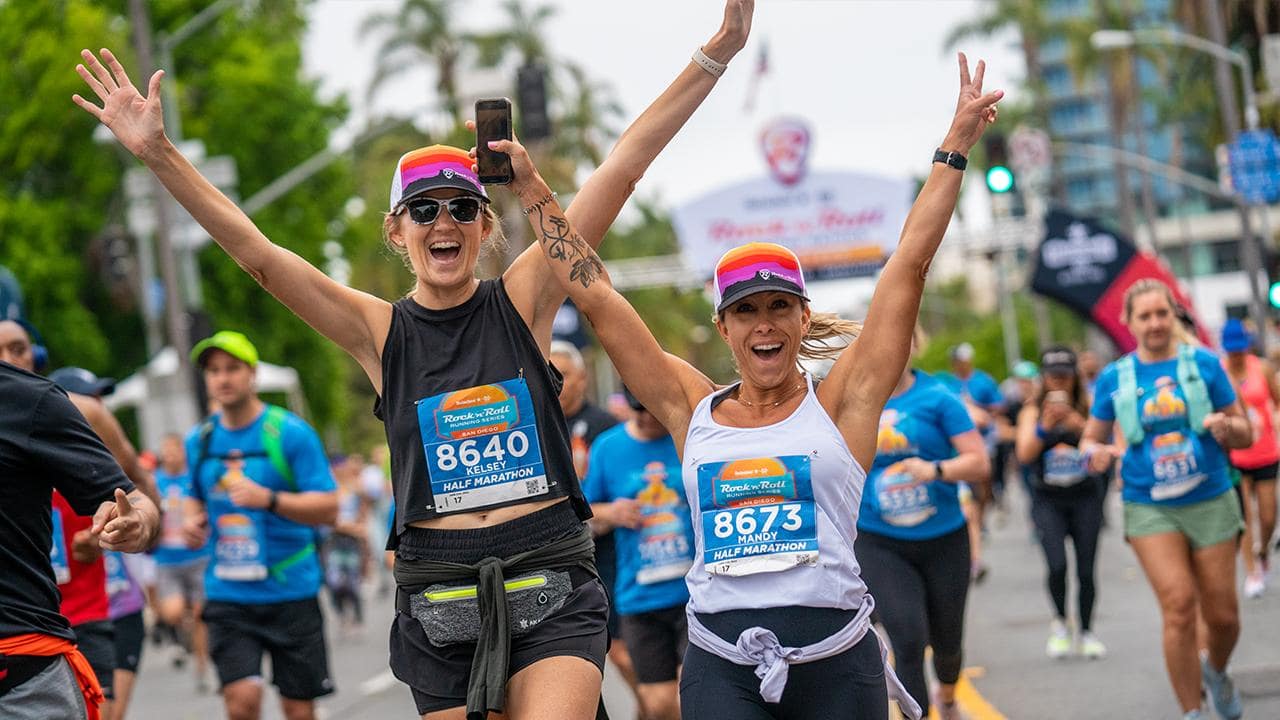 You don't have to love rock 'n' roll in order to participate in this summer marathon, but it sure doesn't hurt. The Rock 'N' Roll Marathon in San Diego has been putting the "fun" in "fun run" since 1998, and it shows no signs of stopping. If you're in the San Diego area, this could be your year to let out your inner rock star.
The live bands and DJs performing along the Rock 'N' Roll Marathon course will do the trick if the physical activity alone doesn't get your heart pumping. Playing hits from all genres and decades of music, you're guaranteed to move and groove all the way across the finish line. As it turns out, there are lots of benefits to listening to music while running, such as improved mood, reduced distractions, and overall improved performance. With the bass bumping, there's no way you'll bonk during the race.
Starting at Balboa Park and finishing downtown, you'll have the chance to experience unforgettable atmospheres in some of San Diego's most iconic neighborhoods like Mission Hills, Old Town, and University Heights. During this ultimate foot tour, you'll get a feel for the local communities, their personalities, and everything to love about America's Finest City.
Brewery Chase Relay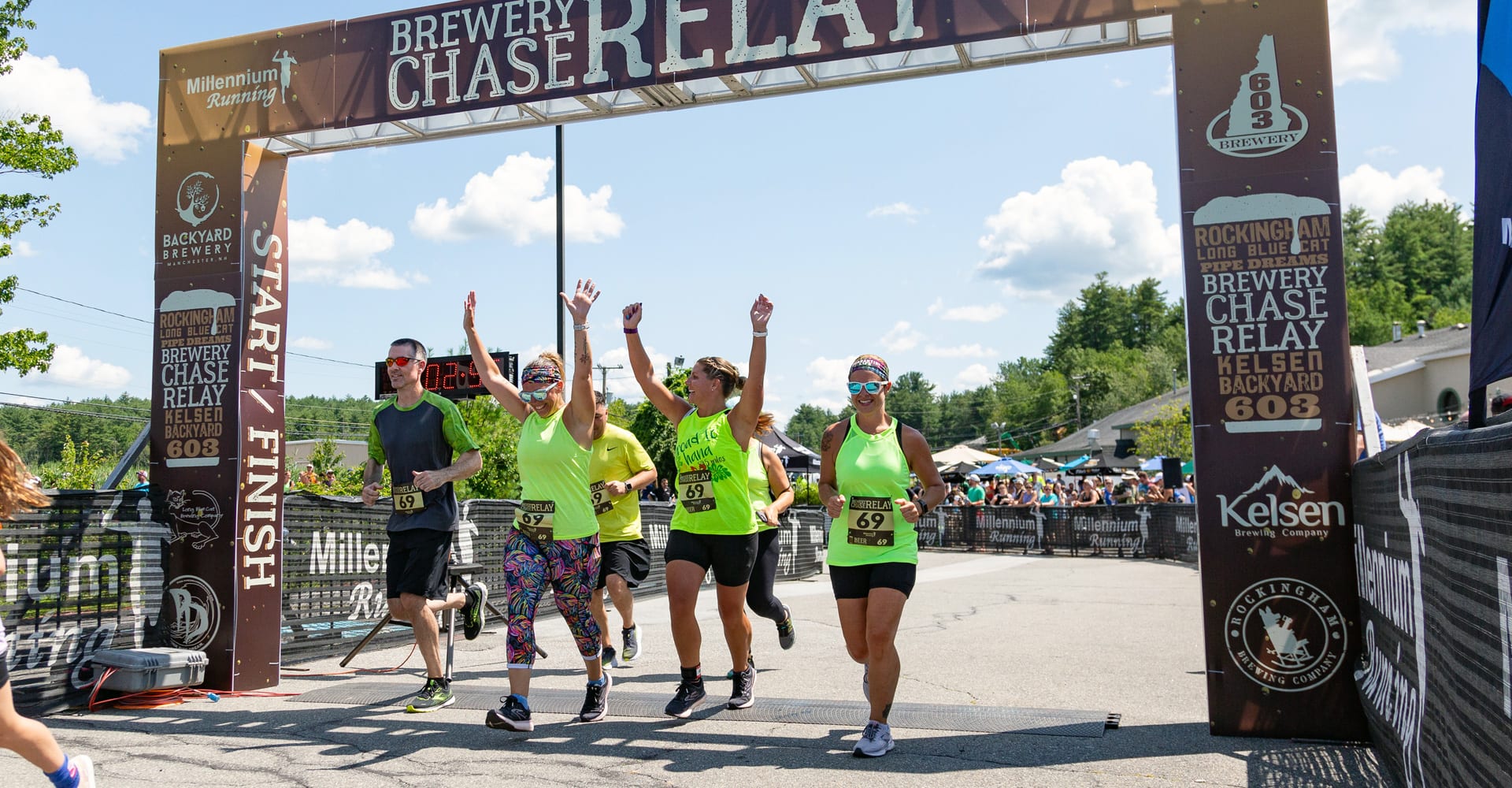 Are you travel nursing with a group of friends who love running as much as you do? And who also enjoy a nice, refreshing beer (or two)? Well, then it's time to get the squad together for the 2023 Brewery Chase Relay. It's not a regular marathon, it's a cool marathon.
Get ready to travel by brewery. This one-of-a-kind summer race is a tradition in Manchester and it's exactly what you think it is — a marathon, but with pit stops at local breweries and pubs.
Here's how it works: you and your best buds will take turns running legs in the relay as either a team of two, three, or six. The twist is that along the way, you'll stop at six breweries in town: Long Blue Cat Brewing Co., Pipe Dream Brewing, Kelsen Brewing, 603 Brewery, Rockingham Brewing Co., and Backyard Brewery & Kitchen. There will also be a celebratory beer waiting for you once you cross the finish line.
Grandma's Marathon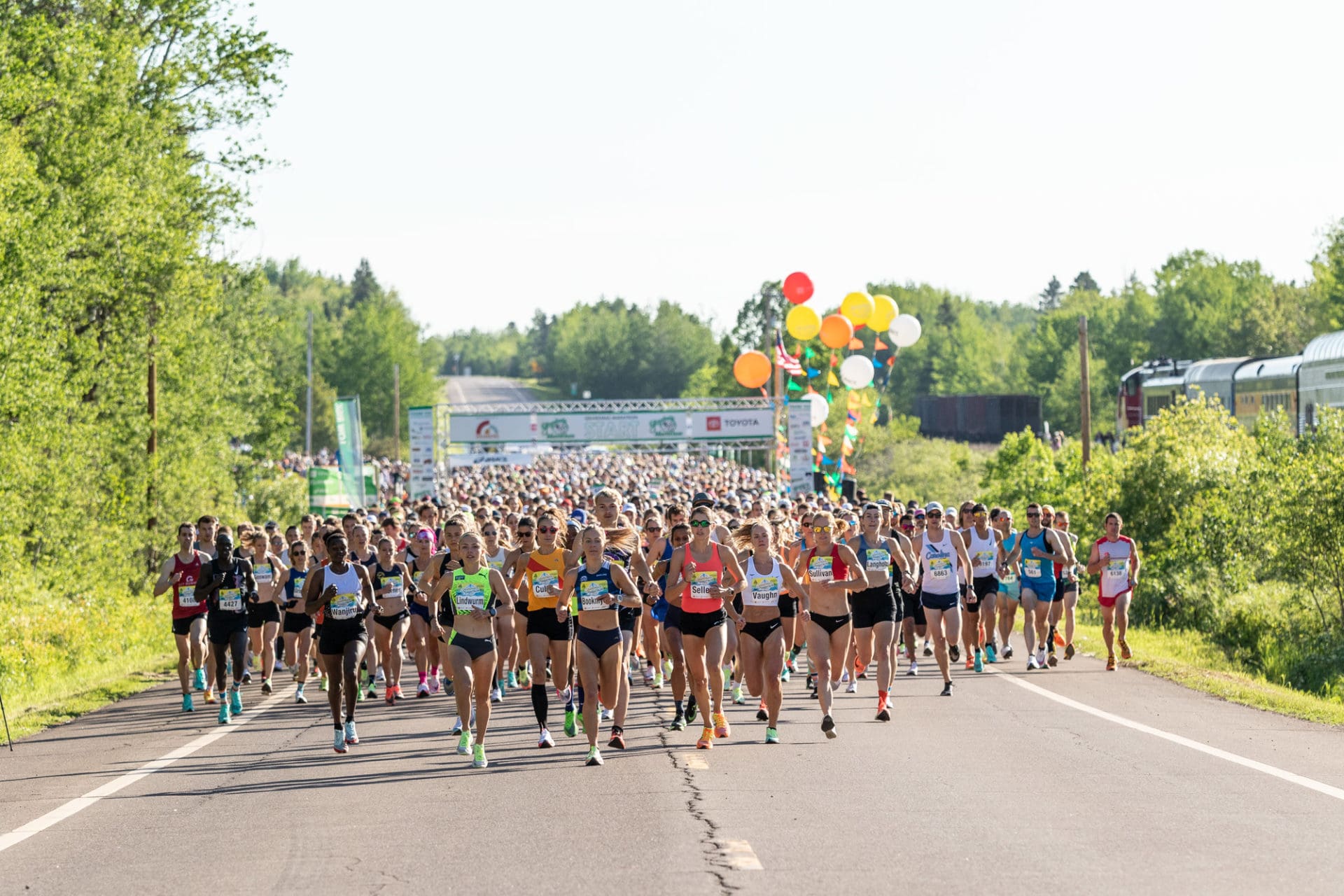 Working a medical travel job in Minnesota? Your next adventure is waiting for you just under two and a half hours outside of Minneapolis at the Grandma's Marathon. Don't worry, being a grandma is not a requirement for you to run in this summer marathon (although, grandmas are welcome).
A world-class event with small-town charm, the Grandma's Marathon attracts upwards of 9,000 fellow running fanatics from all over the globe. What started in 1977 as a casual fun run has evolved into Duluth's largest community event.
The running course at Grandma's Marathon takes participants on a winding route that follows the lakefront and offers stunning views of both natural and urban landscapes. Thanks to its flat terrain and mild climate, this summer marathon is an ideal race for anyone looking to take their running to the next level while also getting a glimpse into Duluth's vibrant culture.
Jack and Jill's Downhill Marathon and Half Marathon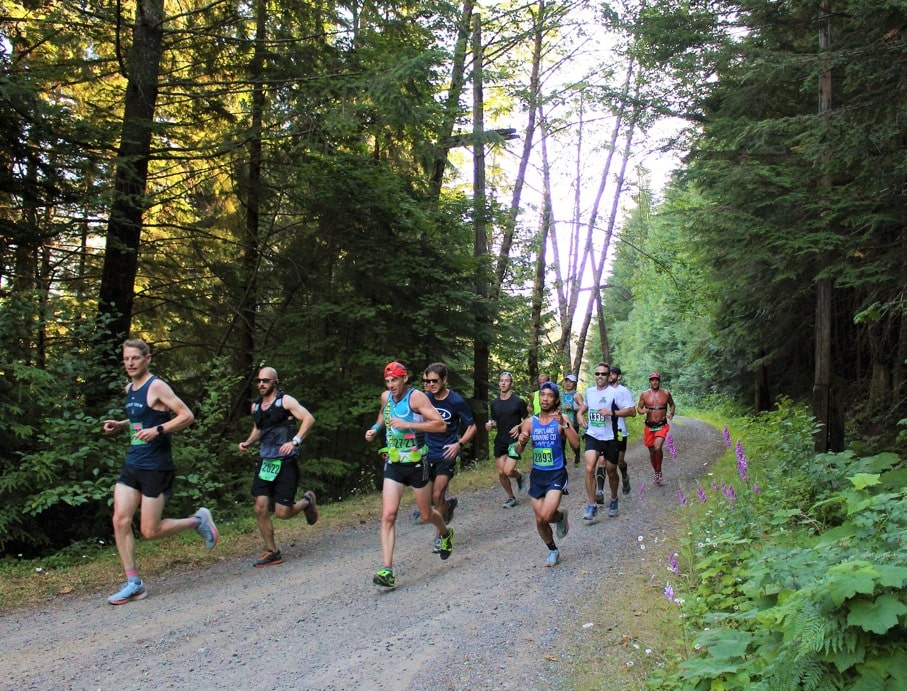 Everyone knows that Jack and Jill went down the hill — and now you can, too at Jack and Jill's Downhill Marathon and Half Marathon just a half hour outside of Seattle in North Bend, WA. This marathon is the perfect event for travel nurses and allied health travelers to combine their summer travel job with a challenging race.
Held on the scenic trails of Mount Si, this summer marathon starts at the Snoqualmie Tunnel and takes you down a gradual 2,000-foot net drop down the John Wayne Trail on an old-fashioned gravel road. Because the running course is mostly unpaved, it's recommended that runners wear lightweight trail shoes or road shoes for maximum foot protection. You'll also need a headlamp or a flashlight to get you through the tunnel. If you don't want to run the rest of the way with your headlamp, you can drop it off in a box at the end of the tunnel — just make sure to write your name on your light so you can reclaim it later. With picturesque views and a challenging downhill path, Jack and Jill's Downhill Marathon and Half Marathon provides an unforgettable running experience that will leave you reeling with a runner's high.
Interested in running in the iconic Boston Marathon? Lucky for you, Jack and Jill's Downhill Marathon is a Boston Qualifier (BQ). That means that it meets all the requirements set by the Boston Athletic Association (BAA), so you can use your finish time from Jack and Jill's Downhill Marathon to apply for the 2024 Boston Marathon.
Boulder Rez Marathon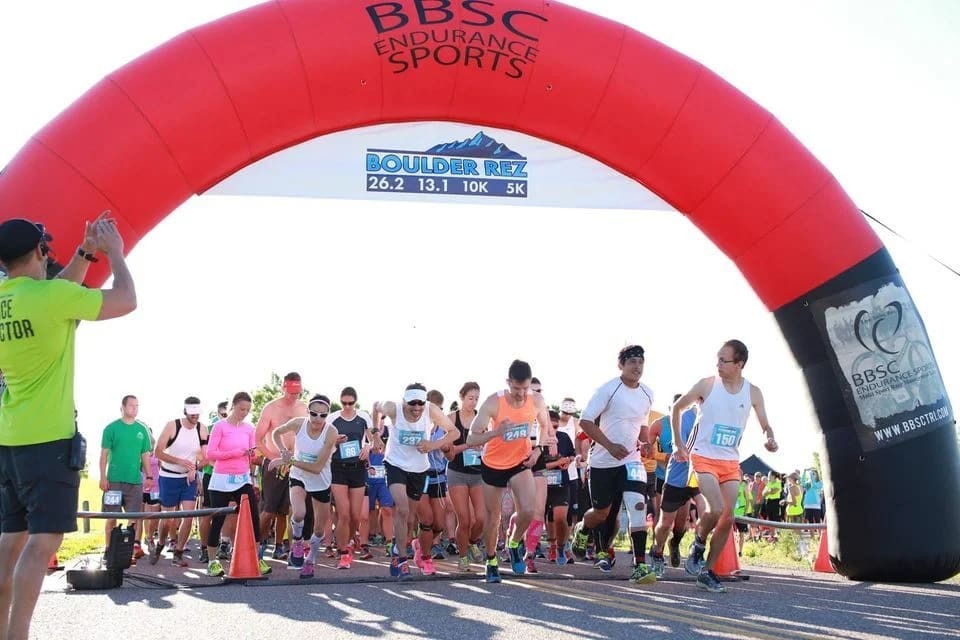 Is Colorado a prime destination on your bucket list? Do you have a goal to run through the Rocky Mountains? Find a travel nursing job or allied health job near Boulder and sign up for the annual Boulder Rez Marathon to accomplish both!
The best part about this race is it features a wide variety of terrain that's perfect for new runners, as well as well-seasoned marathoners. During the Boulder Rez Marathon, you can expect to pass through alpine meadows, over mountain streams, and past snow-capped peaks of the Rocky Mountains to get to the finish line. If you're in the market for a unique adventure that will test your strength and endurance, the Boulder Rez Marathon may be exactly what you're looking for.
Humpy's Marathon

Did you know that Alaska is one of the highest-paying states for travel nurses? According to salary information from Indeed, you can make 10% more than the average national travel nurse salary in Alaska. Even better, you can also flex your running skills at Humpy's Marathon.
This exciting summer marathon gives you the chance to explore some of the most beautiful parts of Alaska all while getting a good workout. Starting in downtown Anchorage, the Humpy's Marathon course weaves past Westchester Lagoon, Earthquake Park, Postmark Drive, and the Chester Creek Trail. Whether you're looking for a way to stay fit while on a medical travel assignment or you're interested in a mental and physical challenge, Humpy's Marathon is sure to deliver.
As an added bonus, Humpy's Marathon is another BQ! Take the opportunity to put your skills to the test during this summer marathon and see if you cross the finish line in Boston Marathon qualifying time. In 2016, 17% of Humpy's Marathon finishers ran a Boston Marathon qualifying time. That could be you.
Running a marathon is a great way to stay motivated on your runner's goals and training. And as a professional medical traveler, you have the rare opportunity of running in marathons from all over the country. Interested in participating in a marathon that wasn't mentioned? Check out more summer marathons in the U.S. and search for nearby travel jobs!