Fusion has several causes that are near and dear to our hearts. We love to share them whenever possible and help gain all the support we can. Batten Disease is one that we hold very close to our hearts.
Batten disease (Neuronal Ceroid Lipofuscinoses) is an inherited disorder of the nervous system that usually manifests itself in childhood. Early symptoms of Batten disease (or NCL) usually appear in childhood when parents or doctors may notice a child begin to develop vision problems or seizures. In some cases the early signs are subtle, taking the form of personality and behaviour changes, slow learning, clumsiness or stumbling. Over time, affected children suffer mental impairment, worsening seizures, and progressive loss of sight and motor skills. Children become totally disabled and eventually die. Batten disease is not contagious nor, at this time, preventable. To date it has always been fatal. (Batten Disease Support & Research Association)
Before coming to working at Fusion, most employees have never hear of Batten Disease. We thank Therapy Manager, Tessie Childers for teaching us. Tessie and her husband Brian are all too familiar with this disease, as their son Brandon has been living with Battens since the age of 6.
It started with his vision he couldn't see he couldn't do his homework and he sat very close to the TV. After seeing specialist, after specialist, we went to a neurologist that performed blood test, and then that's when the diagnosis happened. Brandon has always been a very positive,kind boy, and he's never been grounded . He's a fantastic kid. He enjoys watching Dukes of Hazard (he's always loved fast and loud cars and engines.) I'm pretty sure he would've been the best mechanic on earth. He loves working out, when he was in his prime could walk and talk- junior high, he rocked muscles no other 13 or 14 year olds could. He loves Bon Jovi (which he probably gets from his dad), loves the Rocky movies and the show The Fall Guy, and his favorite food is Chinese. His one true vice is hot chicks!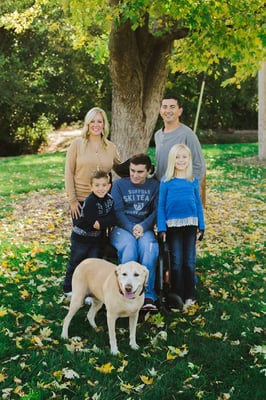 Help us spread awareness and check back this Fall for the 5k run (We will post details closer to the date!)
If you want to donate to Batten Disease & Research, click here!