Happy Physical Therapy Month! The benefits of physical therapy are endless. The push behind the movement #GetPT1st has become something Fusion has taken an interest in and we wanted to hear from some of our PTs as to why this is so important in the healthcare industry!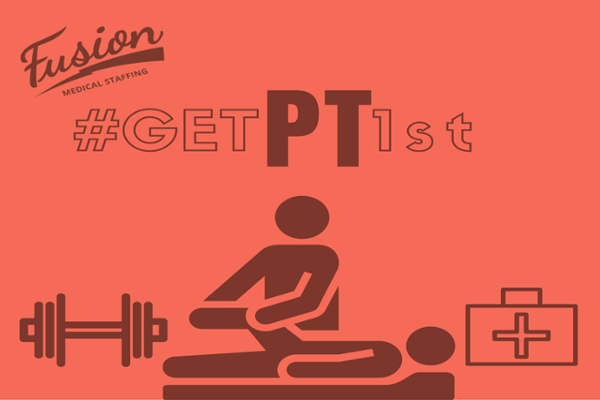 As a physical therapist, I get to work with people with a variety of different health conditions and assist them with achieving their goals. I help by assisting these patient's with their ability to move, reducing their pain, restoring their function, and even preventing further disability! Physical therapy (and exercise in general!) has so many benefits! Here are just a few: improves mood, boosts energy, controls weight, combats health conditions and diseases, increases lifespan, maintains mobility, improves memory, reduces cancer risk, lowers blood pressure, boosts immune system, reduces diabetes risk, strengthens heart, AND SO MANY MORE! When I work with my patients, I work to prevent loss of mobility by developing a customized fitness and wellness program to promote a healthier lifestyle for the patient. So next time you sprain your ankle, or get a migraine consider seeing a physical therapist first!
- Emily Eiberger, PT, DPT
PT is great as a first line of defense because we can look at movement and tell you if you have a problem with muscle, nerve, joint, or medical condition. We are taught to recognize what we can affect and change and what we can't. We aren't afraid to refer you on to what/who you need. We want what is best for the patient. We work with the body and observe your movement patterns and just from watching how you move we can change your life. We look to improve mind, body and spirit. We have time to see and interact with you. We learn about you and create more of a professional friendship. We get to know you and then not only help with the physical but also any emotional things in life by being a good listener. We create a healing team between the patient and the PT. We have amazing techniques: Manual therapy, dry needling, exercise, aquatic therapy, functional movement training, e-stim, ultrasound, kinesiotape, traction, etc to help improve your pain, dysfunctional movement, and quality of life. We look at the entire person. We can treat from physical screening for prevention, to loss of function through stroke. We treat: headaches, fibromyalgia, chronic pain, balance, vertigo, TMJ, post surgical in all areas (knee, shoulder, back, hip, ankle, foot, neck, etc), pelvic floor, women's health, prostate cancer, lymphedema, back pain, neck pain, stroke, MS, Parkinson's, generalized weakness, geriatrics, pediatrics, neurological diseases, sports performance, etc. We make an impact.
- Kaylene Christensen, PT, DPT, ATC
The evidence has been mounting in recent years. Every month, there's a new research article citing the benefits of PT. These benefits, it turns out, are often equal to the benefits of painful, invasive surgery. Some studies rate the percentage of rotator cuff injuries that can be conservatively managed by physical therapy instead of surgery as high as 75%. It turns out that pain from meniscus injuries may respond better and in greater numbers than we previously thought to non-surgical treatment. As the entire medical community begins to better understand the causes of low back pain and the things that improve it, physical therapy is again coming out on top as THE initial treatment that can successfully manage the vast majority of cases. With evidence stacking up on our side and some form of direct access allowed to patients in all 50 states, Physical Therapists are acting more and more as a primary entry point to health care. Frequently, we are practicing well below the capacity of our education and scope of practice. We often are not allowed by state laws or reimbursement models to order diagnostic imaging – PTs have been imaging for decades in the military, and here in Colorado our practice act specifically allows us to order MRIs, but this is not the current trend nationally (give it 10 years, it's going to change). There are barriers in maximizing our scope of practice at every turn – often the biggest obstacle is that patients aren't aware they can walk right into our clinics and be treated conservatively, competently, and safely without tacking on unneeded Doctor visits and time. So how do we practice to our full potential? Two years ago, I got the chance to travel to a remote Hawaiian island for a travel assignment. When the Director of Rehab went on maternity leave, my wife and I were left as the only 2 PTs in the only hospital on the island - we served as the entire rehab department. With no surgeons on the island, an average of one patient per day was flown to Honolulu for surgical or specialist treatment, but it wasn't unheard of for a patient to refuse to leave the island. There was one particular woman I worked with who had sustained a trimalleolar ankle fracture. She refused to leave the island to see an Orthopedist for surgery and instead decided she would order an inflatable cast off of Amazon to manage her injury. Eventually, she made her way into the PT office, and even I, the cheerleader of conservative intervention, thought she needed to get on a plane to Honolulu for surgery on that ankle. But, she wasn't having it, she didn't want to go to Honolulu, she wasn't having surgery, and she wanted me to get her walking again. Over many weeks, we worked together. I ordered and checked periodic x-rays for proper healing and managed her weight bearing status and permitted activities. By the time I left the island, this patient was back to walking for fitness and partaking in her daily ocean swim, which she thinks really speeds up the healing – I can't argue with that logic. For a short period of time, I was able to act in a role normally reserved for the Orthopedic Surgeon - and I nailed it. That one particular case allowed me open up and use the full breadth of my training. I wonder what other conditions for which we have previously considered surgery to be standard care will be found to be conditions that can be successfully managed conservatively. I suspect that in the near future we will see some of the obstacles drop away that prevent us from treating patients in our fullest capacity and prevent us from providing the best care available. Until that time, keep using all of your knowledge that you can and put some pressure against the barriers that keep you from practicing to your fullest potential.
- James Spencer, PT, DPT, OCS, CSCS & Founder of HoboHealth
We appreciate everything you Physical Therapists do! You are truly amazing! If you are looking for a a great resource or wanting to learn more about traveling, check out our friends over at HoboHealth! Interested in being a travel PT? Check out the Most Asked Questions when it comes to being a travel PT!
Let us help find your first or next travel contract today!