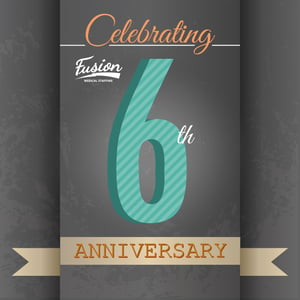 Happy Birthday! Happy Anniversary! Whatever you want to call it, we are excited to be celebrating Fusion's 6th year! Here is a random list of 6 things we love about working at Fusion! (There are really like 6 zillion great things, but for all intents and purposes, we went with 6!)
6. The T-Shirts: Ok, so this may seem silly, but have you seen/felt our awesome t-shirts? They are THE BEST! We get asked about them everywhere we go and our employees own a rainbow of colors. (Haven't snagged your own? Keep reading and find out how you can!)
5. The People: If you work for Fusion or with Fusion, you have experienced working with some of the greatest people around. We take our "We're Picky" motto seriously. Not only do we have the most fun and caring people, but we also have the most dedicated, hard working group of people. (Sometimes we have to pat ourselves on the back for being so cool!)
4. The Outside of the Office Fun: Whether we are volunteering as a company, spending the evening at the pumpkin patch with our families, or hitting the golf course for our annual Fusion Golf Tournament, we LOVE to take a break from hard work and enjoy each other outside of the office.
3. Sam Wageman's famous sayings/motivational speeches: No one can get a room pumped up like this guy. He has a pocket full of one-liners we all know and love, as well as a few wild card quotes to keep us motivated everyday.
2. Scott Wehner's Random Thoughts: Scott is the laugh creator of Fusion. From random YouTube videos/strange images sent out to the entire company, the "special" nicknames he gifts each of us with, or an impulse urge to host a sledding contest over the lunch hour, Scott keeps us on our toes and always has something quirky up his sleeve.
1. OUR TRAVELERS!: This was a no-brainer. Each year Fusion celebrates its anniversary is another great year with all of you. The growth and support we gain every day is because of YOU! We love connecting with each traveler, helping you find your next dream contract, watching you connect with each other, and so on. All of the great things we love about Fusion wouldn't be possible without our travelers. So thank you for another great year! 6 is looking pretty great!
Now you know the random list of things we love about Fusion! Tell us some of the things you LOVE about working for Fusion and we will send you one of our favorite Fusion T shirts!