We get more excited each week to share our healthy eats pick! Remember the tasty Chicken Enchilada Quinoa Bake a few weeks back? If you haven't tried it out, YOU MUST! With a similar recipe, this week it is all about the Capresa Quinoa Bake! Many people are skeptical of Quinoa, or they had a bad "experience," but these Quinoa bakes will prove you wrong!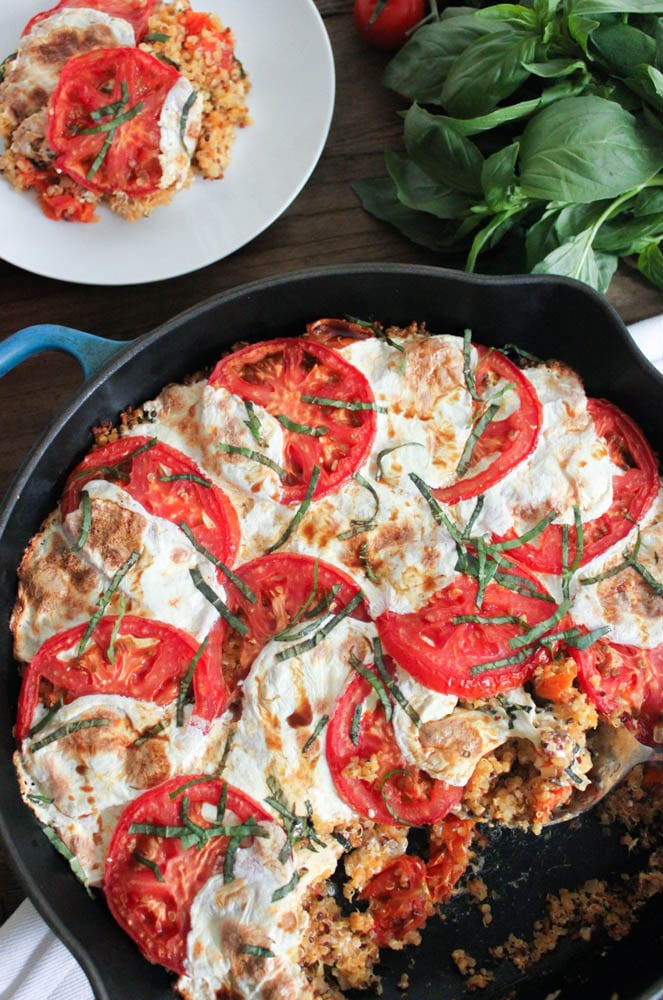 Ingredients:
1¼ cups uncooked quinoa, rinsed and drained
2 cups petite Roma or cherry tomatoes, halved (I used a blend of red and yellow tomatoes, but all red is fine.)
2 tablespoons extra virgin olive oil, divided
Kosher salt
Fresh ground pepper
2 small shallots, minced
3 cloves garlic, minced
¼ cup packed basil leaves, thinly sliced
4 ounces fresh part-skim mozzarella cheese, grated (about 1 cup of grated cheese)
8 ounces fresh part-skim mozzarella cheese, sliced into 1/4–inch rounds
2 beefsteak tomatoes, sliced into ¼-inch rounds
¼ cup balsamic vinegar
Instructions:
Pre-heat your oven to 400 degrees.
In a small pot, bring the quinoa and 1¾ cups plus 2 tablespoons water to a boil. Lower to a simmer and cook, covered, for 15 minutes until all of the water has been absorbed. Let the quinoa rest, covered, for 10 minutes. Fluff with a fork.
While the quinoa is cooking, place the halved tomatoes on a foil-lined baking sheet. Drizzle with 1 tablespoon olive oil and season with salt and fresh ground pepper. Transfer to the oven and roast for 10 minutes until they're tender and the skins have started to burst.
Heat 1 tablespoon olive oil in a medium pan over medium heat. When hot, add the minced shallots and garlic. Cook for 2-3 minutes until the shallots have become translucent and the garlic is fragrant.
In a large bowl combine the quinoa, roasted tomatoes, cooked shallots and garlic, and basil. Stir in the grated mozzarella and season with salt and fresh ground pepper to taste.
Transfer the quinoa mixture to a large skillet and smooth the top. (Yes, you can use a round, square or rectangular baking dish if that's what you have. Duh.)
Starting in the center, overlap slices of tomatoes and mozzarella in a small circle. Make a second circle of overlapping tomatoes and mozzarella, covering the surface of the quinoa. (If you're using a square or rectangular dish, just make two lines of overlapping tomatoes and mozzarella and call it a day.)
Cover the skillet loosely with foil and bake for 10 minutes. Remove the foil and bake for another 20 minutes until the cheese is bubbling and lightly browned.
While your quinoa bake is in the oven, place the balsamic vinegar in a small saucepan. Bring to a gentle boil and cook for 3-5 minutes until the vinegar becomes syrupy. Remove from the heat and set aside.
Sprinkle your quinoa bake with freshly sliced basil and drizzle with the balsamic reduction. Serve immediately.
Are you hungry yet? Share a picture of your final product from any of the Healthy Eats Monday recipes on any of our social media pages! We want to see what you're up to in the kitchen!
Thanks to Domesticate-Me for the great dish!