The answer in life is always PIZZA. (well, at least to a good chunk of life's questions). Check out this healthy twist on pizzas. Great for a snack or as a meal, this healthy eats pick will help with that pizza craving!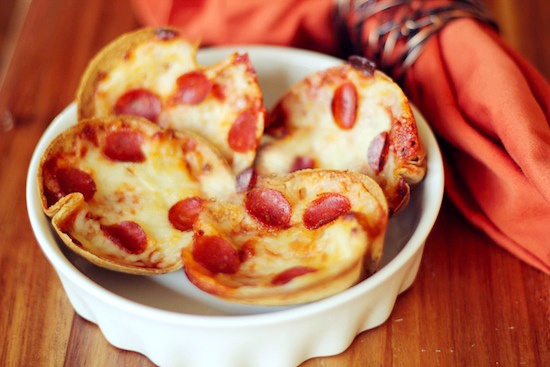 Ingredients:
3-4 Whole wheat wraps (try to find ones with at least 3 grams of fiber)
1 can pizza sauce (try using fresh crushed tomatoes!)
3/4 cup Shredded Mozzarella cheese
1/4 cup Parmesan cheese
1 tsp basil/oregano mix or Italian seasoning
1/2 tsp garlic powder
Pinch black pepper
Toppings: Add whatever you love! Pile on some veggies or turkey pepperonis?
Directions:
Preheat oven to 425 degrees.
Spray muffin tin with non stick spray
Using an empty can, cup, or cookie cutter, make your pizza crusts
Press each crust into the muffin tin(should have a tight fit)
Mix spices with your sauce
Add 1-2 tbs of sauce per crust
Then add your cheese and toppings
Bake for 12-15 min, or until cheese is melted and lightly browned.
ENJOY!
Tell us your pizza topping(s) of choice!
Thanks Recipe By Photo for the share!