Listen, if you are one of those "I hate sweet potato people," GET OVER IT. They are so good and SO GOOD for you. There is more to them than just covered in brown sugar and marshmallows at the Thanksgiving table. Make and eat them fresh or freeze them for up to 3 months. Either way, this is a great option for breakfast on the go (you can really eat these anytime).
Here's what you'll need!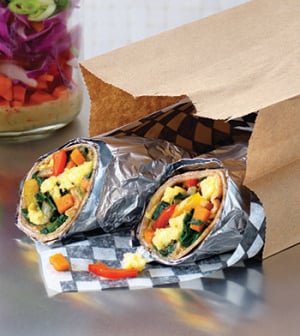 INGREDIENTS:
2 tsp olive oil
1 small sweet potato, peeled and diced
1 small yellow onion, chopped
3⁄4 cup frozen, sliced tricolor bell peppers, thawed
2 cups packed baby spinach, roughly chopped
1 tsp chile powder
2 large eggs, beaten
2 large egg whites, beaten
4 9- or 10-inch whole wheat tortillas
1 oz shredded cheddar cheese
INSTRUCTIONS:
In a medium skillet on medium, heat oil. Add potato, onion and bell peppers, and sauté for about 8 minutes, stirring occasionally, until potatoes are tender and onions are translucent. Add spinach and chile powder; sauté for 2 minutes more.
Increase heat to medium high. Add eggs and egg whites. Cook for 3 minutes, stirring frequently, until eggs are cooked through. Turn off heat and let cool for about 10 minutes.
Tear off 4 16-inch rectangles of foil and lay 1 tortilla on top of each. Divide egg mixture evenly into the center of each tortilla. Sprinkle evenly with cheese. To wrap, fold edges in, then roll forward tightly. Wrap burrito tightly in foil. (NOTE: Alternatively, line with parchment paper and then wrap in foil.)
Place wrapped burritos in a large zip- top freezer bag and freeze for up to 3 months. To serve, preheat oven to 400°F. Place a burrito, still wrapped, on a baking sheet and bake for 35 minutes. Use tongs to transfer wrapped burrito to a paper bag and take on the go. (NOTE: Baked burritos will stay warm for 15 to 20 minutes; they can be eaten on the go or when you get to work. If reheating in the microwave, make sure to remove foil first.)
Nutrients per serving (1 breakfast burrito): Calories: 255, Total Fat: 10 g, Sat. Fat: 3 g, Monounsaturated Fat: 5 g, Polyunsaturated Fat: 2 g, Carbs: 38 g, Fiber: 15.5 g, Sugars: 7 g, Protein: 17 g, Sodium: 465 mg, Cholesterol: 100 mg
Tell us your favorite HEALTHY breakfast? We want to know!