Football season has started and we LOVE it! One of the best things about watching football is the yummy spread, whether at a tailgate or down in the man cave! Here are a few of our favorite healthy(ier) tailgate options to try out! Who says you can't play beer pong , eat all of the tailgating treats , AND still be healthy? NOT US! Check out our top 3 picks below!
#1: Baked Hummus and Spinach Dip - A twist on the crowd please, "spin dip." This two part recipe can be made ahead and still taste great! (Serves: 4-6)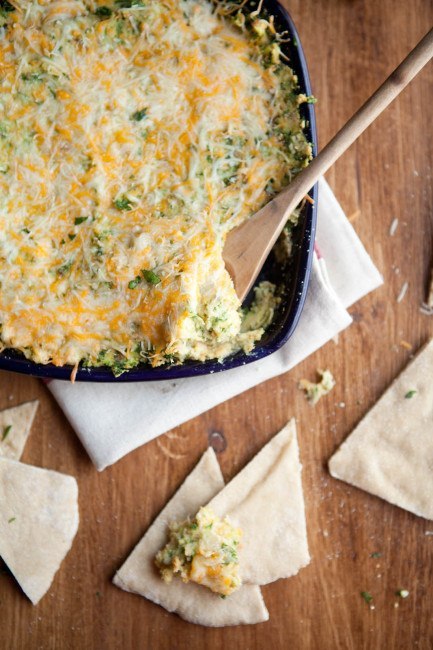 For the Hummus:
3 cups cooked or canned chickpeas, drained, liquid reserved
1 or 2 garlic cloves
¼ cup olive oil, or to taste
¼ cup tahini, or to taste
Salt and black pepper
3 tablespoons lemon juice, or to taste
Chopped fresh parsley, for garnish
Put the chickpeas with ½ cup of their cooking liquid (or water) in a blender, add the garlic, oil, and tahini, and sprinkle with salt and pepper. Purée for a minute or 2 until the mixture is very smooth. Add more cooking liquid, oil, or tahini as you like until the consistency is like a smooth dip or thick soup. (Refrigerate for up to a couple days or freeze for months.)
Transfer the purée to a medium saucepan over medium heat (or use the microwave); heat through while stirring constantly. Add the lemon juice, then taste and adjust the seasoning, adding more salt, pepper, or lemon juice as needed. Serve warm, garnished with parsley.
(Additions: Roasted Red Peppers, Roasted Garlic, Pesto, Chopped nuts, Olives, Cumin, Curry Powder, Chile Paste)
Bringing it together:
½ recipe for hummus (above)
2 cups fresh spinach
1 cup shredded cheese
Preheat oven to 375˚
Place spinach in the food processor and pulse a few times until spinach is shredded.
Next, make hummus according to directions.
Combine hummus, half of cheese, and spinach is a small casserole dish. Sprinkle with remaining cheese.
Bake for 20-25 minutes. Cheese should be melted and hummus hot. Serve with pita, crackers, or veggies!
*Credit to Naturally Ella!
#2: White Chicken Chili -Great for those mid season games when you need something to warm you up! (Besides the peppermint schnapps!) (Serves: 6-8)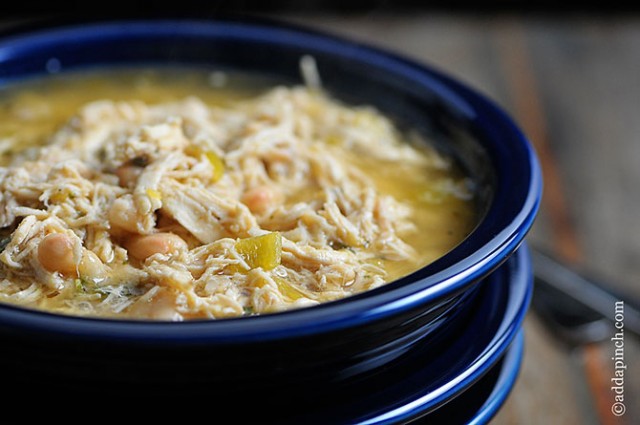 Ingredients
4 skinless, boneless chicken breasts
4 cups chicken stock
1 clove garlic, minced
1 medium onion, diced
1 (15-ounce) can white beans, with liquids from beans
1 (4-ounce) can diced green chilis, with liquids from chilis
1 teaspoon dried oregano
1 teaspoon ground cumin
½ teaspoon chili powder
1 teaspoon salt
1 teaspoon ground black pepper
1 teaspoon chopped fresh oregano Instructions:
Add chicken to a 4-quart, heavy bottomed Dutch oven or stockpot.
Add chicken stock and cook until tender, about 15 minutes.
Shred chicken with two forks and then add back to the liquid.
Add garlic and onion to stockpot, white beans, green chilis, dried oregano, cumin, chili powder, salt, pepper, and chopped fresh oregano. Stir until well-combined.
Taste for flavor and adjust to your preference.
Simmer over low heat for about 5 minutes. Remove from heat and serve.
*Credit to Add A Pinch!
#3: Sweet Potato Seven Layer Dip- Listen, we know, there is no real substitute for seven layer dip. However, this sounds great!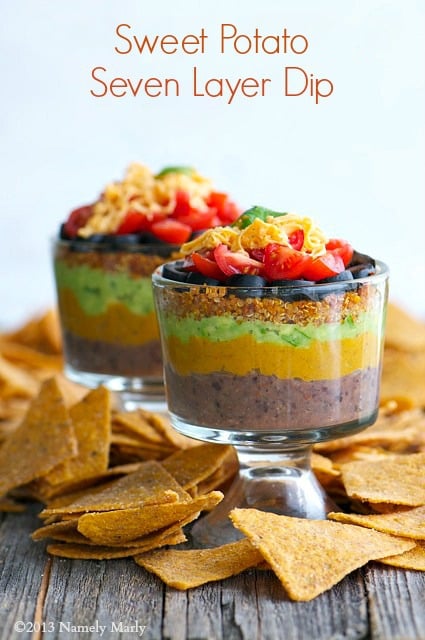 Ingredients
2 15 oz cans Organic Black Beans, drained and rinsed
1 cup salsa
1 tablespoon ground flax seed
1 teaspoon garlic powder
2 medium sized sweet potatoes, scrubbed and chopped
1 cup nutritional yeast flakes
1 cup Sweet Potato Soup
1½ teaspoon salt, divided
1 teaspoon turmeric
1 teaspoon chili powder
3 teaspoons paprika, divided
2 cups Quinoa, cooked
2 teaspoons taco seasoning
2 ripe avocados, peeled, pitted and chopped
1 green onion, thinly sliced
1 tablespoon lime juice
3 – 4 leaves of cilantro, chopped (or 2 teaspoons dried cilantro)
2 cup sliced black olives
2 cups fresh tomatoes, chopped
1 cup cheddar cheese, shredded
Sweet Potato Corn Tortilla Chips or Blue Corn Tortilla Chips
Directions
Prepare the Black Bean Dip by combing black beans, salsa, ground flax seed, and garlic in a food processor and pulse until smooth. Spread across the bottom of a deep-dished serving plate.
Place the chopped sweet potatoes in a microwave-safe bowl and pour enough water until just covered. Microwave the potatoes for 4 – 5 minutes and then allow them to sit until softened. Use a fork to test the potatoes to ensure they're tender.
When the potatoes are ready and cooled, carefully drain the excess fluid, and place the softened sweet potatoes into a food processor bowl. Add the nutritional yeast flakes, sweet potato soup, 1 teaspoon salt, turmeric, chili powder, and 1 teaspoon of the paprika. Pulse until smooth. Spoon the Sweet Potato Spread over the black bean mixture on the serving plate, reserving 1 tablespoon.
Prepare the Quinoa Taco Filling by combining cooked quinoa, taco seasoning and remaining paprika in a medium bowl. You can substitute smoked paprika if you like here for a smokier taste. Stir until combined.
Add one tablespoon of the sweet potato mixture (reserved from step #3) to the quinoa mixture and stir until combined (this helps the quinoa stay together better for dipping purposes). Then spread the prepared Quinoa Taco Filling over the Sweet Potato layer.
Prepare guac by placing the chopped avocados in a bowl and then adding the sliced green onion, lime juice, garlic powder, cilantro, and the remaining half teaspoon of salt. Stir until well combined.
You can continue to stir until the guacamole is relatively smooth or keep it kind of chunky, whatever your preference is. Drop spoonfuls of the guacamole along the outside edge over the quinoa layer and then work your way inward, using the back of your spoon to spread it evenly across the top.
Top the dip with layers of chopped black olives, diced tomatoes, and vegan shredded cheese. Cover and refrigerate until ready to serve.
Note: You can easily make this dip the day ahead of your party – the flavors grow tastier over time. Sweet Potato Corn Tortilla Chips.
*Credit to Namely Mary!
Tell us your favorite tailgate foods! Maybe there is a healthy version out there!