Move over load baked potatoes! This spud is a meal all on its own. You can use left over pulled chicken (or pork), or make it all fresh. With just a drizzle of your favorite BBQ sauce (bottled or homemade), all you need is a fork!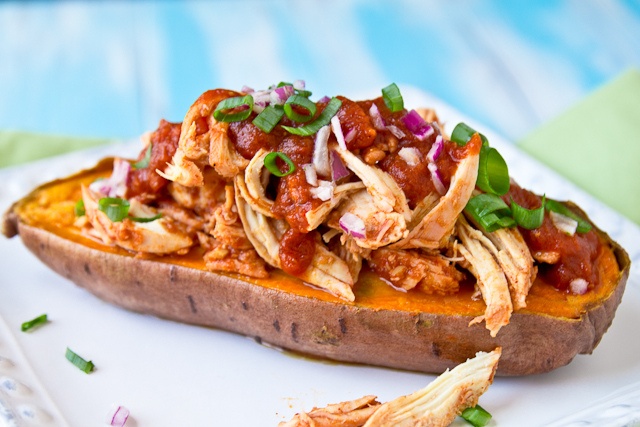 Ingredients
1 medium sweet potato, halved
Olive or coconut oil
1 chicken breast, cooked and shredded
Green onions, for serving
Chopped red onions, for serving
Homemade BBQ Sauce (If you're really ambitious)
1 Tbsp. olive oil
3 cloves minced garlic
15 oz. can tomato sauce (or tomato puree - it is thicker and reduces cooking time)
3-5 small dates
1/2 cup unsweetened apple sauce (the individual cups are perfectly portioned)
1/4 cup cider vinegar
1/4 cup coconut aminos (similar to soy sauce)
1 Tbsp. creole mustard
1 tsp Tabasco
2 tsp chili powder (I used half chipotle, half regular)
1 tsp paprika
Directions:
Preheat the oven to 425.
Lightly brush oil over the cut halves of the potatoes and bake 30-35 minutes, until fork tender.
Bake your chicken & shred
(For the sauce)
While the potatoes are baking, heat oil in a medium saucepan over medium heat.
Cook garlic just until it begins to brown.
Add tomato sauce, dates, apple sauce, vinegar, coconut aminos, stirring to combine.
Whisk in the mustard, Tabasco, chili powder, paprika, and cloves.
Bring to a boil, reduce to a simmer, and cook for ~30 minutes (10-15 if using tomato puree).
Transfer the dates and about half the sauce to a blender and blend until smooth, then return to the pan and stir. (Will keep at least a week in a jar in the fridge.)
The Finale
Toss the shredded chicken with a few generous spoonfuls of sauce.
Serve the chicken on top of the sweet potato halves, with additional sauce, red onions, and green onions.
EASY ENOUGH! Not a fan of sweet potatoes? Well, that is sad, but you can always use a plain ole spud instead!
Share your stuffed potatoes with us! (we question if any of you can even cook!)
Thanks for the share Confectious of a Food Bride!