We've read the famous thank you letters from Lebron James and A-Rod, but now its time to read them from two guys that make this place go round!
Sam and Scott have redefined what it means to be a boss, a leader, and a mentor. They spend their days mingling and working in the middle of the "trenches," giving advice, provoking laughs, and applauding hard work. There is no corner office where they can escape, and they of course have an "open door" policy, always there for their employees. Their styles are completely different, but beyond complimentary. If anyone walked in off the street, they would never know these two have seen the amount of success they have in such a short time, as they continue to work toward the next big mark. Humble is an understatement. They are always looking for a way to bring the light to an employee, never themselves. Speaking on behalf of anyone who works within these walls, or has had a chance to work with them as a traveler, Sam and Scott are what you hope for in a boss, a leader, and a mentor. We thank them for leading us to another year of being the Best Place to Work in Omaha!
These two of course wanted to give their thanks to their employees, travelers, and clients.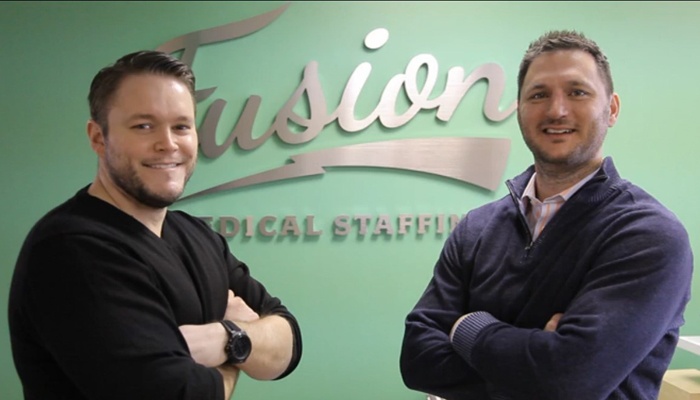 (From Sam)
In looking back on the past 6 years, I am still in awe of what Fusion has become. When Scott and I started in his basement, there was no idea to envision how many people's lives we would affect, but more importantly, how much you as employees would affect our lives. There is nothing I would rather be doing as a profession than leading this group. The energy, passion, drive, comradery, fun, etc. is a thing of beauty. You all as a group, have helped shape Fusion into the company it is. And the funny thing is; we are just getting started. I want to thank you all for believing in us, and helping shape me as a person. The daily interactions in this office with each of you individually is something I cherish. Thank you all. Now hand the ball to the ref, act like we've done it before, and let's get back to getting nasty.
We are grateful for all of the travelers that have chosen Fusion, and referred other great contractors. Without your efforts and belief in our company, we would not be where we are. You are treating patients daily, which is ultimately the most important thing we do.
Thank you to the facilities that put up with our sales staff! I am sure their urgency can wear on you from time to time, but we are so thankful you provided us with the opportunity to assist you in your time of need.
Sam Wageman
President of Fusion Medical Staffing
(From Scott)
I wanted to take a moment to reflect on who are the people that deserve a shout out for being key in building Fusion. To our internal family.. I'm humbled by how each of you come to work and believe in what we are building everyday. We have such a dynamic and unique group of talent within these walls. One of my biggest joys is just walking around and making small talk about life with you all. It's good to laugh and I feel like I laugh hard at least once a day – so a special thanks to those who keep me laughing. I hope you know that Sam and I care deeply about all of you and your individual success – I look forward to see what the future holds for us all!
To our traveler family out in the field – You all are just a greater extension of what Fusion is and represents. I'm a firm believer that great recruiters have a way of attracting amazing talent… and we have GREAT recruiters!! So in case you were wondering how amazing you all are, there you go. YOU'RE AMAZING! I wish we had more of you stopping in town during your travels as we like to always put a face with a name. One of my favorite things about our job is that we make lifelong friends for a living. I love that my Facebook and contact list in my phone is chalk full of great people that have worked with Fusion over the years. In the words of my business partner Sam,"we don't work with junk," so if you have worked for Fusion, you are legit!
To all of our clients – thank you for trusting us to provide the best talent for you every week! Our top priority is making sure we do what we say and to make sure we are always going above and beyond to meet your needs. We like to partner with the best because we feel we are the best in what we do. Fusion looks forward to providing the best and brightest candidates in the market to you whenever you call.
Scott Wehner
Chief Operating Officer
We are all so thankful for those who support Fusion each day! Here's to many more years of making things happen!