We have noticed a common issue travelers have is the time to cook or ideas of easy meals for their shifts. Everything from time and space to creativity, to cooking for one. The lack of energy to actually prep a weeks' worth of meals isn't something we just hear from our travelers, we hear it from everyone around us! Whether a busy family, college student, or just the struggle of cooking for one, meal prepping can save you so much time, money, and effort!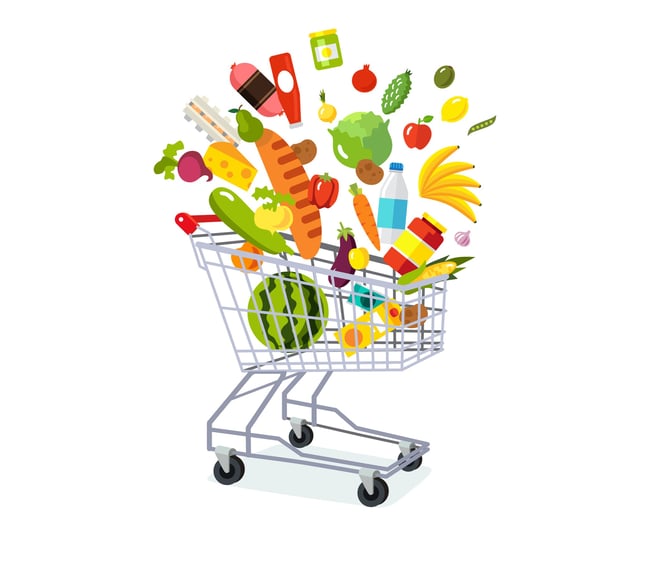 What You Will Need:
Pick a day of the week as your "Prep" day and do your shopping on that day too!
Buy a handful of reusable containers/lids (we love THESE!)
Portion marked plastic baggies
Medium sized lunch bag
Quality water bottle (Keeps you drinking all day, allows you to see how much water you've taken in, and you don't have to worry about someone else picking it up for a swig! gross.)
The Protein:
Here are some ideas for quick prep and items that can be used in many ways! You can of course add in any other protein you enjoy, these are just some of our favorites!
Chicken breast: Try baking or grilling about 4 breasts on your prep day. They can be shredded for salads and wraps, or reheated for a healthy, filling meal. Chicken pairs well with almost anything, and super easy to prepare!
Black beans: We love beans. You can mix them with rice, put them in a tortilla, or eat them plain.
Chicken Sausages: These come in a huge variety. They only have around 90 calories, have less sodium than a regular sausage, and again, go with many things! Mix in your rice and beans, eat with a side of veggies. They are precooked and can be heated within a couple of minutes. Quick, easy, and tasty.
Turkey Balls: These are a favorite around Fusion! Use ground turkey, egg, oats, onion, salt/pepper- similar to meatloaf. Put them in a muffin tin and voila! Easy little turkey meatballs. Great for breakfast, lunch, or dinner!
Eggs: Hard boiled and scrambled are both great ways to prepare ahead of time! Mix your scramble up with your turkey sausage and black beans for a great burrito filling! Top a salad with that baked chicken and a hardboiled egg? Still too busy for that? You can eat a hardboiled egg in 2 bites, gain some protein, and go on with you day! Ever tried making hardboiled eggs in the oven?
Tuna:You either love it or hate it. Add it to your salad or make it the old fashioned way. It's quick, cheap, and gives you some protein!
The Produce:
We love fruits and veggies. Chose the ones that you love most, these below are ones we find easiest to prep!
Cucumbers, carrots, mini sweet peppers: These are our favorites! They are easy to wash, chop, and toss in a baggie for your snack the next day. They go well with a salad or as a side!
Apples, Bananas, Grapes: Similar to our favorite veggies, these are all easy to grab, eat in a few bites, and be done!
*TIP: Wash all of our produce when we get home from the store. This saves time in the long run and allows you to portion them out in baggies or containers to grab for your lunch bag on your way to your next shift!
The Carbs and such:
Sweet Potatoes:If you have ever seen our Healthier Eats Blog, you know we LOVE them. Cube them and bake, poke with a fork and microwave them, whatever you chose, they are AWESOME. They are much better for you than just a regular baked potato, and they also go great with the proteins listed above. Try this: Cube them (skin on), toss with melted coconut oil, season with salt/pepper/garlic, and bake at 350 for about 30-35 min. They heat up great and have an awesome sweet/savory taste.
Rice: It doesn't get much faster than rice. There are 90 second pouches, mini minute rice cups, and endless options. Like we mentioned above, try added a protein like black beans to your rice. Filling and GOOD!
Quinoa:See Rice. Goes with almost anything and much easier to prepare than you would think! It too comes in steamer bags for quick access!
Toast:We think toast is underrated. Whether it is covered in peanut butter or cinnamon sugar, it is always a belly pleaser. It takes all of a minute and half to toast and spread something delicious on it. A loaf is cheap and there is bound to be a toaster somewhere in the facility you're at!
Granola:Great on its own or added to some yogurt. Consider portioning it out on your prep day into baggies that are easy to toss in your lunch bag and go! Easy.
Tortillas:If there was only one food you could have, this would be ours. You can put ANYTHING in a tortilla (well, almost). Try the whole wheat ones! We think they taste the best!
The Others:
Yogurt is always a great idea! Try adding those berries you already washed, and some of the granola you already portioned out!
You may want some dips for those veggies listed. Try a plain Greek yogurt with ranch seasoning. It's great and taste better than ranch. (Yeah, we said it!) Make a good sized batch to last you the week!
ALMONDS! Great for grabbing a handful to fulfill your cravings! Not to mention all the benefits of some tasty raw almonds!
Oatmeal- again easy to whip up in a couple of minutes and keeps you full for a good chunk of time! Add in some banana and a spoonful of peanut butter? SCORE!
Limited on space or appliances while on the road? Start out with a list of things you can 100% make/store, then see what needs filled in. Needing protein, but no oven to bake? You can buy awesome frozen turkey meatballs or grilled chicken patties, fully microwavable. No stove to boil your eggs or cook veggies? Check out the deli side of the grocery store for hard boiled eggs, already peeled and ready to roll. As for the veggies? Try the steamer bags or buy basic frozen veggies and add a little water to the container when you heat them up! There really is no reason you can't enjoy most of these things, regardless of appliances.

We are no experts, but we are an office full of planners, healthy eaters, and smart folks. These are just tips and tricks we find useful and want to share with YOU! Feel free to alter our ideas any way you want!
We know you are tired, but you have to get groceries and put them away anyway, so why not try out this extra step? And remember, you can add or change any of these ideas! This list is just a good way to get started! Here are a few more great ideas when it comes to meal prepping!
Here are some of our favorite quick and healthy recipes
Lentil Chili
Sweet and Spicy Teriyaki Chicken Roll ups
Quick Cilantro Lime Chicken
Need motivation to stay healthy and fit on contract? We've got some tips!
Want to join the Fusion family? We are here to answer your questions and get you to your next contract.