Its finally here! NURSES WEEK 2015! We are ready to make it the most fun yet! Check out our checklist of having the best Nurses Week yet with us here at Fusion!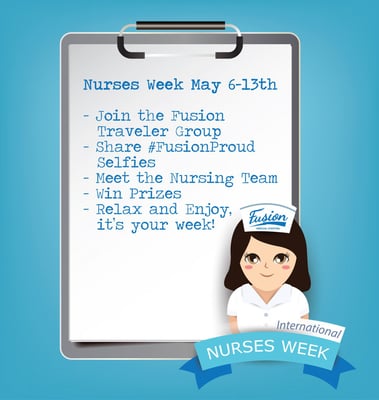 Join the Fusion Travelers group on Facebook: We have created a group exclusive to all of our Fusion travelers. Use it to connect with other Fusion folks, ask questions, and share your adventures during travel. If you love Fusion as much as we do, you should for sure be in this group! Each day we will randomly draw a name of the group members for a prize too, so you don't want to miss out.
Share your #fusionproud selfies: We want to see what you're up to on assignment! Post a selfie to our facebook page, on instagram, or twitter using #fusionselfie! Whether its just your, or even your team during your shift, send them our way! Prizes are involved!
Meet the Nursing team here at Fusion: Later this week we will be sharing a blog with our entire nursing team, telling us why they love working with nurses and a little bit about themselves! Comment on the blog and tell us who your recruiter is for a prize!
Win Prizes: Do all 3 options above and increase your chances for prizes! We love to send goodies to all of you awesome people!
Relax and Enjoy, its YOUR week!: Okay, we know "relax" is used loosely, especially for nurses. However, enjoy the week because we want YOU to know how much we appreciate all that you do. Go nurses!
We look forward to a great week showing our appreciation! Thanks for all you do!