We are looking for awesome for our lab division to add to the Fusion Family! Our travelers know best when it comes to referring other hardworking professionals, so we are are asking for YOU to step in.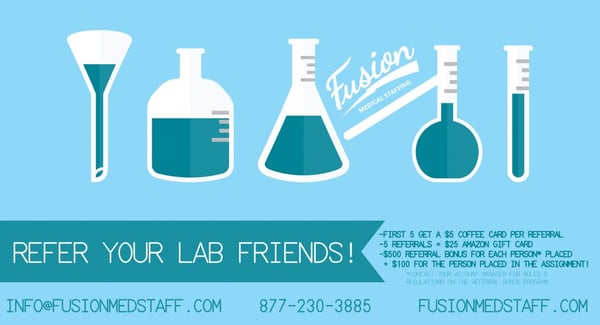 This will be set up as a contest with prizes so easy to win, you would be crazy not to send referrals!
For every referral, you will receive a $5 Starbucks drink card
For every 5 referrals, you will receive a $25 Amazon Card (and the Starbucks drink cards)
For every placed referral, YOU will get $500 and the person you refer will get $100
Easy enough right? Now start sending those referrals to your Lab recruiter!
Even if you have friends who aren't sure about travel yet, send them our way! We would love to chat with them! Just the names get you $$!
Chad@fusionmedstaff.com
Corey@fusionmedstaff.com
Debbie@fusionmedstaff.com
April@fusionmedstaff.com
Jake@fusionmedstaff.com
Tracey@fusionmedstaff.com
Becki@fusionmedstaff.com
Rye@fusionmedstaff.com