Popsicles for breakfast? With these Popsicles, you can eat one anytime! The 4th of July is a great occasion to give these a try! Healthy, quick, and easy!

Ingredients:
Makes 12 pops
3 cups fruit (1 ½ cups of blueberries & 1 ½ cups of strawberries)
1 tablespoon of lemon juice
0-6 tablespoons of honey
32 ounces of vanilla yogurt (you can use Greek yogurt if you prefer)
12 (5 oz.) paper cups (or use a mold if you have one!)
Popsicle sticks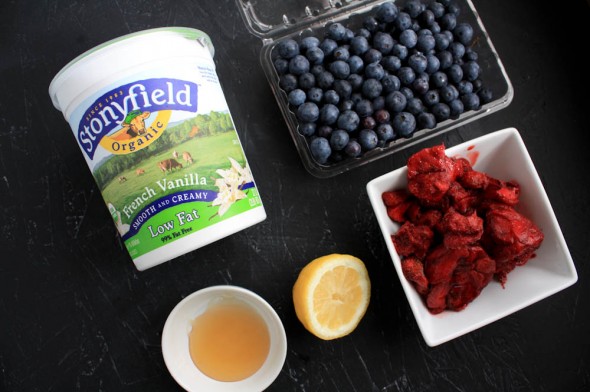 Directions:
In the blender combine fruit and desired amount of honey, blend until smooth. If using multiple fruits, do them in separate batches.
Using a spoon or spatula, press the puree through a fine mesh sieve to remove any skins or seeds. You should end up with about 1 total cup of fruit puree. Set aside.
Whisk together the yogurt and lemon juice. Set aside.
Lay out your fruit puree(s), yogurt, cups and Popsicle sticks.
Alternating between the puree and yogurt, layer evenly into the 12 cups. Keeping in mind that the yogurt is the base and the fruit puree(s) are an accent.
Gently swirl each cup using a knife to create a mixed and marbled texture
Freeze for 30-45 minutes, or until solid enough to hold the Popsicle stick. Insert stick and freeze 3-4 hours until frozen solid.
To enjoy, tear top of paper cup and unwrap until pop comes out easily. Use the cup as a rest for your pop when you need a brain freeze break. Or, dip the cup in warm water and gently pull the pop out.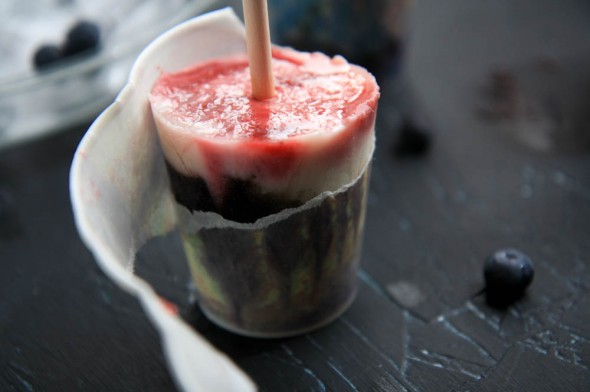 What other fruit combinations are you gong to try? Let us know!
Thanks to Back To Her Roots for the share! Have a healthy recipe you want to share with us? Send it our way!