Summer is near and we are all trying to eat a little healthier! Today's recipe is a great dish with many ways to mix it up and use what you have on hand! Since it is Cinco De Mayo, why not try a little "tex-mex" for dinner?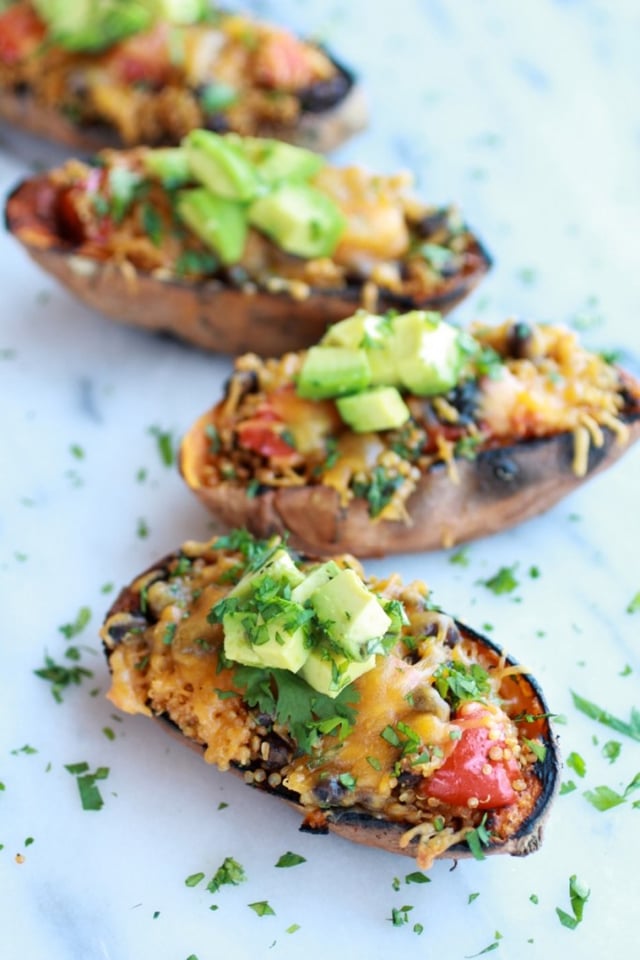 COOK TIME: 15 MINUTES
TOTAL TIME: 30 MINUTES
YIELD: 8 SWEET POTATO SKINS
INGREDIENTS
4 sweet potatoes, baked
1 red pepper
1 ear corn, husked
1 teaspoon chipotle chile in adobo, minced
½ lime, juiced
3 tablespoons olive oil
¾ tablespoon cumin
½ tablespoon smoked paprika
¼ teaspoon onion powder
¼ teaspoon garlic powder
½ teaspoon chipotle chile powder
½ tablespoon brown sugar
2 tablespoons fresh cilantro, chopped
½ teaspoon salt
½ teaspoon pepper
1 cup cooked quinoa
1 cup spinach, chopped
1 ½ cups black beans
1 ½ cups shredded sharp cheddar cheese
1 avocado, chopped
INSTRUCTIONS
Preheat your oven to 400 degrees F.
Poke a few holes in the sweet potatoes and bake for 1 hour or until soft and tender. You may also cook your potatoes in the microwave for 10 to 15 minutes or until soft. It will depend on the size of the potato. I prefer to use the oven though. When the sweet potatoes are cooked slice them in half and allow to cool 5 minutes. Once the flesh of the potatoes is cool enough to touch scoop out only a thin layer of the potatoes, leaving a thick layer of potatoes and skin. Save any of the scooped out sweet potato for another use.
Well the potatoes cook grill the red pepper and corn. Rub the corn and red pepper with a little olive oil. Wrap the corn in a small piece of foil and grill the corn + red pepper for about 25 minutes turning each veggie about three times. Or until the pepper is chard all over and the corn is caramelized. Remove and let cool. When cool, slice off the corn kernels, de-seed and chop the pepper. Turn the heat on the grill down to medium.
Combine the chipotle chile in adobo, lime juice, olive oil, cumin, smoked paprika, onion powder, garlic powder, chipotle chile powder, brown sugar, chopped cilantro, salt and pepper in a small bowl whisk to combine.
Brush the insides of the sweet potatoes with 2 to 3 tablespoons of the olive oil/seasoning mixture and add the sweet potatoes orange flesh side down to the grill and grill for 5 minutes.
To a large bowl add the quinoa, red pepper, corn, spinach and black beans. Add the remaining olive oil mixture and toss well.
Remove the sweet potatoes and place on a small baking sheet. Fill each sweet potato with the quinoa and then top with the shredded cheddar cheese. Either place the sweet potatoes directly on the grill for a crispier smokier flavor or place the whole pan (assuming it is aluminum or another grill safe material) directly on the grill. Then grill for 5 to 10 minutes or until the cheese has melted. Top with the diced avocado and fresh cilantro. Eat!
Thanks to Half Baked Harvest!