I know what you're thinking. Sausage as a healthy option? The answer is YES! Going with a turkey or chicken sausage saves you on the sodium overload AND calorie count. (Don't tell pork, but chicken and turkey sausage tastes WAY better!)
Try this quick skillet dish for breakfast, lunch, or dinner! We will probably finishing making a batch before you finish reading!
(Stop drooling, keep scrolling)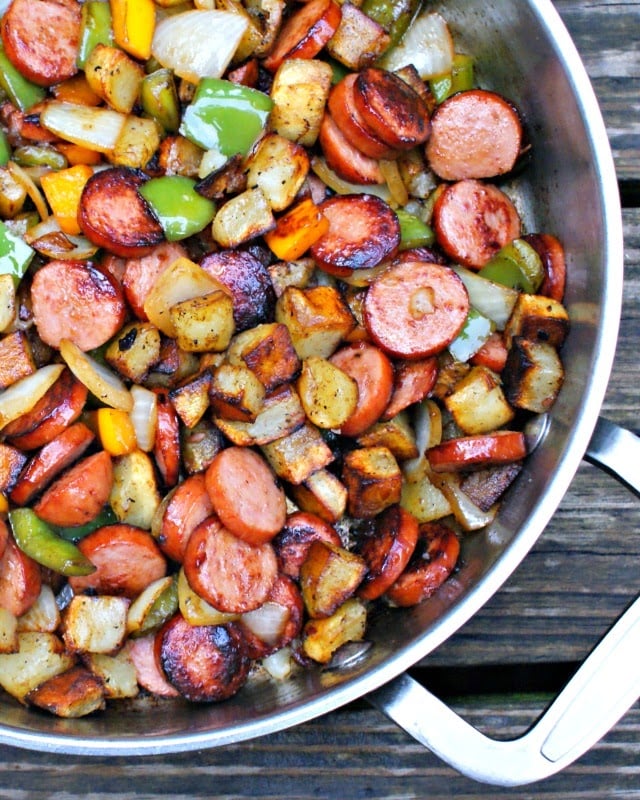 Ingredients
1 (14 ounce) package turkey kielbasa, cut into 1/4 inch rounds (Try various brands- turkey or chicken)
1 green bell pepper, diced
1/2 yellow, red or orange bell pepper, diced
1 onion, diced
3 small or 2 large potatoes, peeled and diced
olive oil
salt and pepper
Instructions
In a heavy bottomed skillet, heat 2 tbsp of olive oil over medium-high heat. Add the potatoes to the skillet and season with salt and pepper. Fry until golden brown and cooked through, around 8-10 minutes, stirring a few times to ensure even browning.
In a separate skillet, brown the sliced kielbasa for around 5 minutes in 1 tbsp of olive oil over medium high heat. Remove the kielbasa from the pan and set aside. Add the peppers and onions to the skillet and season with a pinch of salt and pepper. Cook for 5 minutes, or until softened, stirring occasionally.
Add the cooked potatoes and kielbasa to the skillet with the onions and peppers and mix everything together. Serve nice and hot!
Our suggestions:
Try using sweet potatoes for a sweet/savory mix
Add any variety of veggies
Make it a breakfast scramble with a few egg whites
Top with some fresh salsa
Shout out to The Two Bite Club for sharing this gem!