When you hear the name Jake Hann inside the walls of Fusion, it is usually followed but a hilarious story, some sort of mischief, and ALWAYS good things. Jake knows the meaning of work hard, play hard, and does both to the fullest. As the full package, Jake is a team player, family man, and "medical staffing extraordinaire" (to quote Scott Wehner). Whether you are on Jake's team, part of the support staff, or one of his travelers, you know he puts everyone first with your best interest at heart. We asked Jake to tell us a little more about himself...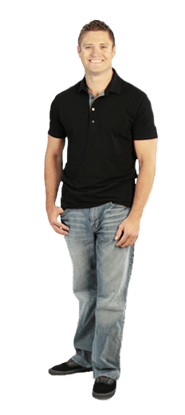 Why do you love what you do? I really enjoy meeting new people and helping two parties find a solution to a common goal. i.e.) Client looking for candidates, Candidates looking for a new opportunity.
What do you really want the Lab Professionals to know? That I truly have their best interest at heart and I'm trustworthy.
Describe your work ethic: Dedicated, passionate, and competitive.
If you weren't working at Fusion, what would be your other career? - Grounds keeper at a golf course.
Theme song? -I'm a fan of all genres of music so it depends on my mood. If I'm trying to get pumped up its Blind by Korn, Any of Sublime or 311's old stuff if I want to chill.
What are you biggest strengths and weaknesses? Biggest Strength: Optimistic and Self Motivated Biggest Weakness: Try and take on more than I can handle at times.
What keeps you motivated: My kids and beautiful wife. (Side note: the woman is a saint!)
Website I can waste hours on: TheChive - "Probably the best site in the world"
Best junk food indulge: Chocolate - I can't eat just one piece…it's like crack to me
Unknown or strange fact about you: - I have a HUGE fear of heights but enjoy sky diving and jumping off anything if there is water at the bottom. One of my friends or family members have to hang our Christmas lights every year.
Favorite Quote: "Be Fearful when others are Greedy and Greedy when others are Fearful" - Warren Buffett or "May your Neighbors respect you, Trouble neglect you, Angels protect you and Heaven accept you" - Drake
What would your coworkers say about you? No clue, you should ask them. Probably that I'm loud, say random things daily and enjoy Fireball at Happy Hour!
When we asked Jake's team about him, it was hard to get them to be serious at first, but then the truth really came out...
"Jake was our third person hired, and has been a major factor in Lab's success. He's always willing to help in other areas, from Housing to social media. Jake's a stud, and we're glad to have him on our team." Corey Paulsen, Division Manager (Lab)
"Jake is a beast. He is very driven and disciplined in everything he does. Great team player and always brings a positive attitude. Great dude, awesome family man, medical staffing extraordinaire. Aside from being a top producer with Fusion, he can dead lift a small car so don't mess with him." Scott Wehner, COO
"Jake is exactly what you look for in an account manager/recruiter. He cares about his employees and is quick to get back to them. He has the best intentions for his employees and also for the company. He is very strategic in how he puts his day together." Chad Crawford, Division Manager (Lab)
If you have had the chance to work with Jake, you know those statements to all be true! Thanks for being a rockstar, Hann!