Any company will tell you they are the best. When it comes to travel companies, there is one that is a fit for each person out there. At Fusion we truly believe we are the best, and that is largely because we hire the best. Our travelers are what drive the success and love for being in the industry. When you work with the best, you produce the best! Luckily, our travelers agree so we don't have to just toot our own horns here. Our traveler Norma gave us some great input on her experience with travel. As an 8 year road warrior, Norma has some great points to share. Being a traveler in our lab division, she helps shed some light on an area that many are unfamiliar with as well. Her advice can be used whether you are a first time traveler, veteran, or just looking for your next adventure!
By Norma Bivona (MLS Traveler at Fusion Medical Staffing):
Originally from New Orleans, LA, I have been a MLS for 14 years, 8 of which have been spent as a traveler. My urge to travel came after wanting to get out and see the country, so I read about traveling in Advance Magazine. The rest was history. Travel is such an amazing opportunity. I love the idea of getting to work at various, different sized hospitals with different degrees of work load. Learning new instrumentation and new people. It is just great to do what I love AND be able to travel the U.S at the same time.
Most people are probably asking what even goes on behind the scenes in the lab! We run blood work and give it to the physicians. Without the lab, the Dr. would just be guessing. This profession is very important to the Physician because 70% of the information they need to treat a patient comes from YOU!
I have my own routine when it comes to traveling. When I arrive to a new location, I try to meet my neighbors and introduce myself. I look for the essentials (for me, that means church, grocery stores, Walmart, and of course somewhere to do Zumba!). I am actually now a Zumba instructor because of the encouragement I have received through various locations. Of course there is one downside, which is being away from your friends and family, and sometimes holidays can be a little lonely. I do get homesick. Luckily, I meet amazing friends everywhere I go, which become my family when I am away for holidays. Someone is there to take you in! Keeping in touch is another thing that can be tough. If it weren't for Facebook, I wouldn't have been able to keep in contact with not only family, but all the great people I have met. Phone calls, texting, even FaceTime! Whatever it takes! "True friendship is no about being inseparable, it is being separated and nothing changes."
My advice for a traveler (lab, therapy, nursing, whatever!), would be to do your homework! Ask other travelers who they work with and about their experiences. I always recommend Fusion (of course!). I would also recommend 2 years of bench work. Flexibility is vital also. You will have to adapt to a new environment in a short amount of time. You need to be a team player, maintain a positive attitude and be able to acclimate well to a variety of settings. Always be honest about your skills. If you do not feel comfortable doing something, DON'T sugar coat it because your company and facility will expect you to know how to come in and do your job. When it comes to the money value of travel, you have to look at the whole picture, not just your hourly wage. If you are willing to travel anywhere, work all shifts, you will NEVER be without a job. Just remember that is why they hire travelers and assignments, to fill in shifts as needed and heal the facility out where their vacancies are! Again, FLEXIBILITY!
When looking at travel, companies are marketing themselves to you, but don't forget to market YOURSELF. Social Media is a great way to make that happen. There are blogs and pages that relate to your profession or just to travel that you can get on and become a member of. This is a great way to meet other travelers and network. I have met so many people who maybe were interested in travel and I can chat with them and help them with questions they may have (and tell them about Fusion!). Working with a company like Fusion has taught me all I can do with social media. I am even Facebook friends with the staff, which is a great way to get to know who you are working for. After all, you are an employee, just as they are!
After 11 travel assignments, I have figured this travel thing out. I have found my place with Fusion Medical. I have never felt so comfortable and at home as I do right now. The people and the benefits are great. There are so many companies out there, and a company that fits everyone. To me, those are just companies. Fusion is HOME. A recruiter makes the company. With the being said, Fusion brings the best to the table. From day one, I felt like I was right where I should be. They care about me and I care about them. There's no place like home, FUSION! Now I just need to go visit them in Omaha!
We asked Norma her secret to being such a sweet and positive person (Because really, she is, always!)
I love the fact that what I do is a direct influence on how a patient is medically treated. I go to work and I have a job to do, but first and foremost my responsibility is to the patient. I enjoy when I get to have direct patient contact, because I can help the patient better understand about their lab procedures and the results. I am very much a people person, and I very seldom meet a stranger. I am always ready to help in any way I can. I consider myself professional, caring, honest, and outgoing. I always try to give > 100% to anything I decide to do. These qualities have contributed to me being successful in my career. It is so much easier to be positive and look on the bright side than to be negative. And with that said I am so proud to say that I work for Fusion, it is not just a company it is a family full of caring people and thanks for allowing me to become a part of the greatest family there is FUSION.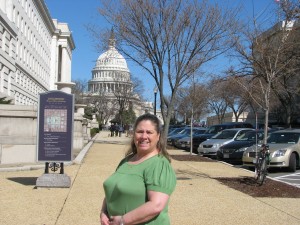 (Lobbying in DC for my profession!)
While we certainly agree with her words on Fusion, it is great to know that our travelers out there agree. We get questions daily from travelers looking for that right company, and Norma said it best. Just do your homework and look at the whole picture. There are so many resources out there to help, and we are happy to either be a resource or show you the direction to find them!
Here is a great PowerPoint from Norma as well. She presented this at the AACC conference last week to show her take on the benefits of travel! Enjoy!

What are your questions about travel? We would love to answer or get our traveler's feedback for you!