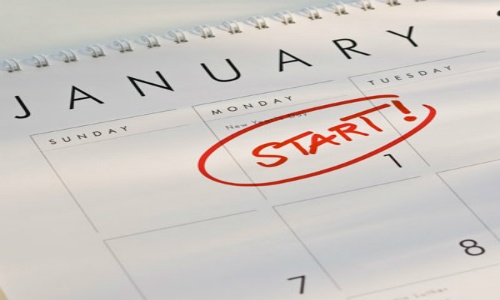 It's that time of year again. People everywhere are vowing to hit the gym, eat better, make more friends, and overall make a new beginning in the new year. Some have already fallen off the wagon and even more will in the months to come.
Healthcare professionals may have a different set of goals for the new year. Professional development, especially among new grads, may be a high priority on the resolution list. Professional development will help you land a great job and benefit you in the long run. It is definitely an ongoing process, but there is no better time to start than the present. There is no better way to achieve your resolution of traveling more than taking a job in an unfamiliar city. Whether your goal may be personal, professional, or just for fun, sticking to it is always the challenge. Here are some tips on keeping your resolution no matter what it may be.
Be realistic. Don't even try to set outlandish goals that you know you can't and won't achieve. It's unlikely that you'll lose 100 lbs by summer, read 50 books, and become an expert chef at the same time. This also goes for setting too many new year's resolutions. You should probably limit yourself to 3 realistic goals that you can and want to achieve with a little hard work.
Focus on what you will do and not what you won't. It is hard to stop a bad habit cold turkey, but if you have a plan to replace it for a good habit, you may see much more success. If you always used to go smoke on your lunch break, replace it with taking a walk around the block for exercise instead.
Make a plan. Rather than setting a huge, daunting goal, set a series of smaller goals to achieve your larger goal. Go ahead and reward yourself for reaching those smaller goals. This may help keep you motivated!
Enlist additional help or support. Find a resolution buddy to hold you accountable. You will find yourself trying harder and staying more disciplined with someone watching over you. You can return the favor for them or make it a fun competition if you'd like. If you're on the road and away from friends and family, consider using Skype or talking to your new co-workers. This may also help start up conversations!
Be specific. You will find it much easier to cheat on your resolution if you set vague goals. If you want to lose weight, set a number for your goal weight. If you don't, you may find yourself giving up on your goal before you've achieved what you wanted.
Keep tabs on your progress. Periodically along the way, make sure you are where you want to be. If you find yourself falling behind in your goal, set new action steps to get back on track.
Good luck and have a happy and prosperous 2013!