The 4th of July is sneaking up on us fast! No matter how you're celebrating, you should always have something tasty to enjoy. Whether you are with a group or hanging out alone while on assignment, these recipes can please all!
Here are our favorite recipe ideas for this 4th of July!
Mini Grilled Pizzas: It is hot enough, so why heat up your kitchen any more than you have to? Use that grill and make up some pizzas! If it's just you, then add your favorite toppings and have at it! Feeding a crowd? Let your guests create their own pizzas! (This recipe comes from Tablespoon and their infinite tasty ideas!)
Ingredients: (If you want to save some time, get a premade dough!)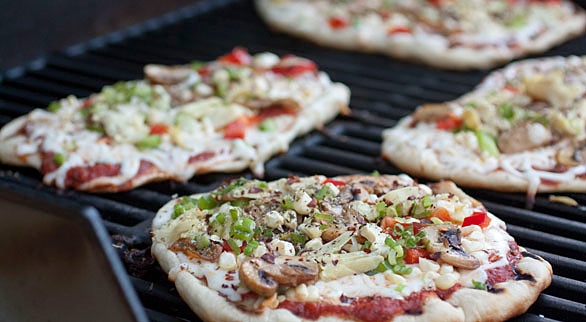 5 cups (22.5 ounces) all-purpose flour (dough)
1 tablespoon sugar (dough)
1 tablespoon kosher salt (dough)
1 teaspoon instant yeast (dough)
2 tablespoons olive oil (plus some for shaping dough) (dough)
1 3/4 cups room-temp water (dough)
2 1/2 cups tomato sauce
1 tablespoon dried oregano (sauce)
2 teaspoons salt (sauce)
2 teaspoons black pepper (sauce)
1 teaspoon red pepper flakes (sauce)
1 teaspoon garlic powder (sauce)
2 pounds low-moisture mozzarella cheese
10 cups various veggie/meat toppings
Directions:
To make dough, mix flour, salt, sugar, and yeast together in a large bowl. Add in oil and water and stir with a large spoon until the dough forms a rough ball.
Using your hand, dip it in water and vigorously work the dough until it forms a relatively smooth ball. This will probably take 3-4 minutes.
Let the dough rest for 15 minutes. Then turn it out onto a floured surface and knead it until it is very smooth, but not sticky. It should pass the windowpane test. If it's too sticky, knead in more flour. If it's dry and cracking, knead in water a tablespoon at a time.
Divide dough into 10 small balls. They should weigh about 4 ounces a piece.
Lightly coat each dough ball with olive oil and let sit, covered, at room temperature for 30 minutes. Then transfer to fridge for at least 3 hours or overnight. Remove dough from fridge 90 minutes before making pizzas.
Make sure to prep all your ingredients before starting pizzas. Chop veggies, grate cheese, and mix sauce. If you're using any large veggies, saute them lightly before adding them to pizza. For example, mushrooms should be sauteed first.
Roll dough balls out onto a lightly floured surface until they are about 6-7 inches in diameter. If you want, you can roll out all the dough balls before starting to make them on the grill. Just set the prepared pizza rounds on clean baking sheets with a bit of olive oil.
Heat grill to medium-high and let get very hot.
Add 3-4 pizzas depending on grill size. Let cook for 90 seconds.
Flip pizzas and immediately add sauce, cheese, and toppings.
Let cook for another 5 minutes, covered. Turn down heat to medium-low after you flip and top the pizzas.
Remove pizzas and slice them up!
Grilled Pineapple with Cinnamon Honey Sauce: Look like a true grill master with something so simple! Credit to Wine and Glue for this one! Check out their site for some great 5 ingredient recipes too!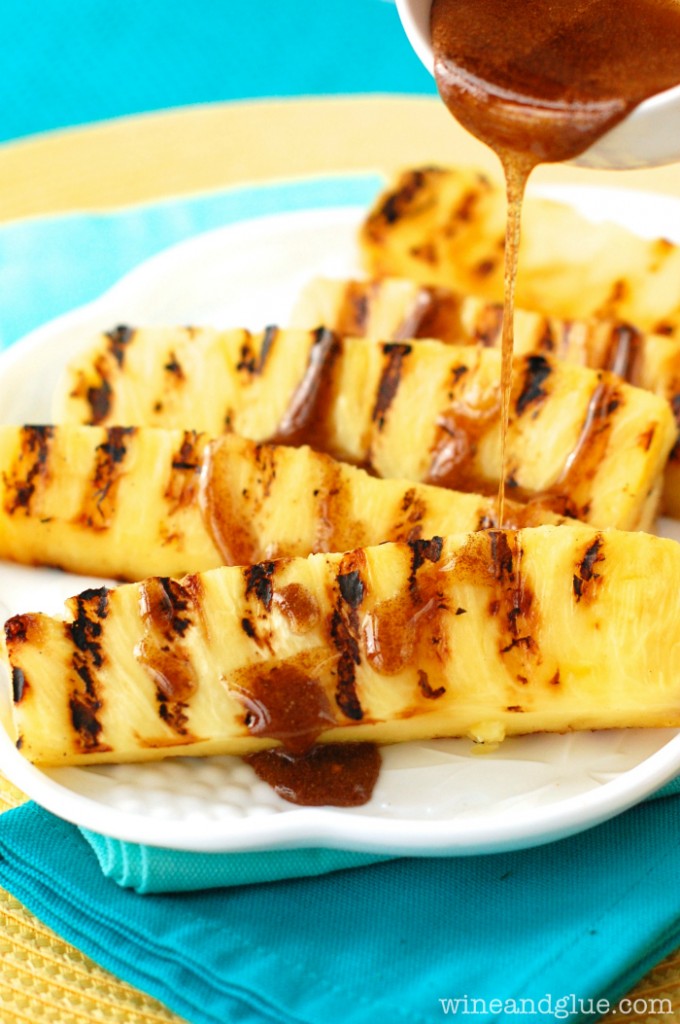 Ingredients:
1/2 cup honey
1 tsp cinnamon
1 pineapple
Directions:
Grill pineapple slices over medium heat for 5 to 10 minutes.
While the pineapple is grilling, mix together the honey (softened in the microwave for about 30 seconds) and the cinnamon.
Drizzle the grilled pineapple with the honey and serve.
Grilled Blooming Onion: Make these a head for just you or a huge crowd! The DietHood has some GREAT healthy ideas, no matter who you are cooking for!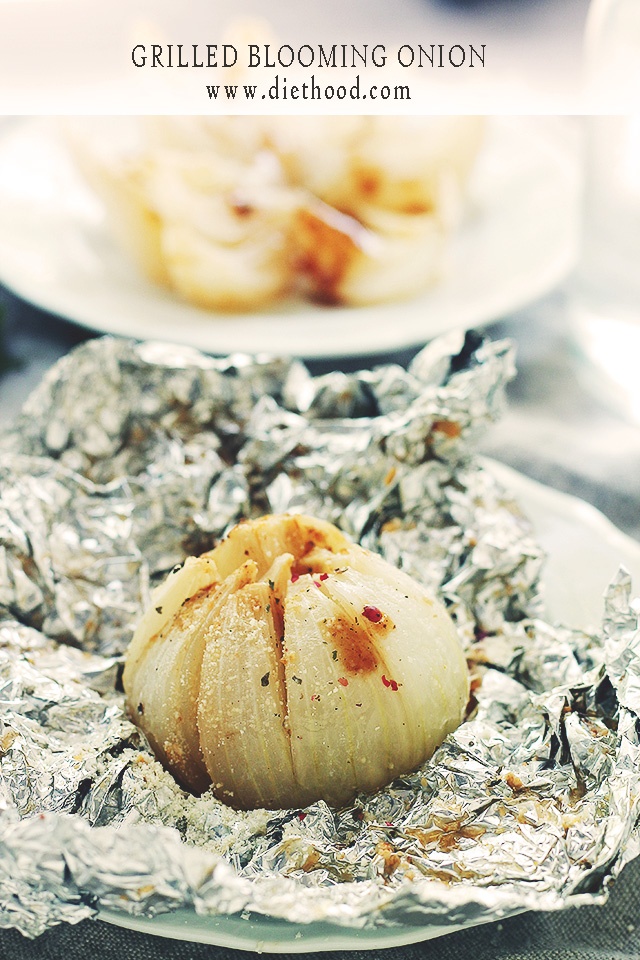 Ingredients
1 large white onion
1/2 tablespoon olive oil
salt and fresh ground pepper, to taste
2 tablespoons shredded part skim mozzarella cheese
2 tablespoons shredded mild cheddar cheese
2 tablespoons your choice of steak sauce, hot sauce, soy sauce, etc...
Directions
Heat the grill.
Cut onion into 6 to 8 wedges, stopping 1/2-inch short of the bottom. Do not cut through to the bottom - leave bottom intact.
Cut out a piece of aluminum foil.
Place onion on foil and slowly open up the onion a bit, pulling the wedges apart.
Drizzle onion with olive oil.
Season with salt and pepper.
Add cheeses in the open center of the onion.
Drizzle the entire onion with sauce.
Wrap it up tightly and grill for 30 to 35 minutes, or until onion is tender.
Remove from grill and slowly open up the foil.
Serve immediately.
Grilled Sweet Potatoes with Cilantro Lime Dressing: Uh yum. A great side dish that switches it up from the same boring grilled items. Thanks to Simply Recipes!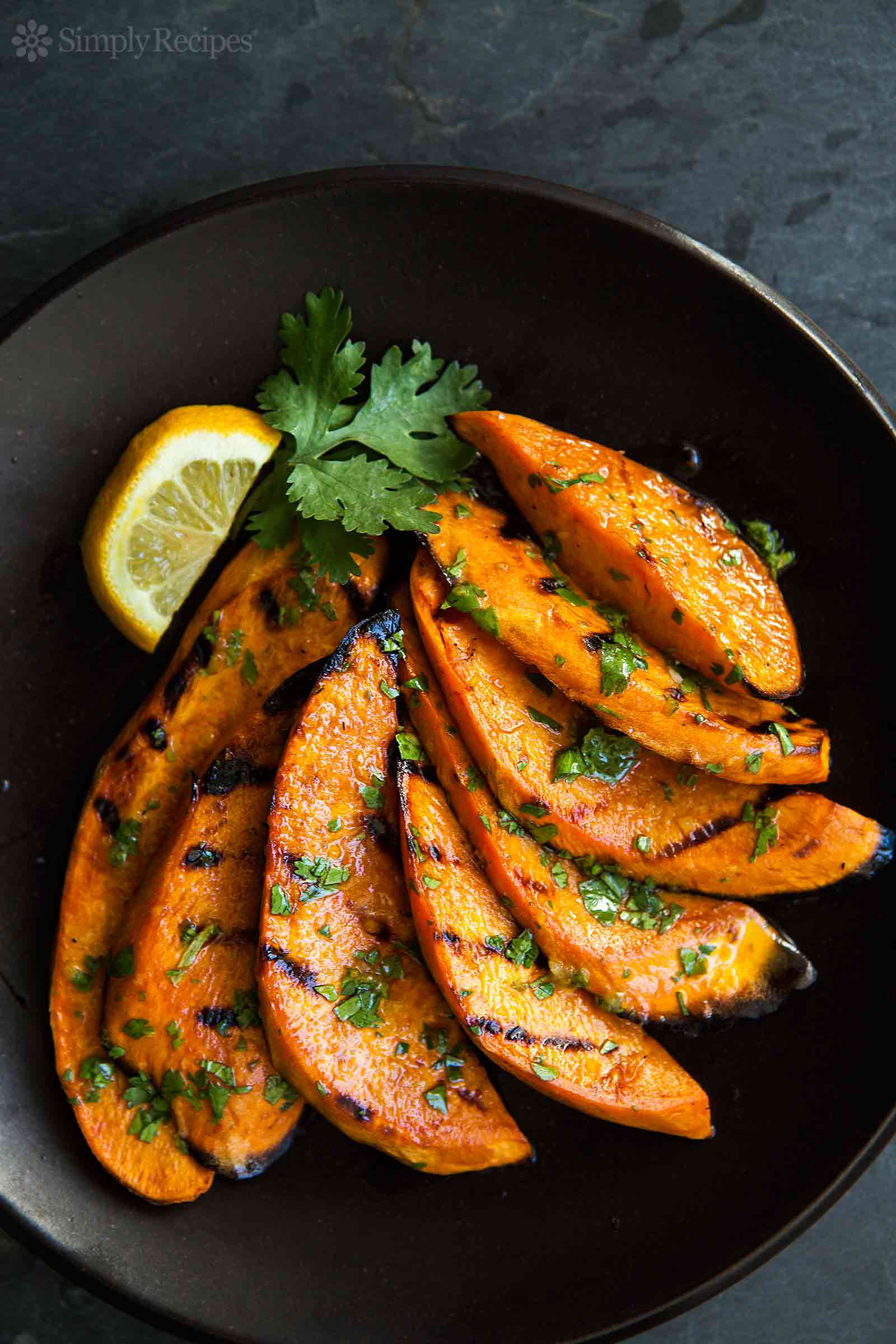 Ingredients
2 pounds sweet potatoes
3-4 Tbsp olive oil
Kosher salt
Dressing
1/4 cup finely chopped fresh cilantro (including tender stems)
1 teaspoon of lime zest or lemon zest
2 tablespoons of fresh lime or lemon juice
1/4 cup olive oil
Pinch of salt
Directions
1 Prepare the grill, prep the sweet potatoes: Prepare your grill for hot, direct heat.
While the grill is heating up, peel the sweet potatoes and slice lengthwise, or on a diagonal, into 1/4 inch-thick pieces.
Coat the sweet potato slices with olive oil and lightly sprinkle with Kosher salt.
2 Make cilantro lime dressing: Combine all of the dressing ingredients into a small bowl.
3 Grill the sweet potatoes: Once the grill is hot, lay the sweet potato pieces down onto the grill grates. Cover the grill and cook until each side gets some grill marks, between 3-6 minutes for each side, depending on how hot your grill is.
4 Toss with dressing: Toss the sweet potatoes in a bowl with the dressing and serve hot.
Need dessert? Check these out!
Festive 4th of July Popsicle? Check out this recipe from a previous Healthy Eats!
What will YOU be making this 4th?