When it comes to being a recruiter for travel nurses, there isn't a requirement to have a nursing background yourself, but it sure does help when connecting with your travelers. Fusion is lucky enough to have a few amazing RNs right here in the office everyday. They are a great resource because of their healthcare knowledge. They know the lingo, the exhaustion after working three 12's straight, and they know what the passion to help others feels like. We asked them to share what they feel is special about the being a nurse AND nurse recruiter.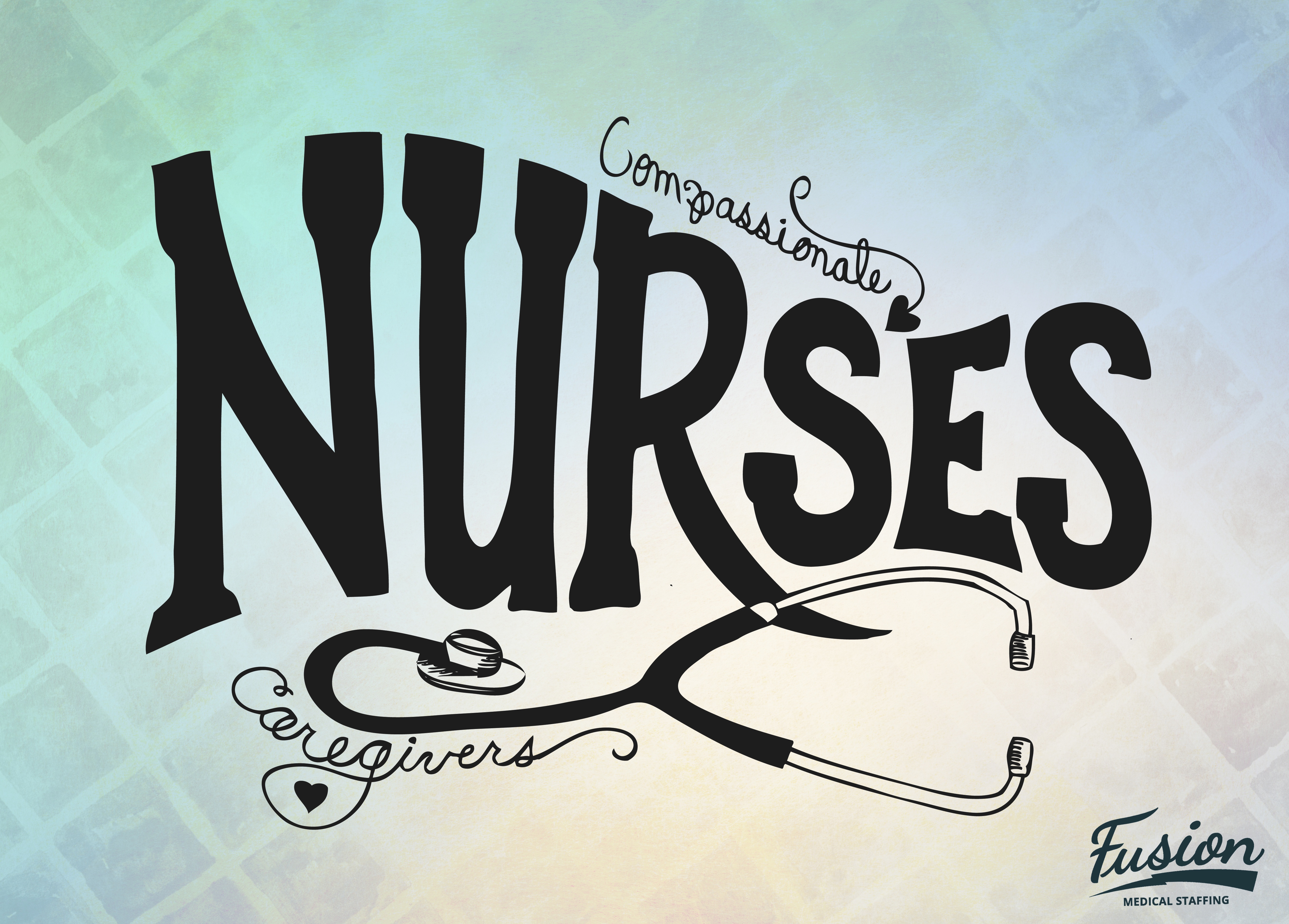 Sara Spanjer:
I have been an RN for 10 years this spring. I started out working on a med/tele unit, then worked as an RN in endoscopy, and finally as a Clinical Liaison. It was by random circumstance that I ended up at Fusion as a recruiter. It was a difficult decision to walk away from the patient care aspect of nursing, but Fusion is such a wonderful company that now I couldn't imagine being anywhere else.
Having a nursing background makes it easy for myself and my travelers to relate to each other, and gives me a unique perspective as a recruiter. I know firsthand what an immense responsibility and privilege it is to care for patients and their families, and because of that I choose to work with the best nurses around. My nurses and I have laughed together, cried together, and shared incredibly weird stories. I get to coach nurses through difficult situations and see them succeed and come out stronger. I get to participate in helping nurses cross items off their bucket lists, build lasting friendships, and improve their nursing careers and skills. I have great respect for the nurses that represent Fusion and want them to know they make our job so fun and rewarding every day!
Meghan Patton:
For me, this job is the best of both worlds. I am an RN. Being in this role at Fusion is awesome. I get to talk with nurses every day and hear all about life within the hospitals. When I first switched over to becoming a recruiter I was worried that I would miss those close relationships you build with your teammates. As it turns out – I still get to develop those close relationships – it's just over the phone. I remember what it is like to work so hard over a long 12 hour shift; I remember that feeling of "when is the last time I went to the bathroom?", I remember "How can we possibly take anymore admits?" and I remember glaring down the nurse who would dare tempt fate and say "Man, it sure is quiet today……" as if to open the door to chaos.
Thank you for helping me to keep up on life within the walls of the hospitals and sharing with me the stories that only another nurse can truly appreciate! Thank you for choosing to work for Fusion!
Alysia Johnson:
I love being a CNA in my role here at Fusion for so many reasons and I could take forever talking about them but I'll spare you all from reading a novel and keep it simple!
The biggest reason I love being a CNA here at Fusion is because it allows me to really relate to my travelers. When a traveler tells me the struggles they are having with their job or shares with me the joys of their day, I truly understand. I get it, I've been there. Being a CNA is tough, yet so incredibly rewarding and important! I have so much respect for all CNA's, especially those representing Fusion. You all do such a wonderful job and I thank you for allowing me to be a part of your journey! Keep up the good work!
Vicki Ortmeier:
I was recently looking at my elementary memory book, laughing at my nerdy photos and reading what I wrote "all about me" for each grade. And at the bottom of each year's page was what I wanted to be when I grew up. I had in this order: teacher, waitress, nurse, doctor, counselor, and teacher. I laughed at all of them and then thought, "A waitress- really?!" then "You know, as a nurse I got to be all these things!" (Yes, even the doctor part as we can all attest to!) Nursing really found me and that's the only direction I ever headed. I've been a nurse for 15 years and have worked at Mayo Clinic in Rochester, MN and in multiple hospitals in Omaha. I've primarily worked adult and pediatric heme/onc/BMT general and critical care. I also have a number of years experience in float pool, metro agency pool, oncology case management, home infusion and regional infusion sales/education.
A friend and former coworker, Sara Spanjer, recruited me to Fusion. I guess she's a good recruiter cause it worked. I wasn't looking for a new job, but I had a gut feeling that this would be the right move. Not gonna lie, at first it was weird being on the staffing side of things. But as I spoke with more and more nurses and techs, and Cath Lab managers, I realized that I was in a very unique position of being able to help them all. How cool is it that I get to help people in the profession I love find jobs that allow them to travel or save for their kid's college or their own retirement or learn new skills- whatever their goal is?!?! And how cool is it that I get to help managers fill staffing shortages so that patients get the best care and employees don't burn out?!?! So, I'm thankful that I now get to help nurses in more ways than I was able to before. Never thought I'd be doing this job... but grateful that I am.
Holly Fenn:
I started my medical career way back in 1991 while serving in the Air Force. I was an EMT stationed at Tinker Air Force Base in Oklahoma City, OK, Incirlik Air Base Turkey and Keesler Air Force Base in Biloxi, MS. I was working in the ER mostly and moonlighted in the L&D unit which are two of my favorite things! I also worked in Family Practice, Internal Medicine, Allergy Immunology, and the Peds clinics. After getting out, I continued my medical experience in Occupational Health, Plastic Surgery, Pediatrics, and ENT clinics for quite a few years… seventeen total to be exact.
I have been a recruiter for 12 years now and I have always missed working in those settings. Getting to talk to CNA's, LPN's, RN's and Surgical techs daily makes it a little better to tolerate. The desire to work the floor never leaves you and now I get to live vicariously through my candidates and laugh about all of those things that "normal" society doesn't see as funny and not work those long 12 hour shifts!
Happy Nurses Week to these great ladies and of course all of our hardworking travelers! We appreciate you!