It's conference registration time! This means all of the career fairs and medical conferences are just around the corner, and you don't want to be left in the dark. Yeah, yeah, yeah, business cards are good, but the impression you leave will be the real deal maker.
Sure, a firm handshake and reading nametags are a start, but don't forget to be yourself. A little personality will go a long ways. Here are our tips for you to be on your way to becoming a networking pro: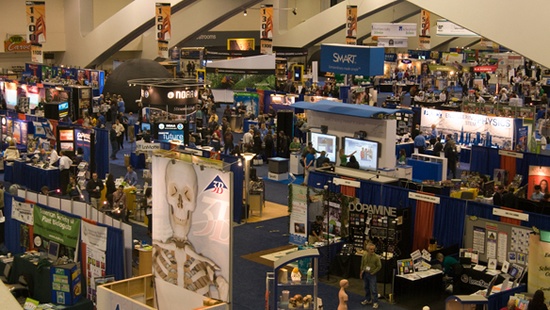 1. Don't be Shy! Now is definitely not the time to be a wallflower. Simply making the decision to approach someone increases your chances of making a connection.
Don't worry if you don't know their name. After all, they likely don't know yours. Introducing yourself can actually be a good ice breaker. If you are really worried about it, most conferences have guide books that map out company booths and often list the representatives from each company.
2. Know yourself first. After you introduce yourself, you will have a brief time to give them your headline. Quickly highlight your most interesting and relevant bullet points of who you are and what you do in the medical field. So basically, know your stuff. You don't want to stumble over your words or miss a key point when the time has come.
3. Know what you want and have a plan for getting it. You know what you are going to offer to the conversation, but you also need a plan for finding out what the other end of the conversation has to offer. Yes, just like a first date, you need your emergency out. You don't want to waste your time with a lame-o who has nothing to offer professionally. Uhh, can you direct me to the restroom please?
4. have a plan for when to follow up. Your best bet here is a follow up e-mail on a work day during the week post-conference. Make sure to include the conference name and where you met in the subject line to grab attention. They may not want to follow up with you right away, but at least you at staying on their radar.
5. Network, network, network! Yes, we mean the old and new school kind. These conferences are loaded with pre-parties and post-shows that can provide a different and often times more relaxed environments making conversations easier and less rushed. You can find many of these gatherings via social media groups beforehand, however, if you've waited till the show has begun, you're not too late. Most conferences have a hashtag you can follow on Facebook and Twitter to find out where people are gathering at night. All you have to do is show up and socialize.
If you want to know more about how traveling can help your medical career, download our free eBook.
Keep the conversation going! Apply with Fusion today!