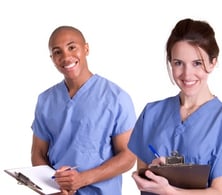 As a therapist or lab professional, you probably come in to contact with nurses on a regular basis whether it be in skilled nursing facilities, patients' homes, or hospitals. Showing appreciation for what your fellow medical professionals do on a daily basis is not just for their patients. You, as a colleague, can also show appreciation during National Nurses Week.
Here are some suggestions from the American Nurses Association (ANA) for how to celebrate National Nurses Week. www.nursingworld.org
Hold a special celebration or reception to recognize a nurse or several nurses in your community. These nurses could be honored for heroic acts, years of service to the community, exemplary courage, or their commitment to the nursing profession over the years.
Promote a positive, realistic image of registered nurses by sponsoring health fairs, conducting preventive screenings in underserved areas, organizing a walk-a-thon, etc.
Place an article in your state or local newspaper(s) about National Nurses Week and the value of nurses.
Invite a politician -- local, state or federal -- to accompany a nurse or several nurses at their place of employment for a day or part of a day. Health care remains an issue of tremendous importance to voters. Politicians should be visible and accountable for their positions on health care. This is a win-win situation and it offers good media coverage potential.
Sponsor a community-wide event, such as a coloring contest or poem-writing contest for school children. The children could acknowledge their favorite nurse, a famous nurse, or family member who is a nurse - past or present - in a colorful drawing. The drawings could be displayed in local schools, hospitals, nursing homes, etc.
Purchase promotional items for National Nurses Week (i.e., RN Pins, key rings, t-shirts, mugs, buttons, etc.).Catalog
Work cooperatively with hospitals, schools, and libraries to set up a special display for National Nurses Week using promotional materials, such as, pins, t-shirts, posters, etc.
Host a press conference. Discuss an important health care issue in your community; release the findings of a local survey; honor a registered nurse for a heroic act; or bestow an "honorary" nurse title to a deserving politician or civic leader.
Organize a free cholesterol and/or blood pressure screening in your local community and promote via radio announcements, flyers, posters, etc. Take Action for Health Blood Pressure
Host a hearing before city council or hold a town meeting on nursing's concerns about the recent trends in health care (nurses being replaced by unlicensed assistive personnel, safety and quality of care issues, restructuring, safer needle devices, etc.)
Invite a local celebrity (one who has spoken about health care in the past; one who has personally been a patient of a nurse; or one whose family member has been a patient) and request his/her sponsorship of National RN Recognition Day and/or National Nurses Week. Hold an event and ask him/her to speak about a personal experience in which he/she was cared for by a nurse.
Host a fund-raiser (i.e., walk-a-thon) and donate money to a local charity. Emphasize the importance of registered nurses in our nation's health care system; pay tribute to a local nurse; or recognize all registered nurses who are indispensable and provide care selflessly 24-hours a day, seven days a week, 365 days a year.
Request a proclamation from your mayor/governor declaring May 6 as National RN Recognition Day and/or May 6-12 as National Nurses Week. (Sample proclamation is available.)
Host an editorial board meeting with leading state or local newspapers. Discuss the importance of registered nurses at the bedside and the nursing profession's concerns about current issues, specifically those related to safety and quality of care.
Organize a candlelight vigil on National RN Recognition Day (May 6) in honor of the hard work and commitment of the nearly 2.9 million registered nurses in America.
Suggest that your state or local newspaper solicit stories from readers who would like to pay tribute to a nurse who provided exemplary care.
Recognize all registered nurses who are in your state legislature and hold an event at the state capitol. Take the opportunity to educate state legislators about the role and value of registered nurses in the health care system.
Write and distribute a press release announcing National RN Recognition Day and/or National Nurses Week. (Sample press release is available.)
Obtain support from other nursing and health care organizations in your area by asking them to sponsor National RN Recognition Day and/or National Nurses Week and to hold a joint event with your organization.
Happy nurses week from everyone at Fusion Medical Staffing!