WOW, did we have a busy week last week AND we have pictures to prove it! The Fusion Family participated in several community events last week and the hearts that were touched the most were OURS!
Completely Kids Food Drive
The Fusion Food Train pulled in to the Completely Kids Center last Friday. Our staff and travelers donated 226lbs of food and Fusion matched that donation which allowed us to donate a total of 452 (!!!) pounds of food for their Weekend Food Program. Completely KIDS guarantees that kids won't go hungry through the weekend and can return to school each week ready to learn by providing backpacks filled with nutritious child-friendly food.
Making the donations a family affair!
All of the companies that donated were asked to build something with the food they donated. We decided to throw together this train!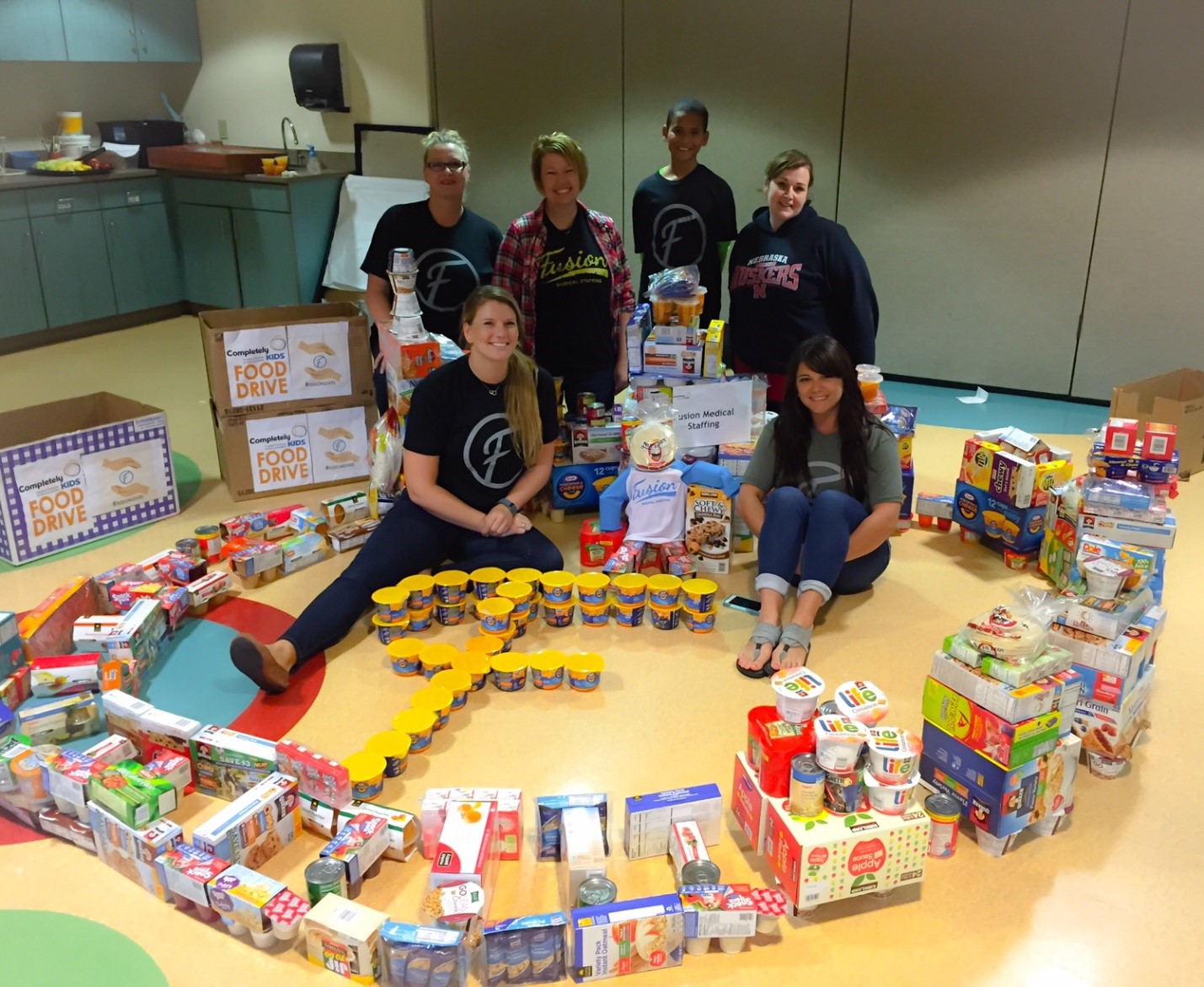 Stephens Center Shelter
Another month has come and that means another Fusion group served dinner at The Stephens Center Shelter. This time our Support Services team (Marketing, Housing and Accounting) worked together to prepare and serve the meal to residents. We also have a new appreciation for what it takes to prepare 40lbs of meat for 150 people (right, Gwen and Tyler J ).
Superhero Heart Run!
It's a bird, it's a plane….. No, it's over 1,000 people wearing Super Hero capes to support children with Congenital Heart Defects (CHD)! For the third year in a row Fusion has had the opportunity to be a sponsor for this fantastic event! Seeing and hearing the stories of these real life super heroes made our hearts skip a beat. These children and their families are AMAZING!
Whew, that was a lot for one week, but we are so happy to be able to give back to the community! If you would like Fusion to get involved in your nonprofit, contact Micaela@fusionmedstaff.com