June is here and we are excited to announce our traveler of the month, MEREDITH THIBO! She was nominated by her recruiter, Dustin Soash.
"She is a free spirit who truly cares about people, she is someone who speaks from the heart and I admire that. If the world was filled with more Meredith Thibos, it would definitely be a better place!" -Dustin Soash, Senior Account Manager
Fusion has been lucky to have Meredith traveling since December 2012. Meredith truly understands the beauty in traveling the country and experiencing what each location has to offer. She has captured that through these amazing photos of her travels. Thank you for sharing!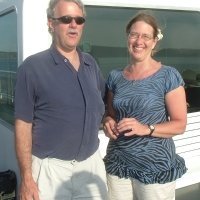 We asked Meredith to tell us a little about herself:
How long have you been an OT? a COTA since 1997 , an OTR since 2002
Why did you pick Fusion? I was looking for a smaller company that specialized in travel therapy (vs nursing) , that followed the golden rule, was ethical, and could put me into ethical positions.
What has been your favorite assignment? I was on the Olympic Peninsula living in a cute cabin on the ocean when they hired a full time OT so my contract ended sooner than expected. My recruiter said "I have a position for you on Whidbey Island, you can stay in the same place". But an hour long ferry ride was involved. Whidbey Island is an expensive vacation spot- I was worried. It was off season, so Fusion found me a GREAT rate in a cabin with a hot tub right on the ocean within bicycle distance from work.
Another time, I wanted to find a job so I could spend a few months with the grandkids. I thought- "I'll probably get sent to a really crummy place but it will be worth it to be with the grandkids. I put the address of the place on my GPS and drove. I went down a valley, over a river and up, up up a hill to a facility on the top of a ridge overlooking the valley. I thought I had died and gone to heaven. The facility was beautiful and the people were so nice!! This was a travel job?
Tips for a new traveler? Know the pro's and con's. Find a recruiter that will have your back and let the recruiter know what you do and do not want then keep in touch often.
What is the most rewarding thing about your job? Being able to change scenery every 3 months, or stay longer if you like where you are and the facility still needs help.
If not an OT, what would you be doing? Probably a nun or a ski bum.
What are some of the things on your bucket list? A travel job either in the summer or winter on Cape Cod- or Hawaii and be able to rent a furnished cottage near the ocean.
3 items you can't live without? A bathing suit, a toothbrush, a phone, actually I can travel with just those 3 items, everything else you can get in the place you are going to.
Any surprising or fun facts about YOU? Hobbies? Love to be able to travel so I can spend time with the grandkids and see other areas of the country long enough to get to know the people there but not too long so you wear out your welcome.
If you could have dinner with anyone, dead or alive, who would it be and why? My husband, because I miss him.
If you could time travel, where would be your first stop? I live in the moment so the first stop would be where I happen to be right now.
Biggest pet peeves? Unethical behaviors, Mean people.