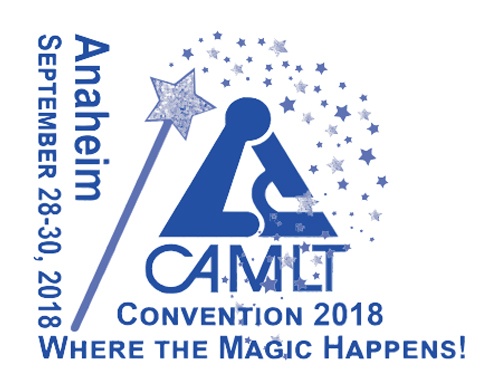 Calling all of our Medical Laboratory Technicians! Don't miss out on the 2018 CAMLT Convention in Anaheim Garden Grove, California.

This year's CAMLT Convention is being held at the Delta Hotel by Marriott in Anaheim Garden Grove, CA from September 28th – 30th and Fusion is proud to be a Convention & Fun Nite Sponsor! Fusion knows the importance of supporting the CAMLT organization. We're spreading the word in hopes more clinical laboratory professionals join the Association. When you join or become a member of CAMLT you also get the opportunity to earn free CEU's, network among other clinical laboratory professionals, and even find your next adventure with a new company!
"There's a reason for everything – find your reason to step up!"
– Ilene Dickman, CAMLT President
What should you expect to experience at this Convention?
We're glad you asked! So just like CAMLT says: "CAMLT – Where The Magic Happens" … this is exactly true. On Friday, Saturday and Sunday of the Convention you will have the opportunity to choose from 12 seminars and earn up to 18 hours of CE credits. There will be exhibitors (side note – Fusion is Booth #6, wink wink), on Friday and Saturday. Then the FUN NITE is Friday evening from 7:00 PM – 10:00 PM! This is an event you don't want to miss! Let's face it, after a full day of seminars, networking, and learning new methods of the trade… you want to unwind with your new-found friends. There will be a buffet style dinner, cash bar, and a magician as entertainment! Not to mention it's going to be EXACTLY where the magic happens, see what we did there. Download the full details here on how to register and see the full schedule.
This all sounds amazing! Now, is Fusion going to be attending?
Another great question! Fusion will be sending their very own Jes Thieschafer (Laboratory Account Manager) and one of our favorite Laboratory travelers to man the booth. Make sure to stop by and see us! We're booth #6 this year. Also, don't forget about the Fun Nite where two more Fusion favorites will be joining Jes that evening...but we're going to let them surprise you!
You can also hear all about the buzz of this Convention in our Lab4Life Travelers group - open to all Laboratory Professionals!
Fusion's purpose
Our overall goal and purpose at Fusion is to improve the lives of everyone we touch, whether through our travelers or our internal employees. We continue to seek out the best talent in the healthcare industry. These travelers provide the hands that may help you heal or even save your life someday, and they will continue to fill our facilities nationwide to nurture each patient in their care.
We commit to placing our travelers on ideal assignments. When you put your trust in us, we will show you how our team can expand your career to the next level. We care about your personal success.
Don't forget!
We can't wait to see you at the CAMLT 2018 Convention. Let us know you're attending by visiting CAMLT's Events Facebook page! The Events Menu is on their CAMLT website homepage: http://camlt.org/ .