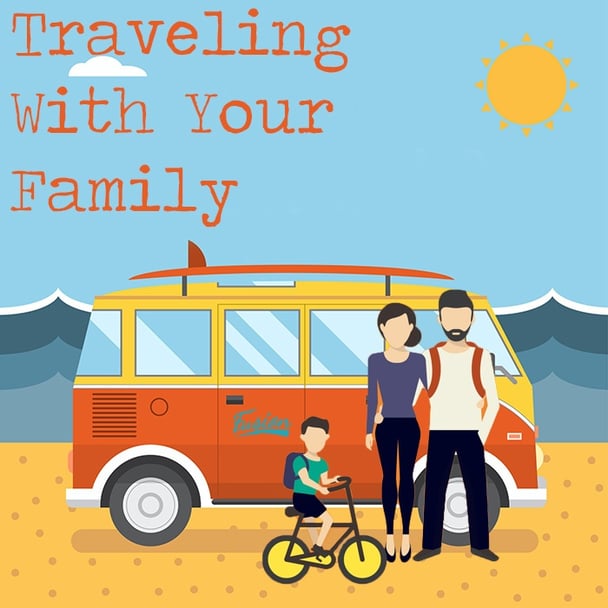 A frequent question in the world of travel healthcare is "Can I travel with my family?" The answer is ABSOLUTELY! We have a handful of travelers who have found a way to make it work and enjoy every second of it.
Angela Schmid, who has been traveling since 2011 travels with her husband and three children. She is a big advocate for traveing with a family and shared with us how she got started, as well as some of the ups and downs.
Traveling With My Family:
We have been traveling as a family since October of 2011. We sold our home in New Mexico and put all of our belongings in storage. We moved myself, my husband and 3 children ages 12, 11 and 2 into a 30-foot travel trailer with one slide in the living area. We were already homeschooling our 12 and 11-year-old so it was an easy transition into schooling in the trailer. The hardest part was deciding what to take and what to not take. We opted to use laptops for each of the kids since books take up lots of space. The kids really missed having all the books that I had collected over the years so we got each of them a Nook the first Christmas we were on the road. In Dec of 2012 we moved into a 40 foot fifth wheel and now we have plenty of space. We still homeschool on the road using a combination of web based learning (We use Time 4 Learning) and utilizing the history and sites we come across as we travel. Our children are encouraged to research each area of the country before we go there. They also get to pick some places to visit while we are at each assignment. My husband Robert does most of the teaching and is excellent at teaching them the Math and Science portions. I love to focus on history and reading. Together we feel we are able to provide them with a well-rounded education that focuses on problem solving and creative thinking. Our children must think outside the box and have learned to live by the family motto – "go with the flow". Flexibility and humor are key when living in such a small home.
We have always traveled as a family and all of my assignments are carefully chosen by us as a whole. I always ask for everyone's input when deciding where we go next. We all have a say and a vote. We have been to 11 states and we are currently on hospital number 16. We hope to hit as many states as possible before we are done. Our children now are 17, 16 and 7.
What helped us figure out traveling with my family would work:
We did need a bigger RV. The travel trailer was great for camping but not so much for full time living. My husband is 6'1" and had a permanent knot on his head from hitting it in the slide out because the ceiling was so low. We have learned so much about RV living and feel having a home on wheels is the best way to live. As we tell people who live in houses – if we don't like the view – we move, if the neighbors are too annoying – we move. That's the beauty of having a moving house. Plus I never have to worry about packing each time we move. We just pull the slides in, hook up to the truck and all our stuff and home go with us.
The reward of not only being a traveler, but what it has done for my family:
I have had the opportunity to work in some wonderful hospitals with some great people. I keep in contact with many of my past coworkers on Facebook. One thing that I hold dear to me is that I have been able to learn something new at each hospital I have been to. Learning a new unit and new people is sometimes challenging, but I have found that not stressing and remembering I am there to help them during a time of need. If their unit was perfectly staff and everything was great, they wouldn't need me and I wouldn't have this amazing job.
As a family we have been able see so much of this beautiful country that we live in. We are so blessed to have this opportunity to experience it as a family. It is almost like getting paid to be on a family vacation. 3 days a week I go to work and the kids do school work with my husband. The other 4 days we get to explore and go on adventures. Our children have a very close relationship with us and we do not feel we are missing out on anything since we are together.
The Hardest Part:
I think the hardest part is when we get to some of the RV parks that do not have adequate internet for homeschooling. We have had to learn to adapt our schooling around slow or no internet. For example, the older 2 had to take 3 months off of web based education 2 years ago because we couldn't get the classes to load since the wi-fi was extremely slow. Luckily they were able to work harder at the next assignment and we caught up and actually able to finish the school year without cutting too much into their summer break. We have learned to get creative with assignments to keep them engaged and always learning.
One other part that I am finding hard is that Rachel age 16, doesn't get to experience prom or dances or special school events. I think that I worry about it more than she does. Robert and I always look for ways to help each child have special memories. Last year we took them on a cruise. We are planning to repeat that next fall as a graduation present for the oldest kids. Special trips and outings to help them remember they are very important to us and this family has helped. Making friends has never been a problem for any of the kids. The great thing about RV parks is that most of them have children there. Our 7 year old, Baylee, is better at making friends than anyone I know. Every time she sees a child she approaches them and askes "do you want to play?". Next thing I know she has another friend. This life forces these kids to meet new people and make new friends all the time.
Tips for anyone considering traveling with their family:
Be flexible and have a great sense of humor. Things don't always go the way you plan it, but you may find that the setbacks actually move you forward. We laugh about being under foot and bumping into each other a lot. You should see us dance with the Wii in the RV. It is so funny when everyone is trying to dodge each other as arms and legs as they fly.
Also you never need as much as you think you do. We still go through things before each move to a new assignment and find that we haven't used this or that in months and it's time for that thing to go. Just remember when you're out site seeing – you have limited space so your credit card will be happy when you're not buying lots of souvenirs.
As an added bonus, Angela's amazing daugher shared with us her story and input, as the kid of a traveler.
The Traveling Teen:
I have been traveling with my family for about 5 years. We moved out of a big, two story, 3 bed, 3 bath house into a 29' travel trailer. Adjusting was hard at first, figuring out what to keep and finding a place for everything. I love to read so I had a lot of books and a lot of books means extra weight in the trailer and lots of space being taken up. We needed to get rid of the books so my parents got me a Nook, we had so much more free space. I did keep some of my books because I like the feel of a book while I'm reading, but most of them are on my Nook. Moving into our trailer from our house we had to make some sacrifices, over time you realize what is more important to keep. You realize many of the things you thought you needed you really could do without. Living in a trailer will take some getting use too, but at least you have less cleaning to do!
I feel like it has brought us closer together as a family, we get to spend a lot of time together and we get to experience some amazing things. Being homeschooled and traveling the country, I have been able to learn and love the world around me. Every state is different, the people, the culture, and I have been blessed enough to experience everything with my family. There are some hard parts about having to move every three months, like not having a lot of friends, only one has kept in contact with me, and with that something I have learned is quality over quantity. Since I am homeschooled I don't get to go to prom or other school events and to be honest that doesn't really bother me, because last year I got to go on a cruise with my family. It was a lot of fun, and on the cruise they had one night where you get to dress up and look fancy for dinner, that was my prom. I get to do a lot more exciting things than sit in a class room, like I got to go and stand where the pilgrims landed, got to go on the Mayflower, and I have been to Mount Rushmore. I get to go on so many amazing adventures and explore so many new places with my family, I couldn't ask for a better life, I am so blessed.
Thinking about traveling with your family? We would love to chat with you about the endless opportunites!
Is Travel Right for YOU? Read more here!
If you want to know more about how traveling can help your medical career, download our free eBook.