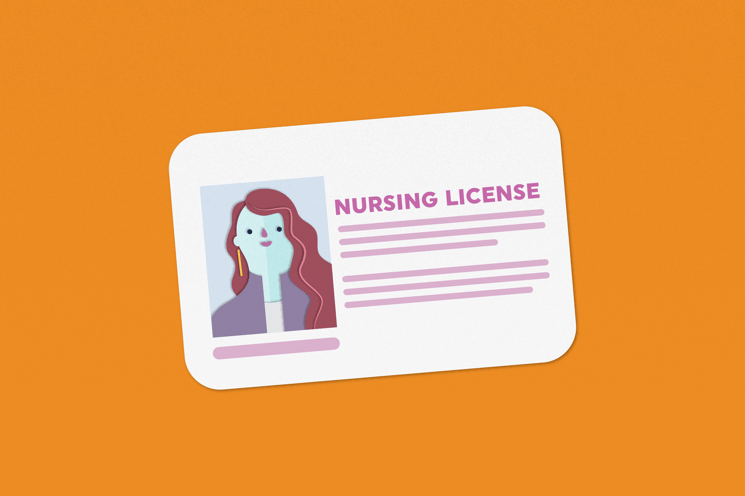 New to travel nursing? Looking for a way to optimize your travel nursing experience? Tired of applying for individual state nursing licenses? Apply for a compact nursing license to easily practice nursing in multiple states and under one license!
Not only is having a compact license more convenient for travel nurses, but it can also save you a pretty penny in licensing fees. Here's everything you need to know about the nurse licensure compact.
Compact State Nursing License: What You Need to Know
What is a compact nursing license?
If you're a registered nurse (RN), licensed practical nurse (LPN), or licensed vocational nurse (LVN), then you're in luck — you're eligible for a compact license. Also known as the Nurse Licensure Compact (NLC) or the Enhanced Nurse Licensure Compact (eNLC), this nursing license allows RNs, LPNs, and LVNs the freedom to professionally work in multiple states.
That means that you don't have to apply for individual licenses in the states where you want to practice and instead, can do so under one multistate license. As a bonus, getting a compact nursing license also means that you won't have to pay licensing fees and complete background checks in each state you want to work in.
The catch is that your compact nursing license is only valid in participating compact nursing states. But the good news is there are 37 compact states for nursing (in addition to Guam and the U.S. Virgin Islands), so you have lots of location options for your next travel nursing job.
What are the benefits of a compact nursing license?
Having a compact nursing license can be extremely beneficial for nurses. Since this multistate license allows you to move more freely from state to state, you may have additional opportunities for more lucrative travel nursing jobs where you can make more money. And all without having to worry about the hassle of applying for a new license in each location.
Plus, a compact nursing license offers increased job security, as well as the chance to expand your skill set by working in different healthcare settings across multiple states. Think of it as getting paid to take an extended vacation with the added perk of improving your career prospects.
How do I apply for a compact state nursing license?
So, we've sold you on getting a compact state nursing license? Lucky for you, applying for a compact nursing license is simple. However, it does require you to do some preparation in advance. Here are the steps you need to take to apply for a compact state nursing license through your state board of nursing (BON).
1. Research the requirements
Before you apply for a compact state nursing license, make sure you understand the necessary requirements. All RNs, LPNs, and LVNs who live in a compact state and meet the uniform licensure requirements, or ULRs, are eligible for a multistate license. These are the 11 URLs that determine compact license eligibility:
✅ You must meet the requirements for licensure in your state of residency
✅ You must be a graduate of a board-approved education program or an international educational program that was approved and verified by an authorized agency
✅ You must pass an English proficiency exam if English isn't your native language or if you've graduated from an international nursing program
✅ You must pass the National Council Licensure Exam for RNs (NCLEX-RN) or PNs (NCLEX-PN)
✅ You must have an active nursing license
✅ You must submit state and federal fingerprint-based criminal background checks
✅ You may not have a felony offense
✅ You may not have a misdemeanor conviction related to nursing
✅ You may not currently be participating in an alternative program
✅ You must self-disclose current participation in an alternative program
✅ You must have a valid U.S. Social Security number
Keep in mind that if you live in a state with pending legislation, you don't have to do anything until the bill is passed. Once your state joins the list of nursing compact states, the state board will reach out to you to ensure your permanent address is up-to-date and correct.
If you live in a noncompact state, you'll be required to apply for nursing licensure in each and every state where you want to work. Pro tip: it can take a hot second to get approved for a single-state license, so get started ASAP on the process of obtaining your state nursing license.
2. Submit your eNLC application
Now that you know where you stand on uniform licensure requirements, head over to your state board of nursing website to apply for or renew your multistate nursing license. Expect to provide proof of residence in an eNLC state, as well as proof of graduation from an approved nursing program.
If you're moving from a noncompact state to a compact state, the process for applying for nursing licensure may be a little different. In this case, you must apply for licensure by endorsement in your new state of residence. Once you meet residency and eligibility requirements, you can then receive your multistate license.
If you're moving from a compact state to another compact state, you also have to apply for licensure by endorsement. However, you can practice with your existing multistate license until your new compact nursing license is issued. When you get your new multistate nursing license, the old one is automatically rendered inactive.
3. Maintain your license
Once you've received your nursing license, it's important to maintain it to continue practicing nursing in multiple states. Maintaining a compact nursing license may require meeting certain education requirements for each of the states where you're licensed. This can include taking courses, attending seminars or workshops, and participating in other continuing education activities approved by the individual state boards of nursing.
Continuing education units (CEUs) for the nursing compact license allow nurses to stay up-to-date on the latest advancements in healthcare and ensure you're providing high-quality care to your patients. With regular updates on new trends in medicine, nurses can provide effective treatment while protecting yourself and your patients from any potential harm.
You may be required to renew your compact license every couple of years, depending on what state your home residency is in. When it comes down to the fine print, make sure you're in the know on what you need to do to maintain your multistate licensure.
What states are compact states for nursing?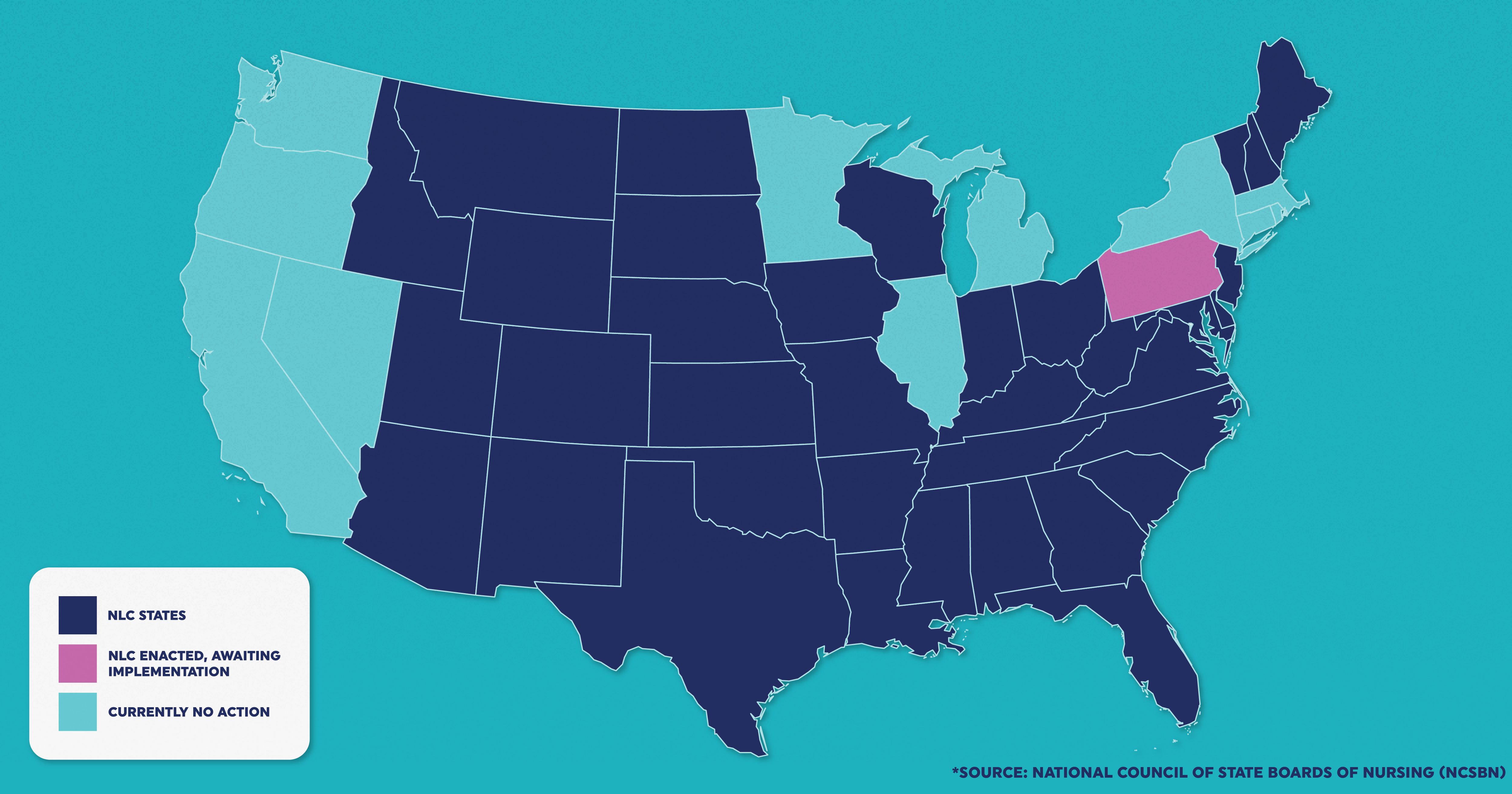 eNLC states
🌍 Alabama
🌍 Pennsylvania (law passed and awaiting implementation)
🌍 Virgin Islands (law passed and awaiting implementation)
States pending eNLC legislation
Noncompact states
Applying for a compact state nursing license can open a world of possibilities for your nursing career. With access to more nursing jobs in multiple states, you can explore new opportunities that may better fit your goals and lifestyle. Not only will a compact license give you the chance to expand your knowledge base by learning from different healthcare systems, but it also allows for greater flexibility with travel nursing. Once you're locked and loaded with your compact state nursing license, search for travel nursing jobs with Fusion Medical Staffing, and start your travel adventure!