Winter is on the horizon! Some of us out there will soon be snowed into our whereabouts, so why not pick a cozy vacation to retreat to? Now is the time to put on those comfy pants, hop in a plane (or a car!) and get the heck outta dodge. We have some great places for you to warm your toes by the fire. Check out these best Airbnb winter cabins and more that will make you excited for winter.
16 Cozy Airbnbs For Your Next Winter Getaway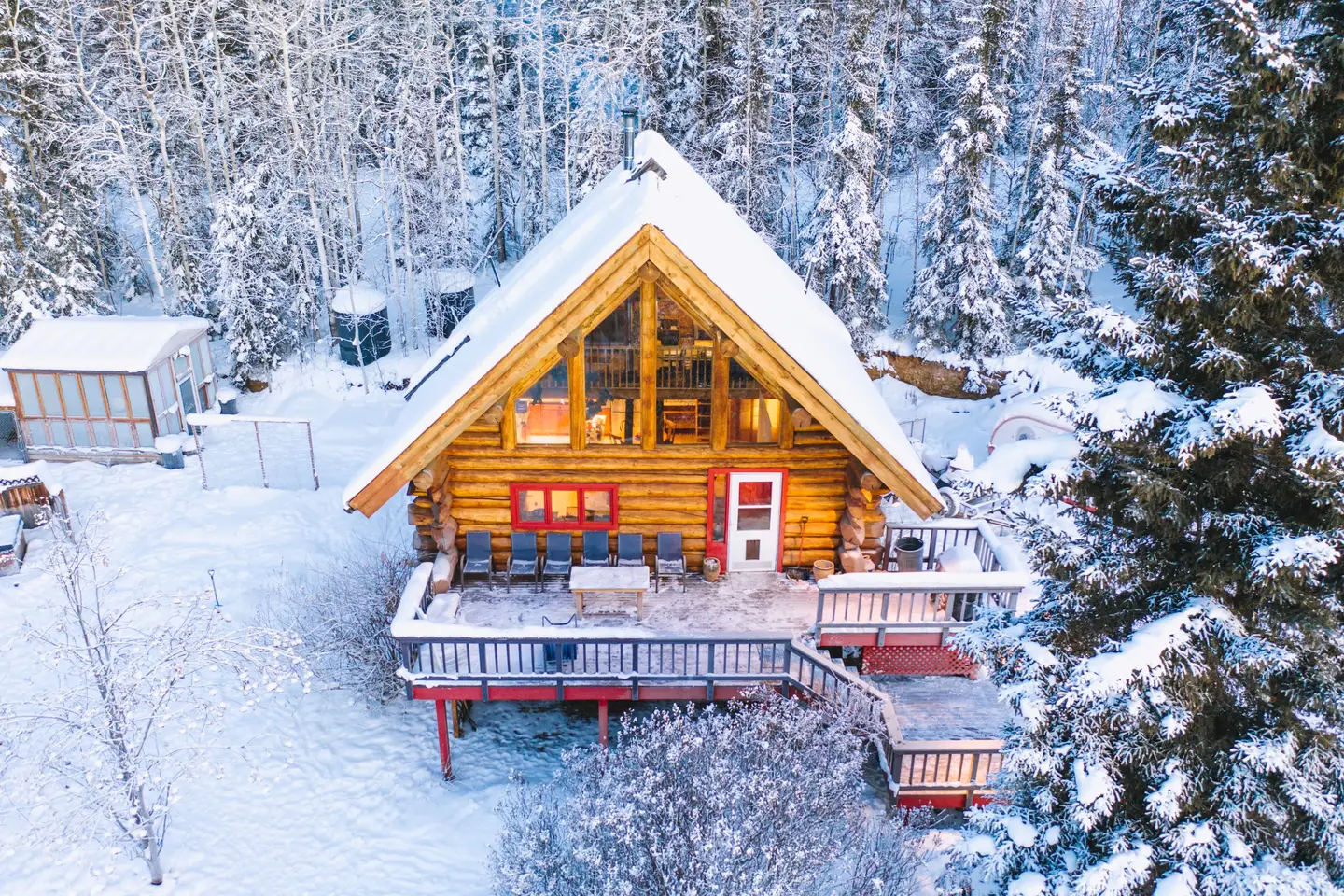 Dreamy Alaska Log Home
Fairbanks, AK
Right in the heart of Alaska, this beautiful log cabin is ready for you to spend the winter! This cabin is ideal for watching the aurora borealis. If you want to get out and experience Alaska, go sled dog mushing, or drive to the nearby natural wonders: Arctic Circle, Brooks Range, Arctic Coastal Plain, Alaska Range, or Denali National Park. See the Chena Natural Hot Springs or the Trans-Alaska pipeline. A true Alaskan gem! Don't wait to get this one on the books.
Comfy Cabin Nestled in the Woods
Houston, AK
This Alaskan log cabin gives you that classic winter style. It's a close walk to the lake and access to salmon fishing. This winter haven is all about giving you remote time with Alaskan nature, so don't expect internet! (There isn't any.) Put the phone down and bring your snow gear, skis, and ice fishing equipment.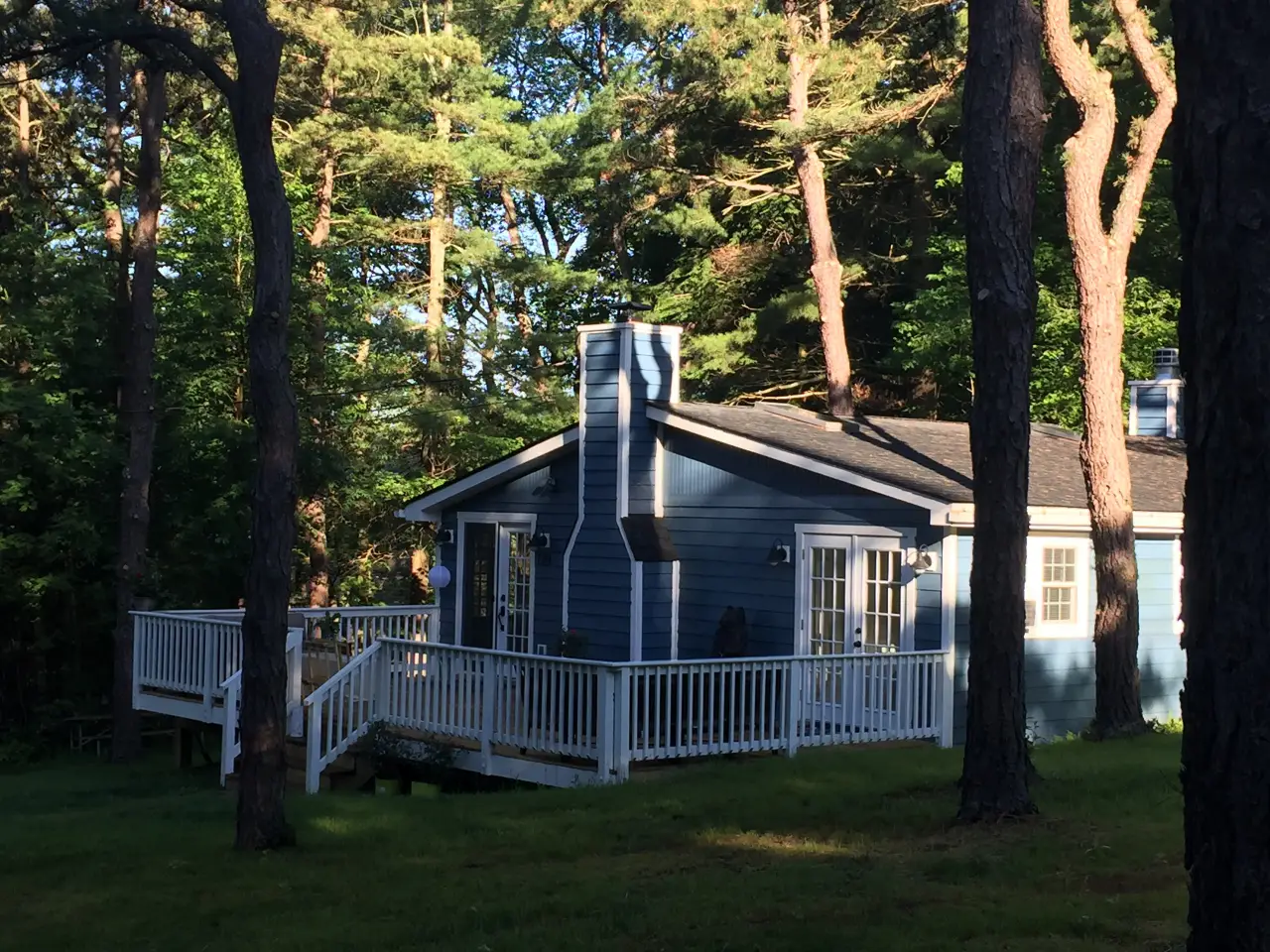 Cozy Lake Cottage
Oakland, MD
Let's get that fireplace goin'! Or bundle up and enjoy the gas firepit outside. This place can host 6 guests, with 3 bedrooms and all the amenities you need. It's a short distance to Wisp Resort, so gather your friends and family and go skiing, or snowboarding. This secluded cottage is great for year-round enjoyment too, so if you aren't into winter getaways, you could reserve this spot for some summer lake time.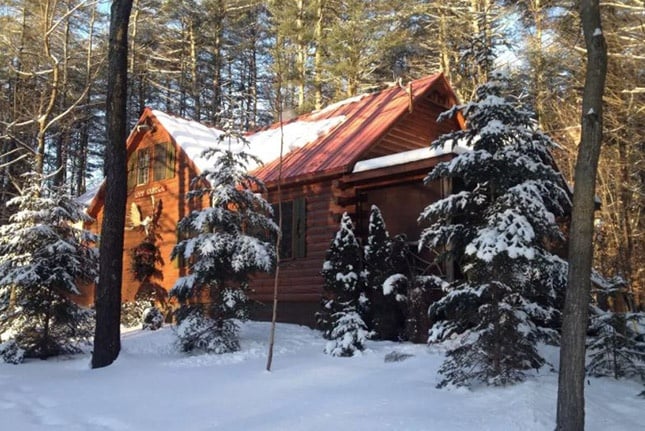 Bear Cabin
Johnstown, NY
You know that part in White Christmas when Bing Crosby and Rosemary Clooney start singing about snow? Like, 90% of the lyrics are "snow"?
"Snow, snow, snowwww!"
...When I see this cabin that's exactly what I think of. Except they were singing about Vermont and this one is in upstate New York. This is the ultimate of all the winter cabin getaways out there. So, ok if you're not into snow (and I get it, some of you may be totally over it) then this probably isn't the place for you. But! If a forest cabin that resembles a Normal Rockwell painting is your idea of a perfect getaway, then book this rustic cabin in the Adirondacks immediately. Also, there's a hot tub! Bonus!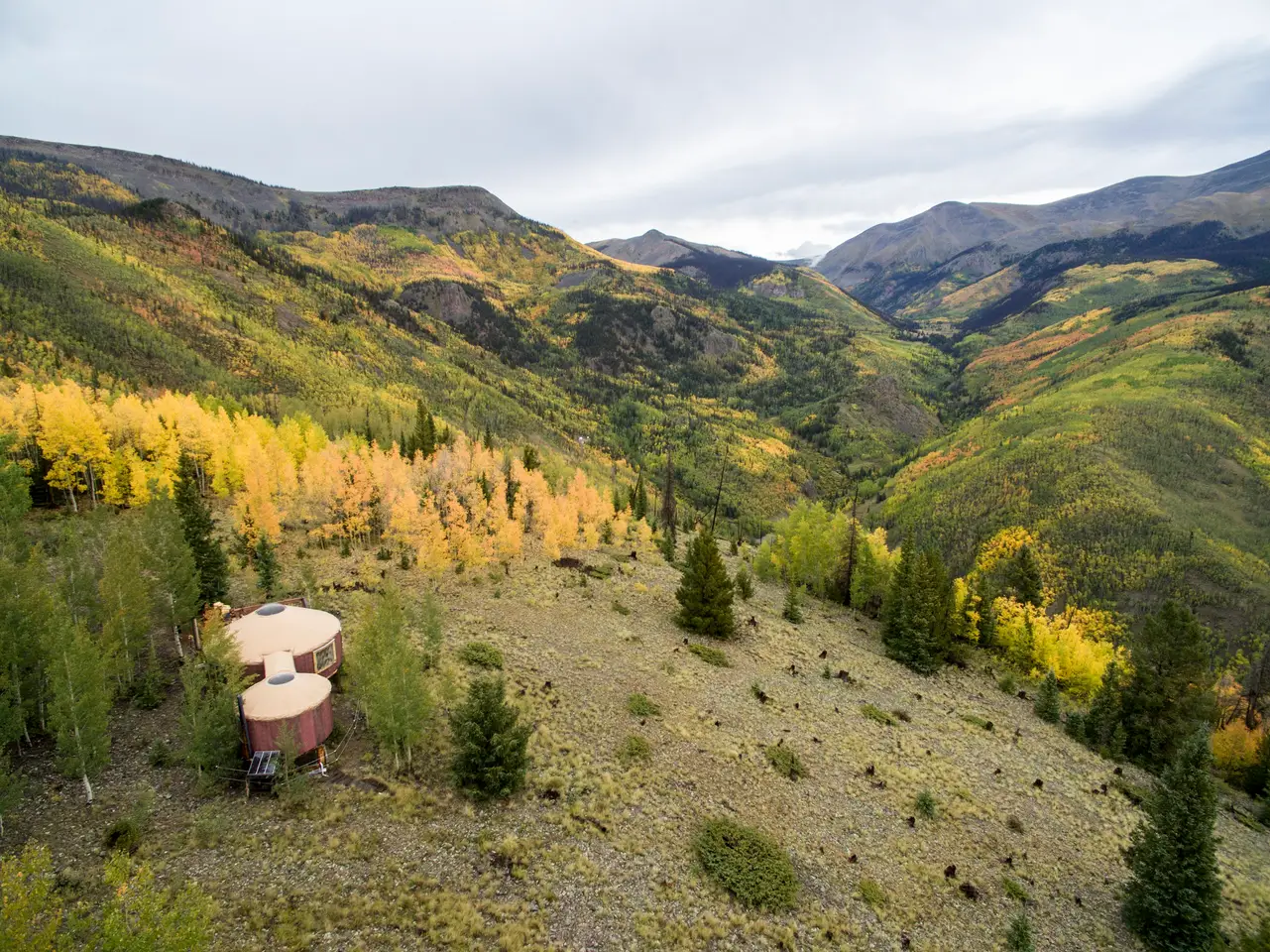 Phoenix Ridge Yurt
Creede, CO
Live your best yurt life in the San Juan Mountains! Look at that view. This is a true winter wilderness experience, so be sure you're prepared before booking this yurt. Some info: There's no internet, no cell phone service, no power, and no running water. Don't second-guess this space! This is for you wilderness superstars that love the idea of a remote, rugged getaway. It's worth it.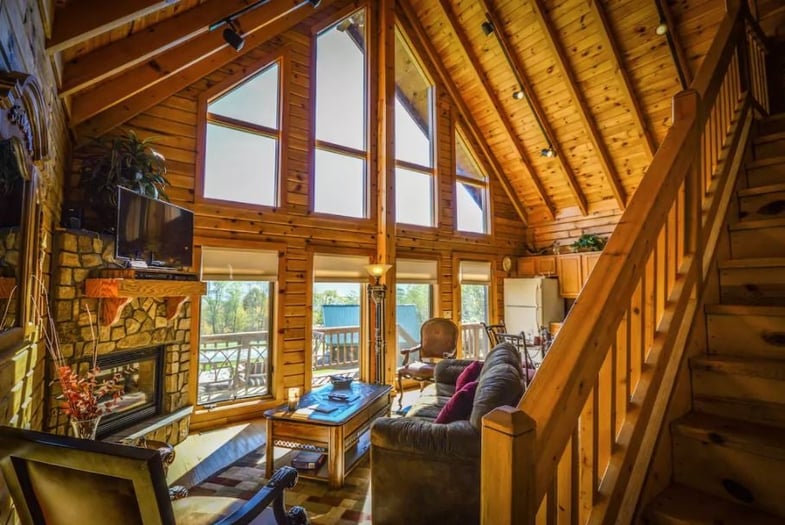 Majestic Cabin
Canaan Valley, WV
If you want an authentic cabin with the best view in West Virginia's ski country, the Hillside cabin is perfect. Luxurious amenities, a loft bedroom with mountain views, and a locale that is 5 minutes from Timberline Resort, this cabin is versatile for both romantic getaways, or family outings.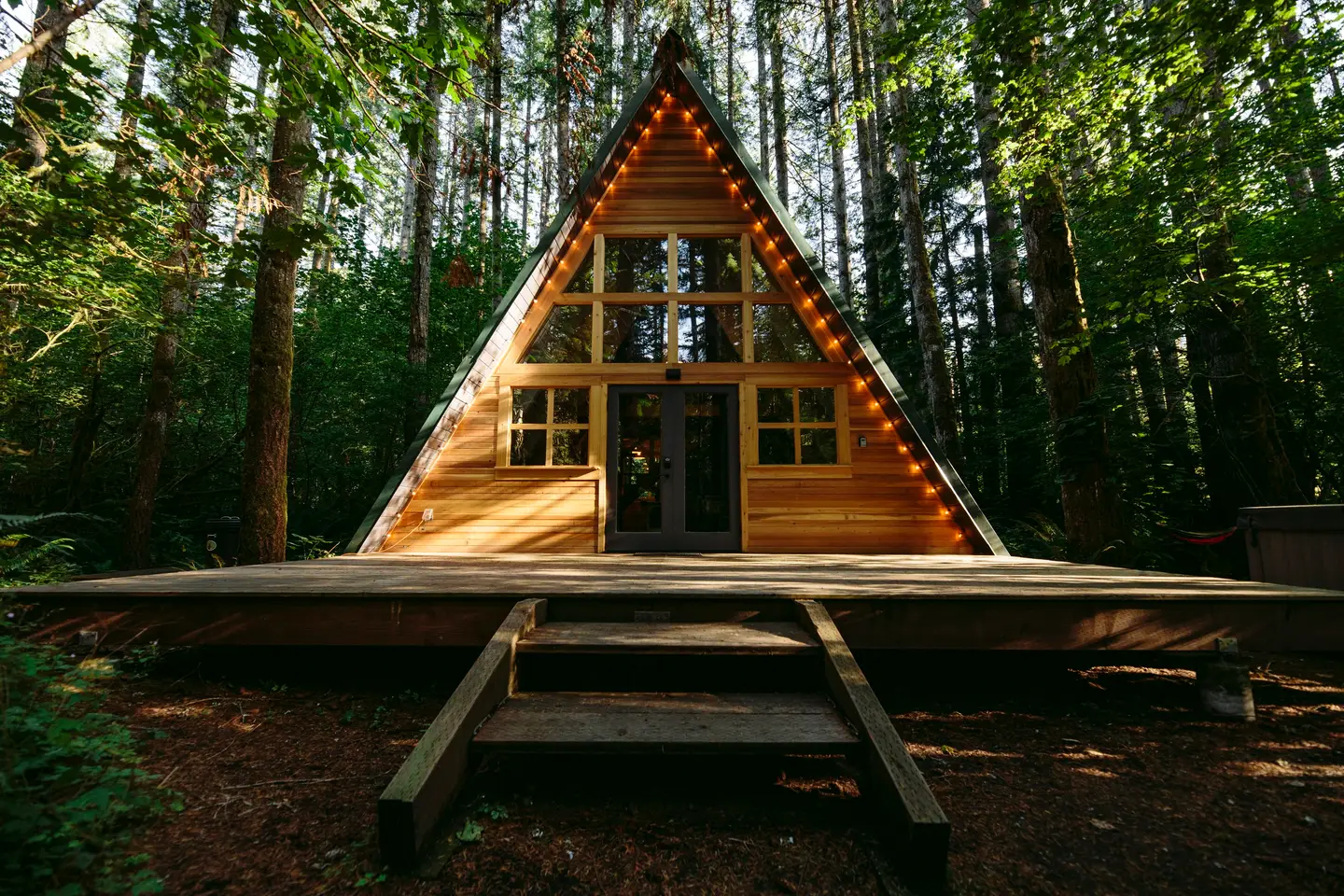 Tye Haus A-Frame Cabin
Skykomish, WA
An adorable 1100 sq ft A-frame cabin located in the private cabin community of Timber Lane Village. It's the closest cabin location with electricity to Steven's Pass Ski Resort. The perfect retreat for your home away from home with easy access to the slopes. The cabin is fully furnished with comfort in mind. The kitchen is fully furnished with enough dishes and utensils. Bonus: hot tub off the deck.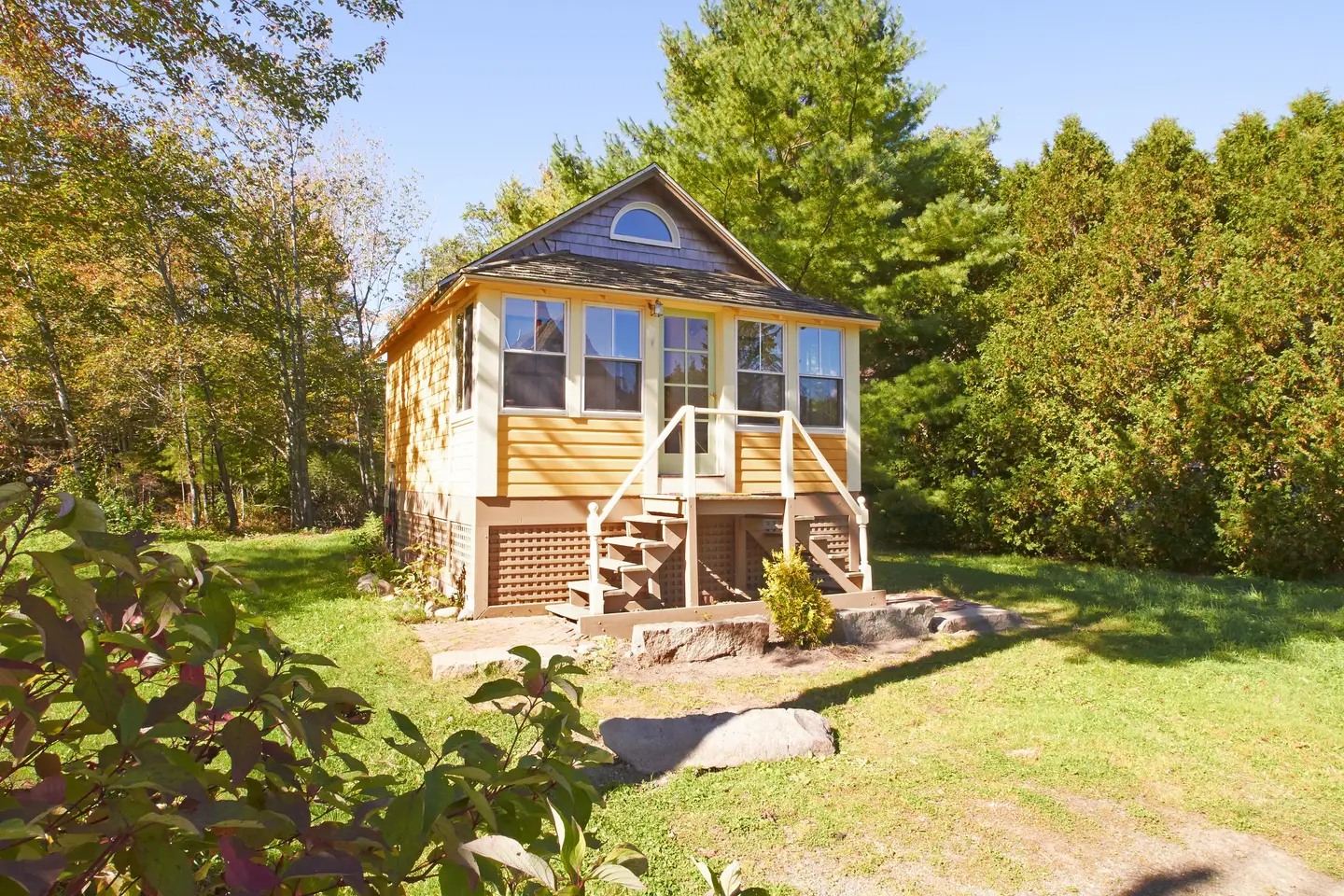 Cozy Village Cottage
Camden, MA
This little cottage is located right in the middle of the most popular sites and activities in the area, while at the same time keeping it's secluded, quiet vibe. SO you can go out and explore the area, then come back to home base for a cozy night in.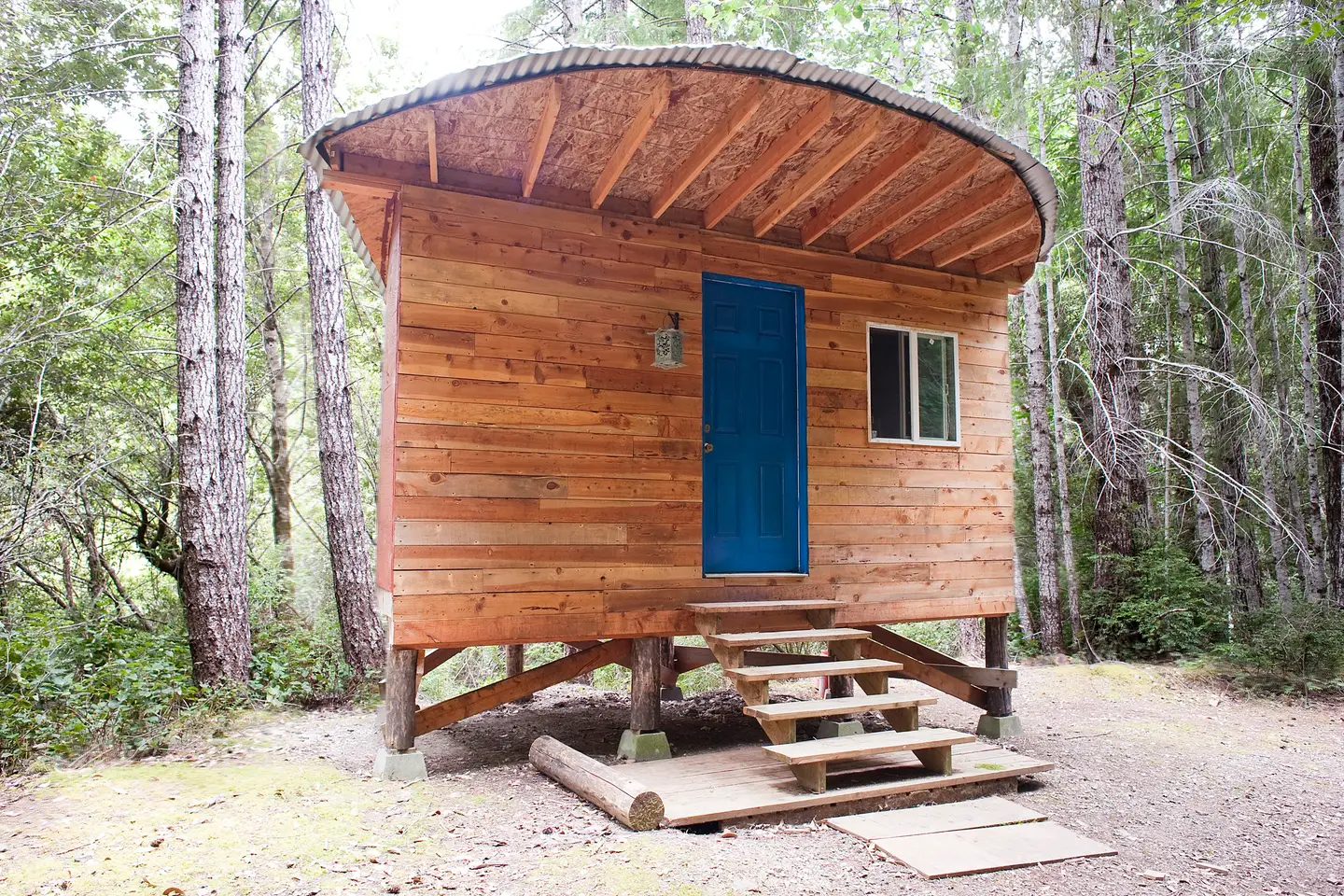 Half Moon Off-Grid Cabin
Gasquet, CA
Look at this handbuilt cabin in the Six Rivers National Forest! A perfect, rustic getaway for all of your winter hibernating dreams. The cabin is part of a sustainable living project at the Maitreya Mountain Village and features a wood stove and sauna in winter months. This is the perfect cozy cuddle hideaway!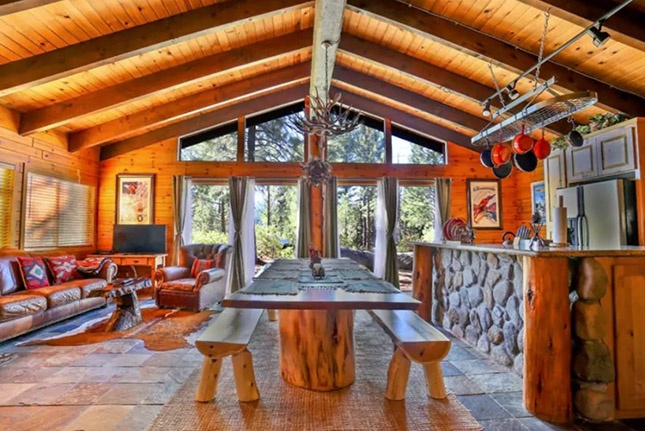 The Lake Tahoe Chalet
South Lake Tahoe, CA
This huge rustic cabin is a short distance from Lake Tahoe, and provides you and your family with all of the amenities of secluded cabin life. You get the best of both worlds: a great place surrounded by tall pine trees and mountains, with the convenience of Lake Tahoe, casino life, and other amenities at your fingertips. Plus, look at that amazing dining table, complete with log benches! Just imagine your crew having a great brunch around that table. As far as winter retreats go, it really couldn't get any better.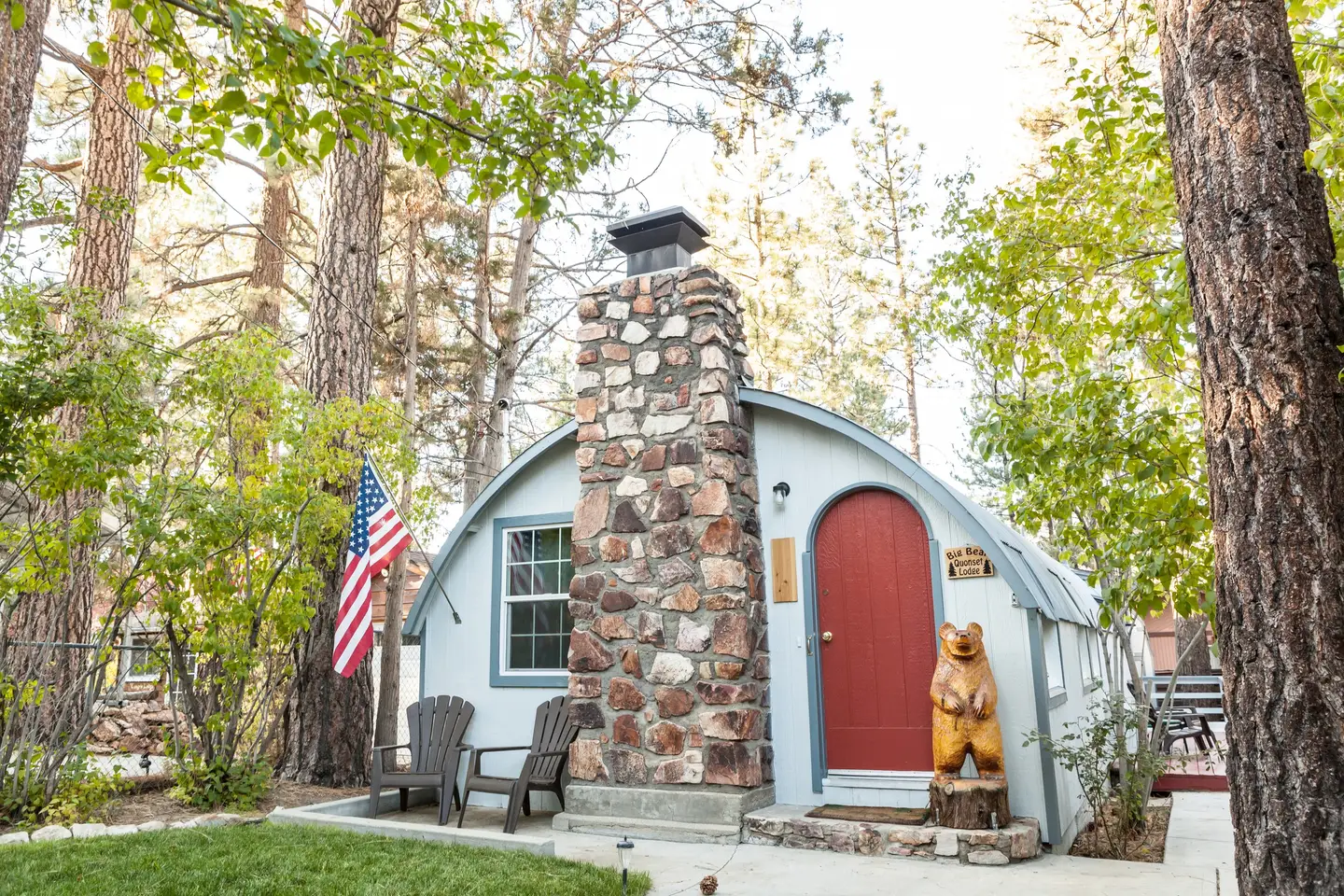 Big Bear Quonset Lodge
Big Bear City, CA
A unique lodge nestled in a forest of tall pine trees. This getaway is near ski slopes, the lake, shops, and dining, so you can experience a wide variety of winter adventures. Equipped with a fully stocked kitchen, appliances and creature comforts of home, you can choose to go out or get all tucked in for your winter retreat.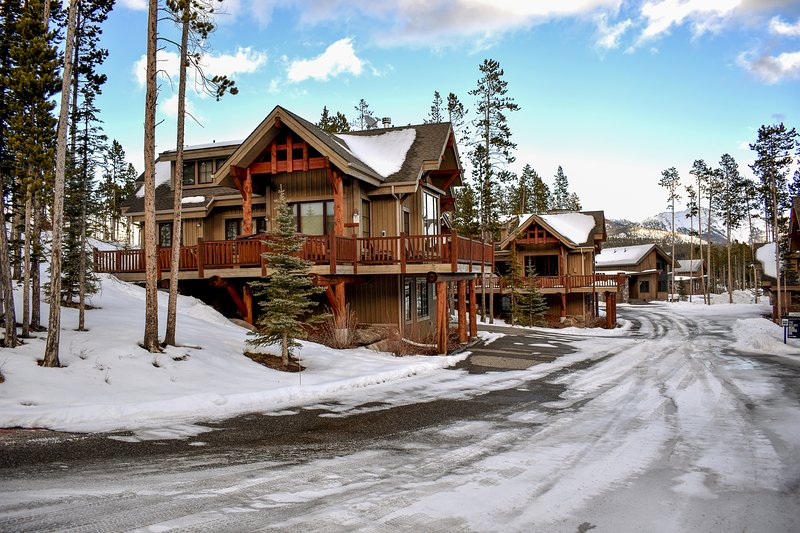 Family-Style Mountain Cabin
Big Sky, MT
If you really want one of those winter mountain getaways, head to the Montana mountains for a perfect family ski lodge vacation. Snowshoeing, hiking, and more give your family the perfect winter vacay. Skiing trails are right outside your door with easy access to Bootlegger Run. Or, make this cabin your home base for exploring Yellowstone National Park, about 60 miles away.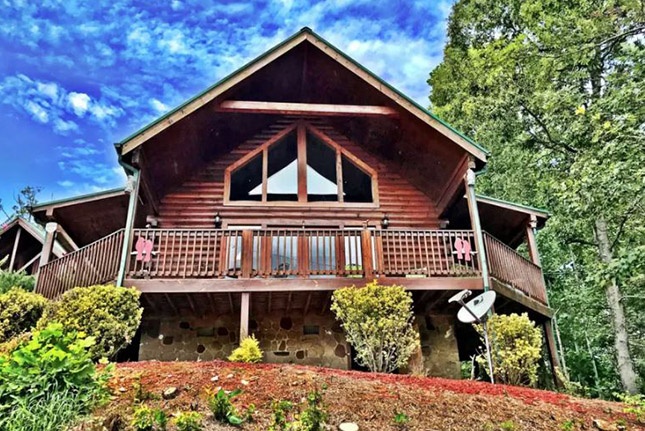 Log Cabin with a Gorgeous View
Sevierville, TN
A great cabin with a great Smoky Mountain view! Enjoy winter mountain life from this amazing overlook in Tennessee. Complete with a hot tub and all of the best home amenities for a cozy vacation, you can relax and enjoy your stay in this secluded area of the Smokies.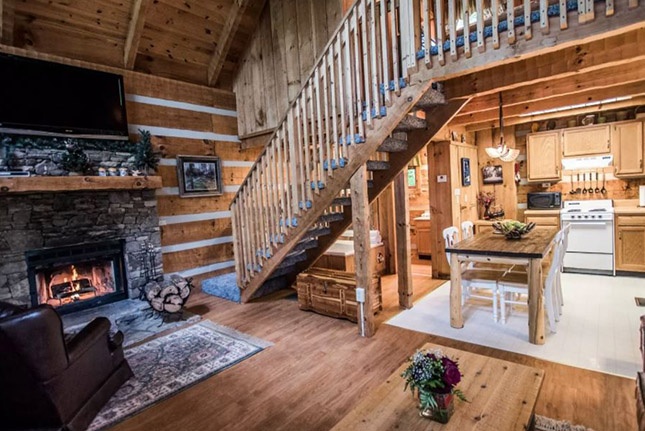 Rustic Cabin
Pigeon Forge, TN
Look at this perfect Appalachian cabin for two! Pro tip: This place sits on a steep mountain with a winding driveway, so you might want to get your hiking boots on. The views are worth it though, and you're just a short distance from Pigeon Forge amenities, dining, and everything you'd want from a cozy mountain town.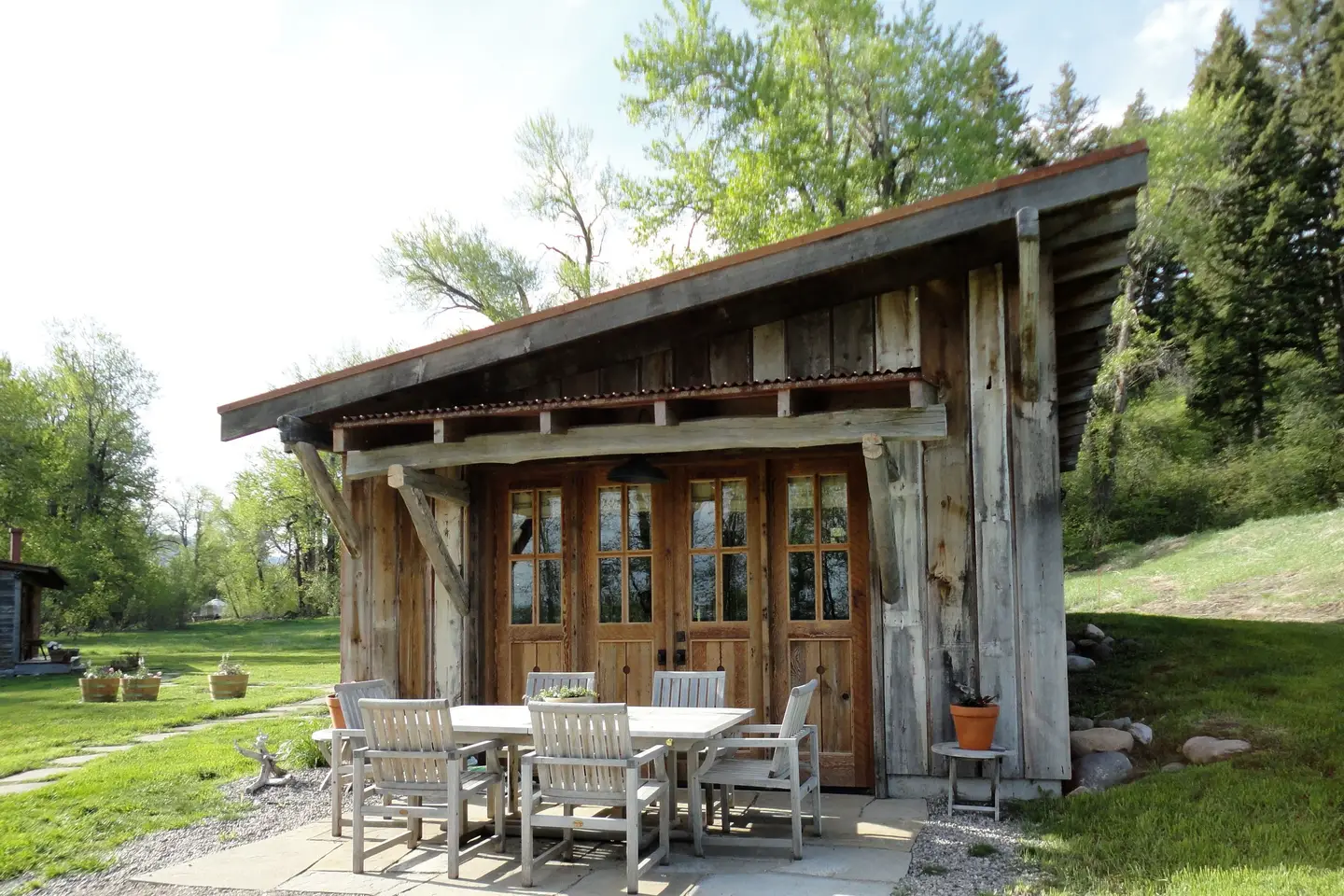 Reclaimed Timber Carriage House
Bozeman, MT
Surround yourself with wildlife in the mountains at this recliamed timber carriage house. Rated "Best Airbnb" by Outside Magazine, this contemporary designed cabin offers organic toiletries and cleaners, as well as organic and local coffee, tea, spices and condiments. So fancy!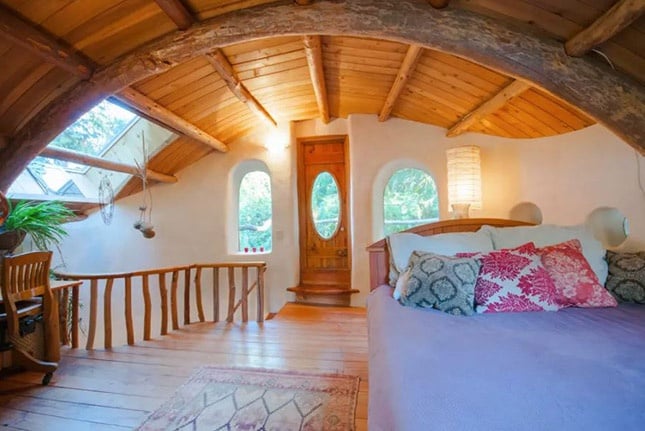 Cob Cottage
Mayne Island, BC, Canada
Here's something a little more out of town than the others... a Canadian cottage! If you're really looking for a secluded space, why not head to Mayne Island in British Columbia? You'll have to take a ferry (it's an island, after all) but your reward is a great little cob cottage in rural Canada, with hosts that are nearby and all of the quiet country living you need.
Whether you choose one of these cozy spots or another secret winter hideaway of your own, make sure you're taking time this winter to rest and recharge. And if you're going a little stir crazy in your house,
try out some of our tips
for staying active while you're hunkered down in your warm home this winter.
When you're all refreshed and ready, check out our current jobs and get a new travel assignment!