We're in the thick of winter, and the holiday season has just passed. If you're feeling a little social fatigue, or even some weariness about hanging out in a city, now is the time to put on those comfy pants, hop in a plane (or a car!) and get the heck outta dodge. We have some remote, cozy places for you to warm your toes by the fire.
East Coast getaways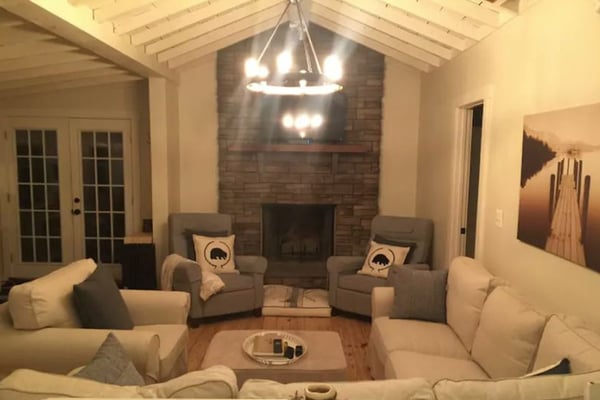 Cozy Lake Cottage in Deep Creek Lake, MD
Let's get that fireplace goin'! Or bundle up and enjoy the gas firepit outside. This place can host 6 guests, with 3 bedrooms and all the amenities you need. It's a short distance to Wisp Resort, so gather your friends and family and go skiing, or snowboarding. This secluded cottage is great for year-round enjoyment too, so if you aren't into winter getaways, you could reserve this spot for some summer lake time.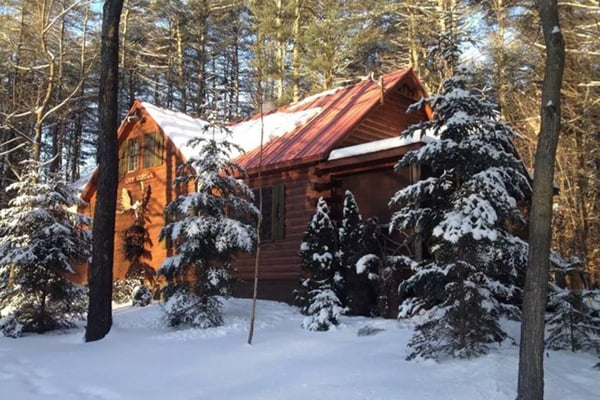 Bear Cabin in Johnstown, NY
You know that part in White Christmas when Bing Crosby and Rosemary Clooney start singing about snow? Like, 90% of the lyrics are "snow"?
"Snow, snow, snow!"
When I see this cabin that's exactly what I think of. Except they were singing about Vermont and this is upstate New York. This is the ultimate of all the winter cabin getaways out there. So, ok if you're not into snow (and I get it, some of you may be totally over it) then this probably isn't the place for you. But! If a forest cabin that resembles a Normal Rockwell painting is your idea of a perfect getaway, then book this rustic cabin in the Adirondacks immediately. Also, there's a hot tub!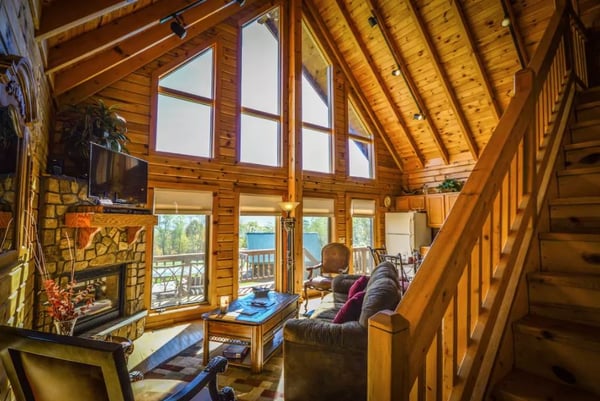 Hillside Log Cabin in Canaan Valley, WV
If you want an authentic cabin with the best view in West Virginia's ski country, the Hillside cabin is perfect. Luxurious amenities, a loft bedroom with mountain views, and a locale that is 5 minutes from Timberline Resort, this cabin is versatile for both romantic getaways, or family outings.
West Coast retreats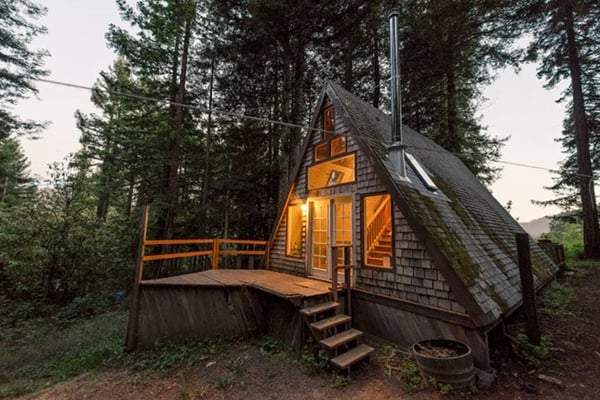 A-Frame Cabin in Cazadero, CA
This small A-frame is just perfection. Great for a solo adventure or two people looking to get away from the city buzz, it's about 2 hours north of San Francisco and just a hop to Sonoma Coast and wine country. This place isn't your modern or luxurious accommodation norm, but it's one of those rustic, cozy vacations that gives you a chance to get in touch with nature. Plus, each rental gives $50 to Raphael House in San Francisco to help at-risk families get sustainable housing and financial stability. Now that's a vacation for a cause!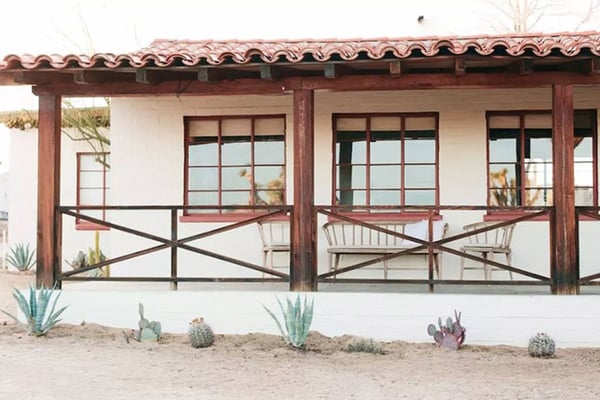 Joshua Tree House in Joshua Tree, CA
This may not look like your typical winter cabin getaway... and it's not. This desert oasis is a cool, modern abode with over 100 Joshua Trees on the property and succulent plants and cacti dotting the landscape. If you're ready to head to the desert during this cold winter, the Joshua Tree House is a dream come true. (FYI: This is my top pick! Someone book this getaway with me, stat!)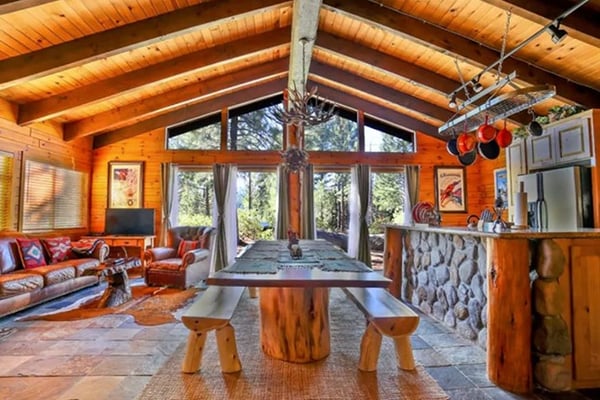 Lake Tahoe Chalet in South Lake Tahoe, CA
This huge rustic cabin is a short distance from Lake Tahoe, and provides you and your family with all of the amenities of secluded cabin life. You get the best of both worlds: a great place surrounded by tall pine trees and mountains, with the convenience of Lake Tahoe, casino life, and other amenities at your fingertips. Plus, look at that amazing dining table, complete with log benches! Just imagine your crew having a great brunch around that table. As far as winter retreats go, it really couldn't get any better.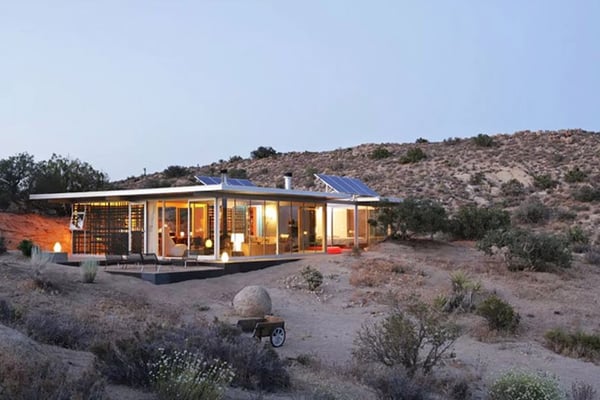 Off-Grid itHouse in Pioneertown, CA
If rustic cabin life isn't your thing, then check out this amazing modern house in the high desert of California. In fact, this home is famous. Rated as one of the 'Best Homes in America' by Dwell and one of the best houses of all time in Southern California by the Los Angeles Times, this IT House prototype is powered by solar panels and uses renewable resources for simple and minimal living. Go off-grid this winter!
Cozy places in the Mountains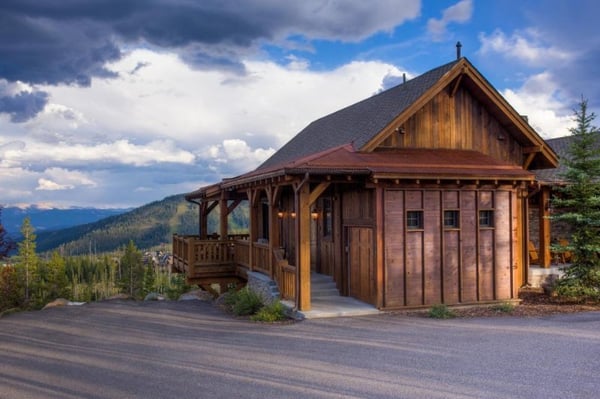 Ski-in/Ski-out Lodge in Big Sky, MT
If you really want one of those winter mountain getaways, head to the Montana mountains for a perfect ski lodge vacation. Winter amenities, like radiant floor heating, wood-burning and gas fireplaces, and ski-in/ski-out access let you get cozy. Plus, this place has an amazing view of the Spanish Peaks Mountain Range. All the mountains you can handle!
Warm spots down South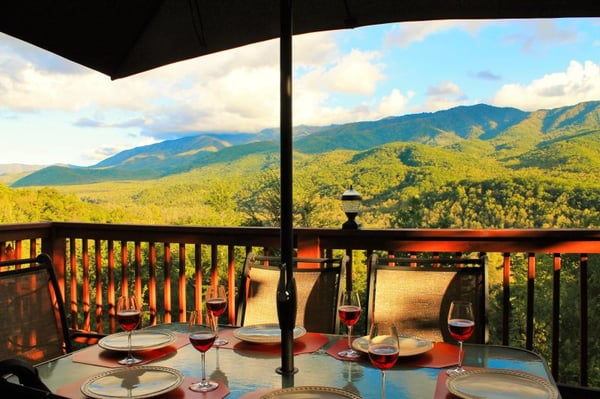 Luxury Cabin in Gatlinburg, TN
A Smoky Mountain wonderland! Just imagine this amazing view with a fresh dusting of beautiful snow. Enjoy the views while you hang out in the hot tub. You may even be able to catch a glimpse of the bears walking by while you enjoy your breakfast!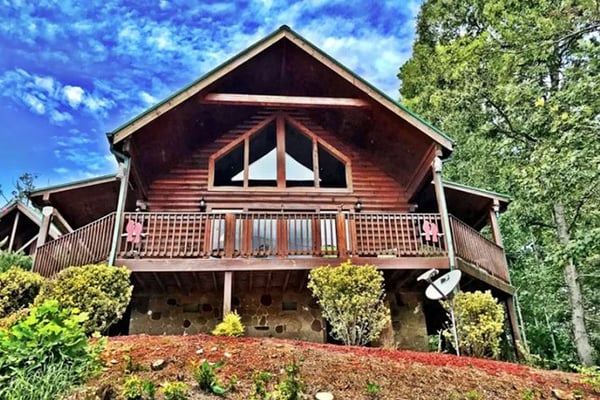 Log Cabin in Sevierville, TN
Another Smoky Mountain view! Enjoy winter mountain life from this amazing cabin. Complete with a hot tub and all of the best home amenities for a cozy vacation, you can relax and enjoy your stay in this secluded area of Tennessee.
Rustic Cabin in Pigeon Forge, TN
A perfect Appalachian cabin for two! Get your hiking boots on, as this place sits on a steep mountain with a winding driveway. The views are worth it though, and you're just a short distance from Pigeon Forge amenities, dining, and everything you'd want from a cozy mountain town.
Getting outta the states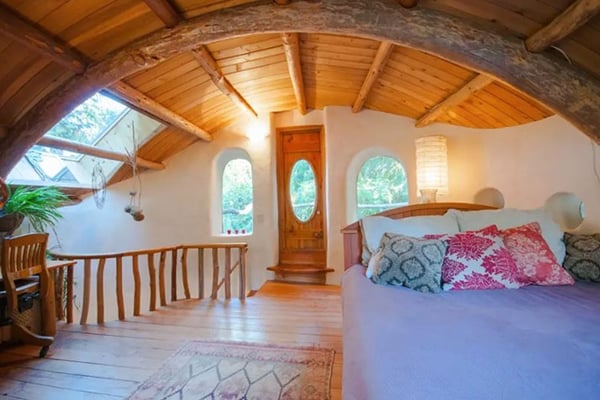 Cob Cottage in Mayne Island, BC, Canada
Here's something a little more out of town than the others... a Canadian cottage! If you're really looking for a secluded space, why not head to Mayne Island in British Columbia? You'll have to take a ferry (it's an island, after all) but your reward is a great little cob cottage in rural Canada, with hosts that are nearby and all of the quiet country living you need.
Whether you choose one of these cozy spots or another secret winter hideaway of your own, make sure you're taking time this month to rest and recharge. And if you're going a little stir crazy in your house,
try out some of our tips
for staying active while you're hunkered down in your warm home this winter.
When you're all refreshed and ready, check out our current jobs and get a new travel assignment: