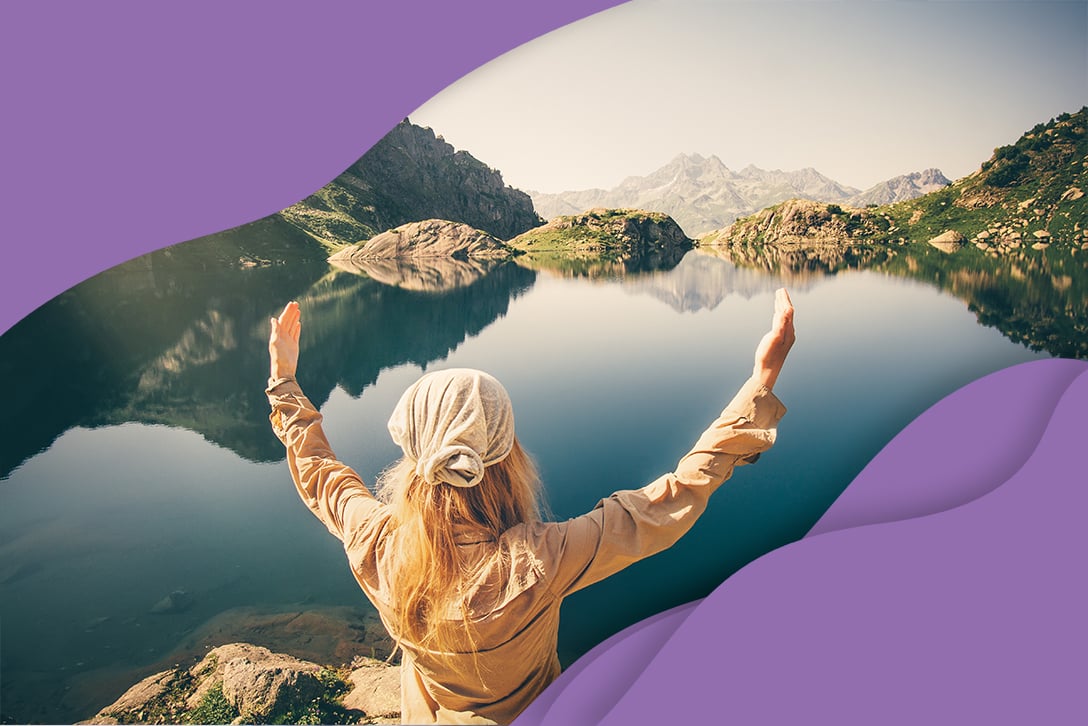 We're all trying to live our best lives during the pandemic while practicing physical distancing. For traveling medical professionals, that can be tricky. While some travelers take a break between assignments, others are finding their own adventure while working. Being in the middle of a pandemic means some of those explorations and interactions may be put on hold for now, but there are still plenty of things to discover when traveling. Focusing on staycations and mini road trips can help you feel less confined and keep you engaged in your personal life as you travel.
Discovering New Places While Practicing Physical Distancing
We're not here to tell you your medical job is a vacay. However, traveling can inspire adventure and a new sense of self. Even during a pandemic, traveling medical professionals can be excited to hit the road… and the sky… and the hills… and the beach…
Wellness travel to recharge
Keeping both your mind and body active can help you mentally get through these times of physical distancing while supporting your immune system to keep you healthy. According to Sodexo, it is estimated that 17 million travelers identify themselves as being "health and well-being" focused. Wellness tourism is on the rise. The Global Wellness Institute is projecting it to grow and reach $919 billion in 2022 But what does that mean when you travel full time?
The main goal of wellness travel is to feel healthier and recharged once you're done. You know the dreaded feeling of post-vacation, where you feel like you need a vacation from your vacation? The same can be applied to travel assignments where you feel totally drained after 13 weeks. So while traveling full time can mean a great escape to a wellness retreat, some travelers are choosing tidbits of wellness activities while on assignment to help keep their head and hearts in the game.
Being in nature can revive your batteries, and many people are getting out, getting active and taking part in hiking and camping trips. Nothing is more food for soul than getting in touch with nature while staying active. Whether you're a seasoned pro or one to just take a stroll through whatever nature around you, nature hikes are high on the list of wellness travel.
Staying active and grounded though yoga and meditation is a way to center yourself, especially during stressful times. Check out our Traveling Yoga Guide to learn more and trying pairing meditation with a hike for a double dose of wellness recharge.
Cycling trips and transportation are both on the rise. People want to feel active and choosing a cycling routine, retreat or daily way to get from point A to point B are all great ways to stay active while exploring.
Look for cities with good outdoor weather and points of interest for hiking, biking, and other trail adventures, so you have more time to enjoy and unwind. These areas usually use nature's serenity as a backdrop to their relaxation.
Savoring the moment
Gone are the days of the rigid itinerary. Bucket lists are headed towards outdoor adventure and taking it slow. Besides the great perk of living and working in your new city, travelers want to really immerse themselves in their surroundings. So, whether you're exploring your new assignment location or going off the beaten path to discover something new, stopping to smell the roses is key. Spend a little extra time on each plan you've made and you could discover more than meets the eye, and something worth coming back for.
A time for learning
While guided tours and museums may be paused as we endure the pandemic, there are still some ways to brush up on your new city's history. Research locations online. Learn about how the city has grown and changed, the cultural influences, and the different architecture that has been built throughout its time.
Outdoor scenery is key
Travelers taking in a good view is not surprising, but did you know that travel location is continually being earmarked by its Instagram-ability? In a survey conducted by UK company Schofields, more than 40% of respondents under 33 consider "Instagrammability" the most important factor in choosing their a destination to vacation to. Social media-inspired tourism is hot, hot, hot.
All that to be said, during this time when outdoor activities are top of mind, national parks are the hot spot if you're looking for a great view. Go where the scenery takes you! Check these national wonders off your list and document the trip. (Safely and within reason, of course. We don't condone disturbing nature or animals for the sake of a good photo.) Look for places with unique buildings, iconic architecture, and awe-inspiring outdoors are your best bet. And when all else fails to give you the noteworthy selfie you're looking for, there's always the ocean.
Making room for discovery
The most adventurous travelers are Gen X-ers, making up 49% of adventure and sports travel insurance policyholders. It's because travelers want to head off-the-beaten path. In fact, many international cities that have been teeming with tourists are starting to set restrictions, including the maximums for hotel beds and Airbnb's available, and not because of the pandemic.
"Over half (56%) of global travelers agree traveling has taught them invaluable life skills, and 2019 will see a rise in people's desire to learn something new whilst away, as well as an increase in volunteering and skills-based vacations across generations." (Booking.com 2019)
Forget those destinations that co-workers and friends have been to already… it's time to discover someplace new, and head away from the tourist trap to experience something local. When you think about it that way, the answer is easy…. Where haven't you been yet? Take a travel assignment from that list and run with it.