October is here and that means a new Traveler of the Month! Please say congrats to Miss Katie Stine! A traveler of Fusion for the last year, Katie is a dream to work with. Her account manager, Corey Paulsen had nothing but great things to say when he nominated Katie. "When I think of Katie, I think of hard-working, devoted, fun-loving…and the most kick-butt Lab Scientist!Put simply, Katie is a perfect representation of Fusion's culture, and is no doubt part of the Fusion family."
Katie humored us by answering a few questions!
How long have you been a traveler? I started traveling in 2011, but I have been with Fusion for just over a year. Corey found me after an assignment in Spokane, WA with another company in 2012. I was looking for something close to home & even though it wasn't a travel assignment, he matched me up with a hospital 30 min from my house, knowing it was what I needed at the time. From that point, I knew would definitely come back to Fusion when I was ready to hit the road again, because it was a really considerate gesture from him & the company.
What do you love about FUSION? I love Fusion because I don't feel like a number here. I feel part of the team & valued. Corey actually listens to his recruit's needs & he has always been awesomely patient when discussing a current assignment. I never feel like I have to say yes or no on the spot, I can take a breath, think about it, & call him back. Other travel companies want an answer immediately & the benefits aren't nearly as good either!
Your favorite travel spot so far? Your dream spot? My favorite spot has to be my current assignment, Santa Monica CA. My boyfriend & I live so close to Venice Beach & since we grew up in the northeast, living in sunny California with constantly perfect summer weather & so many activities is definitely more of a working vacation than anything. My dream spot would be Boston. I love the area & am a diehard Boston sports fan... I think it would be amazing to live there during baseball or hockey season, the energy is great, plus I would be close to my family-bonus!!! Other than that, Hawaii sounds great of course!
What is the most fun or interesting thing you've done while on assignment? (non-work related) We spent the weekend in Kings Canyon / Sequoia National Park. It took my breath away seeing these ancient, giant trees. Nature at its best. The scenery was majestic & so beautiful.
Hobbies? How you spend your time off? When I go home between assignments my hobby is seeing all my friends and family. I never know how long I'll be gone again, & who will be able to come visit me, so I fill my time with everyone close to me. Other than that, a sweaty yoga session & a great book is everything I need to be content.
If you could time travel, what decade would you head back to first? The 60's, I love that Bohemian fashion!
Any weird facts about yourself? I only write with my left hand, everything else is right-sided, like throwing a ball etc, weird indeed.
If you could only take 3 items with you on a travel assignment, what would they be? With my cats, my hunnie, & my jeep I can do anything!
Advice for new travelers? Take your time, don't rush, & ask every question that pops into your head. Your manager will answer everything they can or find the resources needed to make you feel secure & confident in this crazy lifestyle.
If not a traveling MT, what would be your "other" career? Yoga instructor. It would have to be something completely outside the lab because I couldn't imagine doing anything other than my nerdy brand of science everyday until I got hooked on yoga. I never had a plan b until I was practicing yoga for over a year & it became a lifestyle.
Favorite junk food/guilty pleasure? A bag of butter popcorn and dump in peanut M&Ms.... YUM or good 'ol Ben & Jerry's, can't go wrong!
Dog or Cat lover? Both! I love my two cats but I dream of rescuing a dog Every. Single. Day.
How do you stay in touch with friends and family when you're on assignment? Skype has definitely changed the travel world for the better & I love it, but I also make sure to write letters. I got that from my mom, there is something about pen to paper, placing a stamp, & knowing someone will smile to see something in the mail that's not a bill. Writing a letter is just nice; I can't let go of it, & so many people have.
PICTURES!!
Katie with her parents!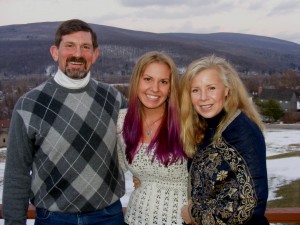 Katie and her "hunnie" :)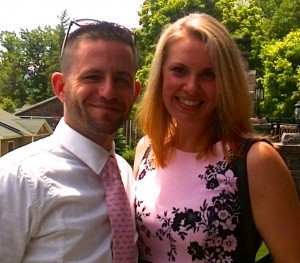 Tree posing in a GIANT Sequioa!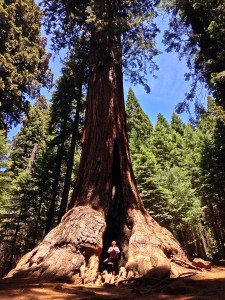 Clearly the need for a dog is obvious with her!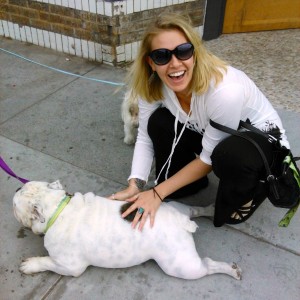 Katie and Erin (who is a new Fusion travel! Woohoo! We love referrals!)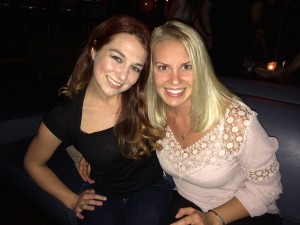 Katie, you are a breath of fresh air! Thanks for being so awesome and we are glad to have you in the Fusion family!