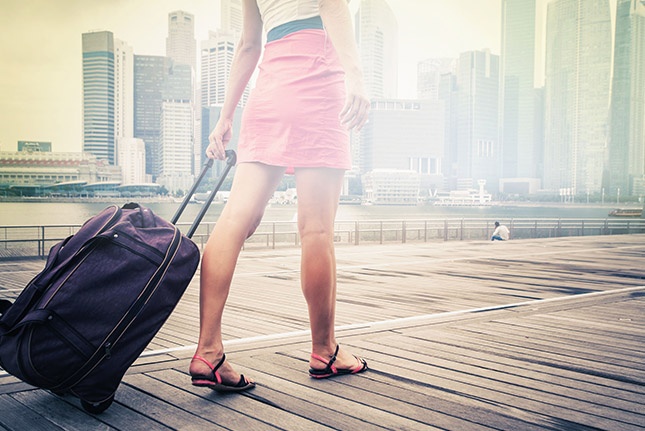 One of the best things about this job is being able to watch how much people grow through their experiences. From their first assignment to their last, everything they gain personally and professionally, travel allows each person to leave their mark.

Sarah Hicks, one of our newest additions to the Fusion Family, let us follow her throughout her first assignment and shared her insight. The best parts, the hard parts, and what she learned for next time. She is an OR RN, originally from Bennington, Kansas. Working as a nurse for just over 3 years, Sarah has always had a passion to help others.
What Made You Choose Nursing?

Growing up, I always leaned toward the "helping professions" my mom has informed me. I wanted to be anything from a female firefighter saving people to a marine biologist saving dolphins to an anesthesiologist saving airways. Entering college, I became more realistic and decided nursing was a balanced career between making a difference and having flexibility within the scope of the nursing practice. I love many things about being a nurse. Of course, there's highlights like always having job security, getting switch between specialties, good benefits, and being able to talk about guts and blood while eating dinner. The best thing, though, is stepping into a patient room and genuinely assuring them "I am going to take good care of you today." I enjoy the connection I get to build with my patients before they undergo surgery. There's almost an immediate trust they hand over to me once I let them know I will be in the room the whole time and that's it's my only job to be their advocate. There are endless opportunities within the nursing field and being able to travel is the best one, in my opinion. There's a certain personal and professional challenge that accompanies a travel nurse I didn't realize I was signing up for, but have wholeheartedly embraced. Entering the travel nurse world takes everything that makes you feel comfortable at your permanent job and home and turns it upside down. You have to be adaptable and flexible. You have to be positive and a fast learner. And you need to be fully engaged to get the most of each experience.

Had You Considered Travel From the Start?

No; and not because I wasn't interested in the idea, but because I didn't know it was a real thing. I didn't know such a thing as travel nurses existed until I was out of my almost-year-long orientation at KU Med. I started running my own operating room and creating friendships with fellow coworkers when a PACU nurse had told me about the opportunity to travel. She shared her experiences with me and I was instantly intrigued.

How Much Did You Know About Travel Going In?

Once I heard about the traveler gig, I knew I had to know more about it so I started watching YouTube videos and asking around about who else was a traveler in the hospital. I was actively seeking out stories and information about the traveler world but didn't feel ready myself until I had over two years experience under my belt. In general though, I didn't care much about all the details. I am a believer that "you have to go and see for yourself" whether it's a restaurant, a relationship, a new city, or a job. You can read good reviews or horror stories on the same hotel. That's how I looked at becoming a travel nurse. Of course, I heard that travelers can be treated badly at hospitals, how scary it can be to travel alone, how lonely you can get, or that it isn't worth it. But I had faith that my experience would be different because it's all about what you make of it. You're never really going to be 100% informed or ready for any big change, but you have to jump anyway. I went in with the attitude that no matter what, I can find the good in any situation. And I did. And I love it.

What Steps Did You Take To Start?

I originally talked to only one company (the PACU nurses agency/recruiter) for over a year off and on. I let them know I wasn't quite ready to make the transition and we would chat every other month about job opportunities and what I wanted to get out of my travel experience. I never had a timeline in my head, I figured I would just know when it felt right. And after Thanksgiving 2016, I knew it was my time. I sent my recruiter a list of "To Go" cities on the morning of December 5th and sent, "I am ready. Pick one." I had updated my resume and filled out all the necessary forms with that agency when I enlightened my friend, Haley (who works at Fusion), on my new travel decision. She insisted on hand picking me a recruiter at Fusion and she called me later that day. So, now I was talking with two agencies. Which is the minimum that I've heard recommended for a travel nurse. That's in order to compare opportunities and rates because agencies don't have all the same hospitals or cities. Anyway, I had an interview by December 10th and accepted a job on December 12th. Haven't looked back since.

What Questions Do You Recommend Asking When You Are Looking For the Right Company?

I personally prefer basing most decisions on pure referral. I did my research on both agencies I was referred to on Facebook groups and google searches, and they both checked out as being in the top 5 ranked travel companies. I asked around and heard positive experiences from past and current travelers with both. I am not going to work for any company that doesn't have current travelers that wouldn't vouch for the company as a whole.

As far as choosing a recruiter to work with, it's a gut feeling for me. I ask myself if I feel comfortable talking to them like a friend, if they understand and encourage my traveling goals and if it was overall a good vibe. Also, if they can make me laugh and aren't socially awkward (big points in my book,) they're in.

What Questions Do You Wish you Had Ask/Will Know For Next Time? There isn't anything coming to mind about what I wish I had asked the recruiter or the company beforehand. If anything at all, I should've asked when I would receive my healthcare benefits ID card. Lessons I'll know take away from first assignment:

Air BnB housing isn't always what you expect it to look like in person.

that I would need snow tires in the mountains in the middle of winter.

I can make friends with anyone my mother's age. Make friends everywhere you go. Smile at strangers, ask for locals recommendations.

Being positive and flexible about scheduling shifts and call always ends up in your favor

Take every opportunity to network with current travelers, anyone interested in traveling, and all the permanent staff as well. So basically, just network.

Adventures by yourself are just as fun and you'll end up with new friends anyway.

Don't listen to all the negative comments from people telling you not to go somewhere new or far away or hard to get to. It'll be worth it.

Don't get involved in the politics at the facility. It's an advantage of being a traveler

What is Something That Surprised You About Travel?

How friendly, helpful, and welcoming the staff at my assignment was! Obviously, it's different at each new hospital system and I'm hoping my next assignment will end as fruitful as my first. I made friends that I'll have forever and visited places I never imagined I would have gone to. I was welcomed into the homes of people I didn't know two weeks prior. I was invited on skiing trips the first week by a permanent staff nurse, wing night the second week by a traveling scrub tech, and even asked to house and dog sit for a coworker I had known for 5 weeks. I went snowmobiling with a local nurse and her young boys. My five fellow travelers and I had movie nights, went to church, went to karaoke, had taco nights, and even traveled through New York, Vermont, and Maine together. What still surprises me about traveling is that you don't have to have a plan or agenda: you just have to say yes.

5 Things Every First Time Traveler Should Know?

Also see lessons learned from #7.
Be open minded about assignments in terms of the location. Recruiters know good hospitals based on previous or current travelers there.

Be POSITIVE! So many times we hear complaining and negative comments from permanent staff- we get to be the change as travelers. You can change someone's attitude by voicing the cup as half full.

Be adaptable and flexible. It really kind of is detailed in your job description. Embrace the unknown and go with the flow. Some of the best days and shifts start unplanned.

Take recommendations on housing from a local who knows the area. I regret doing that.

Take what you know from your learned nursing practice and apply it to the new hospital you're at. Everyone has different policies, but keep your nursing practice consistent. Enjoy it!
What Would You Do Differently For Your First Assignment?

Not. A. Thing. I enjoyed learning things the hard way by going 2,000 miles away from home and friends in the middle of winter in New England. It taught me a new level of independence I didn't realize I had. Now I know I can do anything.

How Has Travel Benefited Your Career?

It's been a personal and professional challenge- in a good way. I feel like I've grown exponentially in the last three/four months. Uprooting your life and leaving your comfort zone allows you so much room to learn about yourself. It's benefited my career in terms of networking and seeing how a smaller hospital runs itself. I can take what I liked about the operating room practice at Littleton and apply it to my future nursing practice. Traveling expands your job opportunities and connections exponentially. You get to learn under different nurses, polices, expectations, and conditions. I feel more confident in my nursing practice after one assignment. I know I can be adaptable and efficient and effective in a new environment. I now realize that my nursing practice doesn't have to change from hospital to hospital system, but I can improve it from what I learn at each one.

Best Part About Being a Traveler?

Checking off your travel bucket list. Making new friends. Trying new foods and local declines. Talking to locals. Attempting new outdoor sports. Learning history about new cities. Being able to create your own version of reality- one you want to have. Building and living a life you LIKE.

What is On Your Travel Bucket List?

Literally everywhere. I was able to check off nine of the north eastern states and Canada during my first assignment. States in the US that I would love to work in include California, Utah, Arizona, New York, Hawaii, Alaska, and Oregon. My ultimate bucket list is visiting all 58 of the National Parks within the US. and then the rest of my traveling itch lies outside the US. I.e. Greece, Great Britain, Switzerland, Australia, Austria, Ireland, New Zealand, and anywhere else beautiful and outdoorsy.

Did You Find Your Own Housing? I found my own housing through Air BnB. At first, I called every hotel and bed & breakfast in Littleton, NH, which only equates to maybe 12. They didn't have Extended Stay discounts or prices I was fond of, so I chose Air BnB for that particular assignment. There aren't any apartment complexes there like in a bigger city. It was all very rural, so it was frustrating at times. I ended up in a super old farmhouse that was drafty and lost power during a wind storm. But, I survived and I appreciated having a roof over my head to begin with.

Did You Overpack? What Are The MUST HAVES?

Yesssss, way over packed. I didn't wear even 1/3 of the clothes I brought with me. Apparently, I imagined myself dressing up more even though I didn't dress up much before. Now I know to pack less because I basically live in workout clothes, scrubs and pajamas. My must haves were some photos of friends and I, books on my to-read list, my own pillow and blanket, robe, crockpot, and favorite mug. Things I bought during first assignment that are now added to must have list: mattress pad and humidifier. (Snow tires and snowboard are newly acquired seasonal must haves for me, as well). Anyplace can feel more homey with a few of your own favorite things that bring you comfort. For my next assignment, I'm leaving dress up clothes at home. If my next housing comes furnished with kitchen supplies, I'm leaving mine at work. They take up a lot of space and smaller appliances are easier to buy second hand and leave behind than to lug around.

Did You Struggle Being Away From Friends and Family?

Yes. I definitely missed my people, but I honestly didn't ever feel homesick. I suppose because I filled all of my time that I wasn't at the hospital with trips and adventures and snowboarding. I had weekly scheduled FaceTime dates (thank you, technology) with friends and family. One of my best friends came to visit for a long weekend during my fist month away. I visited a close friend in NY on a weekend. I came back to KC the second month for a friends baby shower. Another best friend came to visit during my third month. All of which broke up my time away from home nicely. Before I knew it, my time in New Hampshire was done and I was driving back to Kansas City to reunite with everyone again!

You Are a Very Easy Going Traveler With An Open Mind About Location and Experiences. How Has That Benefitted You As a Traveler?

It makes every situation better! I was open about going to New Hampshire, which I couldn't even point out on a map beforehand and it ended up being such a wonderful experience. I think if you have too many expectations, you'll end up disappointed. Not everyone is as open minded as I am, which I understand, but I believe you can make the best out of any thing if you choose to! Take the assignment you never saw yourself at. Order a dish at a restaurant you don't think you'll like. Try to snowboard even if you can't make it five feet without falling the first day. Hakuna matata. We are capable of seeing the beauty if we are trained to look for it.
"To make a difference in someone's life; you don't have to be brilliant, rich, beautiful or perfect. You just have to care."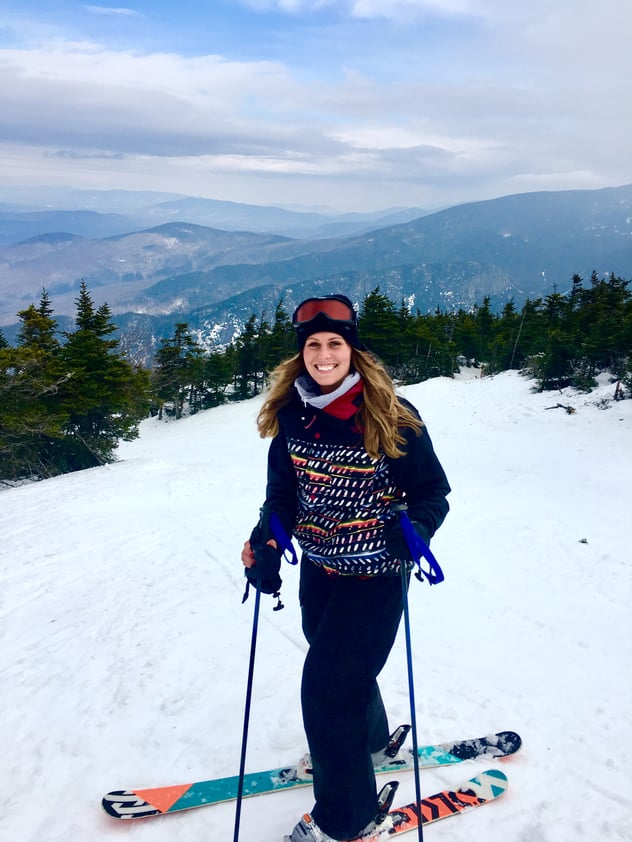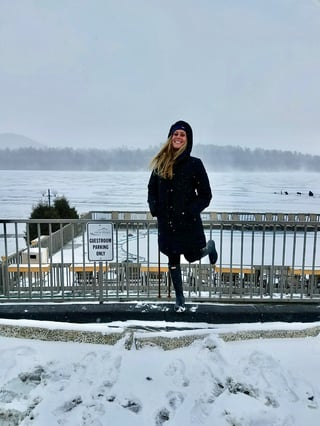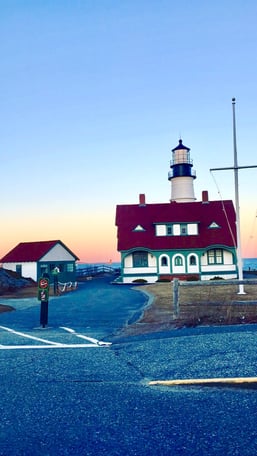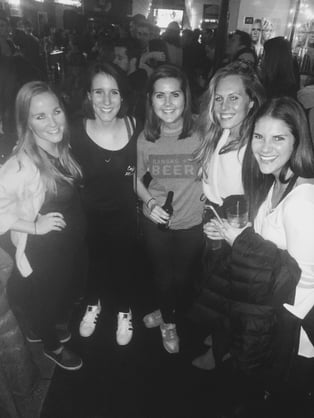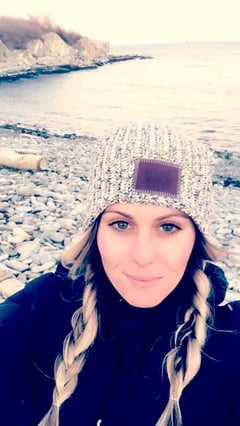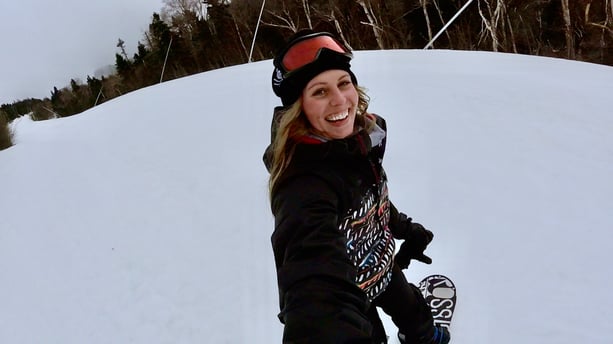 Should new grads travel? Read more and see if you have what it takes.