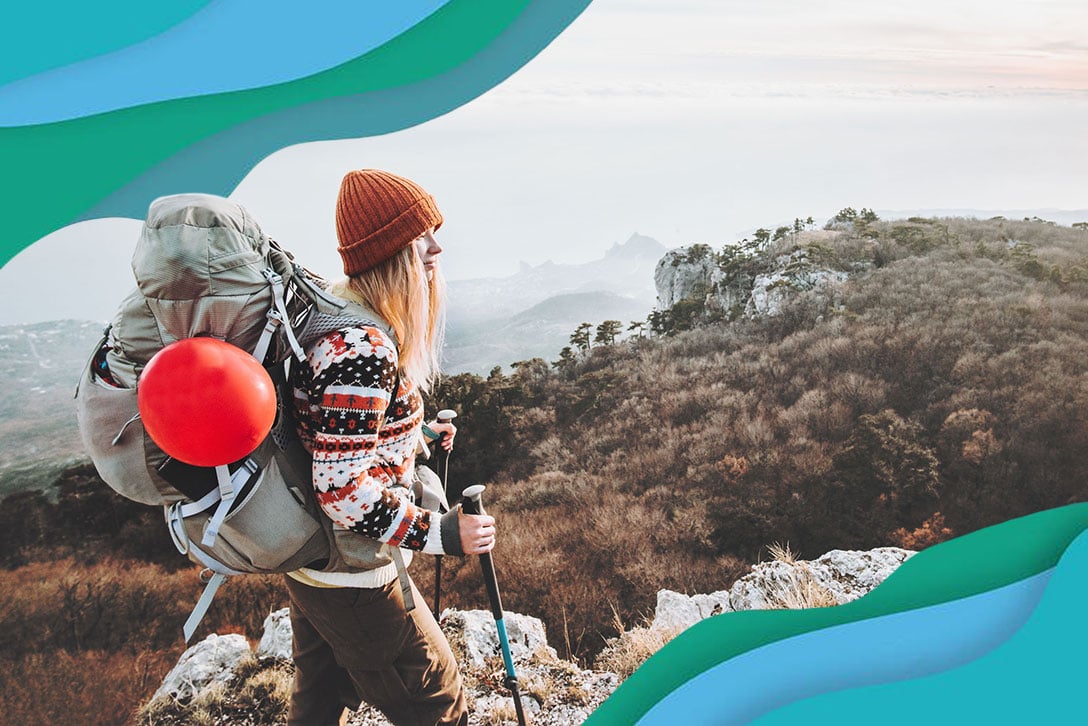 If there's one thing we've all learned from the changing pandemic environment in which we live, it's that life is short—and we should make the best of what we have. That means—buying the shoes. Starting that new hobby. Learning that language. Finally telling that one person you love them. Planning that trip that was previously just out of reach. Our circumstances have really honed us in on what matters, helping us reevaluate our lives.
If you're a healthcare worker thinking of how you can enhance your career and live for the moment, flipping the switch from perm staff to Traveler life might be the next exciting step for you.
From Perm Staff to Traveling Healthcare Professional in a COVID Market
A permanent position working in healthcare
First of all, as much as we're pro-travel, there are benefits to taking a permanent position as a healthcare professional—job security, a steady paycheck, retirement saving plans, and paid time off. Knowing that you have a permanent job gives you a peaceful mind and a feeling of security about your future. Consistency can allow you to make major future plans, like buying a house or car, deciding when and if to start a family, and permanency in your location.
Developing a long-standing professional relationship with other staff members is another benefit attached to a permanent position, allowing you to work with coworkers regularly and facilitating the development of friendships and professional relationships with supervisors and colleagues. Being trusted by your supervisor as a long-term asset may give you opportunities for more responsibility and delegation from managers, enhancing your ability to handle challenging tasks.
The benefits of becoming a traveling healthcare professional
Travel nursing or other traveling healthcare careers can be very rewarding for those who are up for it. This is vital for energetic new grads who would like to explore various health settings before deciding on a more permanent placement, or for those who want an opportunity to work and explore, choosing a path they've created themselves, not one that is simply laid out for them.
There are many perks associated with becoming a healthcare Traveler—professional growth and exposure to vast experience, avoiding work politics, endless adventure, and increased autonomy. Travelers can choose the environment in which they work, ranging from large research centers, large-scale teaching, and referral facilities to small hospitals in rural areas. The freedom associated with choosing your own location and facility allows you to acquire new skills by working with staff in other divisions and specialties, working with patients from various backgrounds, exposure to different types of cases, using new technology, and implementing cutting edge procedures. It can also add experience and variety to your resume, allowing you to stand out in a competitive employment market.
And while a permanent position nurtures friendships long-term in one facility or location, working as a traveling medical professional means you have the opportunity to make friends with a variety of people in various locations. Having a connection with your colleagues is essential to sharing skillsets and learn more in your field that will further your success as a healthcare worker.
Adventurous types are also well-suited to work as a traveling healthcare professional. Choosing this career gives you the freedom to decide on your own location and when you want to work. You take control of your career, working with your own personal agenda and professional goals. There's no limit when it comes to traveling; you can choose your locations based on professional opportunities, proximity to family, or a chance to try hobbies available only in that climate or culture. Finally, as a traveling healthcare professional, you can avoid work politics while earning an equal, if not higher salary than respective healthcare professionals in permanent positions.
Making the switch
How do you make the change from a permanent healthcare position to a traveling healthcare professional? For starters, understand that all staffing agencies are going to have roughly the same guidelines and close to the same travel pay, but not all of them have the right people that will give you full autonomy over your career. Research the locations you'd like to work in, and then get privy to the qualifications, requirements, and licensing needed in order to get hired on in that location. A lot of healthcare professions require a year's worth of experience in the field, but since you're making the switch from a permanent position to a traveling placement, you probably already have that experience under your belt. Each healthcare division is different though, so travel requirements may vary based on which division you're specialized in.
Going from perm staff to traveler isn't as easy as flipping a switch—there's time and research that goes into it (and job hunting) but once you make the change, you'll have full control of where you work, when you work and what the next big location is. What you gain can outweigh the homesickness you may feel occasionally or any fear of taking that leap. You are constantly meeting new people from all different backgrounds, learning how to respond to different types of personalities, and gaining new skills you wouldn't get from staying in one place. Having that freedom is an experience all on its own.