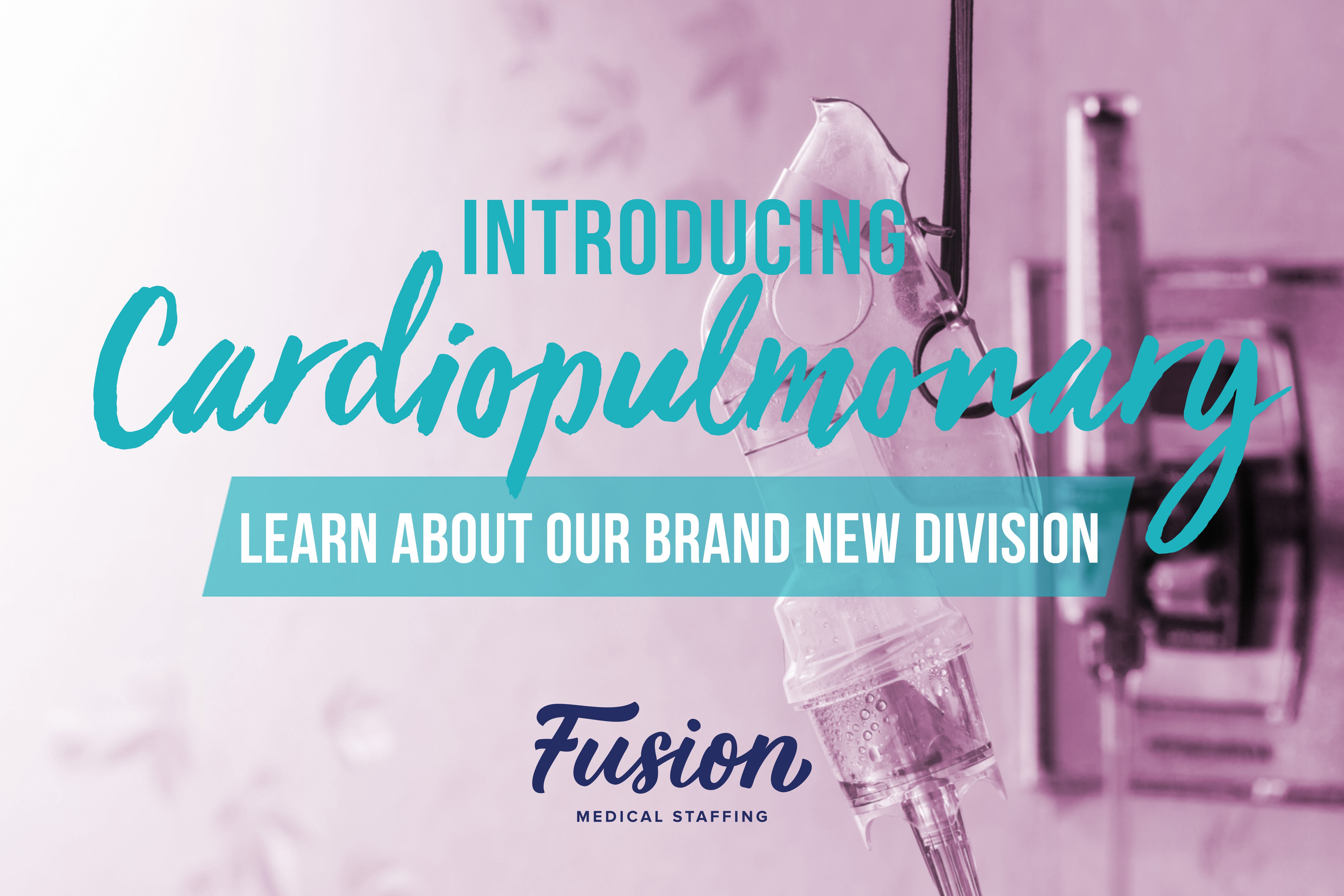 Fusion is now providing career opportunities for traveling healthcare professionals in cardiopulmonary specialties. Fusion has launched its newest division this month, making it the seventh division for Fusion's nationwide medical travelers. There are a lot of opportunities in this field.
Now, those who are seeking a job in cardiopulmonary medicine, who want to travel and explore can talk to a Fusion recruiter and get started.
What are some of the job opportunities in cardiopulmonary medicine?
Fusion's current cardiopulmonary specialties are:
RRT - Registered Respiratory Therapist
CRT - Certified Respiratory Therapist
Polysomnographic Technician/Technologist
EKG - Electrocardiogram
Perfusionist
Respiratory Care Practitioner
In addition to the cardiopulmonary specialties that Fusion staffs, cardiopulmonary medicine is on the rise. You can grow your career as a cardiovascular technologist, cardiovascular technician and respiratory therapist within the field of cardiopulmonary medicine.
What does a traveling cardiovascular technologist or technician do?
Traveling cardiovascular technologists help doctors diagnose and treat patients with circulatory or heart problems. Their primary duties are to monitor patient vitals during procedures and operate testing machines.
What does a traveling respiratory therapist do?
A traveling respiratory therapist diagnoses and treats patients what have breathing issues or respiratory problems. They test a patient's lung capacity, measure the levels of oxygen and carbon dioxide in the blood, and work with doctors and other health professionals to create a plan of action for treatment. Respiratory therapists also care for patients on who are on life support.
What does a traveling cardiopulmonary rehab specialist do?
Cardiopulmonary rehabilitation specialists work with patients who have been diagnosed with cardiopulmonary conditions that affect breathing and blood circulation, such as asthma, emphysema, angina, chronic obstructive pulmonary disease, coronary artery disease, and conditions related to heart attack. Cardiopulmonary rehab specialists help patients understand their conditions and manage their health through lifestyle changes and treatments, helping patients live their fullest, healthiest lives.
Working with Fusion's cardiopulmonary division can give you new opportunities in your career! Your cardiopulmonary recruiter can help you find the best fit for your travel life and work life, finding you the ideal cardiopulmonary job and location to fit your lifestyle.
What are you waiting for? It's time to make a difference as a traveling cardiopulmonary rehab specialist. Check out our cardiopulmonary jobs here, or reach out to Fusion and we'll get you hooked up with a recruiter.