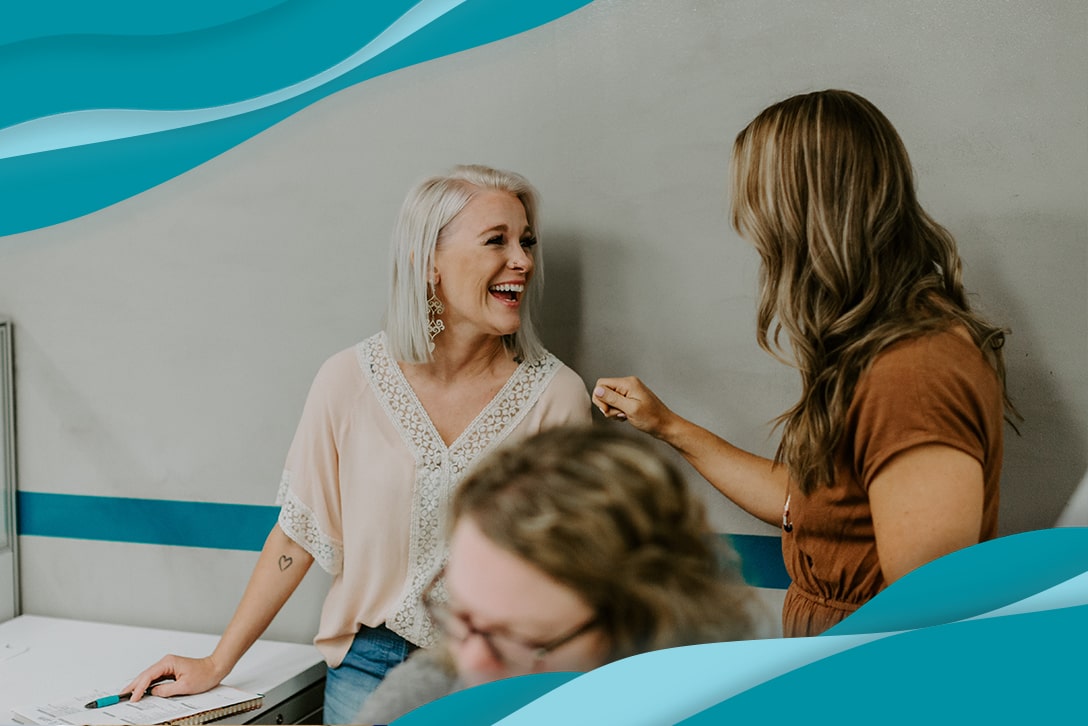 Everyone wants to wake up and feel good about going to work. When you don't like what you do, or worse, don't connect with the company you're doing it for, something as simple as going to work becomes an inconceivable chore.
Fusion Medical Staffing founders, Sam Wageman knew what it felt like to not be heard or appreciated by an employer and they wanted to ensure fewer employees feel that way—thus, in 2009, Fusion Medical Staffing was born.
Today, met with significant growth, Fusion Medical Staffing continues to live by its original core values—humble, driven, positive—to strengthen and enhance workplace culture for corporate staff and medical travelers alike.
Fusion Medical Staffing Culture Strengthens with Growing Workforce
Culture in the workplace matters
Workplace culture is the combination of qualities that determine how those within an organization should "think, act, and work together." These characteristics are typically unique to a company and can include a mix of leadership, values, traditions, beliefs, interactions, behaviors, and attitudes that play a role towards a positive working culture. In other words, workplace culture is what sets the overall vibe of an organization.
Bre Miller recently joined Fusion Medical Staffing from an industry-related company as a Social Media Specialist. She said she had always heard "such good things" about Fusion, but that the culture is really what stuck out to her.
"Fusion just felt like the 'dream' company to work for," Bre said. "That feeling was kind of solidified when I talked with friends who work here who were constantly talking up the Fusion name and how great their experience has been working for this company."
All these unspoken and unwritten rules that make up a company's culture help us form bonds with our colleagues and set the tone towards the success of the company. A business's culture directly impacts how employees fit into the organization and influences an organization's ability to attract and retain employees.
It's no surprise that when employees like coming to work, they're more likely to stick around. A Deloitte study showed that culture and engagement were the highest priorities on corporate agendas and companies with the strongest cultures attracted and retained more talent. A positive workplace culture gives everyone the same opportunity to initiate change, plus grow both personally and professionally, which inspires employees to stay with an organization.
"When your people are hyping up their workplace, not only in the public eye, but also in private conversations, I think that speaks a lot to the atmosphere and culture that's been created," Bre said. "I also think that's ultimately what makes people genuinely enjoy the work they're doing, rather than just putting in time for the paycheck."
Signs you're part of a positive workplace culture
If you've ever felt that uncomfortable pit at the bottom of your stomach when walking into work or if you've sat in the parking lot counting down the seconds until you have to walk through the front doors of your workplace, you've probably worked somewhere with a toxic culture. And, if you've worked in a toxic environment, then you know how wildly draining, stressful, and unmotivating that can feel.
As author, former monk, and life coach Jay Shetty once shared, "Anything that costs your peace is too expensive."
The way we think about a positive workplace culture can differ based on professions, age generations, expectations, and more. However, in general, all companies with a successful culture share these common characteristics:
Purpose-driven. People want to feel like they're part of something bigger than themselves. We want to do something meaningful for others. A purpose-driven business "stands for and takes action on something bigger than its products and services."
Effective communication. The ability to effectively communicate is the anchor of all positive workplace cultures. If employers aren't able to effectively communicate the purpose-driven mission of the company, what good is that mission? Solid communication ensures all workers are on the same page and understand the common goals, as well as how they contribute to reaching those goals. Without productive communication, people start to feel disconnected, jaded, or cynical.
Encourage feedback. Help your peers embrace making mistakes and give them a safe space to grow and improve. A culture of feedback can help lower the chance of errors made while simultaneously build confidence in employees.
We're not all the same, and that's a good thing. Companies that want a positive culture should hire diversely across all the business and create an all-inclusive work environment where all people have equal opportunities to the same perks and rewards. In addition, businesses should celebrate cultural differences to bring colleagues closer together on a human-to-human level.
We know it's cliché, but teamwork truly makes the dream work. People need people. Ways to establish and promote teamwork include regular meetings and ongoing feedback.
Engagement and loyalty. A positive culture is one where people like to come to work, feel engaged, and motivated to make a difference. When employees feel engaged, they're inspired to complete job tasks, which results in boosted productivity.
Growth and development. It's natural for humans to have the urge to learn, grow, and develop new skills—this is true in the professional world, too.
Achieving and maintaining a positive workplace culture takes active effort and intention from every person within an organization.
"At the end of the day, our ability to maintain our culture and values as we grow is strictly dependent on how well our managers are able to preach that message," Sam said to Entrepreneur. "When you add that many people so quickly and you have all these new faces in the hall, you need to make sure you've vetted them all upfront and that they know what we stand for."
Being part of the Fusion family
Humble, driven, positive—that's who we are at Fusion Medical Staffing. As an organization, we exist to ensure everyone we touch has a better life. That means us as employees and leaders within the business, our friends and families, all of our medical travelers, plus their loved ones, too. It is our goal to make a meaningful impact in the world we live in, and the way we do is that is by being humble, driven, and positive.
"Company culture needed to matter, and I knew that it could be created with the right values and mindset," said Fusion Medical Staffing Owner, Sam Wageman. "If you value employees, treat them fairly, and work as a team, the possibilities are endless."
Bre said that it's been "super refreshing" to witness how teamwork truly makes the dream work at Fusion. "Everyone is so respectful of each other's knowledge and allows their team members to hold space in meetings without hesitations or fear that their ideas/thoughts are going to be rejected," she said.
We're living in a unique and revolutionary time where more and more candidates are placing higher value on a company's culture, diversity and inclusion, and business strategy. Recent research shows that a total of 88 percent of job seekers believe company culture to be important and relevant when job hunting with 15 percent of candidates declining a job offer because of the company's culture. Even worse, 58 percent of employees have left a job or have considered leaving when they felt the culture had been tainted with negativity.
At Fusion Medical Staffing, our culture is the simple act of putting our people first and working for each other. With more than a 20 percent workforce increase at upwards of 900 internal employees and more than 3,000 professional medical travelers to date, Fusion employees are the heart and soul of the company.
"Despite the challenging economic times across our country and volatility within the healthcare sector, Fusion's culture has always remained at the center of every strategic decision that we make," said Andrew Ives, Fusion's Director of Culture and Talent Development. "Culture at Fusion isn't defined by happy hours or free snacks in the break rooms – it's all about ensuring that our employees are fulfilled, fostering great relationships across the organization and investing in our leaders."
"With dynamic culture being the number one priority at Fusion, it's imperative that we are collectively strategizing daily on how to best use each of our talents to create the ultimate team," said Sam.
Ways Fusion puts employees first are through the diversity, equity, and inclusion (DEI) committee; Be The Change initiative; and planned company gatherings.
The Fusion DEI committee was made by employees and leaders of the organization as an effort to prioritize diversity, equity, and inclusion in and out of the workplace. This group meets monthly to talk about ways the business can make a positive impact in the community and help educate others to appreciate our differences.
Facilitator, Ainsley Stewart said, "Our product is people caring about other people and if we don't understand diversity and inclusion, we can't best serve [our community.]"
As part of Fusion's DEI and Be The Change initiatives, the company participates in several community service activities each year. Find a Fusion friend volunteering at local Juneteenth and pride parades, Walk of the Warrior, Bowling for a Cause, and more.
"In terms of ongoing efforts, we've got continued investment in leadership training for both new and tenured leaders, an ongoing mentor/coaching program, several recurring opportunities for personal/professional development for all, and an emphasis on effective communication and transparency across the organization," said Andrew.
"We try to be good people and help those in need," said Sam. "As we continue to grow as a company, we feel we can be even more impactful."
"As we grow, we want to grow everything with that and that means our culture has to grow, get bigger, and make an impact." said Fusion Medical Staffing's positive changemaker, Micaela Diarrassouba. "Our future is bright because there's an opportunity for education, for empowerment, and Fusion is full of people who care."
No matter who you are or what you do, it's always a warm and fuzzy feeling to be valued, appreciated, and recognized at work—that's what a positive workplace culture should feel like. In an established positive culture, teamwork, morale, productivity, and efficiency are all improved with less employee stress.
For Fusion Medical Staffing, we think that formula lies within our employees and our core values.