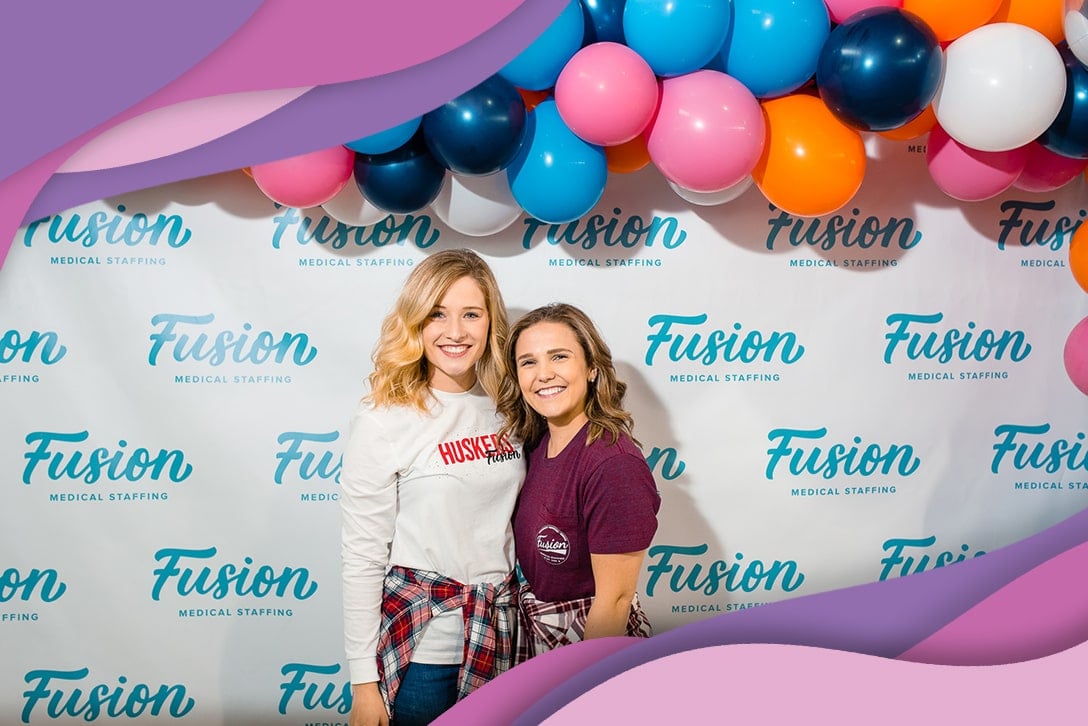 Do you remember when you turned 12 years old? What a time, am I right? Well, now it's Fusion's turn! On September 29th, Fusion Medical Staffing celebrates its 12th birthday, and the excitement is real.
Fusion Medical Staffing's 12 Years of Healthcare and Community Impact
Let's roll it back to 2009 (to the good ole days of BlackBerry messenger and low-rise jeans). Fusion's Founder, Sam Wageman, was working tirelessly out of a muggy, heatless Nebraska basement and it was there that Fusion came alive. Luckily, Sam upgraded from his basement, hired an internal team of super cool experts, found a killer company President and Chief Executive Officer (CEO—hey, Steve!), and together, we paved the way for Fusion to take first as one of the best workplaces, best staffing companies, best places to work, an Inc. 5000 fastest-growing private companies, and more.
To celebrate another successful rotation around the sun, check out the impact Fusion has had (so far) on our healthcare and community.
Fusion's (not so) super-secret mission
You may have heard at some point that Fusion is on a very specific mission and that is to improve the lives of everyone that we touch—and we mean everyone.
As a Fusion traveler, you already know that you're included under our care umbrella. But did you know that your family is also included? Plus, your coworkers, patients, roommates, pets, best friends, and so on.
How do we do this, you ask? Easy—our mission and passion for people is woven into everything we do and every single decision we make. To be honest, the motivation to make a positive impact is an innate quality of the hearty company culture we've created and a direct reflection of our values—humble, positive, driven.
We're proud of who we are and what we've accomplished over the past 12 years. We're even more thrilled to see what the next 12 years have in store for Fusion.
If you think you have what it takes to join the Fusion family, check out our corporate job openings or med travel assignments, and tell us all about why you want to be a part of the group!


You can't spell "community" without "unity"
A sense of community unites us, and ironically, you can't spell "community" without "unity." When you feel like you're a part of something bigger than yourself, it helps you form connections with others, increases your social and relationship-building skills, enhances your self-confidence, combats depression, as well as fosters happiness. And the best part is the only things you need are passion and positivity.
Fusion's community involvement knows no bounds. In fact, over the past 12 years, we've participated in countless volunteer events, donation drives, fundraisers, and much more to rally for a myriad of worthy causes like:
It's extremely satisfying to make a difference in the lives of others, and weirdly, that happens to be what we're best at doing.
Change starts with you, me, and us
Mahatma Gandhi said, "Be the change that you want to see in the world," so we did, and we continue to do so.
Our Be the Change program, led by Fusion's one-and-only professional positive changemaker, Micaela Diarrassouba, is a special company-wide initiative that focuses on the importance of social responsibility practices for every Fusion employee. Made up of three main components—compassion groups, Fusion passion, and paid volunteer time off (VTO)—the Be the Change program strives to support causes not only important to the company, but meaningful also to the individual people who make up the Fusion family.
"Since the beginning, Fusion has been committed to making a difference in the community through sponsorships and hands-on volunteering," Micaela shared. "Many of us have a desire to make a difference in the world by giving back to others. At Fusion's core, helping employees do that has been and always will be a priority."
Fusion's passion for support and positivity extends into the Be the Change program through:
There are a million things you can do to help promote change within your community. No matter the size of your efforts, big or small, change starts with you and me.
All we do is win, win, win (no matter what)
It's not our top priority to win (or be nominated for) awards, and yet, it happens. Within a single year, Fusion Med Staffing has added these awards under its belt:
The best part about awards is knowing that our community recognizes and values us, just as we appreciate them. Regardless of the praise and accolades, Fusion's mission to make a positive impact in the lives of others holds strong and that, in and of itself, is the biggest win of all.
The past 12 years have been full of trials and tribulations, blessings in disguise, exponential growth, rockin' parties, rowdy fundraising events, and more. Although we haven't yet figured out a way to foresee the future, we can be sure of one thing—Fusion's positive impact will continue change lives.