Fusion has some very exciting news! We have two brand new Senior Account Managers that will launch Fusion's Lab Department. With over ten years combined staffing experience, Chad and Corey build long-lasting relationships by taking time to listen to what the candidates are truly looking for and finding the best positions to match their criteria. They always strive to earn the trust of hiring authorities by being experts in their field and locating top-talent in the lab market. Corey and Chad believe it all comes down to working smart and putting the time in.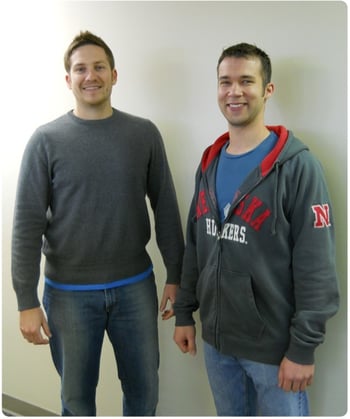 Corey Paulsen, Senior Account Manager, enjoys helping lab professionals find rewarding opportunities. Corey is from Gretna, NE and graduated from the University of Nebraska- Lincoln with a Business Degree. In his pastime, Corey enjoys bird hunting in Western Nebraska.
Chad Crawford, Senior Account Manager, looks forward to recruiting the best talent and building long lasting relationships with both travelers and hiring authorities. Chad is an Omaha native and graduate from University of Nebraska- Omaha. Chad and his wife, Stacy, have a five month old daughter named Quinn.
Welcome Corey and Chad!