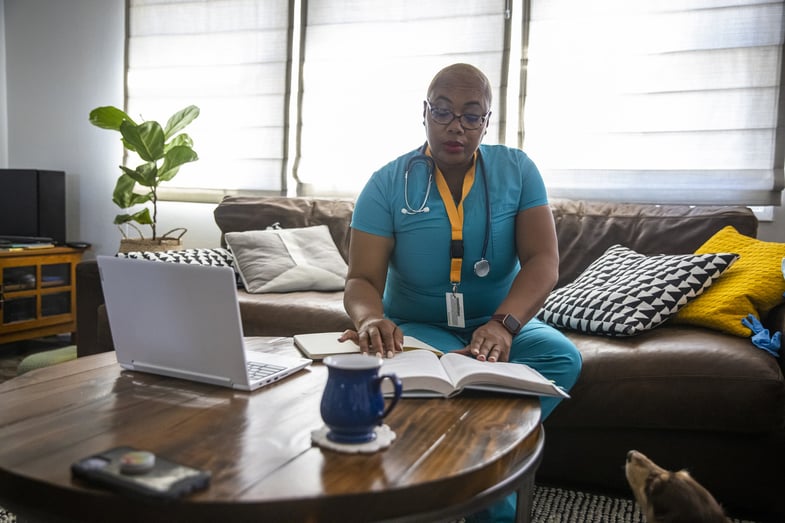 CEUs are crucial as a medical traveler because healthcare is an ever-evolving field. With new updates in medical literature and rapid advancements in technologies, there comes new information to absorb and apply to your medical career. By keeping your healthcare knowledge current, you will be able to benefit your patients, the facilities you work within, and particularly yourself in your professional career.
Getting Your CEUs Online
Why CEUs are important for your healthcare career?
With more education comes more opportunities. CEUs not only help you stay licensed and certified so you can continue traveling, but also allows you to grow your expertise in a particular niche that interests you and is relevant to your healthcare career—opening new doors for your career to blossom. Continuing education has proved to be highly effective at significantly improving patient outcomes and saving lives. When you are associated with the healthcare industry, you go home every night knowing that you've improved lives, but to ensure you achieve this, you need to be equipped with up-to-date knowledge and healthcare advancements.
How to get CEUs online
So how do you keep afloat of your healthcare education online? With rapidly evolving technology, traveling healthcare professionals can now attend online conferences, webinars, and workshops to earn CEUs. You now have a variety of ways to continue your education with a diverse catalog of online courses in healthcare. Continuing your healthcare education will not only ensure that you provide the best possible care to your patients, but also ensures you are able to keep up with your professional career.
CEU resources and details
While we recommend doing the research to find available CEU resources yourself, we've rounded up some of the top CEU resources at your fingertips to help you out.
"Bundles" and packages that detail the CE hours and cost, including a corporate plan
Over 36 categories of course offerings
A variety of course methods: free, online, ebook, video
An easy to navigate, user-friendly site
A wide variety of free course options
A specialized "Focused CE Series"
An easy to navigate, user-friendly site
Over 100 courses available
Nationally accredited
Highest customer support in the industry
30-day money back guarantee
A free trial period
Entertaining videos to help you earn CEUs without the boredom
Convenient, on-the-go courses
Certified in all 50 states
90-day money back guarantee
A full course catalog, divided into recent courses, state-specific courses, free courses, and more
Comprehensive list of state-by-state hours required and online hours accepted
An added list of nursing resources, for your convenience
American Nurses Credentialing Center (ANCC)
An extensive course list for accreditation, certification, and other programs
An easy to navigate, user-friendly site
Additional field-specific resources and directories
Whether your job requires CEUs to keep your certifications and licenses updated, or you want to keep the learning going to get a step up during your travel assignments, online courses and seminars can help you succeed in your traveling medical career. These resources are the most convenient way to keep working on your CEUs while you balance your busy lifestyle and other obligations.